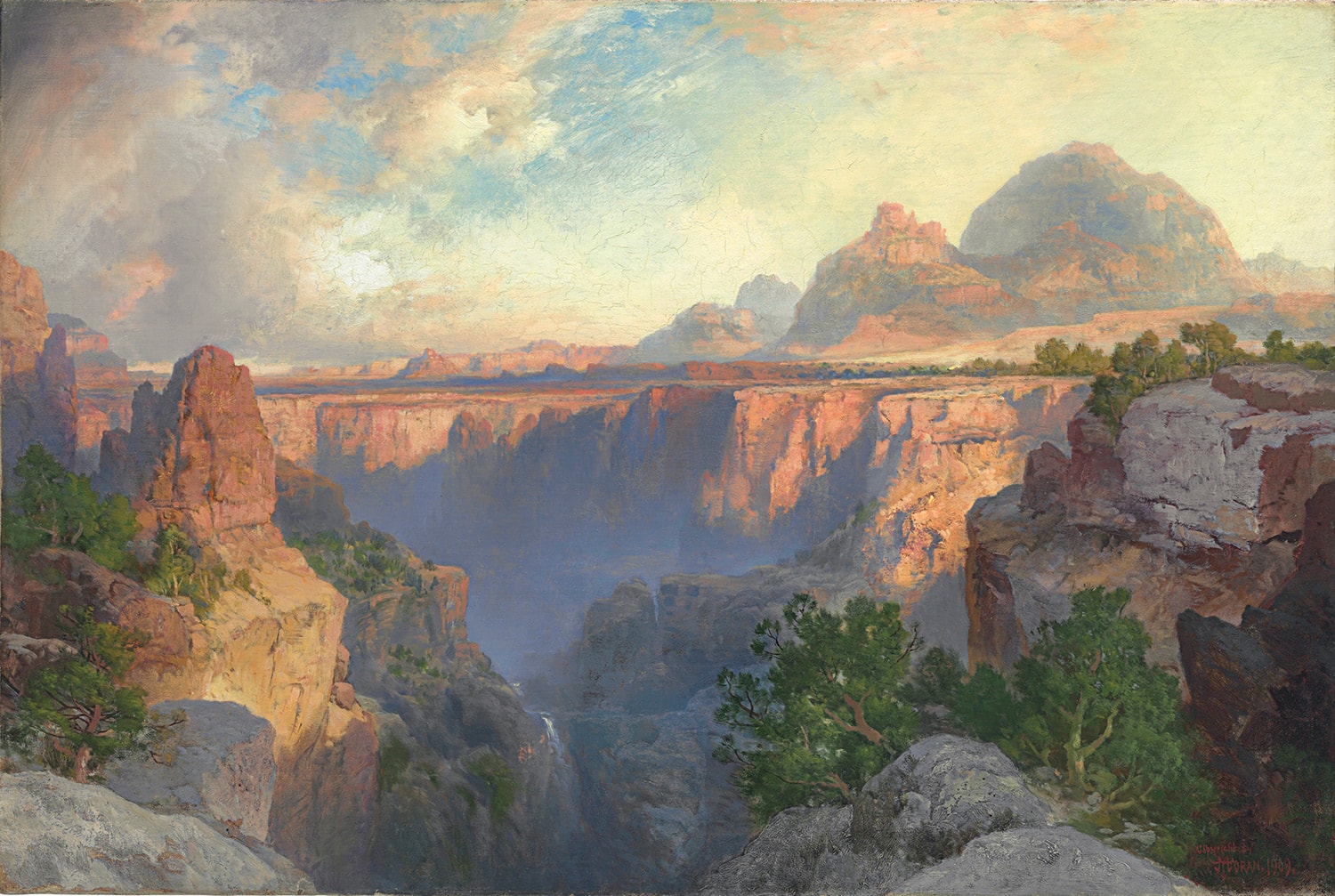 Thomas Moran, "Canyon of the Virgin River" | Oil on Canvas | 20 x 30 inches | 1909 | Est. $1,000,000 – $1,500,000 | Sold: $2,412,500
19 Jan

Auction Block: The Staying Power of Americana

Art auctions saw resurgent interest in celebrated American illustrators such as Norman Rockwell and Joseph Christian (J.C.) Leyendecker, whose works went for top amounts at sales by Christie's and Heritage Auctions in the closing weeks of 2017.

The uptick in popularity for paintings that provide charming snapshots of Americans and American life has been trending and is perhaps a sign of collectors' inclinations for art that is as open and understandable in its intention as it is in its rendering.

And signal sales in the last quarter of 2017 saw newly rediscovered works by E. Martin Hennings and Rockwell inspire bidding wars, first at the Santa Fe Art Auction, where a Goodwill "find" was a work by the Taos Society of Artists associate, and next at Heritage Auctions, where a piece by Rockwell was sold after having been stolen, then retrieved and reconditioned.
---
Christie's American Art | November 21, 2017
It was Norman Rockwell by a landslide at Christie's American Art sale on November 21, with What Makes it Tick? (The Watchmaker) going for a hefty $7,287,500, significantly more than presale estimates that ranged as high as $6 million. Considered by the artist as one of his best, the oil painting was produced in 1948 and commissioned by the Swiss Federation of Watchmakers, now known as the Federation of the Swiss Watch Industry, according to Christie's. "As America's preeminent illustrator, Rockwell was one of the greatest mass communicators of the century. Painting a sweeping range of topics during a century of extensive technological and social change, he helped forge a sense of national identity through his art," said the auction house.
Similarly, collectors rallied for a painting by Thomas Moran, Canyon of the Virgin River, which realized more than $2.4 million, exceeding twice its low estimate. It is sometimes thought that an anemic version of the American West's awe-inspiring landscapes would exist in the absence of Moran, whose 19th-century expeditions to the region placed it on the visual map. Canyon is no exception to this rule, with Moran's magical lighting and elegant rendering in full sway in an oil painted in 1909.
Christie's in recent years has handled a number of paintings by Thomas Hart Benton, who, as with Rockwell, was a master in capturing figures representing everyday Americans. "Benton loved the spirit, vitality and strength of the American people and the lands they inhabited, and he sought to present them in his art, utilizing a figurative and realistic approach," according to Christie's. Such attributes appear to be increasingly favored by collectors of American art.
At the November 21 sale in New York City, Benton's Night Firing of Tobacco garnered in excess of $2.6 million, within its presale range of $2.5 million to $3.5 million. Rockwell occupied the auction's number four slot with Girl Returning from Camp, which went for nearly $2.3 million, and another Moran, Zion Valley, South Utah, was the number five top seller at $2 million-plus in an auction that totaled $34,131,500.
A trend tied to American illustrators emerged in the sale and it was not limited to Rockwell. Pieces by J.C. Leyendecker defied expectations to realize amounts far higher than predicted. The Toymaker and Newspapers Over Books went for $336,500 and $212,500 respectively, with the latter achieving more than double its high estimate.
Young Sammy Sixgun, an oil on Masonite by John Philip Falter, who worked late into the 20th century, climbed to $516,500, more than twice its high estimate, underscoring the staying power of Americana and of scenes depicting those ostensibly simpler times in the nation's history.
Summing up Christie's accomplishments in the Western art genre for 2017, spokeswoman Sara Fox said the auction house sold more than $28 million in that category, achieving a sell-through rate of 86 percent and an average lot price of $781,042.
---
Bonhams: California and Western Paintings and Sculpture | November 20, 2017
---
Native American Art Sale | December 4, 2017
A color-drenched painting by Hungarian-born, California-based painter Joseph Kleitsch commanded attention, admiration and, it naturally follows, the top price at Bonhams' sale of California and Western art on November 20 in Los Angeles. The Oriental Shop, also known as The Jade Shop, realized $912,500, an auction record for the artist and three times its low-end estimate in a sale totaling in excess of $4.1 million. The painting was created at a time when Kleitsch immersed himself in the environs of Southern California and indulged his inclination for rich colors, according to Bonhams.
E. Charlton Fortune is notable for her demonstrated talent but also for being a female artist whose impressionist paintings of California's sweeping coastal and mountainous areas gained acclaim in her lifetime, in the 20th century and well beyond. Her Californian Landscape (The Hatton Ranch, Carmel Valley) sold well-above expectations at Bonhams' auction, with the textured work climbing to $372,000, a happy outcome for an oil that brings immediate delight upon viewing, and for a piece expected to bring between $200,000 and $300,000.
Unalloyed pleasure springs to mind as an apt description of the observer's response to Aspens, Rocky Mountain National Park, Colorado, a painting by Birger Sandzén that reminds one of a Cézanne, if that 19th-century impressionist master made liberal use of a palette replete with coral, shocking pink and electric blue. Considered in the top tier of American plein air painters, Sandzén was an associate member of the Taos Society of Artists and known for his vibrant Southwest landscapes. It was a far cry from the artist's native Sweden and from his U.S. home in Lindsborg, a Kansas community known as "Little Sweden" for the influence of its immigrant founders. There, Sandzén taught at the small but elite private liberal arts institution known as Bethany College. Aspens, dated 1930, brought $200,000 with fees comparing to estimates ranging from $120,000 to $160,000.
At the auction house's December 4 sale of Native American Art, two Navajo rugs fetched $50,000 and $27,500 respectively and a sterling silver-and-wood chess set by Kenneth Begay went for $22,500, including buyer's premium.
---
Sotheby's American Art | November 14, 2017
For admirers of American landscape painters, it's a form of reaffirmation when the market acknowledges the mastery and the majesty of works by Albert Bierstadt. Such was the case during Sotheby's American Art sale in New York City on November 14, when Indians Crossing the Columbia River went for nearly $2.2 million in an event that generated more than $19.4 million in sales. The dreamy lighting, a mix of yellow and orange hues, and the snow-covered girth of Oregon's famed Mount Hood in the backdrop lend the oil that otherworldly quality Bierstadt and Moran captured effortlessly. Indians Crossing, painted in 1867, had been in the same American collection since the 1970s, when it was purchased from Kennedy Galleries in New York City, according to Sotheby's.
Moran's ethereal light makes approachable an otherwise violent sandstorm tearing across the desert Southwest in A Sand Storm, Acoma, New Mexico, a 1901 watercolor-and-pencil-on-paper depicting — in addition to the haboob — towering sandstone formations. The painting brought $399,000, with fees, topping presale expectations that went from $150,000 to $250,000.
In a further sign that stellar landscapes rarely lose their allure amid a respectably healthy art market, Eagle Nest Lake, New Mexico, by Ernest Blumenschein, a Taos Society of Artists founder, fetched $471,000, with fees. The piece is one of the few that Blumenschein produced without a preliminary composition, the painter told author Richard Finnie for Blumenschein: A Self-Portrait with Notes on Four Paintings in the Paul Grafe Collection. The artist described a process in which the work took shape and life with ease, according to a Sotheby's catalogue note about the oil, which was acquired from the artist by Paul Grafe in 1946.
A portrait of a Native American by another star in the Taos Society pantheon, E. Martin Hennings, went for $81,250, with buyer's premium, at the top end of estimates. Untitled (Portrait of Frank Samora) is a pleasing example of the artist's oe uvre tied to the American Southwest, representing in a single canvas the figure, customs and landscape tied to an ancient culture.
Sotheby's fall auction marked a Taos school trifecta with the sale of Victor Higgins' Adobe and Wagon, a textured tour de force in muted tones of green, pink and tan. The hammer price and fees totaled $81,250, $30,000 more than its top estimate. Georgia O'Keeffe led modernist works with Shell, a 9.5-by-13-inch gem painted in 1937, which powerfully demonstrates the sinuous yet delicate form of the equivalent of an ocean jewel. The winning bid for the painting climbed beyond its high estimate of $1 million to garner $1,515,000, including fees.
It would be a slight not to note the sale of the fluid bronze, Diana, by famed American sculptor Paul Manship. The Greco-Roman goddess of the hunt is featured with hallmark bow in hand, hound attending and the energy of her aspect infuses the form with movement and grace. Four bidders competed for the bronze, which ultimately achieved $975,000, a record for that model by the artist and well above its high-end estimate of $600,000, Sotheby's officials said. A Diana with silver plating led Bonhams' sale of American art in November 2016, with that piece going for $727,500.
---
Santa Fe Art Auction | November 11, 2017
In a storyline right out of Hollywood, a Goodwill "find" that turned out to be a painting by E. Martin Hennings sold for a tidy sum at the Santa Fe Art Auction in New Mexico on November 11. The work, In Taos Canyon, came into the hands of Goodwill Industries of the Heartland in Iowa City, Iowa, where officials contacted the Santa Fe Art Auction for their review of the work and direction on having it cleaned professionally.
The painting had been affixed to a foam core backing, and its surface was bubbling and loosening before a conservator restored it to its original "lovely state of glory," said auction director Jenna Kloeppel. The piece was expected to bring between $30,000 and $50,000 and ultimately hammered at its high estimate, with proceeds to go to Goodwill.
Its mostly unknown journey that led it to the nonprofit in Iowa generated interest among collectors at the November sale after the auctioneer gave a brief summary of the painting's discovery, Kloeppel said. The work had originally been placed in an old, unattractive frame and its poor condition might have led those handling it to mistake it for an insignificant oil by an unknown painter rather than a charming landscape that exhibits the artist's expert use of color associated with the sun-blanched lands of the American Southwest.
While the painting's price was eclipsed at the sale in downtown Santa Fe by top lots such as Bierstadt's Source of the Snake River, the story of In Taos Canyon will now be a lasting component of its appeal. "It make the artwork that much more personal and special. Its finding was lovely and unusual and it was a privilege for us to be able to work with a philanthropic organization benefiting from its sale," said Kloeppel.
The Bierstadt went for $351,000, with fees, the same amount garnered by an O'Keeffe watercolor, No. 36 – Special (Nicotine Flower).
Two paintings by Raymond Jonson took the number three and four slots for highest prices, with The Night, Chicago going for $163,800, far exceeding an expected range of $80,000 to $120,000. Kloeppel said there has been renewed interest in Jonson, best known for his abstract work and for the influence he wielded in New Mexico after moving there in the first half of the 20th century and teaching at the state's flagship university. Jonson produced representational paintings, such as the pair sold at the Santa Fe Art Auction, but those rarely come to market, she added. "Here we had prime examples of his early period, pieces that are highly desirable and not as common," said Kloeppel.
---
Heritage Auctions: American Art Auction | November 3, 2017
---
Texas Art Signature Auction | November 18, 2017
Illustration art was the thing at Heritage Auctions' sale of American art in Dallas, Texas, with that genre representing top lots in an event that generated more than $4.3 million. In a time of nostalgia, when art buyers are snapping up depictions of American life when it appeared not to be so fraught with change, it is appropriate that one of Rockwell's early paintings for a Saturday Evening Post cover should appeal to the imagination of collectors and fetch $912,500 to lead the sale.
The piece, Lazybones, shows a ruddy-cheeked, barefoot boy snoozing away while his faithful pooch and a hoe — clearly not shining in use — are propped against his recumbent body. The painting was purchased for $100 or less in the 1950s by Robert Grant after he damaged the piece while playing pool at a friend's house, and it was a "you-break-it-you-buy-it moment," said Aviva Lehman, director of American art for Heritage Auctions.
The accident proved fortuitous. The new owners gave the painting pride of place but, some years later, were bereft when it was stolen along with other personal items. Fast forward several decades and descendants of the original owner connected with an FBI art theft expert — and the rest is history. The painting was restored to the family and, after professional repair and cleaning, sold by Heritage with the inheritance to be divided by six people, Lehman said.
Rockwell's popularity was yet another example of a trend in illustration art that has seen prices continuing to climb in recent years, she said. Factors that have strengthened that market include so-called crossover buyers, or collectors who move from another category — say, comic art — to illustration art. Lehman said her watershed moment came earlier this year when Heritage set records for two Saturday Evening Post studies by Rockwell, both of which sold for more than $1 million. "Traditionally, such studies would sell well under $1 million; now they're selling well over $1 million, in a very healthy and expanded market," she said.
The pattern is pronounced when it comes to works tied to a period called the Golden Age of Illustration, roughly 1880 to 1920, strongly influenced by upgrades in techniques and tools used to reproduce images, said Lehman. The period gave rise to artists considered the grandfathers of illustration art, including Leyendecker, whose 1907 painting, The Rescue of Theophilus Newbegin, sold for $187,500 at Heritage's event.
The auction house, on November 18, celebrated the talents of Texas artists in a sale that set a world auction record for Alexandre Hogue, whose painting, Glen Rose, 1926, went for $78,125. The oil on Masonite, depicting the low-lying hills and bluffs of a river valley in the Lone Star State that was beloved by the artist, is notable for its geometric masses and experimentation with a form Hogue called "abstract realism," according to Heritage.