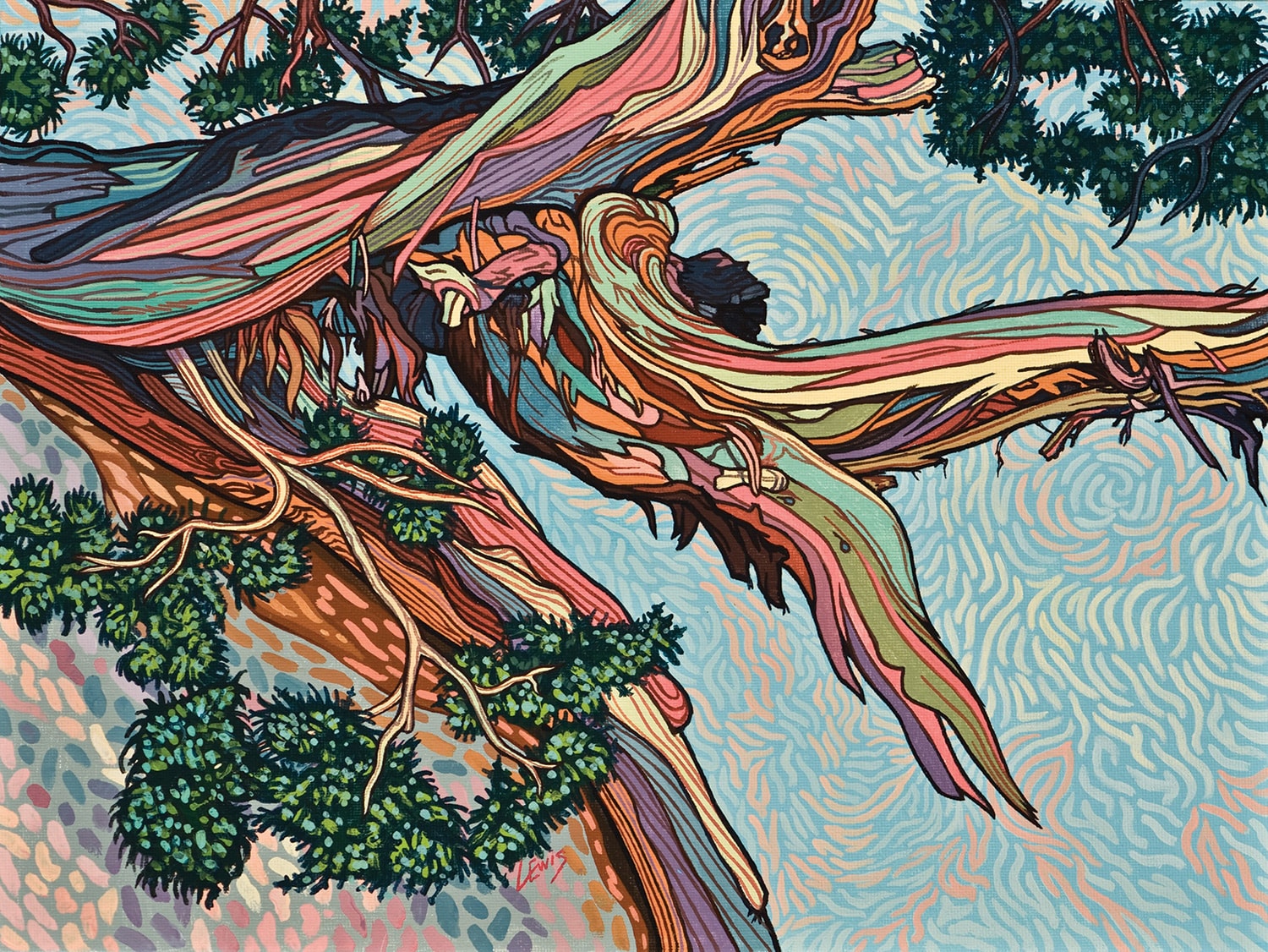 "Shima Hugging Family" | Acrylic | 11 x 14 inches
19 Jan

Illuminations: Highlighting the work of painter Lewis Williams

Painter Lewis Williams straddles two worlds, one of the earth and one of the spiritual. His investigation into landscape painting exists alongside his calling to paint religious iconology. Both disciplines inform each other, but it is only through the ability to meditate on each brushstroke that Williams knits the two into meaningful work.

"Iconology became kind of a calling, or vocation, for me," he says of his journey from landscape painting to a four-year apprenticeship with a Franciscan monk in the Byzantine art of illuminated manuscripts.

"So many of the landscapes you see look so similar that the iconology gave me a different way into the work," he says. "I'm always reevaluating why I do things the way I do."

Looking at his paintings, it's clear he pays close attention to the line work. In iconology, every brushstroke means something, every line a prayer.

"I already knew that good drawing was vital to good painting," he says. "I draw, I paint and then I reintroduce the drawing part. That's why my work is so linear, and drawing is important to the icon work. I love the landscape, my faith and the Southwest, and I try to combine all that."

In iconography, the imagery is smooth with no discernible brushstrokes, no mark of the artist's hand. Illuminated manuscripts were not signed. It was done as a devotion, and the result was jewel-like colors and vibrant images meant to inspire piety and religious meditation.

In his stylized clouds and portrayal of light — which gradually fade from light to dark, a method used in iconography — there is his reflection on land and sky; a meditation of the secular world with the brush of spirituality.

"I'll also try to include some kind of subtle symbolism," he says. "If there are two telephone poles, I'll put three which is reminiscent of the crucifixion. I'll put a little bit of the religious imagery, but it's not too obvious. What I love about being outside and painting is that I see the creator's hand, it's a sacred thing and I see that everywhere. We swim in the sacred. It's all around us."

Williams has participated in three Artist-in-Residence programs with the Bureau of Land Management. He also garnered the 2017 Award of Excellence from Escalante Canyons, an annual plein air festival in Utah.