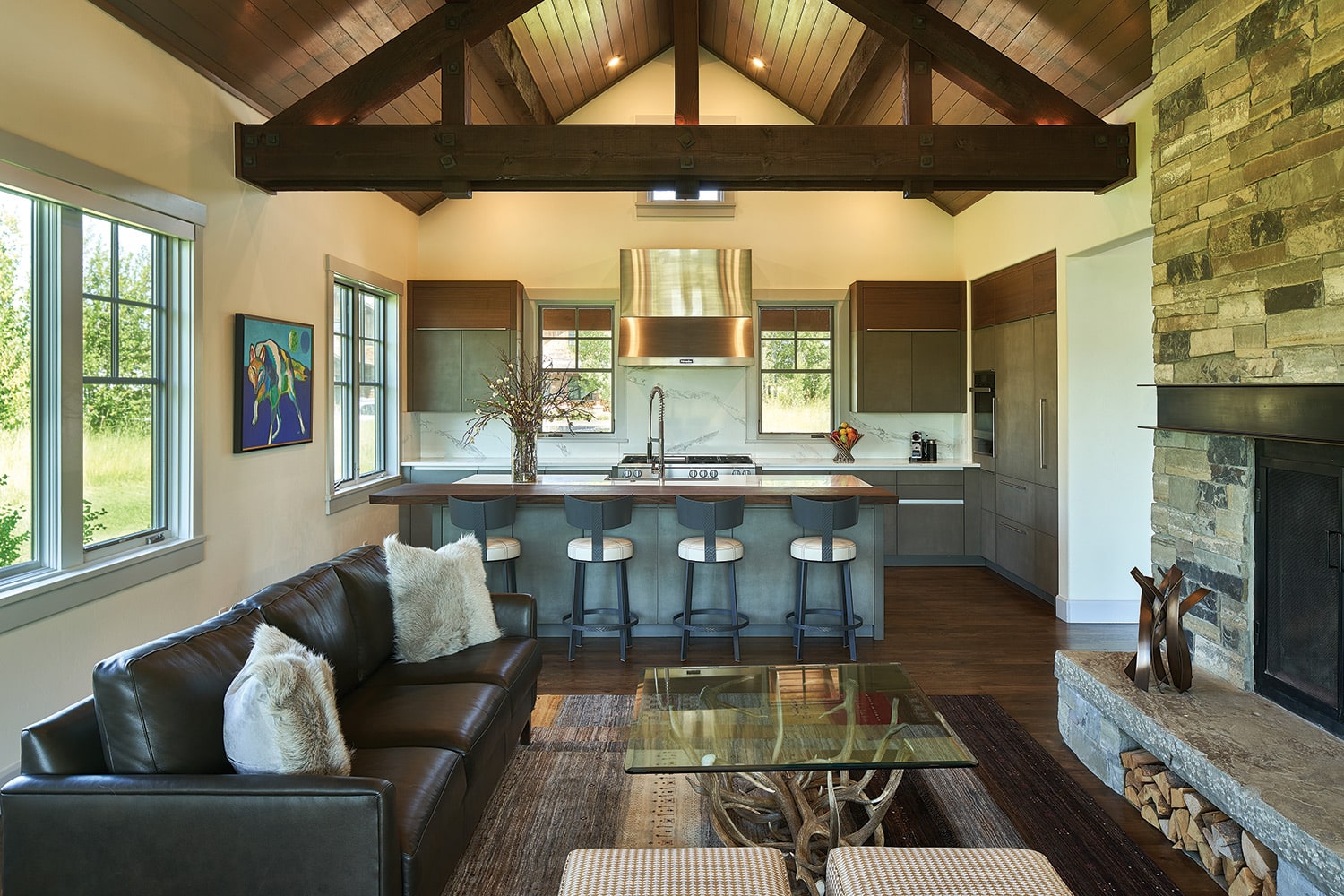 14 Sep

Designing the West: The Second Home Whisperer

How do you successfully execute a floor-to-ceiling redesign when the owners live on the other side of the world? For Colleen McFadden Walls, a designer in Jackson Hole, Wyoming, figuring out creative ways to stay in touch while managing opposing time zones is all in a day's work.

"Many of my clients are second homeowners who live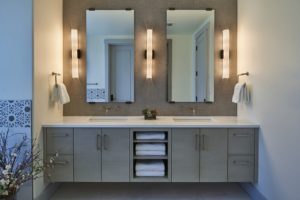 somewhere else," Walls says. "Sometimes I only have a short window of time to get to know someone's taste and lifestyle before they return home. I've learned to pay attention and really listen during that journey of discovery."
One of Walls' recent projects was a complete remodel of a 5,000-square-foot Jackson Hole home for clients who live in Hong Kong. "We gutted the home and put in a new kitchen, four bathrooms, and a fireplace," says Walls, who also managed the project during construction. "They live in a time zone 14 hours ahead of Jackson, so when it's 8 in the morning here, it's 10 at night there. We talked on FaceTime and used GoToMeeting to share ideas and photos of the progress. There was also a lot of trust involved."
A comfortable reading nook in a master bedroom is grounded with a patterned floor covering from Kismet Fine Rugs. A trio of abstract paintings by LeeAnn Brook features Wyoming landscapes. Two Burton James chairs covered in pale robin's egg blue fabric are accented with an oval marble and antique brass cocktail table, and the low bookcase is custom made. "We wanted the room to feel like a sophisticated sanctuary," Walls says.
Walls' passion for interior design was first ignited during an early job working for a drapery company. "I learned how to sell window treatments, and the owner needed someone to work with designers," she says. "I discovered that their creativity and passion really resonated with me, so I went back to college and took interior design classes."
For eight years, Walls owned her own successful design business in New Jersey. When her husband was offered a career opportunity in Jackson Hole, the couple fell in love with the beauty of the area and decided to make the move out West. Walls went to work for a local furniture store, where she met Rosanna Mitchell. The pair later became business partners in Willow Creek Home Furnishings, a design studio and retail store that sold furniture and accessories and that they owned for 18 years.
"Rosanna is a wonderfully creative person and artist who became my friend and mentor," Walls says. "Through Willow Creek, we met people from all over the world who each had a different definition of what they wanted their home to be."
A year ago, Walls decided she was ready to focus on design, and she retired from running the store. She sold the space on Jackson's boardwalk to Jane Carter-Getz, who renamed the business Belle Cose At Home; Walls is now the in-house interior designer for Belle Cose, along with her associates, Mitchell and Lacey Stalter.
Walls created an inviting reception area with elegant taupe and gray furnishings for the Teton Pines Country Club clubhouse. "Originally, the space was unused and just had a round table and a flower arrangement," Walls says. CR Laine leather chairs provide comfortable seating, and artwork and area rugs provide accents of color.
The team does everything from managing a full-scale renovation to furnishing an entire home down to the towels and silverware. "The scope of every project is different," Walls says. "I help my clients develop a vision for their home and lifestyle. We talk about their design preferences, where they've lived before, who will visit, how they might use outdoor spaces, their preferences for music, hobbies, movies — you name it."
Walls wants her clients to feel at ease with the process. "I tell them, 'Your house is all about you, not me, so don't feel embarrassed if you don't like something.' Sometimes we might only meet in person once or twice, and then I don't see them again until they return to a finished project. The key is to communicate often and well."
While she's best know for her residential projects, Walls says about 40 percent of the firm's work is commercial. "One of my first hospitality projects was collaborating with designer Ed Tuttle on the Amangani resort [in Jackson Hole] when he was traveling back and forth to France," Walls says. "I still do some work for the property, and it's always creatively gratifying." Other recent projects include the Teton Pines Clubhouse and Sotheby's International Realty offices, also in Jackson Hole.
Bob and Susan Hambright hired Walls to remodel and redesign a Teton Pines getaway home they bought with another couple. "Colleen did an outstanding job of figuring out what the four of us liked and hoped to achieve," Bob says. "We wanted a minimalist look with straight lines and simplicity, but the house we bought was traditional with rustic pine paneling that had yellowed with time. Colleen totally transformed and modernized the entire home."
"She also figured out how we were going to enjoy the spaces," says Susan. "For instance, she developed separate living areas in the great room, including a comfortable place to watch TV, a cozy spot to sit by the fireplace, and a quiet nook in the corner for reading. Whenever we visit, we use those spaces all the time. She really listens to your ideas, and then she makes them better."
After managing myriad details, Walls still gets a thrill during the final reveal. "Sometimes my clients have been gone for months, and that moment when they walk in the house and see everything for the first time is so much fun," she says. "When I see their smiles and know that all my hard work has paid off, it's the ultimate reward."
---
WA&A wants to know:
---
Interior designer Colleen McFadden Walls shares some of her favorite accessories, influences, and places, both in Jackson Hole and beyond.
Describe your own house.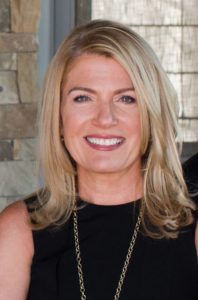 Our home is first and foremost comfortable, because we have two wonderful, college-aged boys and two dogs. I might describe the style as French country. We travel often and love the history and architecture of Europe, so our visits have definitely influenced the design of our home. Many of our furnishings are things we've picked up during trips.
What's one of your favorite possessions?
I love traveling to Italy, and each time I go I bring back a beautiful piece of hand-painted pottery made by a local artisan. My favorite is a platter I purchased during a trip I took to the Amalfi coast with my son when he was 14. He didn't want the platter to break, so he hand-carried it on seven airplane flights home. It's hanging in our kitchen, and I always smile at the memory.
Who's a designer you admire?
Recently, I've been really interested in Joanna Gaines; I'm fascinated with the all of the directions she has taken her business. We sell some of her Magnolia Home pieces at Belle Cose At Home.
Do you have a favorite interior wall paint color?
I recently used Magnolia's Arches paint on an accent wall color for the reception area at the Jackson Hole Sotheby's International Realty main office. It's a beautiful dark blue-gray that looks stunning.
Tell us about your favorite restaurant in Jackson Hole.
I love the Blue Lion. We've been going there for 20 years, and it's a quaint little restaurant in an old, historic house. You can sit outside on the terrace when the weather's nice, and I always get the same thing — their exquisite rack of lamb.