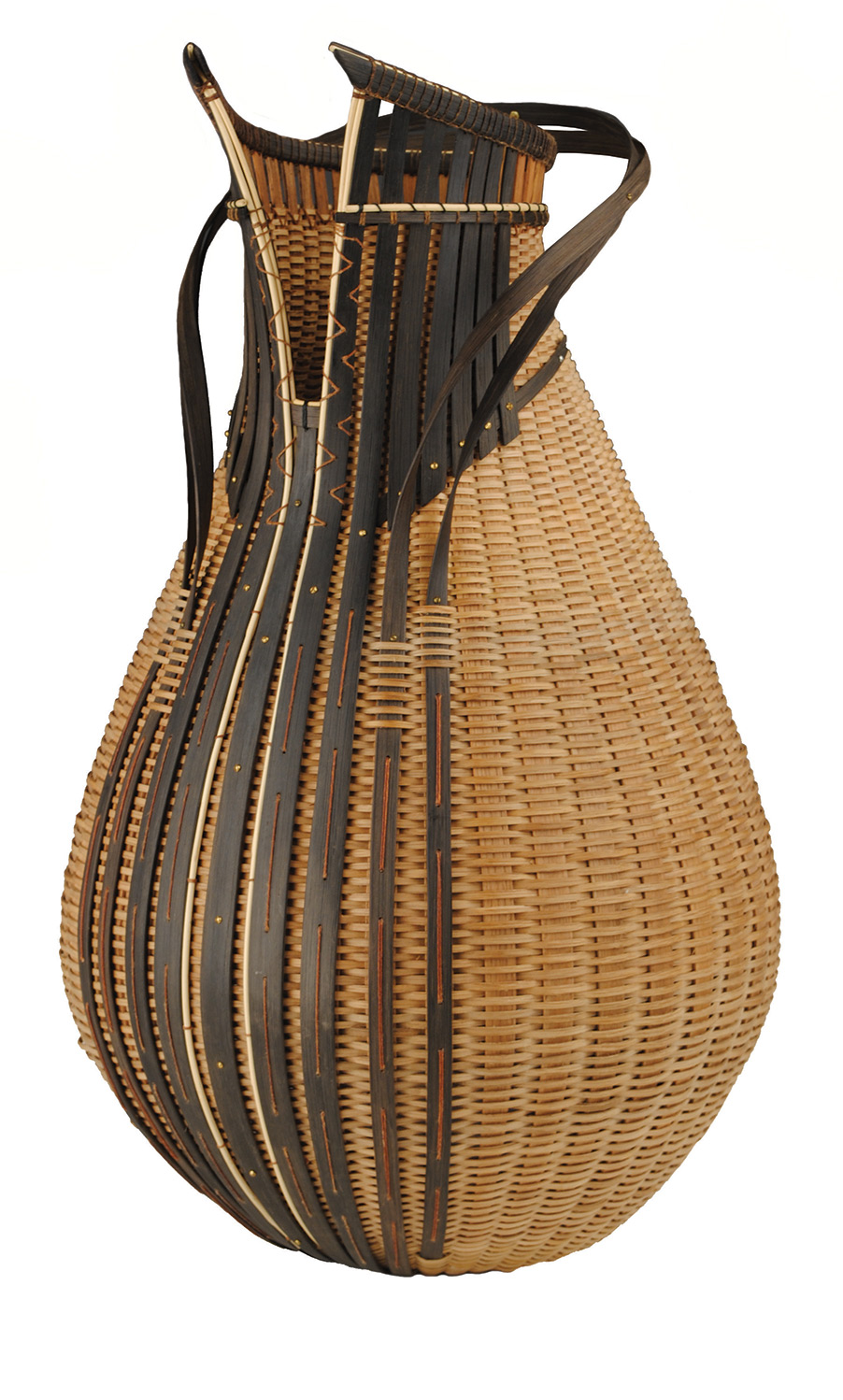 14 Sep

Details: Things we Love
Woven Open-Collar Basket by Leon Niehues 
From coast to coast, Leon Niehues has exhibited his baskets and received widespread praise. Working from his studio in the Ozark Mountains of Arkansas, Niehues harvests his materials on his 40-acre wooded property. Patiently, he weaves together each basket, using white oak, natural dyes, linen thread, emery cloth, and brass screws. The natural world captivates his imagination and is infused in each piece. "One reason I think my work is attractive to the viewer is because it is old and new at the same time," says Niehues.
---
Designed by Nature Walnut Shelving Unit by Article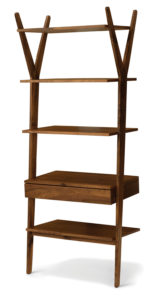 On an adventure north of the Arctic Circle, four software engineers became "inspired by the beauty and challenged by the unfamiliarity of the environment." This led them to begin manufacturing a line of furnishings based on simplicity and efficiency. This Lignum walnut shelving unit, influenced by growing tree branches, is an example of both. We love that it combines natural beauty with functionality, and yet it is also a space-saving design. It could be the perfect place to display a collection of books, artifacts, or favorite sculptures.
$549 | 73 x 29 x 16.5 inches | 888.746.3455 | 
article.com
---
Molesworth-Style Club Chair by How Kola Furniture
If you love the Western aesthetic, you are likely familiar with Thomas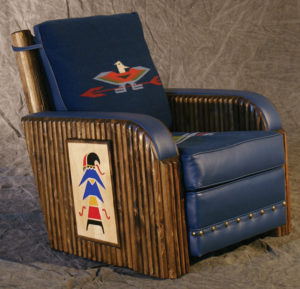 C. Molesworth, the designer who created a distinctly Western style of furniture and accessories using horns, hides, and natural woods. As a resident of Cody, Wyoming, Molesworth designed and built furniture there from 1931 to 1961. This Club Chair was built in the spirit of the original maker by Tim Lozier, also from Cody. For 20 years, Lozier has been building custom furnishings and showcasing them at the prestigious Western Design Conference and the Cody High Style Show. This beauty is crafted of Douglas fir, leather, and hand-woven Chimayo wool — a perfect tribute to a Western master.
---
Beaded Tissue Holder by Covert Workshops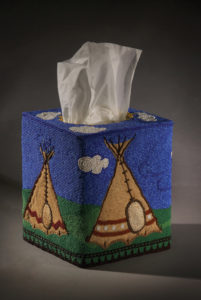 As a little girl, it wasn't unusual to find Lynda Covert visiting the Haley Park Sioux Indian Museum not far from her home in South Dakota. She became fascinated with the brilliant colors and intricate designs of early Native American beadwork. While rodeoing in her teen years, she admired the sun glinting off of the beadwork on the Sioux's clothing. It's no wonder that today Lynda considers herself, "a beading fool!" With hundreds of thousands of beads in her collection, Covert beads one-of-a-kind designs using antique Czechoslovakian, Venetian, and African beads. She is revered for unusual tissue holders, pillows, and has even beaded leather drapes. Collected the world over, Covert dreams her designs in full color.
---
Alternating Magnetism Brooch by Jeff and Susan Wise
From a sculptor and a painter comes this boldly designed brooch of 22-karat gold, rutilated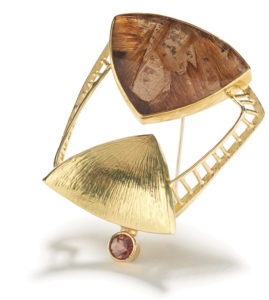 quartz, and peach tourmaline. In their Durango, Colorado, studio, Jeff Wise — the sculptor — and his wife, Susan — the painter — work together to create jewelry, employing the facets of each of their disciplines to create original beauties. In this piece, the quartz's color and crystal patterns lean toward a softly curved triangle of patterned gold. Delightful details include a threaded 18-karat signature clasp, which dazzles with a peach tourmaline. "Playful. Tactile. Kinetic. These are words used by those who are lucky enough to wear their pieces," says Allison Barnett of Patina Gallery in Santa Fe, New Mexico, which exhibits their designs.
---
Handmade Vessels by Carter Pottery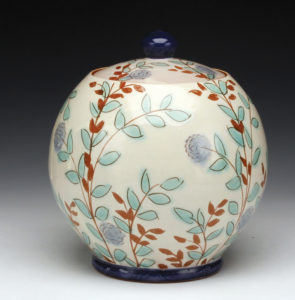 The well-traveled Ben Carter, of Carter Pottery,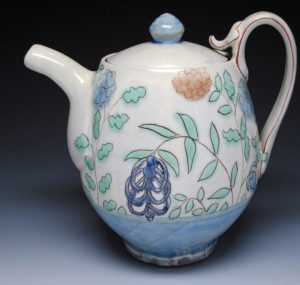 surprises and delights wherever he goes. His bachelor's degree in ceramics and painting was earned at Appalachian State University and was followed by a master's degree in ceramics from the University of Florida. Since then, his education has taken him around the world, presenting his techniques in workshops in Denmark, China, Australia, and New Zealand. Carter is also the author of Mastering the Potter's Wheel, which is regarded as a textbook on advanced techniques and complex forms. His pottery has a strong individual style, and we love its light and airy appearance. Carter says his aesthetics have always tended toward the feminine, as he was raised in the Deep South where women played an important role in the home and where his grandmother's gracious hospitality would have greeted any visitor. We love the elegant simplicity of Carter's pottery and can imagine a table artfully set with each delightful vessel.
Thicket Jar: $95; 7 x 6 x 6 inches | Vine Jug: $120; 11 x 6.5 x 6.5 inches | Garden Teapot: $200; 8 x 6 x 5.75 inches | Garden Pitcher: $180; 11 x 7.5 x 6 inches | 
carterpottery.com
---
Decoupage Plates by John Derian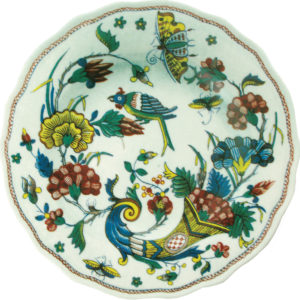 Since 1989, John Derian has been making decoupage plates by hand in his East Village studio in New York City. With an obsession for 18th- and 19th-century prints, Derian employs a small staff of artisans to create plates, trays, bowls, and other home items adorned with vintage prints. The full range of his work, including his ceramic and furniture collaborations, is available at his retail shops, not far from his studio, where he has an everchanging assortment of vintage and antique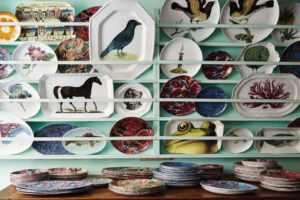 imports, bed and table linens, stationery, lighting, and original works by other artists. We love not only the imagery but also the blues of the swallow on his Un Vide Poche, a 6-inch square serving plate. For outdoor dining, the Melamine Faience a la Corne is a 8.25-inch plate that makes an artful statement. Coveted and collected around the world, the art of decoupage is rediscovered in Derian's work.
Un Vide Poche: 6 inches; $72 | Melamine Faience a la Corne: 8.25 inches; $9.50 | 800.677.3207 | 
johnderian.com