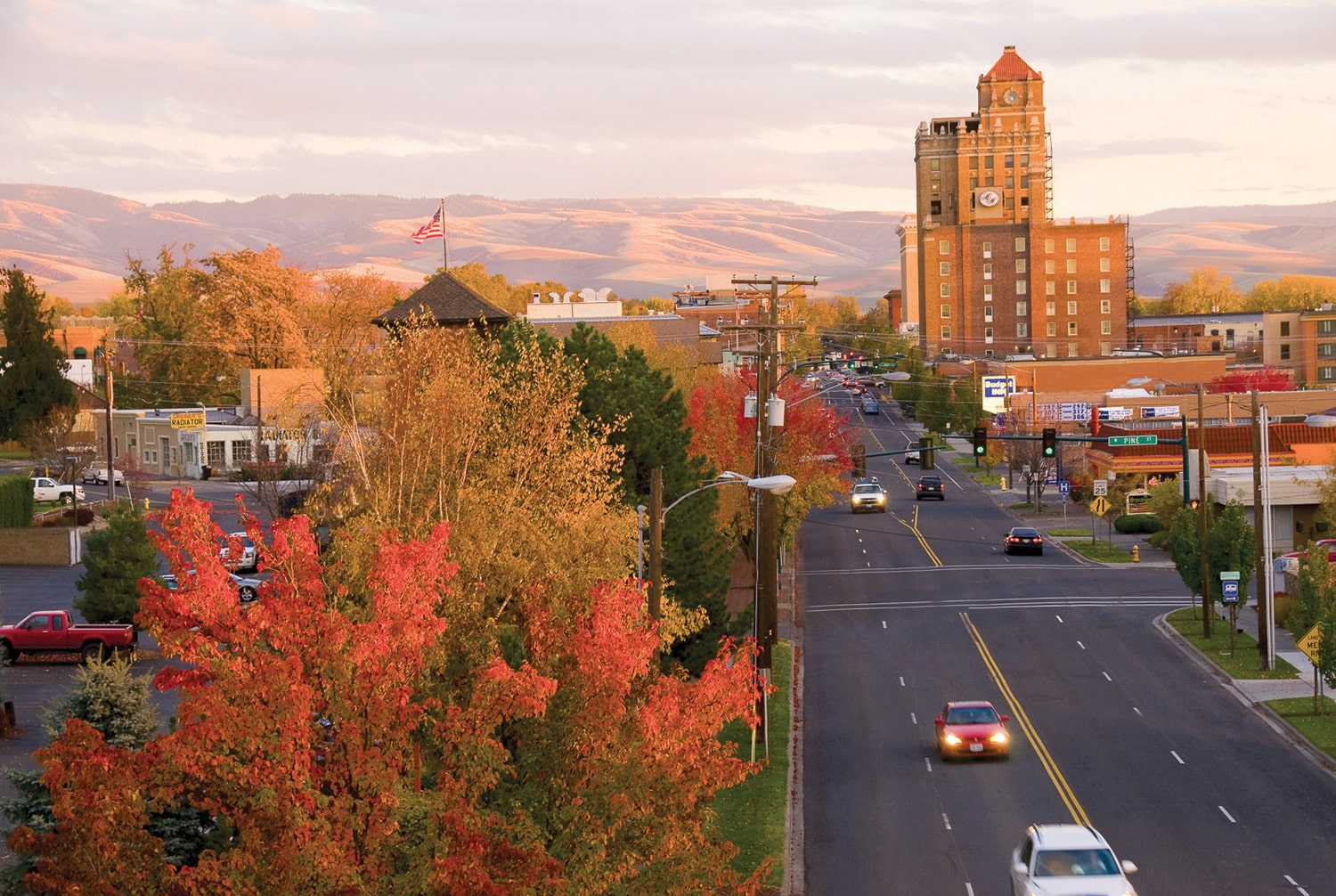 The historic Marcus Whitman Hotel is a visual anchor in downtown Walla Walla.
14 Sep

Wanderings: Twice the Charm In Walla Walla, Washington

History looms large in Walla Walla, where the architecture has been thoughtfully preserved and restored in the area's stately homes, public buildings, and private businesses, including in a few wineries for which the region continues to be known.

Located in Southeast Washington, Walla Walla unfurls westward toward the Snake and Columbia rivers; its right flank edges Oregon's Blue Mountains and the state line is a mere 5 miles south. This small city of about 60,000 people feels more like a town. It's absent of any tall buildings save the 12-story Marcus Whitman Hotel, a 1928 example of Renaissance architecture.

Starting in the 1800s, the fur trade, then gold, then land lured people to the valley already occupied by Nez Perce, Cayuse, Umatilla, and Walla Walla tribes. Conflicts were inevitable and have since been contextualized in such historical sites as the Whitman Mission and the Fort Walla Walla Museum, a 19th-century military fort featuring a historic pioneer settlement and reenactments, gardens, and exhibits.

Formerly part of Oregon Territory, Walla Walla was an Oregon Trail stopover and grew to rival Seattle's population until the late 1800s; this was partially due to the fort, but also due to the land itself. Gifted with fertile Columbia Plateau soil, the region distinguished itself as an agricultural hub. Wheat remains dominant today, yet Walla Walla sweet onions are better known and are celebrated annually during the Sweet Onion Festival each summer.
Kirkman House Museum offers permanent and rotating exhibits on the history of the town and its people.
Grapes, of course, have brought the most recognition to Walla Walla, named by USA Today in 2014 as a best travel destination, on par with Sonoma, California, and Languedoc, France. Of the 120 local wineries, around 30 have downtown tasting rooms and some of them are located in historic buildings. The Seven Hills Winery, for example, is in a former lumber mill, and the Canoe Ridge Vineyard tasting room is in a railway and streetcar facility, both of them turn-of-the-century structures. In the nearby community of Lowden, L'Ecole No. 41 has occupied a 1915 schoolhouse since the venerable winery opened in 1983, five years after Leonetti Cellars and Woodward Canyon put Walla Walla on the winemaking map. Some wineries host First Friday art tours, including Foundry Vineyards, which specializes in contemporary art (past exhibits include Ai Weiwei and James Lavadour) and work from its nearby Walla Walla Foundry.
Built in 1909, Green Gables Inn features a popular set of guest suites refurbished in vintage style.
Look for regional art by Todd Telander at Telander Gallery. And at Whitman College, the Sheehan Gallery hosts student, faculty, and curated exhibitions and pieces from the Davis Collection of Asian Art. Several walking-tour maps, available through visitor's organizations, detail public art and notable architecture. On Whitman's campus, look for Jewell Praying Wolf James' (Lummi Nation) Totem Pole; former Whitman professor Keiko Hara's Topophilia Gates; and Montana-native Deborah Butterfield's Styx. Downtown, along Main Street, look for Wayne Chabre's and Jeanne McMenemy's A Delicate Balance; Squire Broel's Looking Back, Looking Forward; and Brad Rude's whimsical Thoughts Discovered.
Available maps also outline the region's architectural treasures. Several of these buildings provide lodging, such as the 1909 Craftsman-style Green Gables Inn and the 1880 Italianate Victorian-style Kirkman House, which doubles as a museum specializing in textile exhibits.
Walla Walla's American Viticultural Area (AVA) includes parts of Northeastern Oregon and is an essential component of the venerable Columbia Valley AVA.
Various Walla Walla private and public organizations have helped revitalize downtown — renovating buildings, installing bike racks and benches, planting trees — without compromising Walla Walla's historic appeal. For example, the quirky 1917 American (Liberty) Theater combines traditional Dutch architecture outside and an Art Deco-inspired interior, yet it also houses a Macy's store. The Gesa Power House Theatre, meanwhile, was originally built in 1890 to convert coal to gas; today it hosts live performances and recorded events.
Walla Walla's dining scene is nearly as eclectic as its architectural array. Try contemporary Middle Eastern cuisine at Saffron Mediterranean Kitchen, rustic Italian at Passotempo, or French dining at Brasserie Four. Breakfast at Bacon & Eggs features produce from local farms and funky cocktails. All are located on or nearby Main Street, which functions as an arterial for Walla Walla's tasting rooms, eateries, and shops.
The golden, rolling hills of the southern Palouse contrast with the vibrant green of Walla Walla's wineries, including the Figgins Estate Vineyard. Photo: courtesy Visit Walla Walla
Walla Walla is the kind of place one might expect to find a chef with Michelin-starred experience. What's unexpected is the location of Andrae's Kitchen — in a gas station and convenience store. Yet, that's where Chef Andrae Bopp serves such gourmet street food as 16-hour smoked brisket on house-made bread. The Whitehouse-Crawford Restaurant combines much of Walla Walla's best attributes of wine, food, art, architecture, and the spirit of preservation. Located inside the 1904 Whitehouse Crawford Company Planing Mill (which also houses Seven Hills Winery), the brick structure is one of 29 Walla Walla National Historic Register sites and replaced the original 1880 structure that was destroyed by fire. When it closed in 1988, the city purchased the mill and planned to demolish it, but the public balked and new owners stepped in with a different plan: to restore it and turn it into a restaurant and winery of which Walla Walla could be proud.
For those looking for a weekend escape among the verdant valleys of Eastern Washington, the wonders of Walla Walla await.