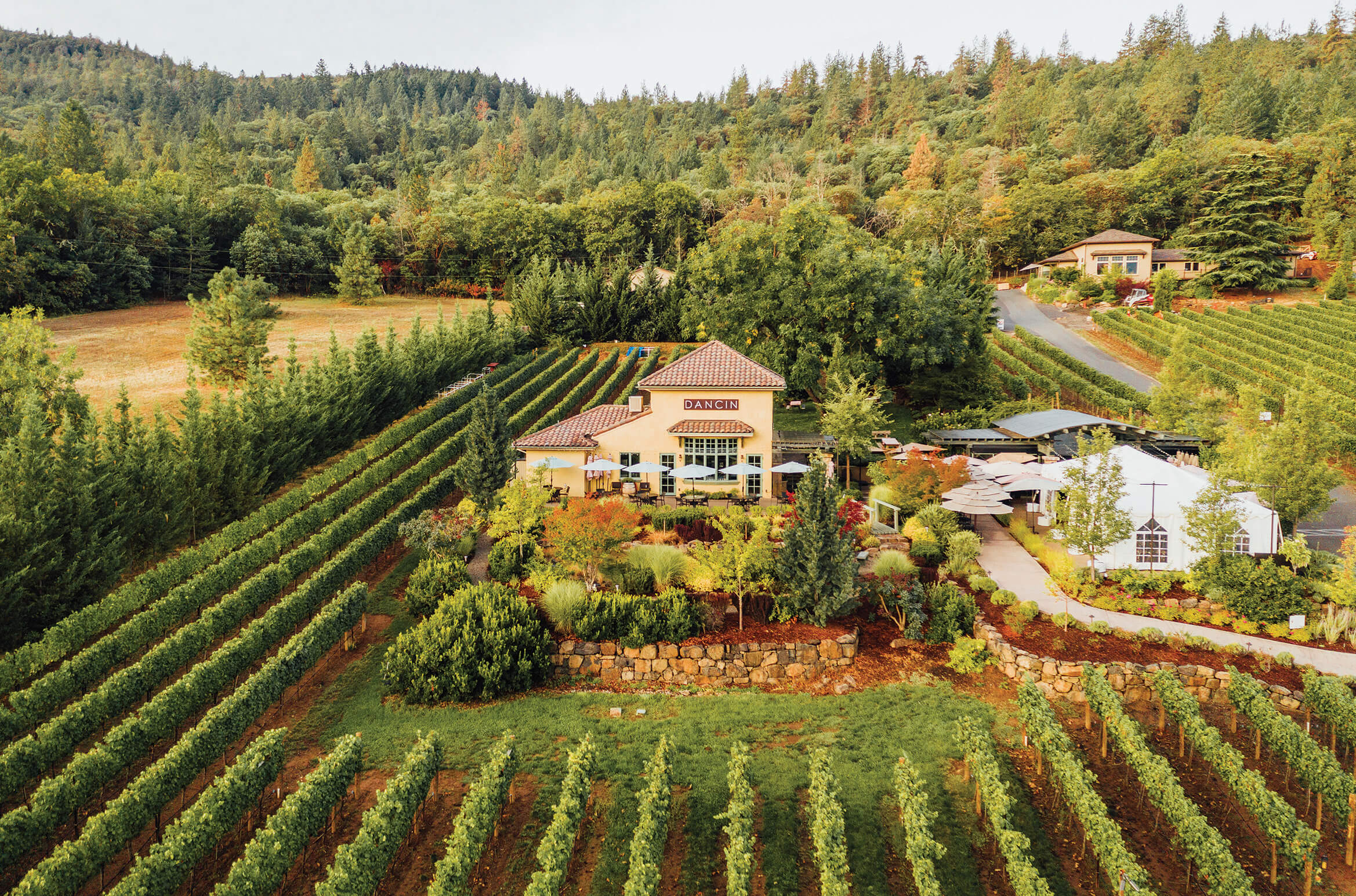 Explore the scenic grounds at DANCIN Vineyards and then enjoy a customized wood-fired pizza on the patio. Photo courtesy of DANCIN Vineyards
17 Sep

Wanderings: Time for a Road Trip

By morning you are paddling like a maniac, traversing whitewater rapids. At night, you're clutching binoculars for a close-up view of your favorite thespian. In one day, you can go from an adrenaline junkie to a culture vulture in Southern Oregon, the home of the wild Rogue River and renowned Oregon Shakespeare Festival.

This four-county region resting above the California border is your ticket to art and inspiration. Among the towns in the area, Ashland, Medford, Jacksonville, and Grants Pass offer striking fall colors and plenty to do for the artistically inclined. The drive is less than one hour from the furthest two points: Ashland on the east and Grants Pass on the west. All along the way, find architectural landmarks, outdoor inspiration, and original folk art. Treasures such as handmade moccasins, quilts, and straw baskets remain on view in museums and galleries and reflect the culture of the Takelma, Shasta, Klamath, and other Native American tribes in the region. Ancient waterfalls and forests are accessible by foot or mountain bike. Farmers' and craft markets are found throughout the area, and in the fall, look for luscious berries and fruit-filled pies.

Begin your journey by flying into the Rogue Valley International-Medford Airport and head to Ashland, less than 20 minutes away. We recommend theatre fans visit during the Oregon Shakespeare Festival held in the summer through early October. After a play, nibble on late-night eats and listen to live music at Hearsay Restaurant. Hidden underground, directly below the Oregon Cabaret Theater, the glamorous 1911 spot is one of Ashland's most unique venues, featuring a speakeasy vibe, modern American cuisine, and an illuminated garden.

On the heels of the festival, fall explodes with cinnamon hues at the city's crown jewel, Lithia Park. The 100-acre sanctuary offers walking trails, duck ponds, and meticulously groomed gardens.

Nicknamed "the center of the universe," Ashland thrives as a haven for ceramicists, printmakers, glass blowers, and more. Many of its 30 galleries and studios blanket downtown, and there are monthly First Friday Art Walks and Second Saturdays art demonstrations at galleries. The Schneider Museum of Art, a contemporary art museum with free admission, houses permanent works by the celebrated Alexander Calder and George Innes.

While in Ashland, slow down to appreciate the architectural bounty of the 19th and 20th centuries. It's not surprising that downtown is on the National Registry of Historic Places. One of the most popular buildings is the nine-story Ashland Springs Hotel, which opened in 1925 as the Lithia Springs Hotel. It was once hailed as the tallest building from Portland to San Francisco and continues to operate as a luxury property.

For another type of scenic experience, visit Crater Lake, about 90 minutes away by car. The deepest freshwater lake in the nation at 1,943 feet, Crater Lake is the result of a volcano that erupted and collapsed on itself more than 7,700 years ago. If you want to spend more time exploring, consider staying at the 71-room Crater Lake Lodge.

The next stop on your tour is Medford, which serves as a wine-tasting hub with connections to five southern Oregon wine regions. DANCIN Vineyards customizes wood-fired pizzas on a patio with expansive vistas. At the Hummingbird Estate you can reserve a tasting session in a lavish mansion. And over at Plaisance Ranch, sip a cabernet sauvignon and observe the mooing cattle on this working farm.

In Medford, step inside a flagship store of Harry & David, the impressive mail-order gourmet food empire. While factory tours are currently suspended, the retail operation is in full swing, selling its famous Moose Munch popcorn, garden accessories, gift baskets, and culinary treats.

Adjacent to Medford is the quaint town of Jacksonville. Gold Rush buildings of the 1850s reveal walls of brickwork and wood siding. During the fall, downtown enterprises are festooned with corn stalks, hay bales, pumpkins, and wreaths. Living History Days, Victorian Days, and Victorian Christmas events showcase a beloved town that's rich in pioneer spirit. Check out Bigham Knoll Crossing, a restored 1908 schoolhouse. Savor stories on a walking tour with the docents at Historic Jacksonville, Inc., and visit the Beekman House, a Gothic Revival-style home built in the 1870s.

Drive 30 minutes west and you'll see a sign that reads, "It's the climate" and know you've arrived in Grants Pass. Resident John Hampshire erected the sign in 1920 to honor the town's great weather and wholesome lifestyle. The official historic district boasts late 19th- and early 20th-century buildings, and repurposed facilities are occupied by antique stores, cafes, and boutiques. First Friday Live transforms downtown into a festival as retailers open doors, partnering with artists and musicians.

Outside the main corridor along Williams Highway, stop to pick up a sweet or savory hand-pie, a basket of fresh berries, or local gifts from Pennington Farms. The dramatic red barn dressed with country fall décor is where many families pose outside for their Christmas cards. "This place is adorable," says local resident Wendy Smiley. "The baked goods are great and homemade every day. The jams, jellies, and pies are to die for. They also expanded their picnic area."

Southern Oregon is where you can taste the tinge of fall and hear the crunch of leaves beneath your feet. Near Grants Pass at the Rainie Falls Trail, the trek along the Rogue River takes hikers past madrones to tiered waterfalls. And the Cathedral Hills Trail provides Rogue Valley panoramas under Douglas firs. Find the 117-foot-tall knobcone pine, so herculean it's listed on an Oregon registry for big trees.

A journey to Southern Oregon inspires and educates. Nature. Culture. History. Art. With fewer crowds in the autumn, you will uncover wonders that reach well beyond the expected.
Lodging
Ashland Springs Hotel (Ashland)
888.795.4545; ashlandspringshotel.com
Hummingbird Estate (Central Point)
541.930.2650; hummingbirdestate.com
McCall House Inn (Ashland)
541.482.9296; mccallhouse.com
McCully House Inn (Jacksonville)
541.899.2050; mccullyhouseinn.com
Food
DANCIN Winery (Medford)
541.245.1133; dancing.com
Hearsay Restaurant, Lounge & Garden (Ashland)
541.625.0505; hearsayashland.com
Hummingbird Estate (Central Point)
541.930.2650; hummingbirdestate.com
Jacksonville Inn (Jacksonville)
541.899.1900; jacksonvilleinn.com
Pennington Farms and Bakery (Grants Pass)
541.846.0550; pennington.farm
Plaisance Ranch (Williams)
541.846.7175; plaisanceranch.com
GALLERIES
Art and Soul Gallery (Ashland)
541.488.9006; artandsoulgallery.com
Ashland Art Works (Ashland)
541.488.4735; ashlandartworks.org
Ashland Glass Act (Ashland)
541.326.5442; ashlandglassact.com
ATTRACTIONS
Crater Lake National Park
541.594.3000; nps.gov
Harry & David Country Village (Medford)
541.864.2278; harryanddavid.com
Hellgate Jet Boat Excursions (Grants Pass)
541.479.7204; hellgate.com
Morrisons Rogue Wilderness Adventures (Merlin)
800.336.1647; wildrogue.com
MUSEUMS
Beekman House Museum (Jacksonville)
541.245.3650; historicjacksonville.org
Crater Rock Museum (Central Point)
541.664.6081; craterrock.com
Schneider Museum of Art (Ashland)
541.552.6245; sma.sou.edu
EVENTS
Britt Music Festival (Jacksonville, July to September)
541.773.6077; brittfest.org
Oregon Shakespeare Festival (Ashland, June to October)
800.219.8161; osfashland.org