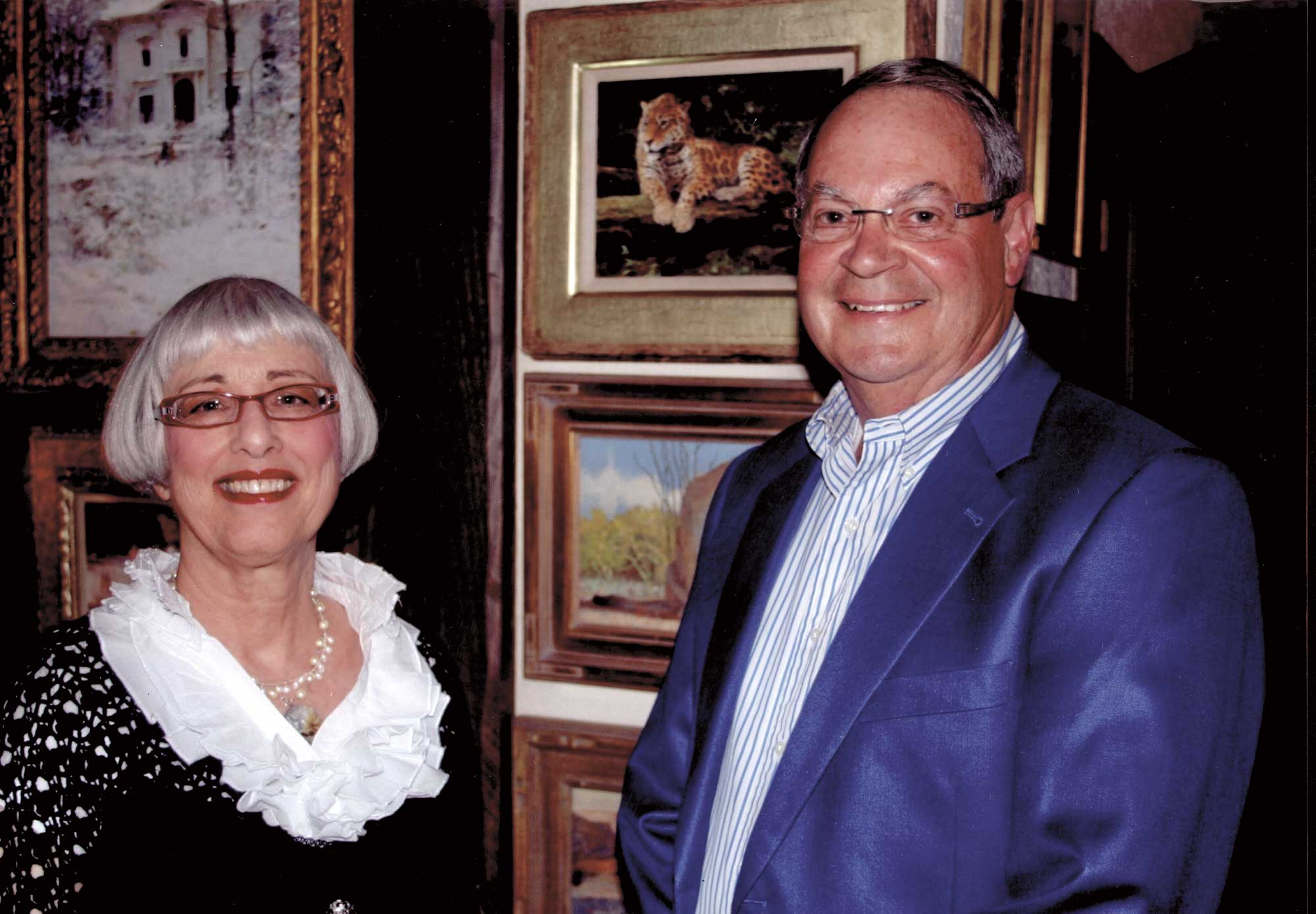 24 Jul

Collector's Eye: Bob and Curtice McCloy
---
As an emergency room physician, Dr. Robert McCloy witnessed the harrowing, tragic and most jubilant aspects of human life on a daily basis. When he went home and put work behind him, it was to a partner and soul mate, wife Curtice, who shares a mutual passion for finding solace in great art.
Over the last 40 years, this friendly, exuberant couple from Oklahoma City has amassed a truly extraordinary art collection featuring masterworks by some of the most critically acclaimed painters and sculptors in the country. Focused largely on contemporary portrayals of wildlife, landscapes, portraiture, sculpture, equine and sporting subject matter, the collection itself is the result of — as the late American painter Bob Kuhn put it — "patrons without peer."
Indeed, Patrons Without Peer is the title of a dazzling new coffee-table book featuring the greatest hits from the McCloy Collection published by Collector's Covey in Dallas, Texas. Collector's Covey (www.collectorscovey.com) is a well-known gallery owned by Martin F. Wood. The McCloys own not only an unparalleled number of works by Kuhn (1920-2007), but also a sizable body of touchstone pieces by Ken Carlson, Richard Schmid and Tucker Smith, among many others.
In conjunction with the book's release, selected works are going on public display this summer at the National Museum of Wildlife Art in Jackson, Wyoming, and at the National Cowboy Hall of Fame & Western Heritage Museum in Oklahoma City.
For the McCloys, collecting art and sharing the joy of the experience with family and friends has been a profoundly rewarding endeavor and should inspire others, young or old, who believe art is an important part of being alive.
WA&A: What inspires you to collect art?
Bob & Curtice McCloy: We think this question can't really be answered. There must be a collector gene that you either have or you don't. Lots of people love animals, appreciate art and beauty, find inspiration in a breathtaking landscape without having the need to actually 'possess' a painting of them. This is not the case with us. When we see a painting that we love, we want it so that we can enjoy it forever. Art, as an investment, was never a part of our equation.
WA&A: What was the first work that you purchased and what made you choose it?
McCloys: The absolute first piece of art was a British hunt scene purchased at a discount house because we thought it was beautiful and it reflected our favorite colors, and also our love of horses. The first pieces of our collection were a Bob Kuhn, entitled Fox in the Ferns, and two Ken Carlson still lifes, of a mallard and a pair of bobwhite quail, that we purchased at Collector's Covey in 1983. We already had a ceramic fox collection and thought Kuhn's fox would be a great addition. Even though we don't hunt, the idea of dead birds in paintings didn't turn us off. We appreciated Ken's ability to capture the form and light in this timeless genre. Since then, we have collected several more of his still lifes.
WA&A: What is your most beloved piece, and why?
McCloys: Over the years our paintings have become our second family. They have assumed children status and like real children it's difficult to choose one over another. And while it is a cop out, we love them all! We're sure that if you asked us that question every day, our answer would probably be different every day.
WA&A: At what point did you realize you were collectors?
McCloys: What started out as a hobby got out of hand pretty quickly. Long before we bought art we knew that we were 'collectors' and should have anticipated where we would end up when we bought those first pieces of art. But as we got more involved attending art shows, shopping at galleries and going to museums, and most importantly, meeting the people, we were hooked. As much as we've enjoyed acquiring the art, the best part has been getting to know the artists, dealers and other collectors. Many of these people are now among our closest friends.
WA&A: With what living artist would you most like to have dinner?
McCloys: Our perfect dinner would be all the artists in our collection. Of course, if we could have him back, Bob Kuhn and Libby would be at the head of the table passing out his fabulous hamburgers.
WA&A: What was the one that got away?
McCloys: In over 25 years of collecting, we would say any Bob Kuhn painting that we saw for sale and we didn't buy. Seriously, most of our collection has been built from buying at shows that sold by box draw. And as lucky as we have been in drawing paintings, a lot more got away than we were able to buy. The good news is that competitors become friends, so we continue to enjoy many of the ones that got away!
WA&A: If you could be any artist in history, who would you be?
McCloys: Either Thomas Moran, Albert Bierstadt or Carl Rungius. Wouldn't it have been wonderful to see the pristine environment and animals that they saw and have their ability to capture it in some form of art?
WA&A: Where do you imagine your collection will be in 100 years?
McCloys: Art is meant to be seen and enjoyed. We are working on a scenario that will have us still enjoying it 100 years from now. In case that plan doesn't come together, we hope that whether it's in a museum, private collection or with family, it is still being appreciated and enjoyed and loved.