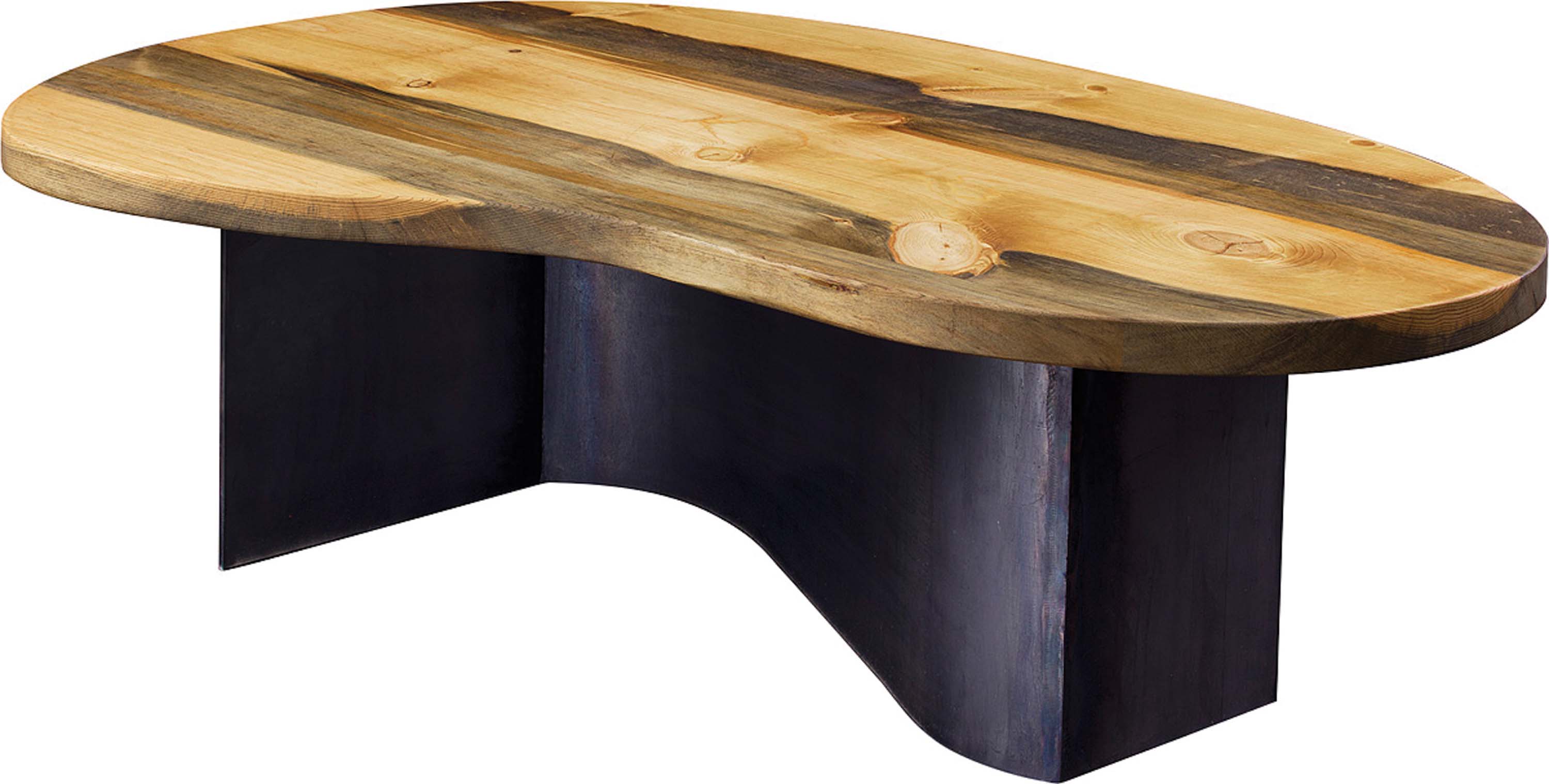 "Returning Home" | Coffee table | Beetlekill Ponderosa Pine | 48 x 31 x 17 inches
09 Jun

Ones to Watch: Furniture maker Charise Buckley
---
Charise Buckley, founder of Beetlekill Blues, a furniture design company based in Breckenridge, Colorado, creates pieces that incorporate clean lines and interesting shapes informed by the individual slab of wood, usually salvaged from beetle-kill pine.
"I would say two things drive my designs," Buckley says. "The first is the wood. I select pieces that have been taken down from urban cuts or [have] fallen from natural causes. When I go into the woods I look for pieces that inspire me."
For each piece of furniture that is sold, Buckley plants a tree in Colorado's open space.
After surrounding herself with pieces of wood that stimulate her creativity, Buckley considers the purpose of the piece as well as the client's needs.
"The next part of the process is to work with the client," she says. "If it's a dining room table, I get the size and dimensions, what their space looks like and we select the wood together. Usually people are inspired by the wood like I am.
Then we take the piece of wood they love and merge that with their needs and design style."
Buckley's go-to style is something that speaks to her personally — organic modern.
"Which means the wood leads the piece," she says.
"I design the base to go with the wood. I let the function inspire the design as well."
However, Buckley works in many different styles, depending on the tastes of her clients.
"The important thing is to balance the design so the piece of wood is the masterpiece," she says. "The other design elements support the function but don't take away from the masterpiece, which to me is the wood."
Because of her personal connection to the forests of Colorado, Buckley's wood, for the most part, comes from trees killed by natural causes, including pine beetles.
"We work all Colorado wood killed by natural causes — lodgepole, ponderosa, aspen, bristlecone pine — we dry them ourselves," she says. "We also bring in cedar, walnut, maple, mesquite and redwood. The important thing for me is that it's been taken by natural causes and I see the beauty in it."
If, for some reason, she can't find the perfect piece of wood, she will occasionally source wood that is responsibly harvested and certified either by the Forest Stewardship Council or Sustainable Forestry Initiative.
Often the pieces are made of multiple media: iron, glass, copper, brushed nickel or polished chrome. But the work isn't done until it's installed.
"I take each piece to its home," Buckley says. "It's like I take lost pieces of wood and find them a home. I love to see the wood in someone's home. That's when it comes alive, especially the tables and countertops when you can see a big section of the wood. There is an essence in each piece of wood — there's so much inherent beauty that comes through when it's placed in the home. It's a good way to say goodbye. We're like an adoption agency for fallen timber. We get stray pieces, we see their beauty and keep them until they find a home."
For each piece of furniture that is sold, Buckley plants a tree in Colorado's open space.
"Last year we planted 75 trees," she says. "I really hope to plant thousands of trees over the years."
Beetlekill Blues' showroom is located in Breckenridge, Colorado.