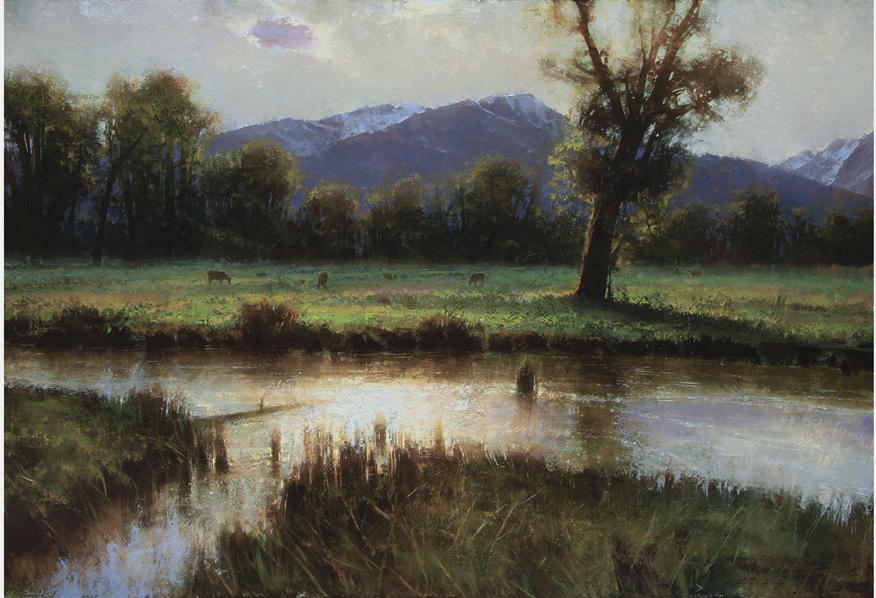 Brent Cotton, Valley Summer | Oil on Board | 20 x 40 inches | Image courtesy of Quest for the West | Eiteljorg Museum of American Indians and Western Art
15 Nov

Editor's Note: From Familiar to Fantastic

In 1968, author and artist Henry Miller wrote in his book To Paint is to Love Again: "No doubt the painter, studying the face of the sitter whose portrait he is about to do, must be astonished by the things he suddenly recognizes in the familiar visage before him. … What is an eye or an ear? The anatomy books will tell you one thing, or many things, but looking at an eye or ear to render it in form, texture, color yields quite another kind of knowledge. Suddenly you see — and it's not an eye or an ear but a little universe composed of the most extraordinary elements having nothing to do with sight or hearing, with flesh, bone, muscle, cartilage."

Miller's example illuminates one of art's many gifts: The ability to transform the familiar into something fantastic. He reminds us to view the complexity of the world with wonder and to be enamored with the ordinary. Miller helps us understand that even the mundane is beautiful if we take the time to observe it. He encourages us to view life with the imagination of an artist.

In this issue of WA&A, the perspectives celebrating the familiar cultural landscape of the West are as varied as their creators — each artist constructs their own "little universe" within the Western vernacular. Artists and architects invent new approaches to familiar mediums — from silver and steel to paint, concrete, and charcoal — to transform the ordinary into the extraordinary.

Examples of this are found throughout this issue. By creating a unique substrate, for instance, artist Lee Andre gives her animal portraits the softness of daguerreotypes, an effort that may seem unattainable in charcoal.

A review of the craftsmanship found in antique and contemporary firearms finds that many early weapons were elaborately engraved with the personal histories of their owners. These embellished memories in silver and gold transform the utilitarian into art.

Painter Gary Ruddell, meanwhile, creates impressionistic dreamscapes — subjects without faces, backgrounds without definition, stories without clear structures — so that his artwork is open to interpretation, as though meeting another in the shape-shifting subconscious, he allows us to pull our own stories from the void.

Artist R. Brownell McGrew [1916–1994] was not merely interested in documenting a setting or subject. Instead, he developed a painting technique that made his portraits appear to protrude from the canvas and emit a luminous glow. His methodology was his own, his process was never disclosed, and the results give his passion for the Desert Southwest an uncommon flair.

In this issue, you will also read about a home that becomes a refuge by reflecting and enhancing its setting, and another that is inspired by architectural history, yet tells a new story through thoughtful design.

Miller reminds us to wonder at the imagination's ability to create something universal from nothing. I hope you enjoy the varied perspectives of the ordinary turned extraordinary inside this issue, and that these stories help cultivate your own artist's eye.