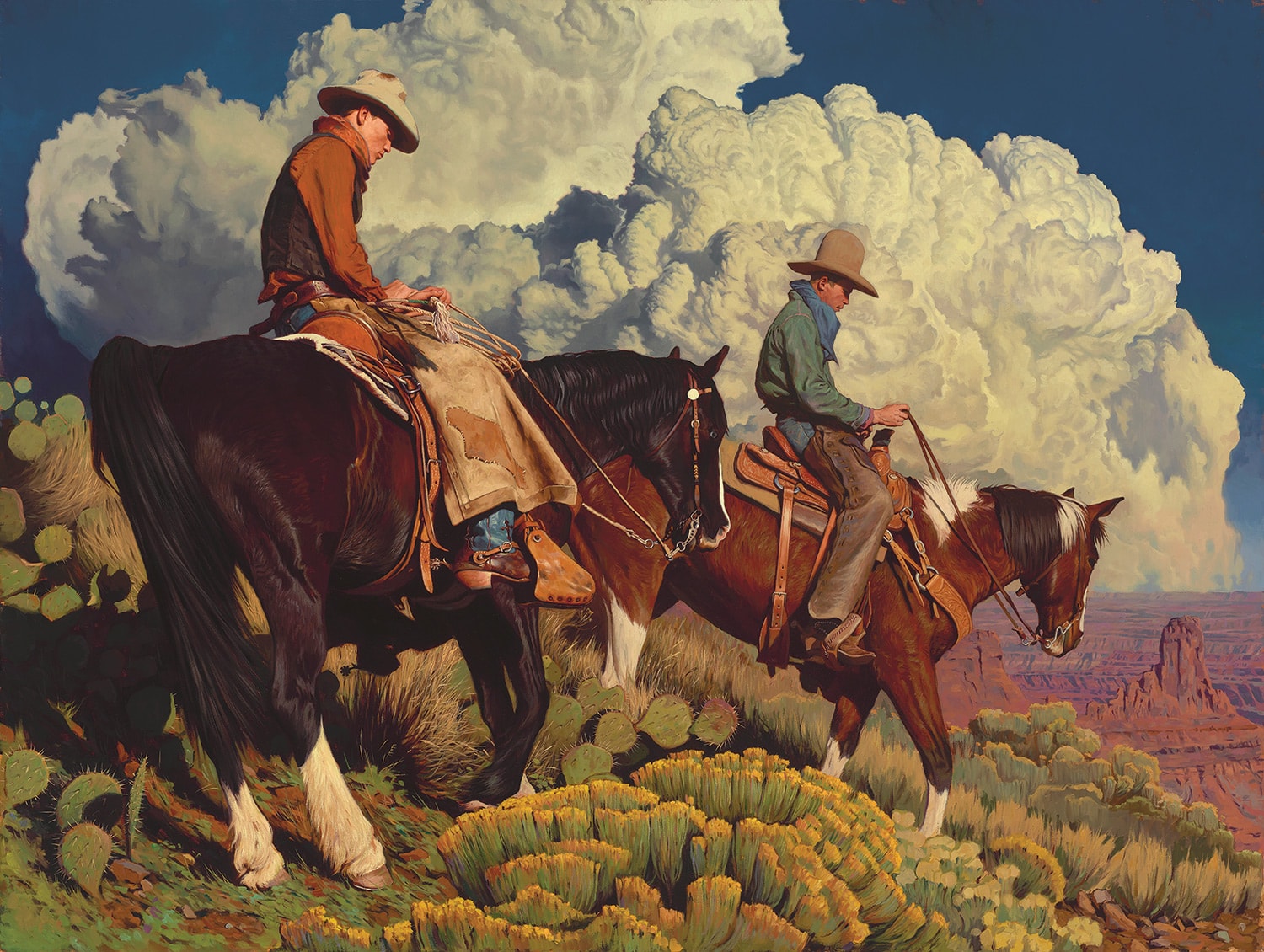 Mark Maggiori, "West of the Rio Grande" | Oil | 45 x 60 inches
15 Mar

Auction Block: Winning Ways

Sales of Western and wildlife art continued apace in the early months of 2018, with several auctions and gallerists reporting a strengthening market after the on-again, off-again lull that tends to set in during mid-winter.

A painting by James Bama ruled at Altermann Galleries' Scottsdale Sale in January, with the portrait of a Native American, A Mountain Shoshoni, realizing more than twice its predicted high price at a two-day auction that also struck a rich vein with Mandan Gold, a painting by Kenneth Riley, the price of which far exceeded expectations.

The Coors Western Art Exhihibit & Sale saw artists expanding the traditional notion of Western art in a fashion curator Rose Frederick says took the genre "way beyond barbed wire." Colorado native Dan Young was feted as featured artist at an event that brought abstraction by Ron Hicks and landscape as culture by photographer Lois Conner.

A set of historic Native American apparel — tanned hide shirt, leggings and moccasins — once worn by an Apache chief who was nephew to Geronimo, sold high at Brian Lebel's Mesa Old West Auction in Arizona, the same sale that elicited hefty amounts for saddles produced by celebrated craftsmen such as Edward Bohlin.

Buyers also laid out tens of thousands of dollars for works by American Indian artists such as Kevin Red Star and Tony Abeyta at the Autry's Masters of the American West, even as small-sized paintings by Martin Grelle and Robert Griffing generated commentary and tidy sums at the American Miniatures Show in February at Settlers West Gallery in Tuscon, Arizona.
Los Angeles Modern Auctions | February 25, 2018
Los Angeles Modern Auctions' modern art and design event hardly paused for breath on February 25 before racking up $2.7 million in sales for 200-plus lots that included a 1960s oil by Frederick Hammersley that sold for $200,000, a figure nearly three times the pre-sale estimate and one which shattered the previous world auction record for the so-called hard-edged artist.
The price paid for Home Run, a painting that demonstrates Hammersley's artistic principles concerning geometric shapes and design, adds to evidence that mid-20th century California artists have gained greater appeal among collectors, boosting bids.
Golden State-based talents such as Edward Ruscha, celebrated for producing Pop Art pieces, and Mary Corse, considered a leading figure in a California art movement that explored representations of light and space in a variety of media, achieved higher than predicted amounts for Cheese Mold Standard with Olive [Ruscha] and Untitled (Grey Light Grid) [Corse] which fetched $106,250 and $84,375 respectively.
The boutique auction house marked brisk sales for works by highly regarded East Coast abstract artists such as Frank Stella, whose 1970 work Rayy Sketch topped estimates and brought $81,250.
Masters of the American West Fine Art Exhibition and Sale | February 10 – March 25, 2018
Kevin Red Star, born on the Crow Nation in Southern Montana, saw his sleekly modern and boldly colored portrait of a Native American warrior on horseback, Strikes the Enemy, find a permanent home at the Autry Museum of the American West after gaining the James R. Parks Trustees' Purchase Award during the Masters of the American West Fine Art Exhibition and Sale.
It was a coup for an artist who marked a return to one of Western art's premier annual events, and the purchase of the painting fulfilled the museum's desire to attain a major work by a painter whose stature has only grown over time. "The paintings he did for us this year were just stunning," says Amy Scott, Autry curator. "He's an important artist and now the collection contains a beautiful, vibrant example of his work." The painting was priced at $35,000, with proceeds underwriting the museum's educational and outreach programs.
This year's event brought the sale of all four oils by Mark Maggiori, with the pieces ranging from a miniature, Ghost Ranch Rider, for $2,000 to a wall-sized work, West of the Rio Grande, priced at $40,000. The latter gained the Don B. Huntley Spirit of the West Award for outstanding work in cowboy subject matter. The painting of two cowpokes makes magical use of color and light and both the figures on horseback and horizon-sized clouds appear lit from within. The incandescence extends to the brush and cactus framing the horses' hoofs and to the rock formations that tower in the distance.
Scott says Maggiori, whose rise within the ranks of Western art has been rapid, demonstrates a commendable command of color and movement. "He's got that modernistic, super-saturated approach to color, and yet his work captures that kind of reality that people still look for in Western art, that closeness to nature," she says.
Tony Abeyta, who describes himself as a contemporary Navajo painter working in mixed media, produced a paean to an adobe village in Northern New Mexico with Village Landmark, which also serves as an ode to Cubism. Among new artists participating in the 2018 Masters, Abeyta was given the coveted Gene Autry Memorial Award for outstanding presentation of three or more works.
Patron's Choice went to Logan Maxwell Hagege for Pursuit of Happiness, which sold for $56,000.
American Miniatures Show & Sale at Settlers West | February 10, 2018
A pair of small-sized paintings that arguably generated the biggest buzz likewise brought top prices during the American Miniatures Show & Sale in February at Settlers West Gallery in Tucson, Arizona.
Martin Grelle's Crooked Staff Bearer, a 12-by-9-inch acrylic depicting a Native American astride a painted horse and carrying a decorated staff, was among pint-sized paintings to evoke substantial observer interest, as was Robert Griffing's painting of a pair of American Indians in a canoe in Leaving Ft. Niagara. Each of the works garnered $7,800, at the higher end of offerings.
John Coleman's Wild Horses, an evocative portrait of an elaborately costumed figure against the backdrop of stylized horses, brought $6,800, along with admiring commentary at an invitation-only show that, by mid-February, had realized more than $320,000 in sales for 155 items and in which buyers are selected by draw.
Two separate paintings of wild cats, one in youth — Lazing in Light — and the other in age — Lady Amber — by Bruce K. Lawes, fetched $3,400 each and proved popular in the wildlife art genre, as did cougar and wolf paintings by Daniel Smith, with the former, Canyon Convergence, selling for $3,200 and the latter, Flash of White, going for $2,800, bargains by any measure.
Among the aims of an annual show conceived by Settlers West owner Stuart Johnson is to present original works by well-known artists at affordable prices. The crowds on hand for the event and those that toured the gallery in advance of the show's opening indicated enthusiasm for the material and confidence in the market, Johnson says.
Dynamic scenes and arresting figures squeezed into small frames add an air of drama, and familiar themes take on fresh life at the event. A.T. Cox's Go to Your Momma, showing a wrangler keeping sedate pace with a wandering calf, represents one such example, with the quintessentially Western tableau large on detail if not on size. The 9-by-12-inch oil went for $6,900.
Brian Lebel's Mesa Old West Auction | January 20, 2018
Brian Lebel's Mesa Old West Auction in the Phoenix, Arizona, suburb of the same name saw fewer items than last year, but comparatively more revenue, with 305 lots garnering in excess of $1.1 million and boasting a sell-through rate of 94.3 percent the evening of January 20 at the Phoenix Marriott Mesa.
A small Edward Borein watercolor led the sale by an auction house that has gained a reputation for handling works by the cowboy artist whose sketches and paintings marked the peoples and the landscapes in the American West during the last decades of the 19th century and early half of the 20th century. A Bucking Bronco brought a handsome $76,700 with buyer's premium, well within its pre-sale estimates.
The second top-seller was a one-of-a-kind trio consisting of a tanned hide shirt, leggings and moccasins that belonged to Apache Chief Asa Daklugie, nephew to famed Apache warrior Geronimo. A photograph of Daklugie shows him dressed in the shirt, which is ornamented on its front with a pair of nickel conchos framed with beading in the shape of sunbursts. The set of apparel went for $56,000, far above its expected range of $25,000 to $35,000.
Cowboy gear continued to show selling strength, with a Rose Parade saddle liberally embellished with silver and crafted by celebrated saddle maker Edward Bohlin going for $47,200 to a phone bidder. And, in what auction officials say was an exceedingly rare item, a half-scale saddle used by salesmen as a sample and stamped with "L.D. Stone & Co./San Francisco" realized $44,250, or nearly double its low, pre-sale estimate.
Auction owner Brian Lebel hailed the ongoing popularity of Western items. "I am thrilled to see that cowboy material continues to sell well," Lebel says in a statement. "This business is always changing, but it's heartening to know that great material still sells for great prices. We say that all the time in our business, but it's nice to be reminded that it's true."
Altermann Galleries' Scottsdale Sale | January 18 – 19, 2018
A stunning figurative painting by James Bama depicting a Native American in profile claimed the top slot at Altermann Galleries' two-day sale in Scottsdale, Arizona, in January that saw $2.1 million in total sales.
The understated nature of the portrait, A Mountain Shoshoni, is, conversely, what underscores its allure in a work that brooks no debate over perfection. The oil-on-panel went to a telephone bidder for $282,000, more than twice its high-end, pre-sale estimate of $90,000.
Handsome sums attended Nicolai Fechin's Arroyo Seco, which went for $210,000 at the sale even as Mandan Gold, a powerful painting of two American Indians by Kenneth Riley, climbed to $180,000, tens of thousands of dollars more than pre-sale expectations.
And if there were others vying to achieve Arizona painter Ed Mell's mastery of Southwest skyscapes, would-be contenders would quail at the sight of Mell's outsized oil, Grand Sunset, which brought $108,000, and Azure Sunset, which fetched $93,000, compared to estimates that ranged from $40,000 to $60,000.
Owner Richard Altermann says he was pleased with the sale's overall results, adding in a statement, "The direction of the economy and the stock market were reflected in the auction results."
Sotheby's Americana Week | January 17 – 21, 2018
For the second time in as many years, a document steeped in American history and consciousness led Sotheby's sale of roughly 1,000 objects of American art, artifacts and design during a five-day, eight-session event in January that netted $13.9 million.
The auction house's Americana Week featured a top seller that constituted a single sheet of paper printed on one side but which spoke volumes about the nation's aims, ideals and intentions, with an authorized 1776 printing of the United States Declaration of Independence going for $1.2 million.
Chromolithography, a form of color printing, was behind one of the earliest efforts to present to the public images of the mountainous regions that today constitute the Rockies. A set of 15 chromolithographs tied to F.V. Hayden's expedition to Yellowstone in 1871, in the company of premier landscape painter Thomas Moran, brought $275,000, with buyer's premium.
The Yellowstone National Park, and the Mountain Ranges of Portions of Idaho, Nevada, Colorado and Utah were reproduced by printer Louis Prang in 1876. The magnitude of the accomplishment was apparent even at the time, when 1,000 sets were sold for the price of $60 per set, with complete sets rarely coming to market, according to Sotheby's. The lot that sold had originally been purchased by a 19th-century Norwegian immigrant and avid collector of Americana.
A happy surprise attended the sale of an inlaid cherry-and-mahogany tall-case clock, with the standing timepiece produced by a celebrated New England cabinetmaker, Nathan Lumbard, in 1800. The clock, executed in the Federal style, went for $471,000, compared to its top-end, pre-sale estimate of $120,000.
A beautifully wrought silver-and-copper punch bowl and ladle, ornamented by arrowheads, geometric designs and sculptural reliefs of American Indians, brought $312,500. That compares to estimates ranging from $125,000 to $175,000 for a piece that first retailed in Pennsylvania in the early 20th century.
Coors Western Art Exhibit & Sale | January 3 – 21, 2018
The American West is far from static and the artists who portray the nation's most romanticized region are similarly unwilling to use their time and talents to maintain the status quo.
The same can be said of the Coors Western Art Exhibit & Sale, which this year marked its 25th anniversary and which has grown from modest beginnings to become one of the largest curated Western art shows in the nation.
The event, a highlight of the National Western Stock Show, and anchored January 3 by an upscale evening get-together known as the Red Carpet Reception, was energized by dozens of painters and sculptors redefining the historical boundaries of Western art. The reshaping has been influenced by leading issues in the modern-day West, such as concerns over water scarcity amid regional population growth and conversion of one-time farms and ranches into residential and commercial developments.
Curator Rose Frederick says artists' expressions of that changing West and its shifting social, political, economic and geographical landscapes were evident in everything from materials — where mixed-media saw bronze paired with found objects — to new creative forms such as photographs transformed into three-dimensional sculptural works. "I feel as though the show, the painters and the sculptors represent the new voice of contemporary artists in the western United States," she says.
Colorado native Dan Young was named the event's 2018 featured artist, adding his pensive The Super Moon on the Colorado to National Western's permanent collection. Young, a graduate of the Colorado Institute of Art, was happily pursuing a successful career in illustration art in 1989 when he returned to his home state to paint its river valleys and mountain peaks full time.
It is easy to fall in love with the Rocky Mountain West Young depicts in his landscapes. The artist is expert at conveying nature and its infinite number of moods, from the sultry glow of Super Moon to the spare but bold In Conclusion, a small-sized oil of red-hued outcroppings that sold during the show's silent auction.
Young, whose gaze has long been fixed on the West, is among artists aware that the region is changing before his eyes. Nowhere is this more expertly manifested than in his painting Morning Uplift, where light transforms the earth and lowlands, meeting mountain girth.
"He visits one particular open space every day and walks it in a meditative way. He paints, sketches and takes pictures at different times of night and day. He's someone who is taking the time to really get to know his subject," Frederick says.
She adds, "What I see in Dan's work is he's taking the land and going beyond portraying it; he's turning it into poetry, which is what a dedicated artist will do."
There were other examples at the Coors show of paintings infused with the artistic endeavor William Wordsworth described as "emotion recollected in tranquility." Denver-based artist Ron Hicks, awarded Artists' Choice, submitted a trio of lyrical figurative works that serve as a placeholder for the often untold tale of Western women. Hicks' female figures emerge from abstract surfaces that emphasize the spell-binding quality of faces and forms. "Instead of approaching the canvas with an idea, Ron is letting abstraction guide him and, eventually, the figure will start to rise up through the surface," Frederick says.
Seeing is believing when it comes to the artist's phantomlike renderings, with all three of his oil-on-board submissions — Quiet Melancholy, Solace and The Covering — snapped up at a show that overall saw more than $825,000 in art sales. Frederick says Hicks' treatment of the female figure naturally lends itself to a broader discussion about women's roles in forging new lives in the American West. "There is no way it would have been settled without very strong women," she says.
And they are still settling it. Lois Conner, whose maternal grandmother was Native American and who makes annual pilgrimages to the West, produced a stunning array of photographic art for the Coors show, including Canyon de Chelley, Arizona, in which a textural image of an American Indian warrior is superimposed on a patch of arid ground. Conner has said her subject is landscape as culture in which she explores her relationship between the tangible and the imagined, fact and fiction.
Len Chmiel was awarded Best in Show for his painting, Once a Fencepost, at the Coors art event, one of the largest fundraisers for the stock show's National Western Scholarship Trust.