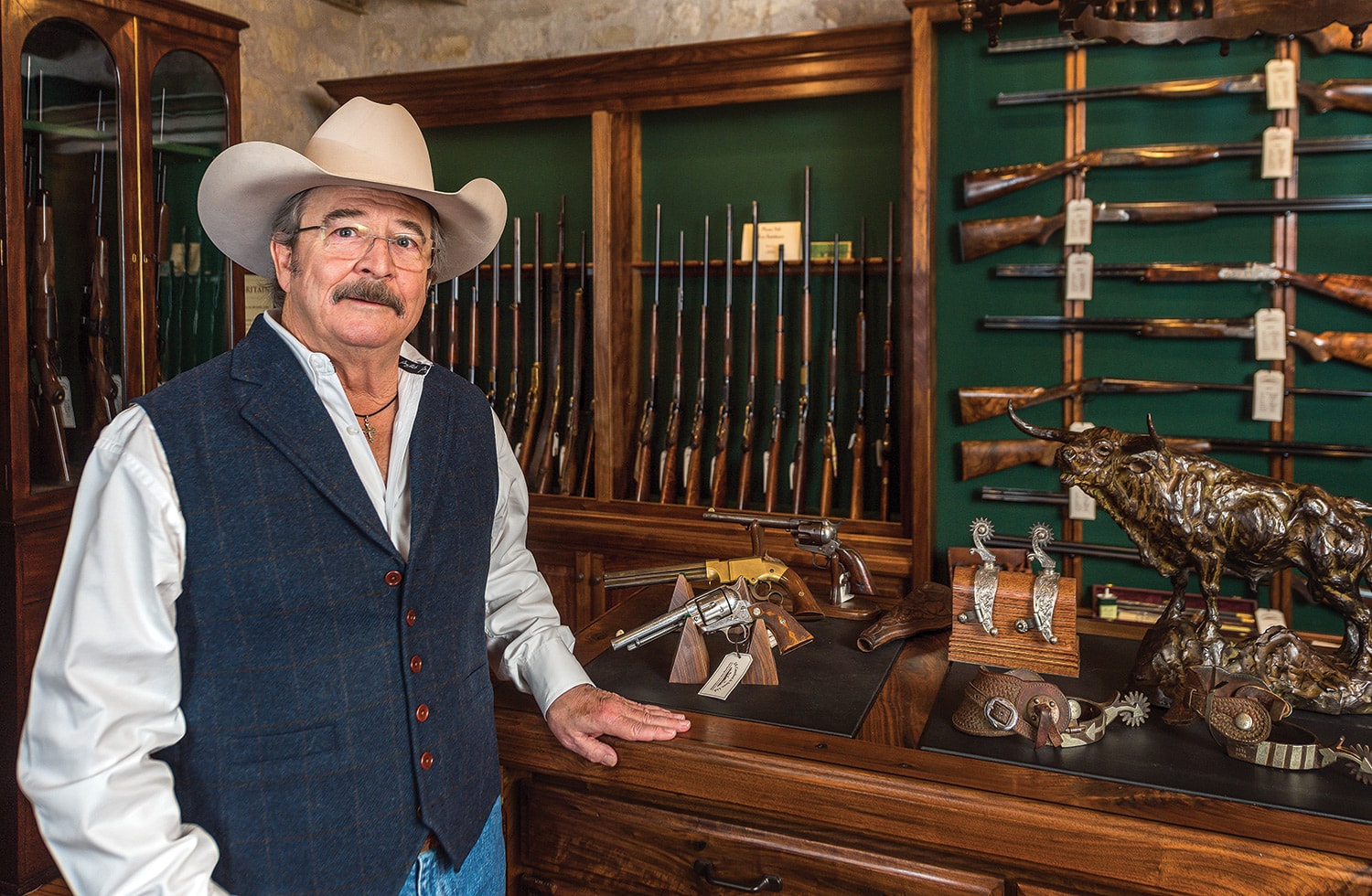 15 Mar

Collector's Eye: Handmade and Historic

Walk into J.E. Cauthen & Sons, one of the charming historic storefronts on Main Street in Fredericksburg, Texas, and it feels as if you've entered an old English study. Modeled after the historic gun rooms of London, the building was constructed in the 1870s and restored by collectors Brenda and Jim Cauthen to serve as a brick-and-mortar business since 2012, housing their antique gun collection, European antiques, Western art and memorabilia.

Jim Cauthen had a long career in the oil and gas industry, based in the couple's hometown of Midland, Texas. Visiting Fredericksburg often for getaways, the couple fell in love with the character of the artsy town and decided to retire here, although that didn't quite happen. "I've always told myself that I would never really retire," Jim says. "I've worked hard my whole life and didn't think I could stop, so this was something we decided to do together."

J.E. Cauthen & Sons clearly is a combined effort, one that unites Jim's passion for guns and Brenda's background in interior design. The thick, limestone interior walls, a signature look of Texas Hill Country architecture, pairs well with the dark wood antique furnishings. With a warehouse nearby, Brenda switches out the displays from time to time. Desks, display cases, leather chairs and lamps are set in the different rooms and accented with antique accessories. Western sporting art and taxidermied mounts hang on the walls and above the fireplaces. Other collectibles, including antique Tiffany silver, bits and spurs, saddles and coins are also on display.

And then, of course, there's the gun room where Jim walks clients through the history and craftsmanship involved in each piece. "It really started when I was a kid," Jim says. "I was always into guns, exposed to hunting with my father at a young age. And I started collecting inexpensive guns from odd jobs and trading them up." Later, he developed a passion for the Old West, and his gun collection continued to expand in both value and size.

J.E. Cauthen & Sons is a must-see in Fredericksburg, and a place where the Cauthens can share their passion for history, quality craftsmanship, art and the West.
---
WA&A: What inspires you to collect?
Jim Cauthen: An appreciation of fine things and handmade pieces. I've always been intrigued with handmade saddles, bits and spurs, the guns — Colts and Winchesters — but also new English and Italian shotguns and rifles. All these guns are handmade, and to me they are pieces of art. Art is not limited to paint and clay.
WA&A: Why in particular do you collect artifacts of the West?
J.C.: Because I've always been intrigued with it; I've been a student of the Old West. It's a natural progression, that I'd be wanting to be involved with this stuff. Part of me thinks I was born 100 years too late. I've worn a cowboy hat since elementary school, and I still do!
WA&A: What was the first piece you purchased, and what made you choose it?
J.C.: I would imagine it was a gun, and that it wasn't historic or collectible. The first guns that I collected were the guns I hunted with, so it was probably something good for hunting at the time. Later on, I started trading up.
WA&A: What is your most beloved piece, and why?
J.C.: That's hard, I have a lot of cool pieces. One would be a pistol that belonged to the Texas Ranger Jefferson Davis Milton. It has good provenance, and it's a cool, old, single-action Army colt pistol. It's a neat gun he had made for himself later in life. The president of the U.S. sent him to Russia; they were deporting Russians and he wanted him to escort them. With money he made from that, he bought this pistol.
WA&A: At what point did you realize you were a collector?
J.C.: Maybe in high school. It was just strictly guns at that time, but later I also collected coins, Lincoln pennies back to 1909. I was always trying to improve my collection, trying to trade in for better guns. That's how it evolved into the illness it is today!
WA&A: If you could meet any character from the Old West, who would it be?
J.C.: Bat Masterson, Wyatt Earp, Doc Holliday, people like that. Bat Masterson has a funny story about where he got the name 'Bat.' It was about the cane he carried around. As a lawman, he would use it as a bat. I bid on that cane about seven to eight years ago, but I didn't get it.
WA&A: What was the one that got away? Are you still pursuing it?
J.C.: That bat would be one. Another that I'm currently pursuing is a gun owned by Nat Love, a famous black cowboy. He won all kinds of rodeo events and was a lawman. It's a gun that has his name on it, and I've made an offer.
WA&A: What is the message your collection portrays to the public, and what do you hope the public gets out of it?
J.C.: When I'm showing people these guns, I'm giving the background, and some of it is quite historical. So they can get a sense of the history of the Old West that's so important to me. I hope this can help them develop an appreciation for art, antiques, fine guns and Western memorabilia.
WA&A: Where do you imagine your collection will be in 100 years?
J.C.: We have two sons and neither has caught the collection bug that I have. I wouldn't be surprised if it's sold at auction someday after I'm gone. The store's name is J.E. Cauthen & Sons, and both worked here when we first opened, but they've moved on.