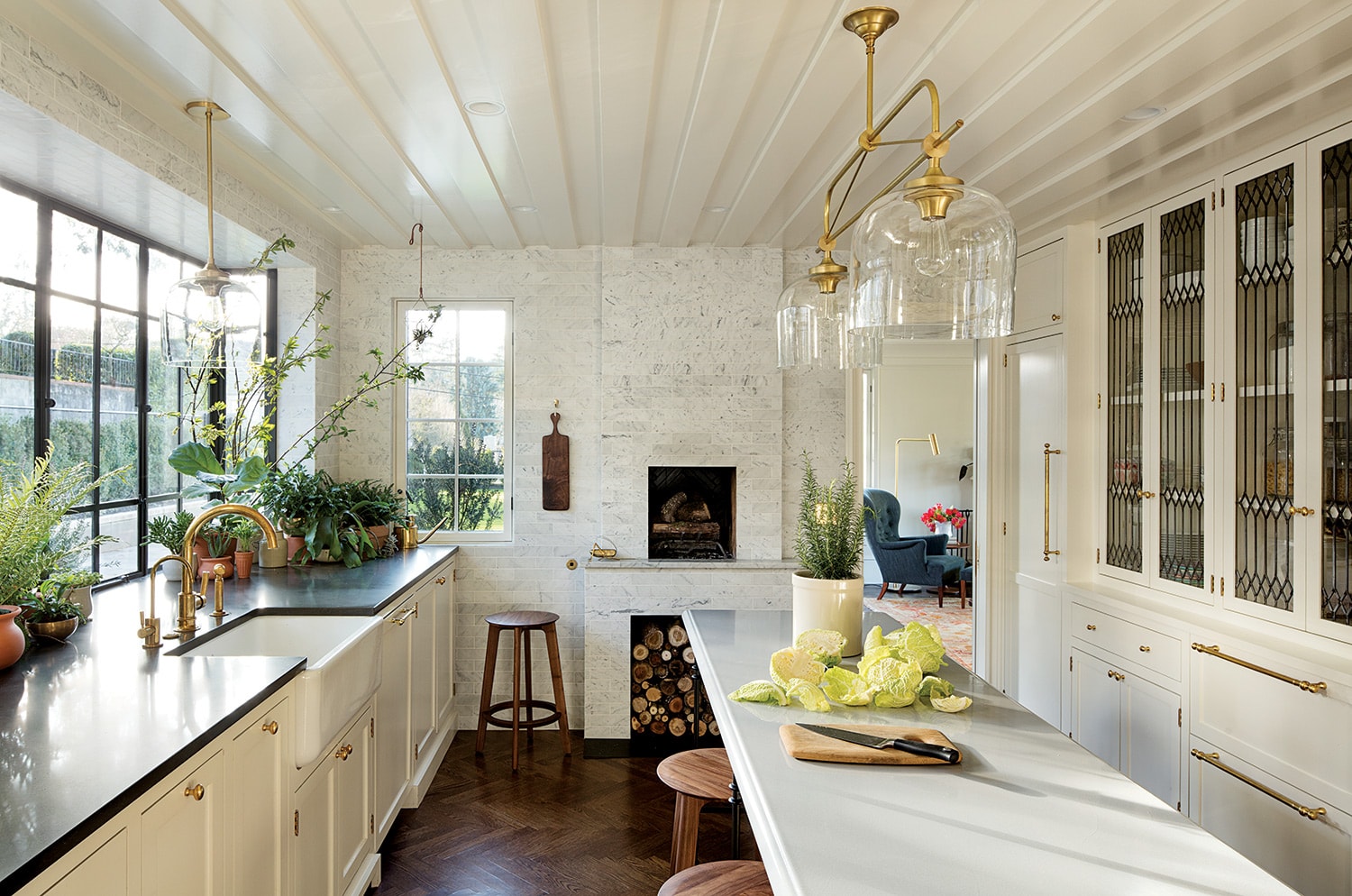 The team at Jessica Helgerson Interior Design reimagined the kitchen in a 1937 Portland, Oregon, home with an artful blend of repurposed and new elements. The leaded cabinet doors were custom made by a local craftsman, and the light fixture over the island is Neo by O'Lampia. Hard-working quartzite covers the perimeter counters, and the island counter is topped with French Pyrolave, an enameled lava stone slab. Photo: Jeremy Bittermann
15 Mar

Designing the West: From Past to Present

Leaded glass windows. Quartz countertops. Pocket doors. Professional appliances. Handcrafted tiles. Energy-efficient lighting. A walk through a home designed by Jessica Helgerson Interior Design often reveals a blend of old and new so seamless and carefully integrated, the eye might not even notice the juxtaposition.

"I was always enamored with houses as a kid," Helgerson says. "My mother is French, and her parents had a home in Burgundy. It was beautiful and classic, built from the local golden-hued stone. I spent summers there and often think my grandparents' house sparked my first interest in architecture."

Majoring in English with an eye toward an eventual law career, Helgerson took an interior design class at the University of California, Santa Barbara and the rest, as they say, is history. "Something just clicked, and from then on I knew what I was meant to do," she says.

After working for an architect after college, Helgerson decided to open her own design business in Santa Barbara. "One day, a client walked in who owned a lot and wanted to build two houses, and we were off and running," she says.

Helgerson later relocated to Portland, Oregon, with her husband and launched her eponymous company 13 years ago. Today, the 10-person firm's primary focus is full-scale residential remodels.

"We love to work on historic structures that feel worthy of all the love and attention we're going to pour on them," Helgerson says. "First and foremost, we always listen to the house. What I mean is, we pay attention to the period, existing architecture and details, and let our design and materials palette be influenced by the house."

One of the company's hallmarks is meticulous space planning. "Getting the floorplan right is a very important first layer," Helgerson says. "We tend to think about how the details will work out as we're simultaneously developing the look and feel of the house."

The firm recently helped a couple redesign a historic home in the Portland Hills neighborhood. "The house was built in 1937 and hadn't really been updated since then," the homeowner says. "We met with Jessica and her team even before we found a builder, and those early meetings were very exciting. We had a productive dialogue, and they made sketches as we collaborated. They also utilized all the high-tech tools, creating an online photostream of reference images of the house and a digital idea book."

Although the "new" house is 300 square feet smaller than the former house, it has much more usable space and design functionality, according to the homeowner. "A perfect example is the kitchen, where we tend to congregate," he says. "We love the long table in the middle, the abundant counter space, and the open glass cabinetry so we can see things. The built-in refrigerator is augmented with two small undercounter beverage drawers for additional cold storage. It has large, efficient, old-fashioned windows that pivot from the middle, and we always crank them open and let the fresh air in."

About 30 percent of Helgerson's work is commercial, and the firm has completed a number of interesting projects in and around Portland, from a laundromat, yoga studio and video arcade to a retail shop for luxury linens and a Middle Eastern restaurant. "We really enjoy commercial projects, and I think that being versatile makes us better designers," Helgerson says.

The company's atmosphere is congenial and supportive. "Our designers are each incredibly talented, so I tend to lead from behind," Helgerson says. "We have an open office and we collaborate. We all really like each other and take turns making group lunches."

The company headquarters and studio are housed in a historic 1880s brick building with high ceilings and huge windows. After visiting the Suyama Space in Seattle, Washington, Helgerson was inspired to create a similar project in Portland. The result is called Front of House, a gallery for site-specific installations where an artist is invited to create a piece specifically for the space.

At the end of the day, Helgerson heads home to the modern farmhouse she and her husband built on Sauvie Island. "The island is the size of Manhattan, but with only 1,000 residents," she says. "The land is half agricultural with small farms and half nature preserve; it reminds me of France where I spent my summers."

The couple and their two children lived in a 540-square-foot cottage on the property for four years while their new house was being built. "Good design takes time, and I'm not great at cranking things out," Helgerson laughs. "But if you're patient, we'll help you create a house you can enjoy for the next 100 years."
---
WA&A wants to know:
Interior designer Jessica Helgerson shares some of her  favorite inspirations, spaces and sources.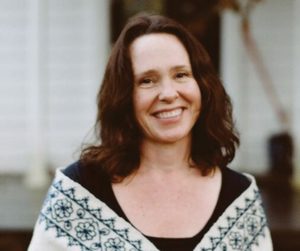 Q: Do you have a favorite design book?
A: Art de Vivre Dans le Monde is a French book by Stafford Cliff; the title translates to "The Art of Living in the World." It's a four-color book about real people with real interests living in houses from all over the world.
Q: Describe your own home.
A: It's a 2,200-square-foot classic American farmhouse on Sauvie Island that we built while living in the original cottage on the property. My son, Max, named it Wild Goose Farm. We love having friends out to visit, and a lot of other people feel like it's their house, too.
Q: Tell us about one of your favorite interior wall colors.
A: A white we often use is Benjamin Moore's OC-69, White Opulence. It's a versatile basic white with just a drop of pink in it. For those times when we don't want even a hint of pink, our standby is Benjamin Moore's off-white OC-68, called Distant Gray.
Q: Who is an artist or artisan whose work you admire?
A: Christopher Payne is a talented photographer in New York who does beautiful large format photographs of industrial and architectural spaces. His recent photo essay, Inside One of America's Last Pencil Factories, is brilliant.
Q: When you want to unwind, where do you like to travel?
A: Mexico. I've been going there since I was 12, and I love the people and the culture. Now, I travel there for business and pleasure. Two friends and I recently started Collectivo, working with indigenous artisans from many different states in Mexico to make their beautiful crafts and designs available online to a wider clientele.
Q: Describe your personal entertaining style.
A: We love to have casual, happy parties at our home out on the island. My husband grows a lot of our produce and we have a wood-fired oven, so we love to make homemade pizzas.