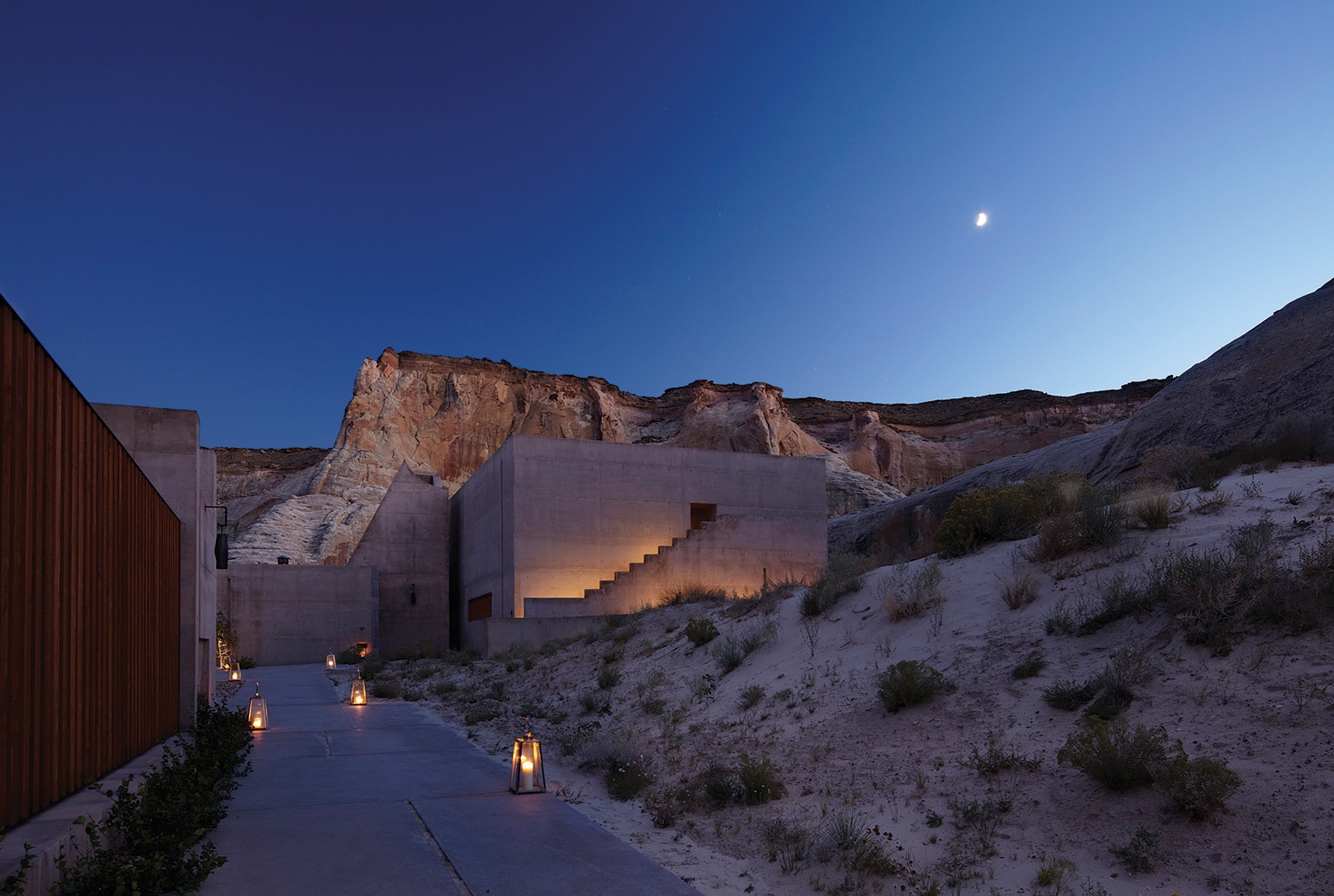 Incorporating five separate pavilions with water elements, the Aman Spa is designed for intimate reflection. | Images courtesy of Amangiri
15 Mar

Western Landmark: Amangiri

If you've longed for the thrill of crossing a high-chasm via ferrata, it's not necessary to go to the Alps, where the term was coined. "Iron road," the Italian translation of via ferrata, is a mountain route equipped with fixed ladders, cables and bridges, allowing trekkers to enjoy dramatic vistas without the potential danger. In Southern Utah, the Amangiri resort made sure its guests could experience the beauty of the rugged terrain of Canyon Point by including a via ferrata on its hiking trails.

In fact, the entire resort is dedicated to the wonders of the Utah wilderness; its architecture is decidedly open, with private outdoor areas in each suite. Guests can enjoy the majesty of the scenery from several terraces, warmed by huge fireplaces with blankets provided for wrapping up and watching the night sky.

Amangiri is one of more than 30 properties owned by Aman Resorts, all in breathtaking locales and described as discreetly luxurious. The resorts came about by accident. Adrian Zecha, a celebrated hotelier, decided to construct a personal vacation home in Phuket, Thailand, after selling his luxury hotel chain, Regent Hotels. When he couldn't obtain financing, he constructed several villas on the property and rented them out, resulting in a resort now called the Amanpuri. Thus began Aman Resorts in 1988.

In Southern Utah, the 600-acre Amangiri was designed in collaboration with I-10 Studio, comprised of internationally renowned architects Rick Joy, Marwan Al-Sayed and Wendell Burnette. Each was devoted in some way to the mission statement portrayed by Zecha: "Our aim was to build something that was a contemporary interpretation of Native Indian architecture. Not perfectly adapted, but hopefully generating a sense and spirit of it. Also, that it would respect the natural environment," Zecha says. "This was the most important aspect of the whole development."

"The design is a celebration of the beauty of the American desert," says Joy, who is recognized for his work with rammed-earth designs and for the clarity and simplicity of his buildings made from concrete and steel. Joy also brought his love of the Southwest, steeped in part by attending the University of Arizona in Tucson, and through his early professional experience with famous architect Will Bruder of Scottsdale, Arizona. "The forms at Amangiri are deeply rooted in context and place," he says.

In addition to Joy's expertise, Wendell Burnette Architects in Phoenix, Arizona, and Marwan Al-Sayed, Inc. in Los Angeles, California, brought their broad range of design experience, from master planning and building design to interiors and furnishing, all coupled with an innovative and progressive aesthetic. The strengths of each of the three architects combined to make Amangiri a wonder. Fitted into the Canyonlands of Utah and mimicking them at times, the resort even includes an abstraction of a slot canyon — an external walled lane that leads to 16 suites and is nestled against the rocks of the Desert Wing.

The Mesa Wing, meanwhile, unfolds against undulating rock formations. Entry to these 16 suites is through rock archways, each of which encompass a raised stone island, incorporating a private outdoor lounge.

It can be said that no matter where one is on the five-star luxury property, inside or outside, the sweeping views are stunning enough to renew one's spirit and soul. After all, "aman" means "peace, security, safety, shelter and protection" in the Sanskrit, Hindi, Punjabi, Arabic, Urdu and Persian languages.