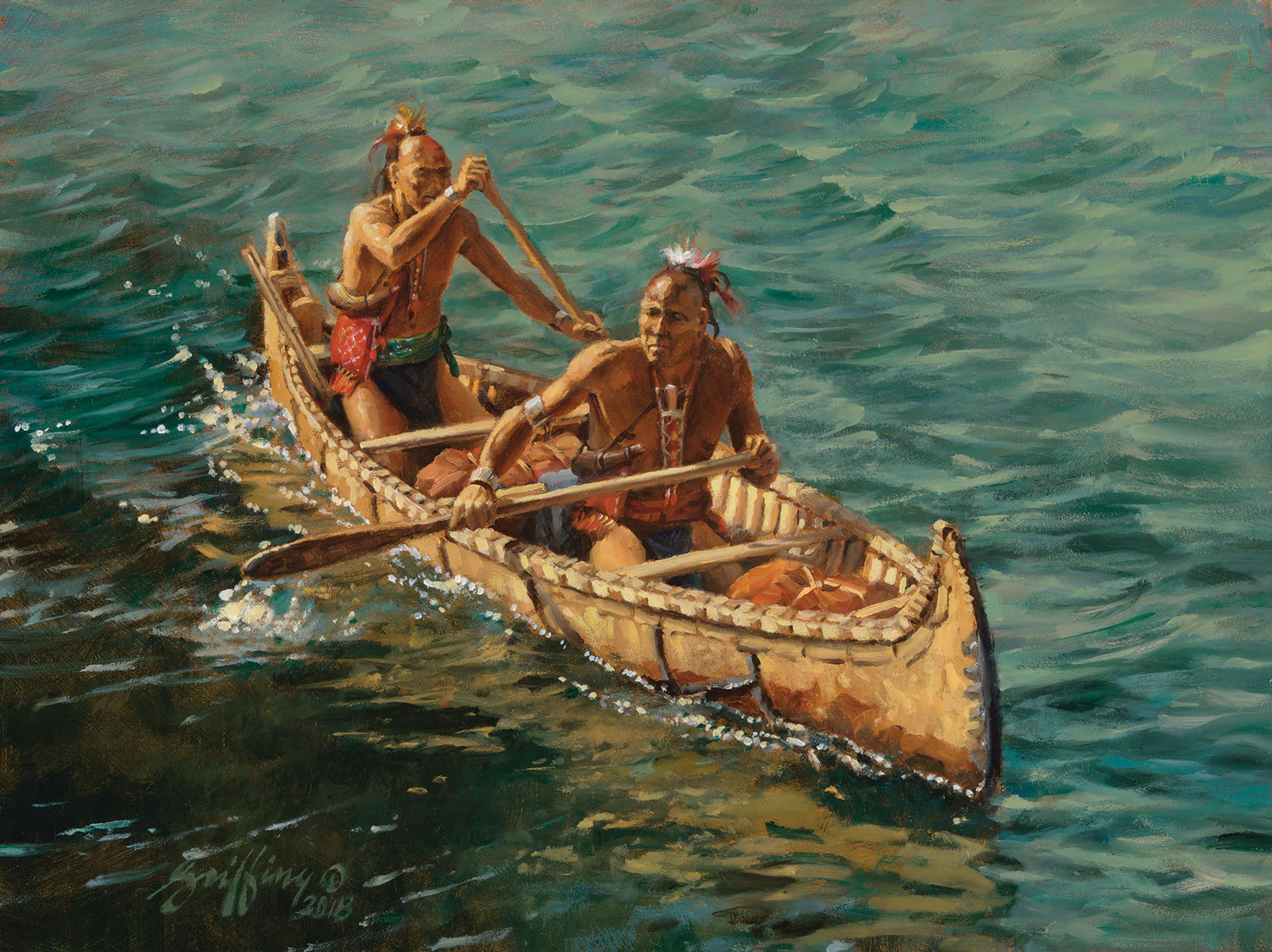 Robert Griffing, Approaching Fort Niagara Oil | 9 x 12 inches | Sold: $7,800 | Image courtesy of Settlers West American Miniatures Show
11 Mar

Auction: Block Old West Meets New
Masters of the American West at the
Autry Museum
February 9 – March 24, 2019
The Masters of the American West, the preeminent annual show and sale at the Autry Museum in Los Angeles, California, broadened the definition of the Western art genre to meet its contemporary counterpart. The working example was Wild West Show, the painting by Thomas Blackshear II that gained the James R. Parks Trustees' Purchase Award, adding it to the museum's permanent collection. The oil, purchased for $27,000, shows an African-American cowboy slouched in a chair, coiled rope in one hand and cigarette in the other. He sits in front of an outsized sign advertising Buffalo Bill's Wild West Show.
And there is no reason to rest there. Purple Haze, the $45,000 Mark Maggiori oil on linen that won the Don. B. Huntley Spirit of the West Award, arguably has no parallel in recent Western paintings for presenting color as an entity unto itself.
"Masters in 2019 continues to expand its footprint in the world of contemporary art in the American West, a place as diverse as the artistic traditions represented throughout its long history," says Amy Scott, the Autry's visual arts curator.
American Miniatures Show & Sale
at Settlers West
February 9, 2019
The crowd at Settlers West in Tucson, Arizona, was in a buying mood when it gathered in early February for the gallery's annual American Miniatures Show & Sale. The opening of the event saw more sales by people who were present than by absentee bidding, a change from the previous year. Gallery co-owner Stuart Johnson says the sale of small-sized works that tell large-sized stories realized more than $300,000 tied to 151 paintings purchased at the opening and through the second week of February.
"There was a lot of optimism out there. The day-to-day selling of art is slow but the events are dynamic and very positive," he says.
The format offers fixed prices for pieces, with the ultimate "winner" being drawn from a box of names. "We saw competition for most of the paintings," says Johnson.
 Sales included Across Muddied Waters, a tiny but powerful composition by Martin Grelle depicting a Native American crossing murky waters on horseback. That painting sold for $9,500, just one of several bargains. Robert Griffing's Approaching Fort Niagara, a 9-by-12-inch oil showing two American Indians paddling a canoe, was purchased for $7,800, a steal for a painting that demonstrates Griffing's skill in capturing the hues and rocking rhythm of flowing water.
Scott Tallman Powers' quiet Mexican market scene, Lunch Time, sold for $2,650, a price that fails to convey the power of a reflective moment in the lives of a couple manning a produce stand. The seated, matronly woman holds a large red umbrella against the sun's heat in one hand, while her other hand is outstretched toward the food she is sharing with whom one imagines to be her husband. The painting underscores Powers' demonstration of how the profound is contained in mundane moments.
Tim Solliday produced a mini-masterpiece in Indian Moon, which pairs coral-colored mountains with a pale yellow moon, interrupted by a blanketed Native American rider. That painting fetched $3,500, even as Todd Conner offered an impressionistic take on a definitive development in First of the White Men. The piece, which went for a modest $1,500, depicts two American Indians on a bluff overlooking a river where watercrafts and their crews float by. 
Johnson credited Conner, an artist who lives and works in rural Montana, with knowing his subject matter. "What I liked about the painting is that it is a realistic portrait of Indian life of that period," he says.
Bonhams L.D. "Brink" Brinkman Collection
February 8, 2019
Howard Terpning's 1982 painting of the tension between two armed groups of riders, Coffee Coolers Meet the Hostiles, sold for $1,392,500 compared to a high pre-sale estimate of $800,000 during the February sale of what Bonhams described as one of the most significant collections of Western American art to appear at auction.
The artwork that was assembled by L.D. "Brink" Brinkman, a celebrated entrepreneur, philanthropist, and art patron of Kerrville, Texas, totaled $8,375,500. The large-sized Terpning oil was the top lot, closely followed by a painting of cool blues depicting a wagon, a harnessed team, and two figures in The Taos Twins by Ernest Martin Hennings. That piece likewise bumped above its presale estimates of $500,000 to $700,000 to achieve $1,032,500. 
Terpning works sandwiched the Hennings for high bids. Terpning, who is lauded for his skill in depicting Native American life and culture, created the horizontal paintingBlackfeet  Spectators in 1984 and wrote to Brinkman that it had been inspired by a charcoal drawing produced several years before, according to lot details provided by Bonhams. It sold for $792,500 with fees compared to pre-sale expectations that ranged from $500,000 to $700,000.
Artist Frank Tenney Johnson makes magic with his nocturnes, and Alphonzo Bell, the horse-and-lone-rider portrait of an oil magnate, rancher, and real estate developer, is an exceptional example of Johnson's deft hand. The painting realized $348,500, with pre-sale estimates between $250,000 and $350,000.
Scot Levitt, director of fine arts, says Bonhams was honored to have the opportunity to sell such an exceptional collection of Western art assembled by L.D. Brinkman over the past half-century.
"The success of the sale cements the lasting legacy of Mr. Brinkman as an astute collector and patron of Western art and artists," he said in a statement.
Brian Lebel's Mesa Old West Auction
January 25–26, 2019
A stellar photography collection by Old West historian Robert G. McCubbin brought $1.7 million on Friday, January 25, during the first of two sales that realized more than $3.1 million in Mesa, Arizona, as part of the Old West Auction that takes its name from the city and the event's owner, Brian Lebel.
The top lot among the historic images was the photo album assembled by outlaw John Wesley Hardin, a collection that included a tintype of the Texas gunslinger himself. It went for $129,800 compared to a pre-sale estimate of $75,000. Additionally, images of Butch Cassidy and the so-called Wild Bunch in the Fort Worth Five Pinkerton photograph realized $118,000.
And the hefty sums just kept coming. A photograph mounted on a card, featuring a portrait of notorious gambler and gunman Ben Thompson, brought $94,000, or nearly four times its low estimate. The piece was inscribed to Texas outlaw King Fisher and, in a creepy and fascinating twist, it was stained with Thompson's blood.
A carte de visite (or small-sized, paper-thin photo affixed to a stock card) of frontiersman James Beckwourth rose by the tens of thousands of dollars above its expected amount, ultimately achieving $70,800 at an auction that could boast an almost unheard of sell-through rate of 100 percent.
McCubbin's impressive collection of artifacts and ephemera attracted a standing-room-only crowd of 600 the following Saturday evening when a knife, reputed to be in the hands of Billy the Kid when he was shot by lawman Pat Garrett, crossed the block for $118,000. The selling price was lower than estimates, which had ranged into the hundreds of thousands, but that did not dampen Lebel's spirits.
"Estimating auction lots of this kind is not easy," he said in a statement. "This item was truly one-of-a-kind and has no 'comps' to compare it against. Every collector we are aware of who had the interest and wherewithal to purchase the Kid's knife was bidding in our sale. As a result, now we know the actual market value of that particular artifact. That's important information for our whole industry."
The Saturday auction achieved a sell-through rate of 99 percent and brought more than $1.3 million. And not all of the action happened on the floor. Roughly 30 lots of McCubbin ephemera, notably Lincoln County, New Mexico, court documents, were withdrawn just days before the sale in response to requests by the New Mexico attorney general and the Lincoln County clerk that they be pulled.
And, in a first and hopefully last such development, a man sought to remove a painting from the wall in the auction preview room just moments before the sale was to begin. He was prevented from leaving by the Mesa police and arrested on several criminal counts, auction officials said, adding that the painting was not damaged in the incident.
Sotheby's Americana Week
January 17–24, 2019
In January, Sotheby's saw the highest total for the Americana Week series since 2007, with five sales in New York containing more than 1,250 works. Offerings included five centuries of American history and brought $21.3 million.
This year's series was led by the sale of what Sotheby's said was the only known privately held copy of the William J. Stone facsimile of the Declaration of Independence, with provenance dating to an ancestor who received it in 1824. The prized historical printing exceeded pre-sale expectations by fetching $975,000, compared to estimates ranging from $600,000 to $800,000. It was purchased by David Rubinstein, who intends to loan it to a Washington, D.C. institution, according to Sotheby's.
In 1820, the fragile condition of the original Declaration led then Secretary of State John Quincy Adams to commission Stone to engrave a facsimile on a copper plate, the auction house said.
Other high flyers at the handful of sales included: Joshua Johnson portraits of a Revolutionary War surgeon and his wife, and a separate painting of their daughter, which achieved $675,000, or more than eight times the top estimate; a carved mahogany chest of drawers crafted in 1760 that garnered $543,000, or more than three times its low estimate; and, from the Nelson & Happy Rockefeller Collection, a crab-form tureen and lid from the Qing Dynasty, Qianlong Period that achieved $375,000, or nearly twice its expected estimate.
Coors Western Art Exhibit & Sale
January 8 – 27, 2019 
Painter Terry Gardner has participated in the Coors Western Art Exhibit & Sale in his home state of Colorado for the bulk of its 26 years. It's fitting that Gardner's evolution as an artist has kept pace with the event's upgrades, culminating this year in being named the featured artist and the creative force behind The Purple Rider, an enchanting oil on linen depicting a cowgirl riding a range that unfolds in waves of pastel purple. 
The image, dream-like in its setting but not in the decided jut of the rider's chin as she looks out onto the horizon, was purchased for the Coors permanent collection and served as the featured artwork on posters for the sale. The painting also represents the first such artwork to portray a cowgirl front and center, says Krista Hanley, event coordinator.
Gardner is known for his thoughtful treatment of Western subjects and backdrops, and The Purple Rider underscores that talent, Hanley says.
"In her posture, the rider is leaning forward, which, symbolically, is an act of looking toward the future. It's a telling statement about the future of the West, which is in the hands of its young people," Hanley says.
The rider, through waves of purple, was not the only figure depicted on horseback in the Denver-based event that saw 30,000 people view the exhibit, as part of the National Western Stock Show.  
Sophy Brown's Going, Going, an outsized acrylic on board, was a strong statement, laid out in reds and blues, of the skill and tenacity required to seat a spirited horse. The painting, which spells out the dynamism implicit in the relationship between animal and human, sold for $27,000 and was awarded Artists' Choice at an event that brought more than $800,000 in art sales and surpassed $370,000 in tickets, sponsors, and donations. 
Art sales were slightly down from last year, possibly a reflection of the U.S. government shutdown that began December 22 and lasted more than a month. Hanley noted a slight hesitancy among buyers at a time when retailers likewise were reporting concerns about big-ticket items. "We did well in the mid-range but the higher range might have suffered," she said.
Artworks with fixed prices were sold by lottery draw, and miniatures were sold during a silent auction during the reception, which occurred on January 8 and drew a crowd of 1,100. 
Lee Andre, an artist new to the exhibit and sale, had the honor of seeing all of her charcoal on panel renderings of animals — including a bison, ram, and egret — sell on opening night. Andre's attention to detail and the quietude of the animals depicted express her artistic principle. "We live in a fast-paced, attention demanding, disposable world. My intent is to produce work that counters these aspects of modern life," she writes in a biographical statement.
Best of Show went to Dan Coen for Storm on Jay Road, a lyrical composition featuring horses and snow in a field of white; a bronze, Old Tree, by Peregrine O'Gormley received the Southwest Art magazine award; and an award named after Mary Belle Grant, one of the co-creators of the Coors Western Art Exhibit & Sale, went to Quang Ho for his masterful depiction of light and air in Spring in the Grand Canyon.
In another first for the Coors art event, a Colorado filmmaker, Eileen Roscina Richardson, was on hand as an artist in residence in a new program designed by Hanley that's set to become a tradition.