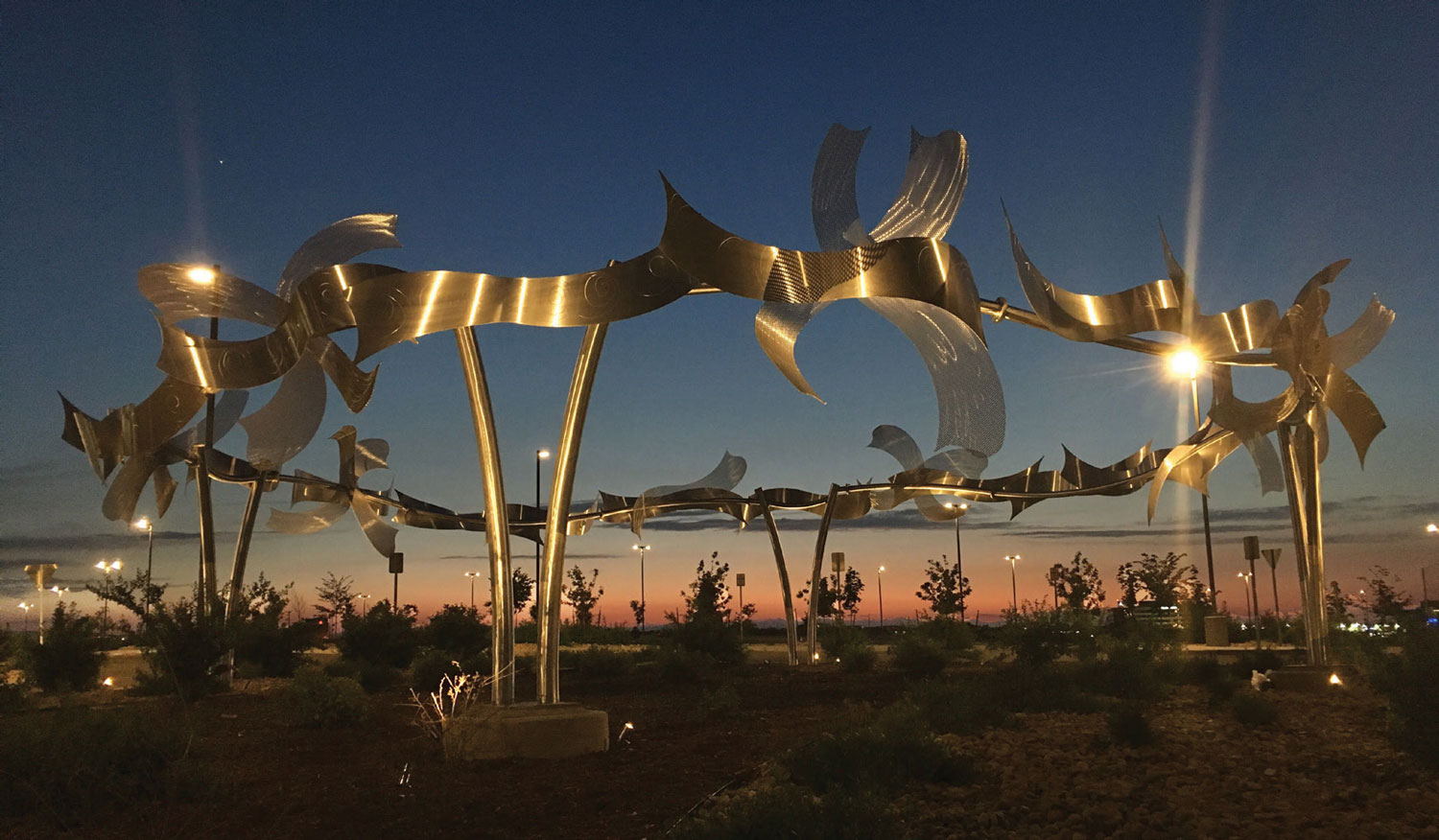 Kite Festival | Aluminum | 12 feet tall, 147 feet circumference | 2018 Photo by Kristen Kordecki
13 Mar

Illuminations: Kevin Robb

After sculpting for more than 40 years, Kevin Robb suffered a stroke in 2004, but that didn't impinge on his artistic voice. Although his vocabulary and some mobility were limited, his stainless steel sculptures continue to portray a lightness rarely seen in metalwork.

"He loves working in stainless steel, the way it can be formed, the durability, as well as the final look," say Robb's wife Diane, who speaks on his behalf and is a managing partner in their business. "The finishes are done in brushed steel, produced by the different gauges of the grinding wheels," she explains.

Like ink on the page realized in three dimensions, Robb's pieces carry the grace and structure of calligraphy. Diane says that he looks at his work as the interaction of the flow between the elements. "Years ago, his pieces were very straight-edged," she says. "As his career progressed and his talent was fine-tuned, curves were added. In the late '80s, we spent some time in Japan, and that's when the calligraphy influence really became apparent."

Robb's process in the studio is hands-on, she says. He will take a sheet of steel or bronze and cut out different shapes. Once the shapes are cut, he rolls them flat, then welds them together. Each piece forms an element that will become part of an entire sculpture. 

"We have a crane system that allows the individual elements to hang low enough so that Kevin can move them around until he finds the design he wants," she says. "Sometimes it's a matter of an inch or two here or there, a small change in a curve, until it takes the shape of what's in his head. That's when he'll holler 'stop.'"

Finally, all the elements are brought to the tables and the welding is finished. Ninety-percent of the finished grind is done at this time, she says. At that juncture, the elements are cut to fit into one another in order to give each sculpture the look of a smooth and continuous form.

"Sometimes, he's just in the studio working free form," Diane says. "He tells me, 'The metal will tell me where it needs to go.' The placement of each element is an answer to a question of relationships, which he discovers as the work progresses." Diane explains it as, "becoming one with the metal and intuitively knowing the precise twists and turns required to achieve a dynamic, contemporary sculpture."

In spring 2018, two of Robb's sculptures Tall Ships and Dancing Spring were added to the High Meadow campus at Frank Lloyd Wright's Fallingwater in Mill Run, Pennsylvania. In May 2018, a high-impact aluminum sculpture, titled Kite Festival, was installed in a roundabout at the Denver Tech Center, and in the summer of 2018, the Denver International Airport featured Robb's sculptures through large photographic wall murals, along with his smaller sculptures. The exhibit also included Robb's personal story about his life-altering stroke and his continuing artistic journey. 

Robb is represented by Coda Gallery in Palm Desert, California; Pippin Contemporary in Santa Fe, New Mexico; and Dean Day Gallery in Houston, Texas.