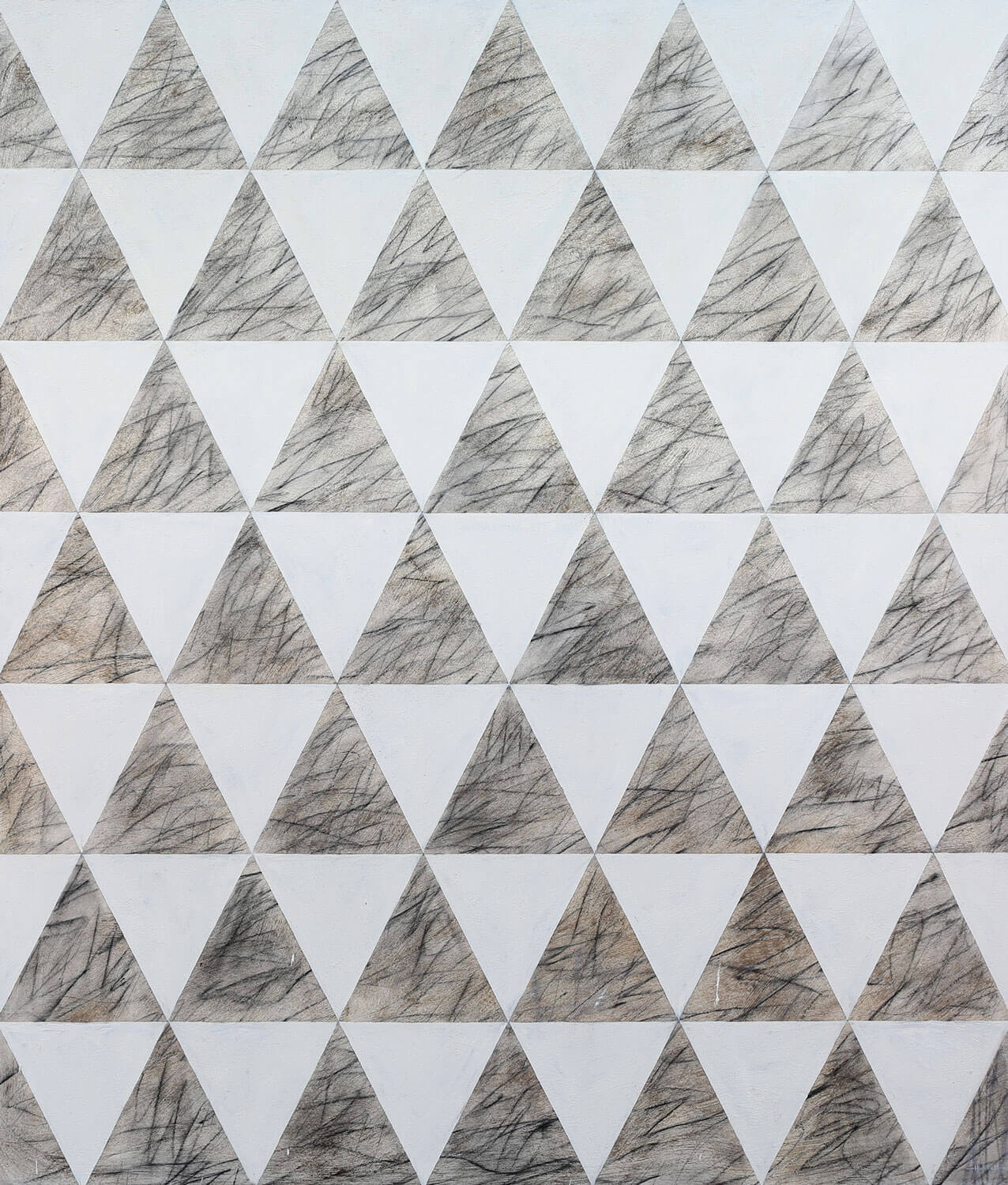 Her Love is My Shield, My Protection | Oil, Natural Earth Pigment on Canvas (Pigment collected on the Navajo Nation) | 84 x 72 inches | 2017
13 Mar

Illuminations: Patrick Dean Hubbell

Patrick Dean Hubbell explores his Diné (Navajo) identity through materials and processes that speak to nature and traditional design by way of abstract patterns. In a recent series titled Earth, Hubbell traversed the boundaries of the Navajo reservation, within Arizona, New Mexico, and parts of Utah, gathering various colored soil, rocks, and minerals. He grinds these down to pigments and mixes them with an oil base to create the paint he used in this body of work.

The artist combines nature, stories passed down from his ancestors, and philosophies of art and Native American beliefs, with abstract representations. This enables him to reflect on his personal journey and history, he explains. Hubbell felt honored to be recognized for his artistic merit when he was awarded the 2017 Pollock-Krasner grant (named for the Abstract Expressionist artists). The award enabled him to continue his investigation into color and configurations that speak to his identity.

"The Pollock-Krasner artist grant allowed me to freely explore the land where I traveled around, gathering pigment," he says. "My main focus was to stay within the Navajo Nation borders, correlating the contemporary artwork of painting to traditional Navajo sand painting. That series bridges the gap between my different backgrounds of growing up with a Navajo ceremonial perspective and then going to school for a traditional art education."

Within the Earth series, each painting is titled with a name that honors Mother Earth, a subtle way to mention the feminine and to acknowledge the ceremonial and spiritual perspective of the Navajo. "It shows the significance of our Earth and how we, as Navajos, are connected to it," Hubbell says. "Honoring the Earth transcends into honoring nature; and by using these aspects of nature, I can come into the work. A lot of the symbols and mark-making are reminiscent of the zigzag, of what I call the 'nature wave.' The pattern refers to stories of nature moving along; it's also representative of how indigenous people represent nature."

His more gestural, loose marks speak to the way nature interacts with its surroundings, both its organic and spiritual movement. That, in turn, relates to the Navajo philosophy of song and prayers from the Earth to the Navajo people. 

Working for hours, days, and weeks in silence in his studio, going through the procedure of grinding the pigment into powder, mixing and blending the pigments with the oil, lends itself to a meditative process. "When I'm ready to apply the paint, I've already put in a lot of hours before anything goes on the canvas. That process is calming and soothing, but it also allows the spiritual thought processes to flow. Channeling those processes of where the pigment is coming from, how it was gathered, builds the motivation and movement within the pieces as well."

His series That Which Makes up Space is a translation of the landscape with the equal-sided crosses representing elements in nature. Within the more literal landscape, the cross takes the shape of a sun. 

"Even with the really abstract pieces, the repetitive symbol goes across the canvas, representing stars in a night sky or a certain time of day, depending on the colors used," Hubbell says. "It can take on the form of any element of nature across different indigenous people. It also correlates to my own artistic preference of design and has a dichotomy that creates a balance within my work."

Hubbell's solo exhibition at the Peters Projects in Santa Fe, New Mexico, takes place June 21 to August 24. He will also exhibit work during New West, April 19 through June 8, at the new location of Modern West Fine Art in Salt Lake City, Utah. His work is represented by both galleries and by Visions West Contemporary in Denver, Colorado, and Bozeman, Montana.