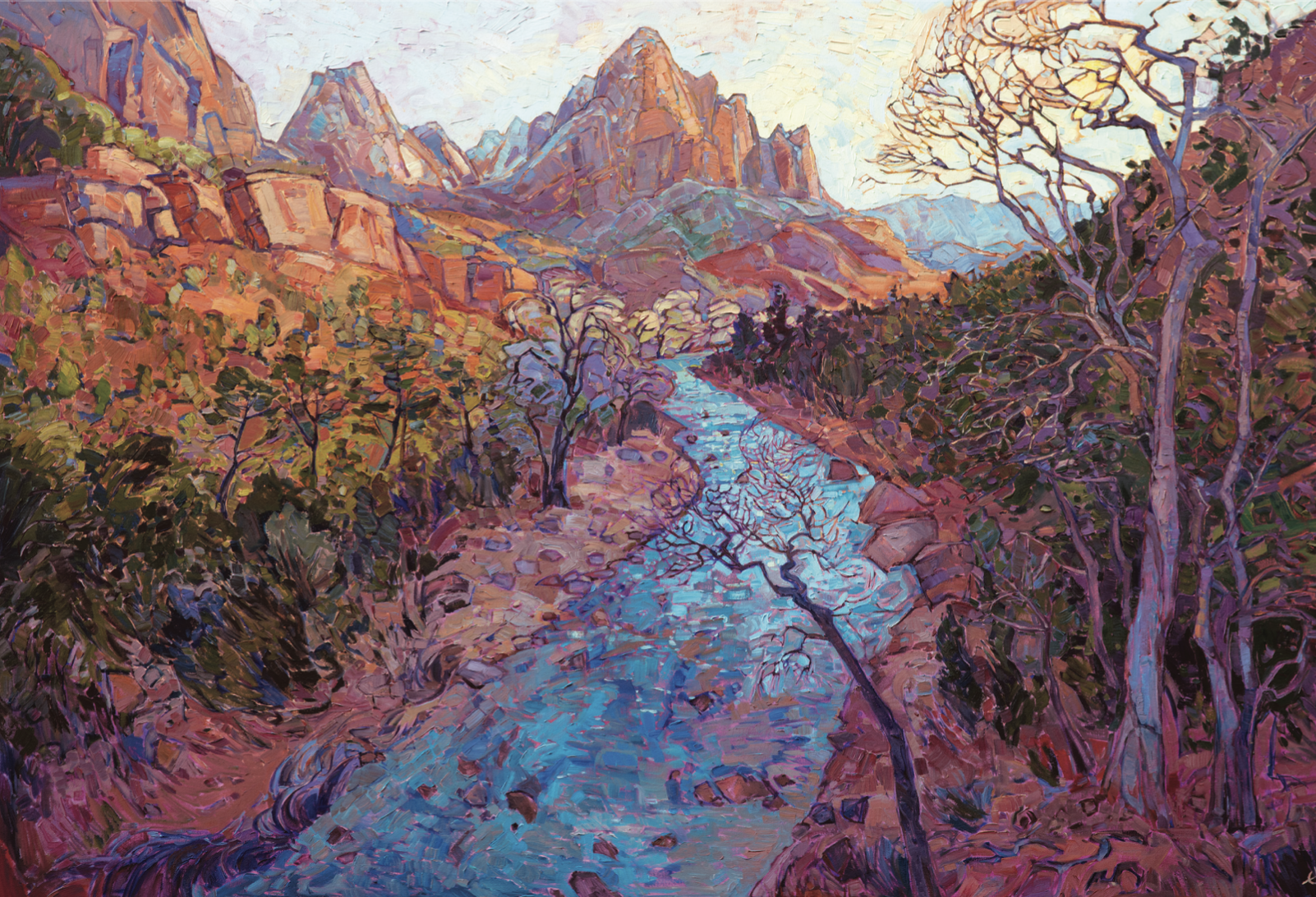 Zion Vista | Oil on Canvas | 72 x 50 inches | 2015
11 Mar

Artist Spotlight: Erin Hanson

Erin Hanson portrays the Western landscape with bold, gemlike colors and bravura brushstrokes that fully immerse viewers in her large-scale paintings. So expansive are the scope and spirit of her works that the 38-year-old artist — who lives in San Diego's northern suburbs — has coined an original term that sums up her style: Open Impressionism, "inspired by the open air."

She first came to art as a pastime while studying bioengineering at the University of California, Berkeley, teaching herself Japanese-style painting and manga-style comic illustration. But those creative pursuits briefly fell by the wayside while she spent her early post-college years as an entrepreneur, buying the contents of unclaimed storage units and reselling them online. The job led her to move to Las Vegas, where she began escaping the frenetic neon-lit city by heading out with friends to go rock climbing in nearby Red Rock Canyon National Conservation Area.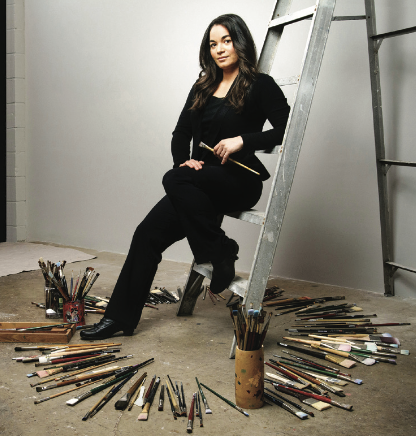 That setting's beauty and the unique perspectives Hanson gained through climbing inspired her to pick up oil paints and portray scenes she had photographed for reference. She committed to creating a painting a week for one year, eventually feeling confident enough to display and sell her works at weekend art fairs.
Success led Hanson to explore the West further, visiting its national parks and other unspoiled places, hiking, climbing, taking photographs, and then heading home and painting. One of her favorite locations to paint is Zion National Park, the subject of her latest show, which opens in late April and remains up through most of the summer at the Zion Human History Museum inside the park.
"With its steep red rock canyons, waterfalls, a river running through it, cottonwood trees that turn colors, a great lodge, and amazing hikes, it's your perfect national park," Hanson enthuses. "I've visited Zion at least a dozen times, and have seen it in all seasons. I love going there because I can use my whole palette." Indeed, the 15 paintings in her show offer a year-round, full-spectrum appreciation of Zion's wonders, from the glowing autumn hues of a cottonwood grove in Zion Deep to the cool springtime colors of budding trees along the blue Virgin River in Zion Vista; from the deep-green summer foliage and purple canyon walls of Kolob Light to the bare white winter trunks and straw-colored grasses of Aspens at Zion.
Regardless of the time of year, Hanson strives to capture her reference photos "in the early morning and late afternoon," she says. "You want those dramatic moments of light that really only last for a couple of minutes." Such magic intervals may be short-lived, but the park has nonetheless provided a wealth of inspiration. "I still have hundreds of images just waiting to be painted."
Hanson's Impressions of Zion opens on April 24 at the Zion Human History Museum in Zion National Park and runs through August 23. She is represented by The Erin Hanson Gallery, with locations in San Diego and Carmel-By-the-Sea, California.