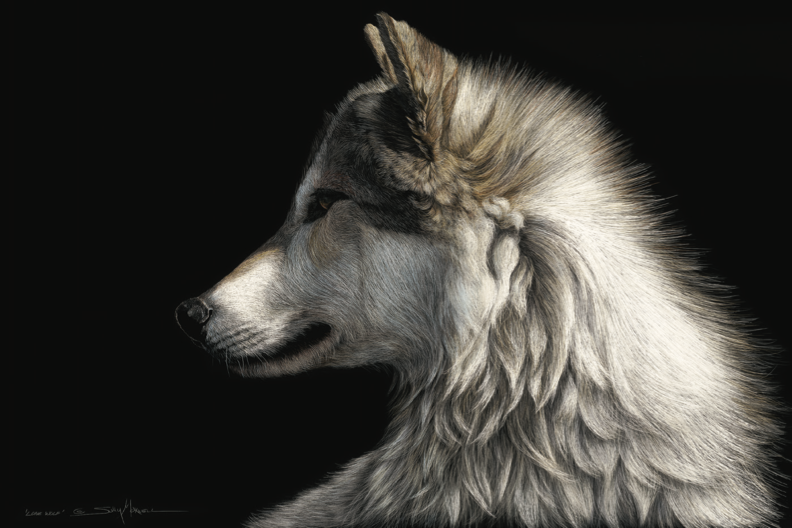 Lone Wolf | Colored Scratchboard | 36 x 24 inches
11 Mar

Artist Spotlight: Sally Maxwell

Sally Maxwell's images of animals in the wild seem almost aglow with inner light, thanks in part to the less-than-usual medium in which she creates them: scratchboard. She's a true master of the medium, one of only 12 people officially acknowledged as such by the International Society of Scratchboard Artists.

Each of Maxwell's works begins with commercially available scratchboard, a rigid board first coated with white low-temperature-fired kaolin clay, then sanded smooth and airbrush-coated with black India ink. Maxwell uses an assortment of tools to scratch through that ink and reveal her composition, which appears enchantingly from the depths of the dark surface. "Anything abrasive will take it off," she says. "You're just trying to sculpt in two dimensions."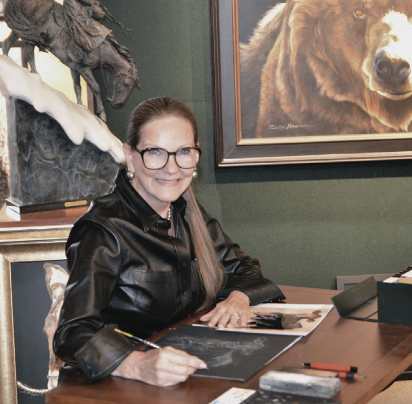 But Maxwell doesn't stop there. In a move considered "totally unaccepted" among some purists in the scratchboard world, more than 45 years ago, she developed techniques for introducing color. She paints over parts of the white with "subtle, subtle undertones" of colored India ink, adding even more lifelike realism to a personal style she describes as "Contemporary Hyperrealism."
"I'm not a traditional Realist, because I do a lot of design work in the way I put the subject into the frame," Maxwell says.
As an example of these characteristics in action, consider Lone Wolf, selected to be among the more than 100 paintings and sculptures in Making Their Mark, a juried exhibition from American Women Artists, opening in late May at the Booth Western Art Museum in Cartersville, Georgia. Instead of a conventional pose, her subject "is curled around ever so subtly, looking away," she explains. Russet tones highlight his fur, and his eye shines a rich golden brown. She also added colors that might not be so apparent, such as "lovely blues and hints of brown in the shadows," barely noticeable elements that, she continues, "give it life and complete depth. Without them, it would look dull instead of so alive."
Maxwell refers to such pieces as "prophetic," explaining her use of the term as "descriptions of myself." In this case, she continues, "I am a lone wolf in that I do things my own way instead of following the pack. At this point in my life, I have great comfort in being my own person."
Not that the 73-year-old Maxwell — who studied chemistry in college, previously worked as a commercial graphic artist, and has lived for the past 35 years in "terrifically rural" La Grange, Texas — thinks only of herself during the act of creation. "I've taught a whole generation how to do the scratchboard," she says of the kits and instructional books she has created for Ampersand Art Materials. Even more important to her, though, is the impact she has on viewers. "I really love touching other people with my art. To have a piece of art that someone is going to fall in love with, I have to bring a personality and a spirit into whatever it is I'm portraying."
Maxwell is among the artists featured in Making Their Mark: American Women Artists at the Booth Western Art Museum in Cartersville, Georgia, from May 27 to August 23. Her work is represented by Copper Shade Tree in Round Top, Texas; Manitou Galleries in Santa Fe, New Mexico; Mountain Trails Gallery in Jackson Hole, Wyoming; Marcus Ashley Fine Art Gallery in South Lake Tahoe, California; and Maxwell's Art Gallery in Round Top, Texas.