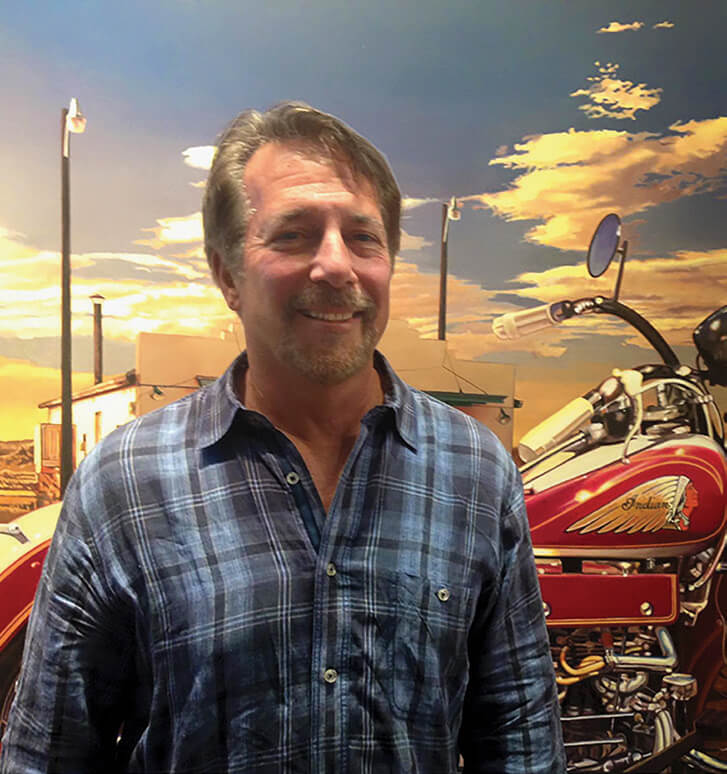 10 Mar

Artist Spotlight: Bruce Cascia

Bruce Cascia studies storm clouds up close and personal for the dramatically realistic scenes he paints of the vast prairie. "I am constantly going to Lake Michigan," says the Chicago-based artist, "to photograph big thunderheads blowing through, just like I did when I was a kid growing up in Central Illinois and majestic clouds would roll across the cornfields." Those reference shots, combined with other images he captures of "abandoned, little matchstick farmhouses that have stood the test of time," form the basis of works that poignantly evoke a uniquely American spirit of rugged self-sufficiency.

Although Cascia has been exhibiting and selling his paintings going on two decades now, his career as a full-time fine artist began only around 10 years ago. Before that, he worked for 35 years as an advertising art director in Chicago, leading creative visual efforts for such brands as Kraft Foods, General Mills, Anheuser Busch, and McDonald's. During that time, he also regularly picked up a brush "to relieve the stress from working in that other world. It was therapeutic to be able to paint something without a client I had to answer to."

Painting also helped Cascia maintain a vital connection to art that stretched back to childhood, when around the age of 10, he won a Father's Day art competition in his small hometown of Pekin by drawing a portrait of his dad. He went on to study oil painting with a local artist and eventually earned a Bachelor of Fine Arts in graphic design from the University of Illinois at Champaign-Urbana.

For recent paintings, such as Big Sky Thunder, Cascia now employs his professional graphic design skills to combine images of clouds and farmhouses in Photoshop, projecting and tracing his composition onto a primed canvas with an everyday No. 2 pencil. "It looks like a contour map drawing, and I sometimes add shading to remind me when painting that some areas should be darker than their surroundings." In the process, he also decides on a dramatic focal point, going on "to direct the color and shading for the greatest, most dramatic impact."

Other Cascia works gain punch from an even more intentional paint application. Cowboy Bar, a nighttime image of the sign for the venerated Million Dollar Cowboy Bar in Jackson Hole, Wyoming, makes use of actual glow-in-the-dark fluorescent oils, mixed into his regular paint and applied in a thin glaze, to make the landmark buckaroo pop. He's given the same treatment to other vestiges of roadside Americana as well. "You get ahold of an idea or a theme," he says, "and try to study it in depth for a while."

Cascia and his wife Cathy plan a move west by early summer to be closer to their two grown sons, who live in the Los Angeles coastal community of Marina Del Rey. So, no doubt, more ideas or themes await just over the horizon — perhaps old Hollywood Boulevard neon signs or storm clouds looming over the Pacific.

Cascia is represented by Smith Klein Gallery in Boulder, Colorado, where he'll be featured in a show from April 1 to 31; Giacobbe-Fritz Fine Art in Santa Fe, New Mexico, where he'll be in a September group show; Lovetts Gallery in Tulsa, Oklahoma; Park City Fine Art in Park City, Utah; and A RARE Gallery in Jackson, Wyoming.