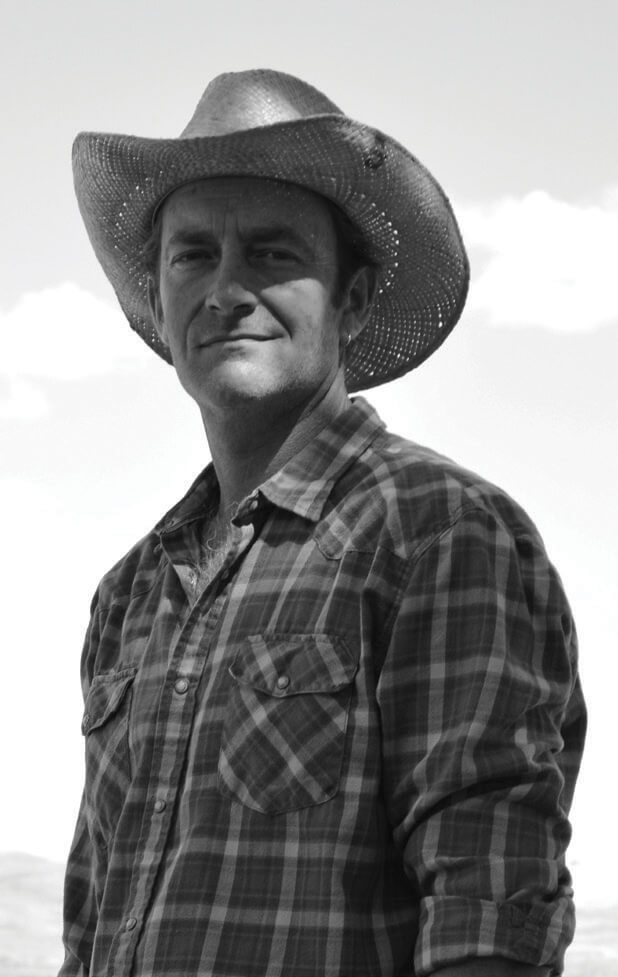 10 Mar

Artist Spotlight: Israel Holloway

Israel Holloway never dreamed of setting records when he began painting more than a decade ago. "I just enjoy being on the journey," he says. Nevertheless, when the Museum of Northwest Colorado in his hometown of Craig, a former coal community some 40 miles west of Steamboat Springs, approached him to help "create a new narrative for our town," Holloway didn't hesitate to say yes. When it debuted in January 2021, Western Reflections — his 10-by-16-foot tranquil image of local rancher Clint Chew on horseback crossing the Yampa River — became the world's largest watercolor.

Although Holloway mixed and applied his paints the same way he does for contemplative scenes of Western life that are usually measured in inches rather than feet, the project did require special logistics. He first selected an exterior-grade plywood base that wouldn't warp or delaminate, sealing it with three layers of gesso before using archival acrylic gel to attach three parallel rolls of Arches watercolor paper horizontally across the surface. Then, he literally got into his work, "wearing two layers of socks so I could step around whatever areas I was painting." It took about three months for him to apply as many as 100 layers of watercolors, building up a scene of extraordinary depth and subtlety. Not only an artistic milestone, the painting "succeeded in the goal of bringing a smile to people's faces in a tough time," noted reporter Max O'Neill in the Craig Daily Press.

That achievement, along with others, including awards from many top art shows and his fourth consecutive annual inclusion in the prestigious Coors Western Art Exhibit & Sale this January, speaks not only to Holloway's innate talent, but also to his intense dedication to a pursuit he'd once hardly imagined for himself.

Back in 2008, while working in construction, Holloway suffered a shoulder injury requiring multiple surgeries and physical therapy. "I realized I wasn't going to be able to go back," he says, "so my wife Jennifer and I switched places. She took the reins, bringing in the paycheck, and I started doing everything at home." As part of homeschooling their daughter, the second of three children, they began painting watercolors, efforts aided both by local artist and friend Jane Hume and by Holloway's own longtime love of pencil drawing. "By 2010, I started to take art as a serious profession," he recalls. Soon, his paintings were accepted into statewide and national watercolor shows.

Physical scale isn't the only challenge Holloway has tackled in his art. He's also imaginatively varied his medium by swapping out watercolors for red wine, particularly Merlot, which dries on paper to a tawny patina that "lends itself well to Western art, leather, and horses." His favorite of such paintings is undoubtedly Close at Heart, a poignant portrait of his daughter before she left home at the age of 20. Two years ago, it sold in The Russell, the annual exhibition and sale supporting the C.M. Russell Museum in Great Falls, Montana. "But if there was ever a piece I could buy back," he reflects, "it would be that one."

Holloway's watercolors are represented by Jace Romick Gallery in Steamboat Springs, Colorado; Lovetts Gallery in Tulsa, Oklahoma; and at the artist's own studio and gallery in downtown Craig, Colorado. His work will appear in The Russell in Great Falls, Montana, August 19 and 20; and in the Mountain Oyster Club Contemporary Western Art Show & Sale in Tucson, Arizona, on November 20.