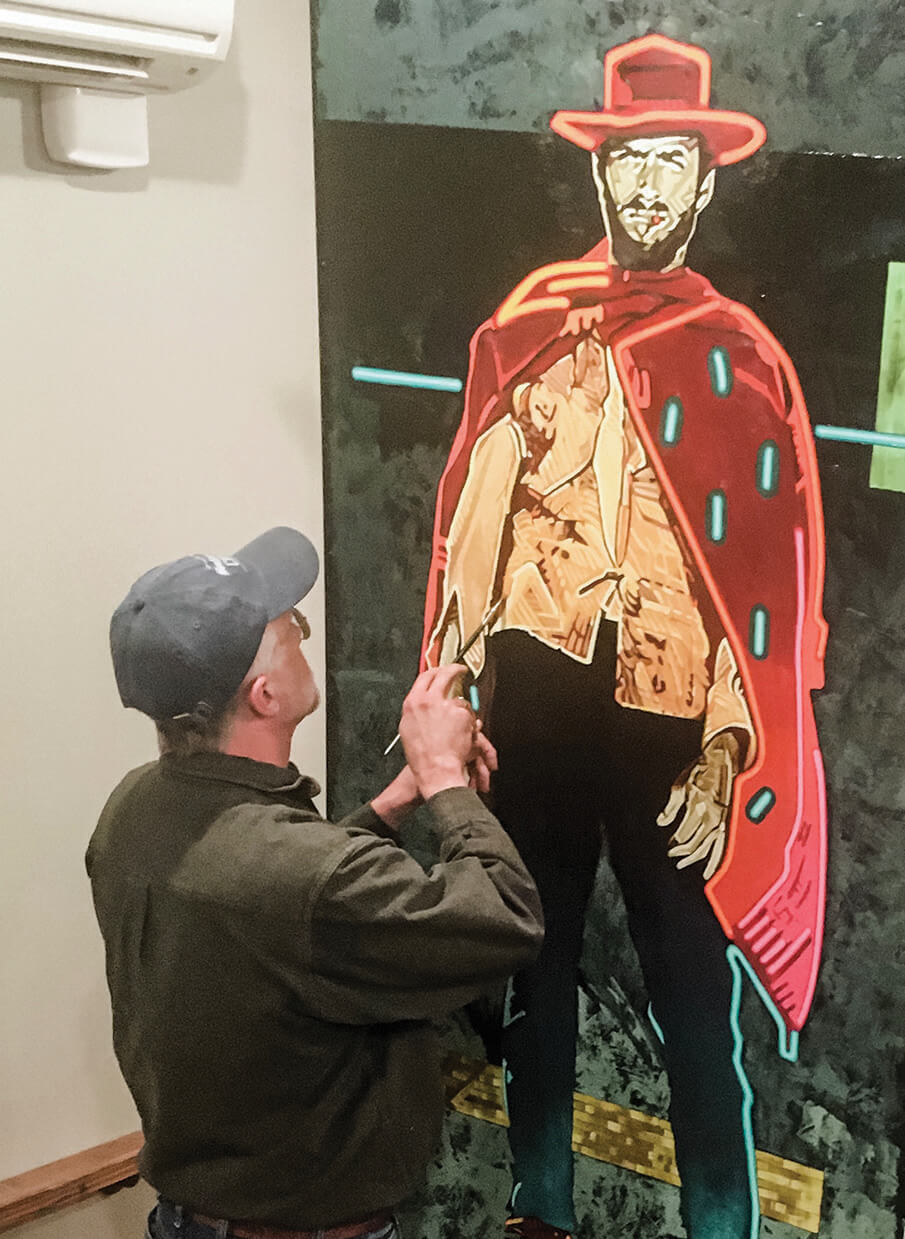 10 Mar

Artist Spotlight: Michael Blessing

An apt metaphor for  Michael Blessing's career-defining moment of inspiration might best be described not as a light bulb going off, but rather as a neon tube suddenly glowing. It happened six years ago, following two years of continuously painting oils of classic Western neon signs, works highly in demand after his portrayal of the Mint Bar in Sheridan, Wyoming, commanded a record price at The Russell First Strike Auction in 2014. "But I really missed painting people," he recalls of that fateful afternoon pondering his creative future on the back porch of his Montana home.

"All of a sudden, a picture popped into my head of Clint Eastwood, Eli Wallach, and Lee Van Cleef in 'The Good, the Bad and the Ugly.'" He imagined the trio from Sergio Leone's 1966 spaghetti Western as a life-sized triptych, each figure limned in strips of glowing neon. That vision became the piece he entitled A Redeemable Outcome.

Today, Blessing focuses on such multimedia creations in a series he calls his Neon West Electric. He's developed a system involving acrylic-encased LED technology that is sturdier, less volatile, and more uniformly glowing than traditional neon, fabricated to his precise specifications for each painting and assembled by him in his studio. "I paint on an aluminum substrate knowing exactly where I want the light to go and what color it will be," he says. Each work even includes a dimmer switch, so owners can adjust the intensity to suit the setting, time of day, and desired mood.

Such ingenuity and versatility comes as no surprise in light of Blessing's full resume. After a childhood spent in small towns across the Dakotas, Colorado, Wyoming, and Montana, he earned a degree in music from Montana State University and opened a recording studio in Bozeman, producing his own eclectic blend of jazz and folk, as well as performances by top area musicians, throughout the 1990s. During some downtime in 2002, he pursued his longtime love of drawing, and then began painting. By 2004, he was a full-time artist showing in two galleries. The Great Recession beginning in late 2007 led him to set his brush aside; but he returned to painting after marrying artist Meagan Abra in 2010. In 2013, "we went to the Out West Art Show in Great Falls, where I sold a number of pieces," he says.

Ever since, Blessing has gone from strength to strength, with solo shows in top galleries and appearances in major events, including The Russell, the Buffalo Bill Art Show & Sale, and the Coors Western Art Exhibit & Sale. And he certainly hasn't stopped seeking new horizons.

In November 2020, he and Meagan moved even further west — to the Anchorage, Alaska, suburb of Chugiak, on the Knik Arm of the Cook Inlet. That's where they're about to build a home and double studio with vistas that, on clear days, stretch over 100 miles north to Denali. "When you catch it during sunrise or sunset, it just lights on fire," he exclaims. Just the view, perhaps, to portray in oils and neon.

Blessing's paintings are represented by Mountain Trails Gallery in Jackson Hole, Wyoming; and Montana Trails Gallery in Bozeman, Montana. His prints are available at Bitterroot Frames in Hamilton, Montana, and The Greenwich Workshop in Seymour, Connecticut. His work can also be seen in The Russell in Great Falls, Montana, August 19 and 20; the Buffalo Bill Art Show & Sale in Cody, Wyoming, on September 23; and the Black Friday Exhibition at Maxwell Alexander Gallery in Los Angeles, California, on November 25.