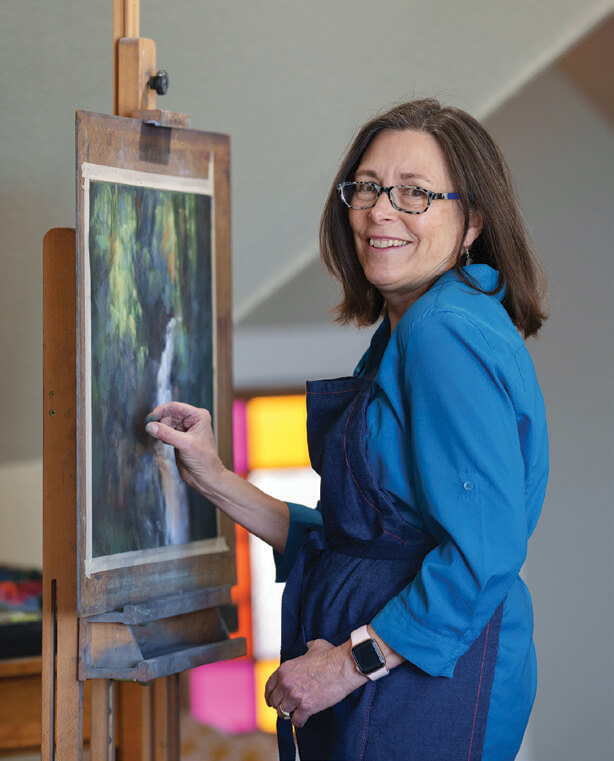 Julie O'brien Photography
10 Mar

Artist Spotlight: Sabrina Stiles

Sabrina Stiles sees herself as a storyteller. Instead of words, however, she wields pastels to convey the narratives she discovers while observing the world not far from the vintage 1905 house where she lives and works in Longmont, Colorado, about 20 minutes northeast of Boulder.

Consider, for example, a cow she witnessed one early autumn day while walking with her husband Henry, a dedicated birder, in the Pawnee National Grassland east of Fort Collins. Grazing apart from the herd amidst some trees, the black bovine watched the couple so intensely that Stiles felt compelled to photograph her. "She just had this look on her face," the artist says, laughing warmly.

Back home in her attic studio with its southward view of distant Pike's Peak, Stiles selected an image on her computer monitor, cropping it and adjusting lighting levels. On a piece of sturdy multimedia board, she applied a watercolor underpainting in warm yellow and cool blue-green, "completely covering the surface because I don't want little white dots poking through the pastels." Then, in sessions lasting about three hours daily over a couple of weeks, she meticulously told her story in pastels, starting with the featured cow and then working around it to create a scene that captured the animal's unique personality. As with many well-told tales, the title she bestowed summed it all up: Sylvia Exhibited Poor Camouflage Skills.

Although becoming a painter was one of her childhood dreams, Stiles' prodigious artistic skill developed relatively recently. "I drew a little bit but didn't really take it seriously," she admits. Instead, the Michigan native first studied, worked in, and taught electronics technology, eventually moving to Colorado.

Then, for 10 years starting in 1994, she owned a coffeehouse in a Denver suburb. Showing local artists' works there reawakened earlier creative yearnings. So she took a painting lesson from a friend, "and I was hooked." Stiles eventually went on to take classes at the Art Students League of Denver, where she encountered, and fell in love with, pastels. "It's really endless what you can do with them, and they're so readily available," she says. "You just pick up a pastel stick, and you're ready to go."

Success followed fairly quickly, including her first selection for the Colorado Pastel Society Mile High International Exhibition in 2011, and then again every year since 2014; her first of six Governor's Art Shows in 2015; and the Coors Western Art Show and Sale from 2017 through 2021. Of those considerable successes, she says with charming self-deprecation, "I thought, well, I must not be that bad."

Stiles continues to explore new subjects through her art. Evening Tranquility, for example, evokes the hush before nightfall in wetlands near her home; and The Wild Ones transforms a tangle of golden poppies, delphiniums, and larkspurs on the curbside in front of her house into an impromptu natural still life. "I'm really happy with that piece, and it's something I want to revisit," she says.

Stiles' work is represented by Ann Korologos Gallery in Basalt, Colorado, where her show Lightness of Spirit will run from June 2 to 28. She will be one of the artists in this year's Colorado Governor's Art Show & Sale at the Loveland Museum & Gallery in Loveland, Colorado, from April 23 to May 22. She is also represented by Mary Williams Fine Arts in Boulder, Colorado, and The Glass Tipi Gallery in Ward, Colorado.