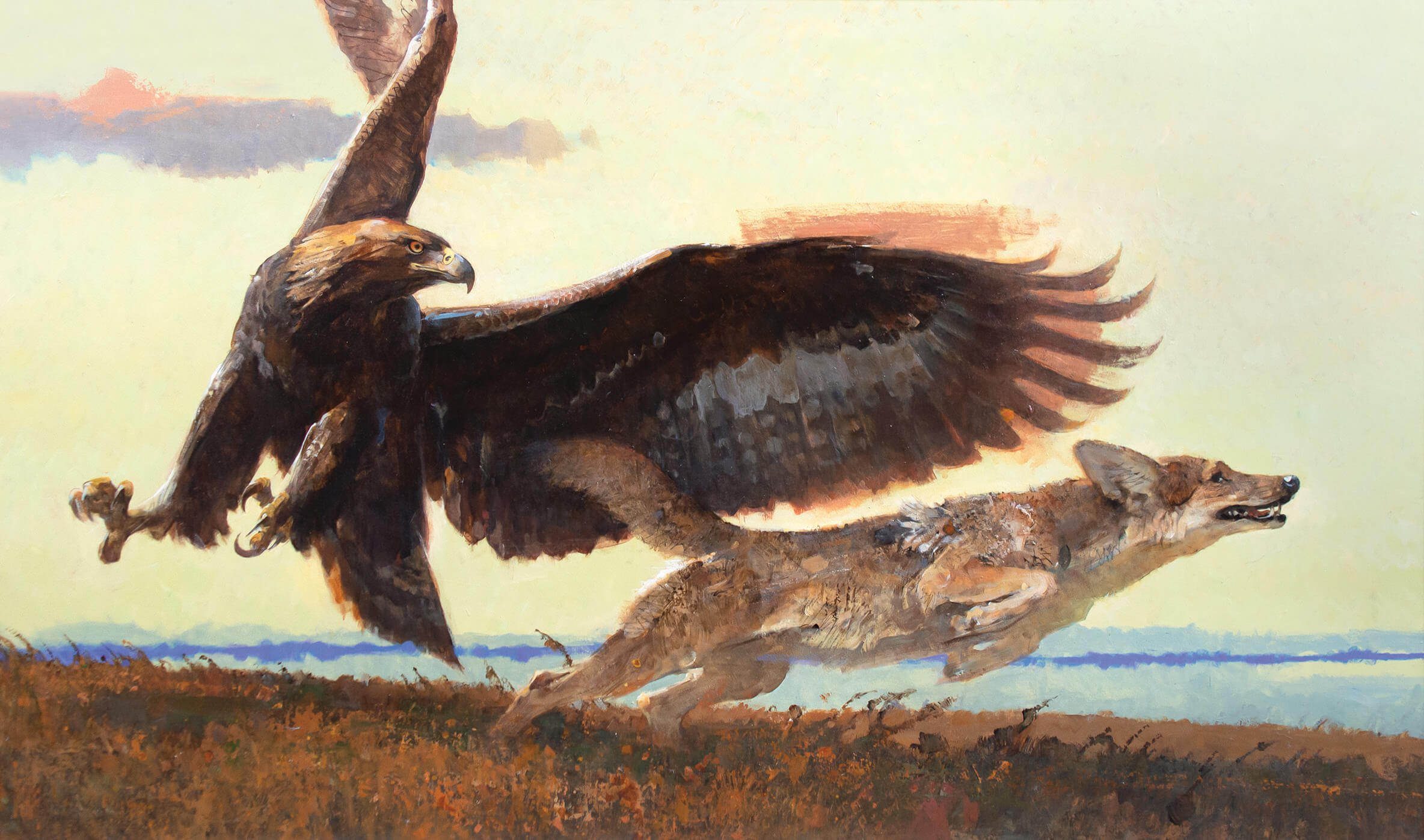 Bob Kuhn, 180 Degrees | Acrylic on Board | 26 x 44 inches | Sold: $100,000 | Courtesy of Wyoming Art Auction
10 Mar

Auction Block: Visions and Vistas

Traditional Western art and memorabilia are back in the saddle. Prices for works in certain sales showed buoyancy; and overall, collectors exhibited both enthusiasm and determination.

When classic Ansel Adams prints were available at Sotheby's, bidders didn't back away, pushing prices for several pieces far beyond expectations. And when Western memorabilia tied to legendary artisans and celebrities sparked a robust response by buyers at Brian Lebel's Old West Show & Auction in Mesa, Arizona, some objects went for tens of thousands of dollars above estimates.

Signs suggest artists are bringing about a renaissance, Western style, if the expressive paintings that sold for tidy amounts at the American Miniatures sale at Settlers West Galleries are any example. And at the Coors Western Art Exhibit & Sale, award-winning works were imbued with a degree of emotion that has not always characterized 
the genre.
Wyoming Art Auction
February 18–19, 2022
Total: Nearly $1.3 million
John Clymer's Buffalo Run was estimated to fetch between $70,000 and $100,000 during the Wyoming Art Auction, a two-session online auction based in Jackson. Instead, the 10-by-20-inch oil on board depicting bison chased by a Native American rider went for $230,000, considerably higher then the estimate and yet still a modest price for a painting that exhibits all the key elements of Western art: action, drama, grace, and the kind of natural beauty a purist pursues and, in this case, achieves.
The sale saw 180 Degrees by celebrated wildlife artist Bob Kuhn realize $100,000. The acrylic, whose ultimate amount was within estimates, depicts a thrilling and rare moment in nature when land and sky creatures collide.
The Old Arrow Tree fell slightly short of its pre-sale expectations, garnering $80,000 instead of hitting the $100,000 mark. Still, the oil on canvas by Joseph Henry Sharp sold for a substantial sum, and any amount would have been a bargain for the artist's lyrical take on a Native American in a woodland, with bow and arrow poised for practice.
Bestsellers also included celebrated wildlife sculptor Ken Bunn's Sudden Engagement, a large bronze of a bull elk on alert and in mid-stride. The beautifully rendered piece achieved $50,000, its high estimate.
And Winged Rapture, Dan Ostermiller's outsized bronze of an eagle with outspread wings, realized $35,000, compared to estimates ranging from $20,000 to $30,000. The intensity of the raptor paired with bronze gives the piece a weightiness that is part physical, the rest intangible.
Sotheby's David H. Arrington Collection of Ansel Adams Photographs
February 17, 2022
Total: $10.2 million
In addition to being credited as a galvanizing figure in America's environmental movement, Ansel Adams was an artist whose skills in the outdoors and in the darkroom remain arguably unmatched by any other American landscape photographer. Grand Vision: The David H. Arrington Collection of Ansel Adams Photographs at Sotheby's in New York saw mounting prices for mountainous scenes tied to the U.S. West, the artist's professional signature and personal muse.
Moonrise, Hernandez, New Mexico achieved the top slot, selling for $504,000 and meeting pre-sale expectations; while Clearing Winter Storm, Yellowstone National Park climbed to $226,800, more than four times its high estimate. The selenium-toned gelatin silver print is a masterwork in value, with light peeking through forests, mountains, and mist, from valley to tree line.
Likewise, the third of the best-selling lots, The Teton Range & the Snake River, far exceeded expectations. The masterwork hammered for $201,600, compared to estimates ranging from $50,000 to $70,000.
Aspens, Northern New Mexico fell slightly short of its estimate, going for $189,000, but Yosemite Valley from Inspiration Point, Winter, Yosemite National Park topped its high estimate by tens of thousands, achieving $176,400 rather than the estimated $70,000 to $100,000.
And there was little sign of the upward trend flattening. Winter Sunrise, Sierra Nevada, from Lone Pine California rose to $176,400, roughly five times its top expectation.
The sale generated the sort of excitement that is both contagious and competitive. Fifteen bidders vied for Forest Floor, Yosemite Valley, California, which ultimately brought $27,720, compared to estimates of $5,000 to $7,000.
American Miniatures at Settlers West
February 12, 2022
Total: $300,000+
Small sizes underscored the enormous talent and skill at play in the annual American Miniatures exhibition at Settlers West in Tucson, Arizona. The event, which brought more than $300,000, features original, petite-sized paintings by the nation's top Western artists.
The sale was led by Martin Grelle, whose 12-by-12-inch acrylic, Cheyenne Shade, went for $10,500. The portrait of a Native American woman on horseback shows Grelle's flair for painterly landscapes that frame his almost architectural arrangement of a figure, horse, and umbrella, the source of shade in an otherwise open sky. The woman's features are displayed in three-quarter view while the umbrella's curve recalls the horse's haunches and a hardly hidden pack cloaked in red.
Robert Griffing's A Good Place to Camp garnered $7,500, a sweet price amid an annual event that was created to coincide with Valentine's Day. The little painting features a trio of tribal members, two in a canoe, in a serene setting where nature and man are all but inseparable.
New Mexico Sunset, artist William Acheff's homage in oil to still life and a setting sun, brought $6,700 to become yet another top-seller at the February 12 evening reception, which concluded with an intent-to-purchase draw for admirers of the works of more than 160 artists.
Other pieces that achieved top sums include the charming Florista by George Hallmark and an evocative portrait, After the Dance, by Harley Brown.
Santa Fe Art Auction, Native American Art
February 5, 2022
Total: $850,000
A redware plate with a feather design realized the top amount during the Santa Fe Art Auction's sale of Native American works in early February. The event in New Mexico's capital city totaled $850,000.
The plate, by ceramicists Maria Martinez and Popovi Da, is made of fired clay and decorated with pigment. It sold for $24,600, easily above estimates of $10,000 to $15,000.
Martinez also collaborated with artist Santana Martinez to make a blackware vase, which earned the second-highest bid during the auction. It sold for $20,910, exceeding estimates of $5,000 to $7,000. The clay vase's appealing curves exhibit the simplicity of design that's a hallmark of modern art.
Also of note, painter John Nieto's Warrior at Trujillo brought $15,600 against pre-sale expectations of $10,000 to $15,000. The strongly horizontal acrylic is a mesmerizing mix of peace and peril. The late artist is known for his use of color and the spiritual significance of his images.
Filling out the top five slots were a gold and micro-mosaic inlay belt buckle by Carl and Irene Clark and a Plains double-sided ledger drawing whose creator is unidentified; they went for $13,200 and $10,055.
Brian Lebel's Mesa Old West Show & Auction
January 21–22, 2022
Total: $2.1 million
The Old West Show & Auction in Mesa, Arizona, couldn't have offered a more enticing draw than the one that ultimately brought the highest price and the most satisfaction to the winning bidder. The object of desire was the parade spurs made by master craftsman Edward H. Bohlin and worn by the legendary artisan himself. The spurs sold for $210,000, against estimates ranging from $100,000 to $125,000, in an auction whose highlights were solidly in the Western memorabilia category.
A gold nugget from the Granville Stuart Estate went for $94,400, compared to the high, pre-sale expectation of $5,000, while documents from the Joe De Yong Archive brought $59,000 instead of estimates ranging from $10,000 to $20,000.
Screen legend John Wayne's 26 Bar Ranch Belt Buckle, given to him as a gift by President Ronald Reagan and First Lady Nancy, sold for $56,050, almost twice its top estimate. And the movie star's hat from "The Undefeated" achieved $53,500, with estimates ranging from $35,000 to $40,000, while Bohlin's filigree gold belt buckle realized $47,200, more than twice the predicted high.
A Joe Beeler bronze bust of a Native American was last but not least among the 10 best-selling items, with Lord of the Southern Plains (Quanah Parker) going for $26,550 against estimates of $10,000 to $14,000.
Coors Western Art Exhibit & Sale
January 4, 2022
Total: $900,000+
Premonition, a striking charcoal by artist Andrew Beckham, was awarded Best of Show at the Coors Western Art Exhibit & Sale in early January. The event — proceeds from which support the National Western Scholarship Trust — takes place during the National Western Stock Show in Denver, Colorado, each year.
Denver painter Karen Roehl was awarded Artist's Choice for Take a Bow, an expressive portrait of a horse. The acrylic and latex on canvas, which sold for $3,600, is a happy mix of emotion and realism, with whimsical symbols underscoring the animal's arched neck and bent foreleg.
Wild and Cautious by Louis Escobedo gained the Southwest Art Award, while People's Choice went to Sophy Brown for Colorado Heat. Escobedo and Brown both portrayed horses in action, but that's where the resemblance ends. Escobedo's creatures trot down a lane, on apparent alert for danger, while Brown's horse flies through the air in an effort to buck off its rider.