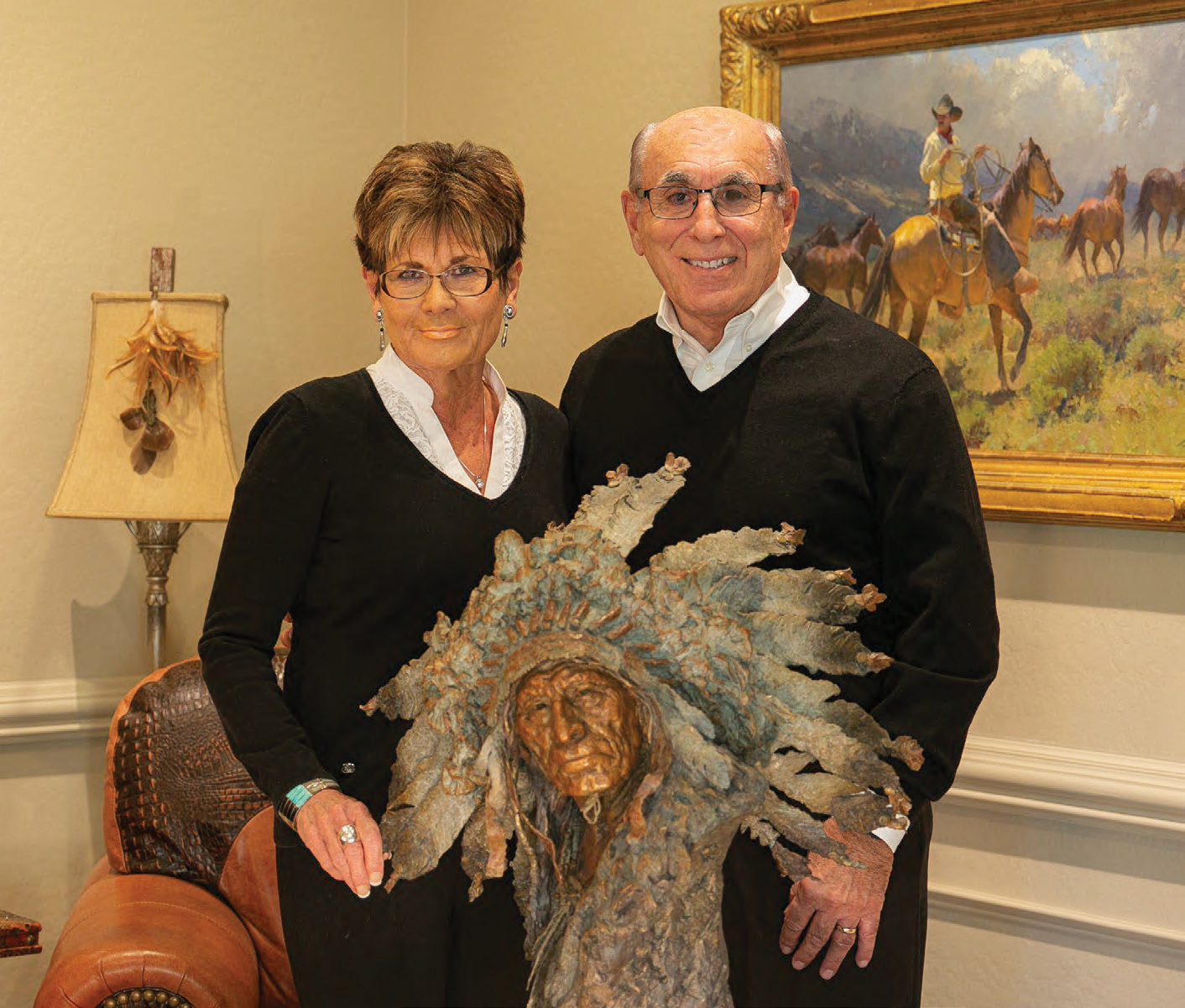 Maryann and Dan Corazzi discovered their love of Western fine art after stumbling upon the Jackson Hole Fall Arts Festival in 2002.
10 Mar

Collector's Eye: Serendipity

Over the course of his life, Dan Corazzi has played many different roles. His varied experiences have included working as a French teacher, high school principal, school district superintendent, software company CFO, and, now, a board member at a prestigious Western art museum.

In 2002, Corazzi and his wife, Maryann, traveled to Jackson Hole, Wyoming, intending to visit Grand Teton and Yellowstone national parks so that Corazzi could capture their epic landscapes through his camera lens. At the time, becoming a Western art collector was the furthest thing from his mind. But during that vacation, the couple came across the Jackson Hole Fall Arts Festival, where they encountered many talented artists and sophisticated collectors. As a photographer who understood color, texture, and composition, Corazzi immediately appreciated what the artists were trying to communicate; and soon, he and his wife were "hooked" on collecting high-quality Western art.

Buying one artwork led to buying others and regularly attending various Western art museums and gallery shows. Eventually, they visited the National Cowboy & Western Heritage Museum in Oklahoma City, Oklahoma, where Corazzi is now a member of the board of directors and chair of the Prix de West committee, which manages the museum's premier fine art show and sale.

According to Corazzi, the Prix de West exhibition will celebrate its 50th anniversary this June 17 and 18. Hundreds of collectors from around the country will flock to the National Cowboy & Western Heritage Museum to meet more than 90 top Western artists and purchase works by draw on Saturday evening. During the weekend, more than 300 artworks will be available for sale.

After relocating to Scottsdale, Arizona, from Doylestown, Pennsylvania, the Corazzis have downsized their collection, but they continue to keep a keen eye out for "the next one."

WA&A: When did you begin collecting?

Dan Corazzi: My wife and I began collecting about 20 years ago after visiting the Jackson Hole Fall Arts Festival. Prior to that, we had never been exposed to Western art. Since there was so much happening in town that week, we decided to visit the galleries near Town Square and attend the show at the National Museum of Wildlife Art. And I must say, we both were completely overwhelmed by what we saw and experienced that week.

WA&A: What was the first artwork you purchased, and what made you choose it?

D.C.: The very first piece we purchased was a small bronze by Sherry Salari Sander. I guess we bought that bronze simply because it caught our eye and because it was a small piece. However, in making the purchase, we never imagined that it would become the beginning of our 'addiction' to collecting Western fine art. And because of that first visit to Jackson Hole, we continued making return trips — every year up until 2019 — to attend the annual Jackson Hole Fall Arts Festival.

WA&A: At what point did you realize you were an art collector?

D.C.: I realized we were serious collectors when the walls of our den quickly filled with artwork, and we made the decision to add rooms to our home solely dedicated to art so that we could continue buying art.

WA&A: How large is your current art collection?

D.C.: At one point, we had approximately 100 pieces. However, several years ago, we decided to downsize our home and move from the Philadelphia area to Scottsdale. So, we sold some of the art. Presently, we have about 40 pieces. Although it has been difficult parting with the artwork we have lived with and enjoyed for so many years, the reality is that's what most serious collectors find themselves doing when they decide, at some point, to downsize their permanent residence.

WA&A: Is there a theme or focus to your collection?

D.C.: Our collection is made up entirely of oil paintings and bronzes that include cowboy, Native American, and Western landscape and wildlife subject matter — all by many of today's top living Western painters and sculptors.

WA&A: In case of disaster, what piece would you save first?

D.C.: That is like asking, 'Which of your children is your favorite?' But if I had to make that choice, it would probably be one of our early John Coleman bronzes, Lives with Honor. Coleman is an amazing sculptor whom I consider to be the American Michelangelo of Western art. All the faces on his bronzes exquisitely capture and express the story that he is trying to tell collectors. And Lives with Honor literally speaks to me each and every time I look at it.

WA&A: Was there ever one that got away?

D.C.: I never looked at it that way because most of the Western art sales are by draw, so you never know if your name will be selected for a piece that you would like to add to your collection.

WA&A: Have you forged any personal relationships with artists?

D.C.: Yes, one of the most enjoyable aspects of collecting Western fine art — besides actually owning the artwork — has been the many relationships and lasting friendships we have developed with both fellow collectors and artists. It is commonality of interest and love for the West which makes that possible, and which results from visiting the artists' studios and from regularly socializing with the same fellow collectors at the many museum and gallery shows that take place each year. It truly has been a wonderful and life-changing experience for us, and we never imagined this could have ever occurred because of the first small art purchase we made so many years ago.

WA&A: What led you to become involved with the National Cowboy & Western Heritage Museum?

D.C.: On one of our early trips to Jackson Hole, we met and developed a close friendship with a couple who were longtime collectors. Prior to that encounter, I had never heard of the National Cowboy & Western Heritage Museum or the Prix de West exhibition. And after attending different Western art shows and visiting galleries with them over a period of several years, the husband — who happened to be a supporter and a board member of the National Cowboy & Western Heritage Museum — asked me if I would be interested in becoming a board member.

WA&A: How did you develop your 
"collector's eye?"

D.C.: Having been an avid Western landscape and wildlife photographer, I have always had an eye for composing whatever I was photographing. And once I became interested in Western fine art, I totally immersed myself in the subject by reading, studying, attending shows and auctions, and by talking with artists and seasoned collectors to learn what constitutes high-quality Western fine art.

WA&A: Where do you think your 
collection will be in 100 years?

D.C.: We have already started selling much of our collection, so each of the pieces will likely be found and enjoyed in the homes of numerous future Western fine art collectors.

Kathy Chin Leong is a freelance writer who has published work in The New York Times, National Geographic books, and many other publications. Her recent book, San Francisco's Chinatown (Heyday Books), chronicles the neighborhood's past and present while looking toward the future.