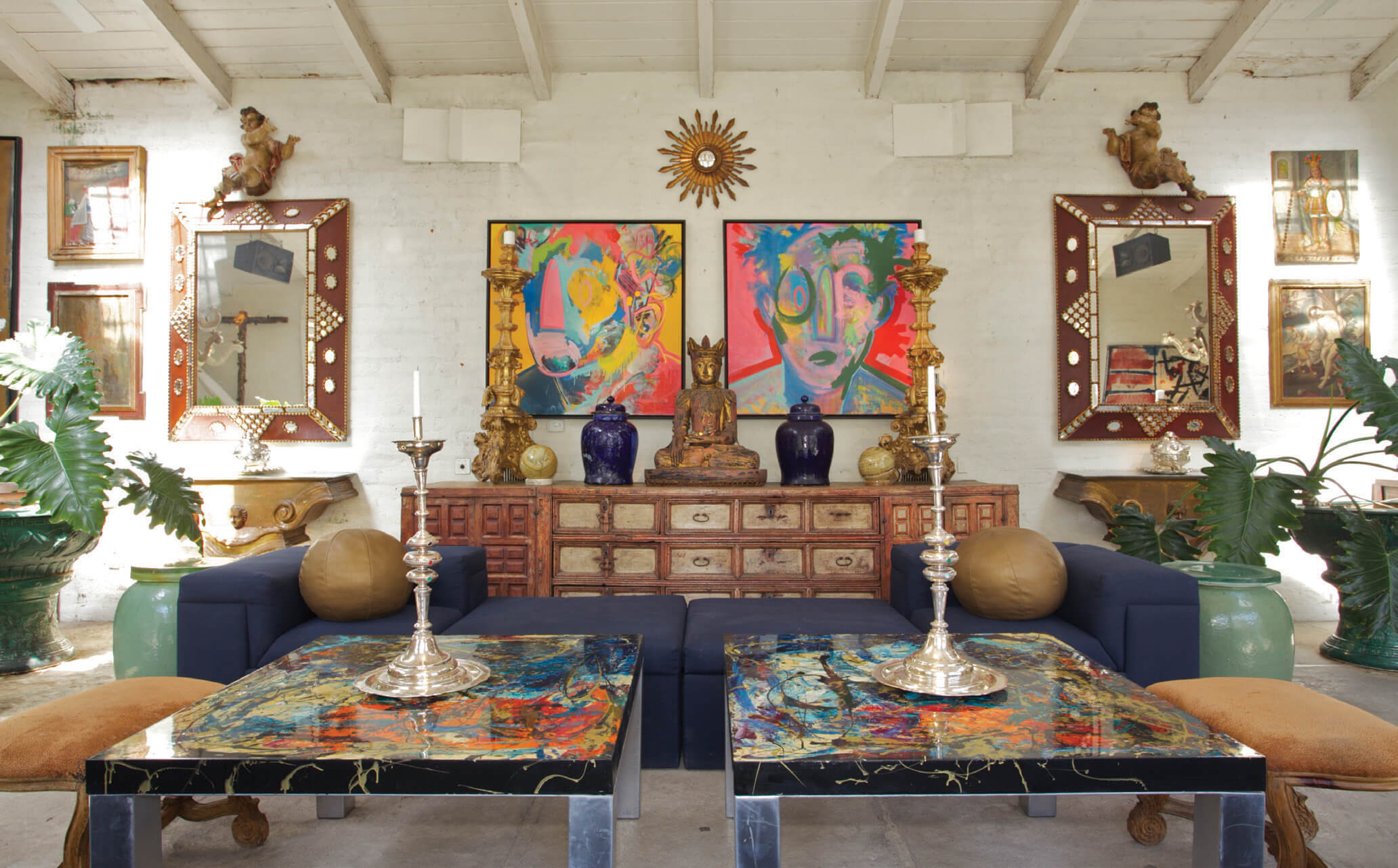 The Salon Grande features a mix of periods and styles. Artworks by Mexican abstract painter Santiago Pani hang above a 19th-century Mexican sideboard. Sterling silver South American candlesticks studded with semiprecious stones and trade beads sit atop abstract painted cocktail tables by Mexican painter Lorena Suarez. The sofa is designed by Samuel Saunders.
10 Mar

Designing the West: Conveying Bravado

If ever there was a designer with expertise in Spanish Colonial furniture, architectural objects, and art, it's Samuel Saunders. His hacienda and warehouse showroom in Nogales, Arizona, are filled with inventory from various continents, which he and his late partner Eddie Holler discovered during years of travel. Holler's hobby of collecting Spanish Colonial furnishings eventually turned into a business for the couple, and now, 40 years later, with a worldwide pandemic limiting travel, Saunders is optimizing the opportunity to help clients discover the beauty of art and design from the 16th to 18th centuries.

The term "Spanish Colonial" came into being as colonists were settling into the newly discovered and conquered territories of Latin America. "The combination of European designs, exotic American woods, and the influence of Native craftsmen are the elements that make colonial art, architecture, and furniture unique," Saunders says. "Since it was nearly impossible for the colonists to transport the pieces from Europe that were needed for the grand scale of houses and haciendas being constructed, the furniture and decorative arts were commissioned from local artisans. From lithographs and prints, the bespoke pieces were interpreted by local craftsmen with their own heritage on a large scale." Saunders explains that they often combined styles, added color with gold and silver leaf, and implemented their own inherent ways of carving. "This created interpretations with a sort of 'primitive elegance,'" he says.

Saunders is a self-proclaimed maximalist, a style he acquired from dealing in Spanish Colonial furnishings. "Juxtaposition is important to remember so that maximalism stays under control, with each piece in a room finding its own particular place. Large scale has always been our forte and becomes very comfortable, not only to the eye and the psyche, but also to the body," he says. For example, the designer prefers oversized chairs, such as large wingback chairs. Once the ease of sitting down and then standing up with little effort is experienced, the generous sizing makes a surprising difference. "Maximalism versus minimalism is also being discussed in the design industry," he says. "I believe there can be a happy medium reached by introducing a few 18th-century colonial pieces into a contemporary minimalist décor that will add a new layer of quality, comfort, and interest to a room."

The extensive inventory acquired during Holler and Saunders' travels resulted in a unique design service featuring colonial antiques from the 16th to 18th centuries. The couple discovered a trade route between Acapulco Bay and Manila Bay that lasted from 1565 to 1820. This global economic interchange also facilitated an exchange of ideas and artistic styles between Europe, the Americas, and Asia. This knowledge opened up a whole new world for Holler and Saunders as they began exploring Spanish, Portuguese, and Dutch colonies in Asia and acquiring prime examples of Spanish Colonial design with an Asian influence.

Armed with these experiences and extensive knowledge, Saunders encourages, educates, and informs his clients about the selections they make. He helps them incorporate those selections into their home and combines centuries of styles to create a comprehensive and individual look.

To accomplish this, he employs the basics of good design: symmetry is of the utmost importance. Often, he uses multiples to create an emphasis in a room. Scale is also critical; as a maximalist, Saunders knows that proportions form the basis for grand settings.

Saunders also incorporates color and natural objects in his spaces, favoring deep hues: rojo indio, deep royal purple, and intense terra cotta. Throughout his hacienda, which serves as a showroom, unexpected walls of deep blue — reminiscent of peacock feathers — provide a rich backdrop for Colonial Revival ballroom chairs, an 18th-century corner cabinet from Peru, and an ornate gilded mirror. "I bring in color because colonial pieces are made of warm woods, and the paintings are fairly muted," Saunders says. "Introducing color brightens and makes things cheerful. The blue walls make me smile every time I see them. When I lived in Italy, I really appreciated, in the palaces and villas, their use of color. The colors in Latin and South America were purer in depth because they were actual mineral pigments."

He frequently uses Sunbrella — a performance fabric designed for the outdoors — for interiors. "In this pet-friendly world, for me, it is mandatory to use performance fabrics," he says. "Sunbrella's texture is like canvas and can be appealing in almost any space."

Rocks and minerals also abound in Saunders designs. Large spheres can fill a courtyard with an astonishing presence, and he will often incorporate malachite, along with bold geodes of amethyst and citrine. "Mineral specimens do more than add color," he says. "I've always liked the geometry of nature, so introducing spheres that you find in natural geodes and that came from volcanic eruptions millions of years old is really inspiring. I like using ammonites, or snail fossils, as their spiral design implies motion as well as infinity. That it is an opposite shape to a square or rectangular room adds to its appeal."

Saunders says that the way he puts things together is "an uncontrived consciousness," and this vision is what sets him apart. "Using colonial antiques brings quality to a room that you might not have in other ways. Colonial furnishings are their own thing — they are not the perfection of European furniture, but they bring a certain sophistication with their exotic woods and their indigenous techniques in an unspoken way," he says.

Collaborating with other design professionals wanting to include Spanish Colonial furnishings has been a pleasure for Saunders. Tonia Prestupa, a design associate in Santa Fe, New Mexico, says she loves introducing Spanish Colonial pieces to her clients' homes. Saunders is currently collaborating with Prestupa along with sisters Megan Smith and Janen Korth of Smith Progressive and Luxury Interior Design to establish a showroom in Santa Fe, called Maison Smith, with plans underway to expand into Healdsburg, California, bringing Spanish Colonial design to the beauty of wine country.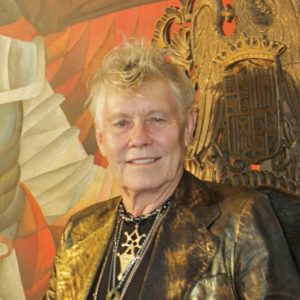 Q&A with interior designer Samuel Saunders
Is there a rule of thumb for how many matching pieces should be in a single room?
I am very much a symmetrist, and I feel that it is important to have a pair of some things or even four things in a room to establish order and comfort. It certainly doesn't matter if nothing in the room matches, but rather a natural flow of energy should be established. If you can't have symmetry or pairs, at least try to create balance.
What kind of lighting should one use to magnify important design elements?
I really like, and use wherever I can, very narrow beam spotlights that focus on different components in the room, which creates an ambiance of mystery and drama. The spotlights that I use are actually low voltage discotheque "rain" lights from the 1970s, and they are still available today.
What textiles complement the smooth, polished finish of wooden tables and chests?
I really like hand-woven textiles in tapestries and upholstery because they are a perfect contrast to hand-waxed polished finishes on antique wood. I also use durable performance fabrics, even velvets, that hold up beautifully in our pet-friendly lives, indoors or out. Zeus, my Great Dane puppy of 140 pounds, and Apollo, my overly furry cat, not to mention Adelita, Valentina, and Esmeralda, the Chihuahua girls, will attest to that!
Can one use two seemingly opposite styles together, for example, antiques and abstract art?
Remember, opposites attract! The perfect partner for colonial antiques is abstract art, as both can have rather undetermined journeys in life.