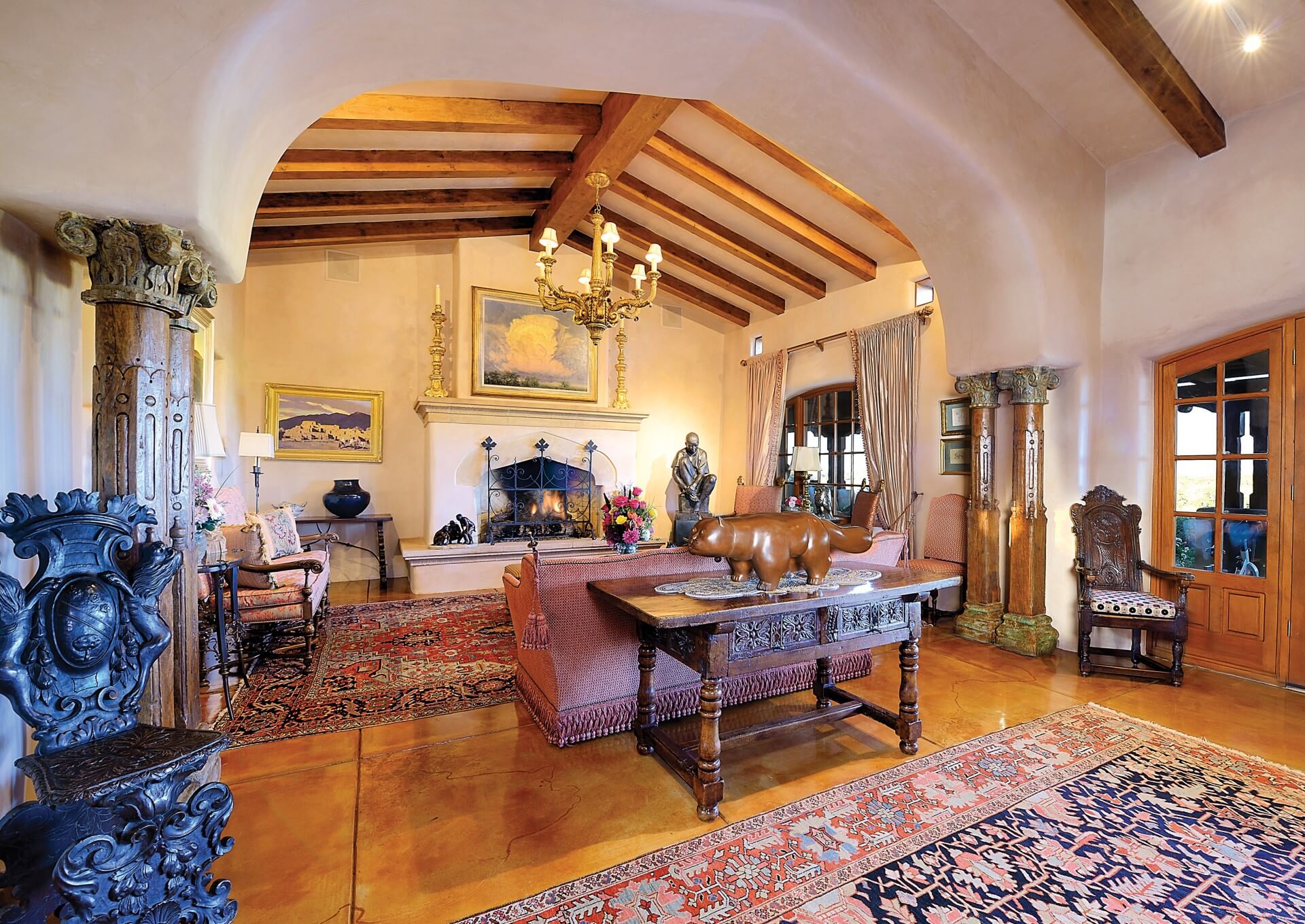 The ceilings in the living area reach 25 feet, providing ample space for a bevy of treasures, including a Fernando Botero cat sculpture on the sofa table, a Wilson Hurley painting over the fireplace, and a Felipe Castañeda figurative sculpture to the right of the fireplace.
15 Mar

An Artful Adobe

Situated on the banks of the Rio Grande, the Pueblo Revival home of gallerists Richard and Nedra Matteucci is a compendium of the modern adobe. It's not only the construction — using traditional sun-baked bricks — but also the thoughtful curation of the furnishings and artworks that makes their home an anthology of style.

Richard grew up not far from their current home, and recalls playing on the banks of the Rio Grande as a boy. His family's history is steeped in Albuquerque's past. Five of his family members immigrated, one by one, from Italy, including his fraternal grandfather. "They all turned out good," he says. "They became lawyers, doctors, and businessmen."

Growing up, Richard was the youngest of four children. Their home on Gold Avenue was a block from Central Avenue, better known as Route 66. He remembers his older siblings bringing home chickens and ducks from the county fair to raise, even though they lived in the heart of the city. A lot has changed since then, and the high-rise towers of this swelling metropolis are visible from their current home on the Rio Grande. It's particularly beautiful at night when the downtown lights flicker.

The Matteuccis are longtime art dealers in Santa Fe, and they own two galleries in the city. They purchased their first gallery in 1988, which had been established by art dealer Forrest Fenn in the early 1970s. Nedra Matteucci Galleries specializes in 19th- and 20th-century American art, including the Taos Society of Artists, artists of the American West, and masters of American Impressionism and Modernism. Their other business, Morning Star Gallery, offers antiques by Native American artists.

Given their chosen profession, art is inseparable from their life and Albuquerque residence. Each piece displayed in their home is there for a specific reason, and several paintings recall fond memories from their childhoods. For Nedra, a large egg tempera painting by Peter Hurd, depicting the Coe Ranch in Hondo Valley, New Mexico, reminds her of when she was allowed to sell fruit as a child at the ranch's roadside stand near Ruidoso. For Richard, a Carl Von Hassler painting that he grew up with and inherited reminds him of his childhood home. Richard's father, Peter, was a liquor distributor in Albuquerque, and he frequently traded with artists, bringing home a number of paintings.

The Matteuccis' home was designed and built by one of Albuquerque's finest adobe contractors, John Calvin, who has explored parts of the world where adobe is the primary building material. "I lived in Spain and South America and spent time in India, where adobe is used prolifically," he says. "In my 40 years of building in Albuquerque, I became known as the 'adobe guy.'" Located on an acre lot, the home's design was inspired by its proximity to the Rio Grande and the unspoiled views of the Sandia Mountains and downtown buildings.

Many of the home's design elements were acquired during Calvin's travels, including the four carved columns in the living room. "I remember exactly the day I bought those columns; they came from an area in Northwestern India in Rajasthan in a place called Shekhawati — they are 700 years old."

Paintings by the Taos Society of Artists complement other period collectibles, such as a sampler saddle blanket from the historic Hubbel Trading Post in Ganado, Arizona. As one of the earliest trading posts on the Navajo Nation, founded in 1878, the Hubbel was recognized for its quality goods and is now a National Historic Site. The sample saddle blanket is a compilation of different designs set in squares; it demonstrates the many possibilities one could commission for their own saddle blanket.

In addition to the Taos Founders, favorite paintings and sculptures by the artists represented in their galleries abound. In the living room, a large Wilson Hurley painting hangs above the limestone fireplace, which was carved by Calvin. On every wall, important works have their place. A painting by William Acheff featuring beaded moccasins fittingly accompanies a collection of historic beaded moccasins. A still life painting with lilacs by Laura Robb accents a wall in the dining room. Sculptures by Dan Ostermiller highlight the home and gardens outdoors, as do sculptures by longtime gallery artist Glenna Goodacre.

The Matteuccis carefully chose furnishings that complement the home's architecture, artwork, and honor Richard's family history. "With this home, we wanted to bring Richard's heritage into it," Nedra says. "Our goal was anything that was Italian — that's what we wanted." She enlisted the help of longtime friend Gene Law, an interior designer at Charles & David Interiors in Santa Fe. They formed a team that explored antiques to textiles, making sure each fit the home's theme.

To simplify their task, Law created drawings of each room, so they could identify the pieces that were needed. "It wasn't too defined, so we could change as we went along," Law says. "You can't predetermine what you're going to find, so when something unplanned appears, we could change the room while in a showroom."

Furnishings with intrinsic historical and artistic value fit well alongside the Italian pieces. Their collection includes a hand-carved table by Russian artist Nicolai Fechin; and a handmade, hand-painted chest by Leon Gaspard, another Russian artist, welcomes visitors in the entryway.

Having worked with Nedra on their Santa Fe home, Law says he welcomed the opportunity to work with Richard. "Richard was very much interested in expressing his ideals in this house," Law says.

The furnishings are upholstered in luxury textiles, with Richard requesting no "knock-offs." Fortuny fabric covers a settee in the living room and a high-back chair in the office. The Matteuccis didn't have to travel to the brand's atelier in Venice, Italy; instead, they shopped at Dallas' Market Center. Missoni, another Italian brand, was used for fabrics in the homeowners' bedroom.

Though Law is now retired, "he was the perfect designer to work with," says Nedra. "He had all the contacts we needed for things like sewing fringe onto pillows and others who knew how to make lampshades from fabrics we chose."

One of the outstanding pieces for the home is an expandable dining table purchased at Sotheby's in New York. At the time, the Matteuccis didn't need a dining room table, but it was such a spectacular piece that they couldn't pass it up. Designed by Ann Getty, the table was a prototype that never went into production, making it a one-of-a-kind piece. Its round contours, accompanied by eight upholstered chairs, appear as a mosaic of rich wood, and its removable sections are tear-shaped.

An additional high point of this well-curated home is its layout, with ample room for entertaining. The home is able to accommodate 150 people comfortably, with overflow space accessible through a covered patio that runs the length of the house. With uninterrupted views of the Sandia Mountains at sunset, it provides the perfect space for a colorful cocktail party. The Matteuccis' home is full of history, stories, and exceptional artwork, making it a joy to share with others.