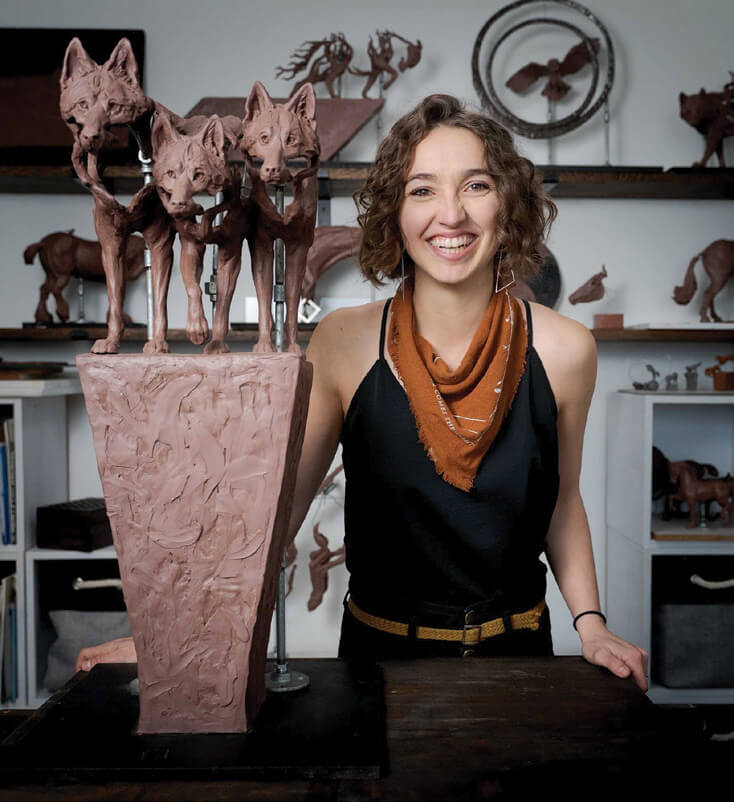 15 Mar

Artist Spotlight: Amanda Markel

Amanda Markel's bronze works portray their subjects by what she leaves out just as much as by what she includes. Aria, for example, melds a fluid Eastern yin-yang symbol with the natural grace of a horse's foreleg and head. As viewers rotate the sculpture, they see through its semi-abstracted contours, engaging the imagination to complete the composition. Such a "negative-space sculpture," says the artist, "allows people to create the meaning themselves."

It's a sophisticated concept, expertly executed — no small feat for someone who cast her first bronzes less than three years ago and is now just 28. But Markel, who was home-schooled with her three siblings on an 80-acre spread outside of Colorado Springs, can justifiably claim to have been sculpting since she was 7.

"I was always interested in animals, and we had quite a few horses, a mammoth donkey, and a bunch of dogs, cats, rabbits, chickens, and ducks. I tried to sculpt them out of mud and was devastated when they fell apart." So, for Christmas, her parents bought her multicolored Sculpey clay, which bakes hard in a home oven. "I instantly made a Nativity set with probably 15 different animals and all their babies. And my parents realized they'd have to get me some more," she says.

Yet, by age 10, Markel had sworn she wouldn't become an artist. At the time, it seemed as if every possible mentor she asked for guidance cynically advised her only to do what would sell, and then questioned helping an eager youngster who might eventually compete with them. "I decided then that it wasn't worth trading my passion for money." Instead, still a high schooler, at the age of 16, she traveled to Swaziland to do volunteer work with children in need. "And I began selling my paintings and sculptures to raise money for the charity there," Markel says.

After finishing her diploma, she moved to Bozeman, Montana. "I had visited my cousin there, and just fell in love with it and wanted to experience someplace new." While teaching art classes for seniors at a retirement home, she learned of the Montana Artrepreneur Program, which pairs young artists with experienced professionals, and found in local sculptor Rob Zullo the mentor she'd long needed.

"A surprisingly gifted teacher and one of the most generous people I've ever met," he shared such essential information as "how to create a wire armature to build a structurally sound sculpture, how to approach a foundry and get an estimate, and how to cast a bronze." Markel's style and skills flourished, and her work almost immediately sparked interest, with Aria being included in the prestigious live auction at last year's The Russell Reignited, the freshly reimagined form of the long-admired art show and sale at the C.M. Russell Museum in Great Falls, Montana.

Looking toward her future, Markel dreams of creating public installations. "I just love the idea of getting in front of more people with larger, more complex pieces. Art has that power to impact the way we experience the world," she says.

Markel's sculptures are represented by Gallery Wild in Santa Fe, New Mexico, and Jackson, Wyoming; Old Main Gallery & Framing in Bozeman, Montana; FoR Fine Art in Tucson, Arizona, and Bigfork and Whitefish, Montana; Cassens Fine Art in Hamilton, Montana; and Equis Art Gallery in Red Hook, New York. Her work will appear in American Women Artists: Pushing Forward Reaching Back at Brookgreen Gardens in Murrells Inlet, South Carolina, May 13 through July 23; a two-artist show at FoR Gallery in Whitefish, Montana, July 2 to August 2; Sculpture in the Park at the Benson Sculpture Garden in Loveland, Colorado, August 11 through 13; The Russell at the C.M. Russell Museum in Great Falls, Montana, August 17 through 19; Fall Arts Festival at Gallery Wild in Jackson, Wyoming, September 6 through 17; and Warrior Taste Fest, Gallatin County Fairgrounds, Bozeman, Montana, September 8.