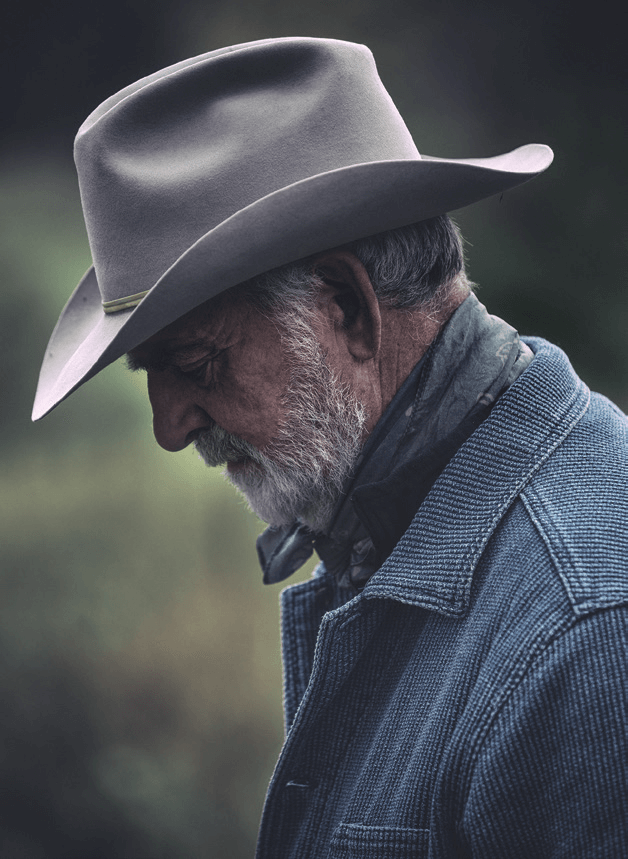 15 Mar

Artist Spotlight: Scott Baxter

Scott Baxter brings to his photographs of present-day American ranchers the insights of a scholar, the eyes of an artist, the magic of an alchemist, and the heart of a true friend. The results are images that go far beyond simply portraying their subjects, establishing a deep bond between viewers and the people he portrays.

While growing up near Princeton, New Jersey, Baxter never intended to become a photographer. At The College of Wooster in Ohio, where he co-captained the lacrosse team, he wrote his senior thesis on the West, focusing on the annexation of Texas and Manifest Destiny. After graduation, he taught history and English, tutored dyslexic students, and coached boys' lacrosse at the Rectory School in Connecticut. A ninth grader there taught him how to process black-and-white film, and something clicked.

"I moved to Seattle for a year, went to work in a commercial pro lab, and started to get my chops in black-and-white printing, working weekends as a photo assistant for a wedding studio," says Baxter.

After briefly returning home, he headed West, intending to earn a master's in photography from Arizona State University. Instead, he learned on the job, working for almost five years assisting a commercial photographer. He launched his own business in 1986, shooting corporate, advertising, and editorial images for top clients. More and more, he also took fine art photographs, focusing primarily on Arizona ranchers.

In 2009, following the recession, Baxter devoted himself primarily to collectible, museum-quality work, including a project he'd begun several years before. "I'd met these ranchers by chance when I was fly fishing up in the mountains," he recalls of the inspiration for 100 Years 100 Ranchers, celebrating the 2012 Arizona Centennial by photographing 100 present-day ranchers whose families had already been ranching in the state a century before. A complete set became part of the permanent collection of the Phoenix Sky Harbor Airport Museum, with a generous selection always on view in the terminals. Two other series followed: Top Hand and Gathering the Remnants.

Many of his images, along with new works, come together in Baxter's latest exhibition, The Gather, a ranching term describing any occasion when ranchers work together en masse, on view at Western Spirit: Scottsdale's Museum of the West.

Part of why Baxter's images are so engaging is the bond he forges with his subjects. "I spend time getting to know them before I take a camera. Some I don't actually photograph for seven, eight, even nine years, and I'm still friends and speak with many on a regular basis," he says. He plans to continue his humanistic approach with a new project tentatively called Along the Edge, exploring the people who live on the borders of Arizona — yet another effort that will no doubt capture the true spirit of today's West.

Adding to the photos' enthralling quality is that Baxter handprints them using platinum/palladium or gelatin silver solutions, along with archival pigment prints. Of the first two, he notes, "You're actually embedding metals into the paper's microscopic surface," which adds uncommon presence and depth.

Baxter's works are in the permanent collections of the Phoenix Art Museum in Phoenix, Arizona; Desert Caballeros Western Museum in Wickenburg, Arizona; Phoenix Sky Harbor Art Museum; Scottsdale Public Art Program; Taos Art Museum in Taos, New Mexico; and Booth Western Art Museum in Cartersville, Georgia. The Gather at Western Spirit: Scottsdale's Museum of the West runs through August 2023. His fine art photographs are represented by Ryan Gallery at Art Intersection in Gilbert, Arizona; and at scottbaxterphotographer.com.