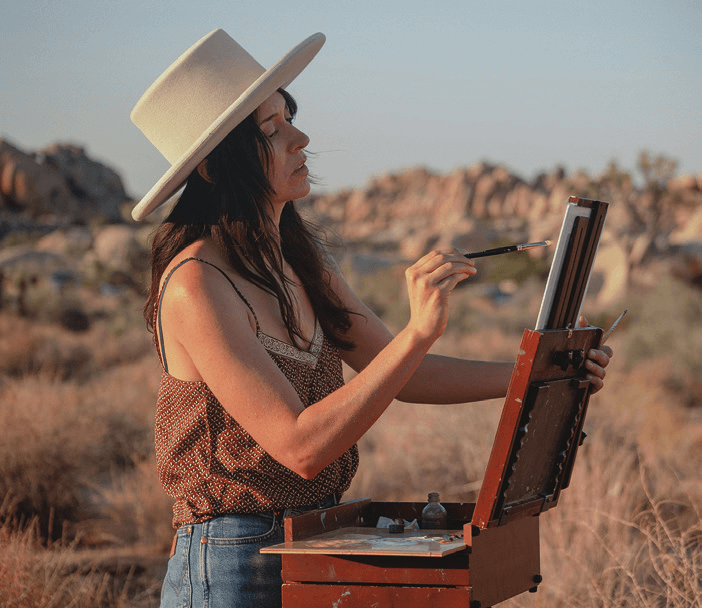 15 Mar

Artist Spotlight: Whitney Gardner

Whitney Gardner was camping and plein air painting last spring at Lost Dutchman State Park east of Phoenix. Before sunset one day, she decided to capture reference photos of the nearby Superstition Mountains, her view punctuated by a solitary saguaro and a blossoming ocotillo. "To me, that time is very exciting. In the fleeting light, the colors pop and you get dramatic shadows. The landscape really comes alive," she says.

Back home in the Mojave Desert town of Twentynine Palms, California, near majestically austere Joshua Tree National Park, she decided to transform those impressions into a painting. Digital images and small oil studies informed thumbnail sketches; and then, finally, working from the jagged background peaks to the foreground's deep-purple shadows, she completed Sonoran Glory, her largest painting to date.

Many artists dream of eventually achieving such assured command deep into their careers. It's even more surprising, then, that Gardner has reached that point in her mid-30s. Yet, the time, training, and dedication she has given to her gift certainly explain the results.

Raised in Corona, California, Gardner always knew art was her calling. Her fondest memories of growing up the youngest of four children are "all of us drawing together." In kindergarten, she says, "I drew Ninja Turtles and handed them out to all the other kids." Teachers nurtured that talent. So did her parents who, after seeing her expertly use Halloween face paints to recreate the cover of The Velveteen Rabbit for a book report at the age of 10, bought her acrylics, brushes, and canvases. In her room, homework completed, she'd follow the guidance of Bob Ross on his PBS series "The Joy of Painting" to paint her own landscapes. Later influences included Van Gogh, whose Starry Night she copied for her first-ever oil. After two years in the arts program at Columbia College in the Sierra Nevada foothills, she completed her Bachelor of Fine Arts at California College of the Arts in Oakland.

Seeking "a slower-paced, more affordable lifestyle where I could paint and become more familiar with the landscape," she moved to Twentynine Palms, gradually building a body of work inspired by contemporary Western artists, including Glenn Dean and Logan Maxwell Hagege.

Her first solo show of desert landscapes at the Twentynine Palms Art Gallery in December 2019 did so well that three pieces sold before the opening. More exhibitions followed, including Small Works, Great Wonders at Oklahoma City's National Cowboy & Western Heritage Museum. Her greatest career highlight came last October while delivering her work for the Contemporary Western Art Show and Sale at Tucson's Mountain Oyster Club. While stopping into Mark Sublette's famed Medicine Man Gallery to admire its paintings by past greats like Maynard Dixon and contemporary artists, including Glenn Dean, she introduced herself to Sublette's son, Charles, who showed interest in her website. "And then Mark walked in, saw my work, and asked if I wanted representation. That completely blew me away. I'm still getting new work over to the gallery now," she says.

Gardner's work is represented by Medicine Man Gallery in Tucson, Arizona; The Marshall Gallery in Scottsdale, Arizona; the online Western Gallery, western.gallery; and at whitofthewest.com.