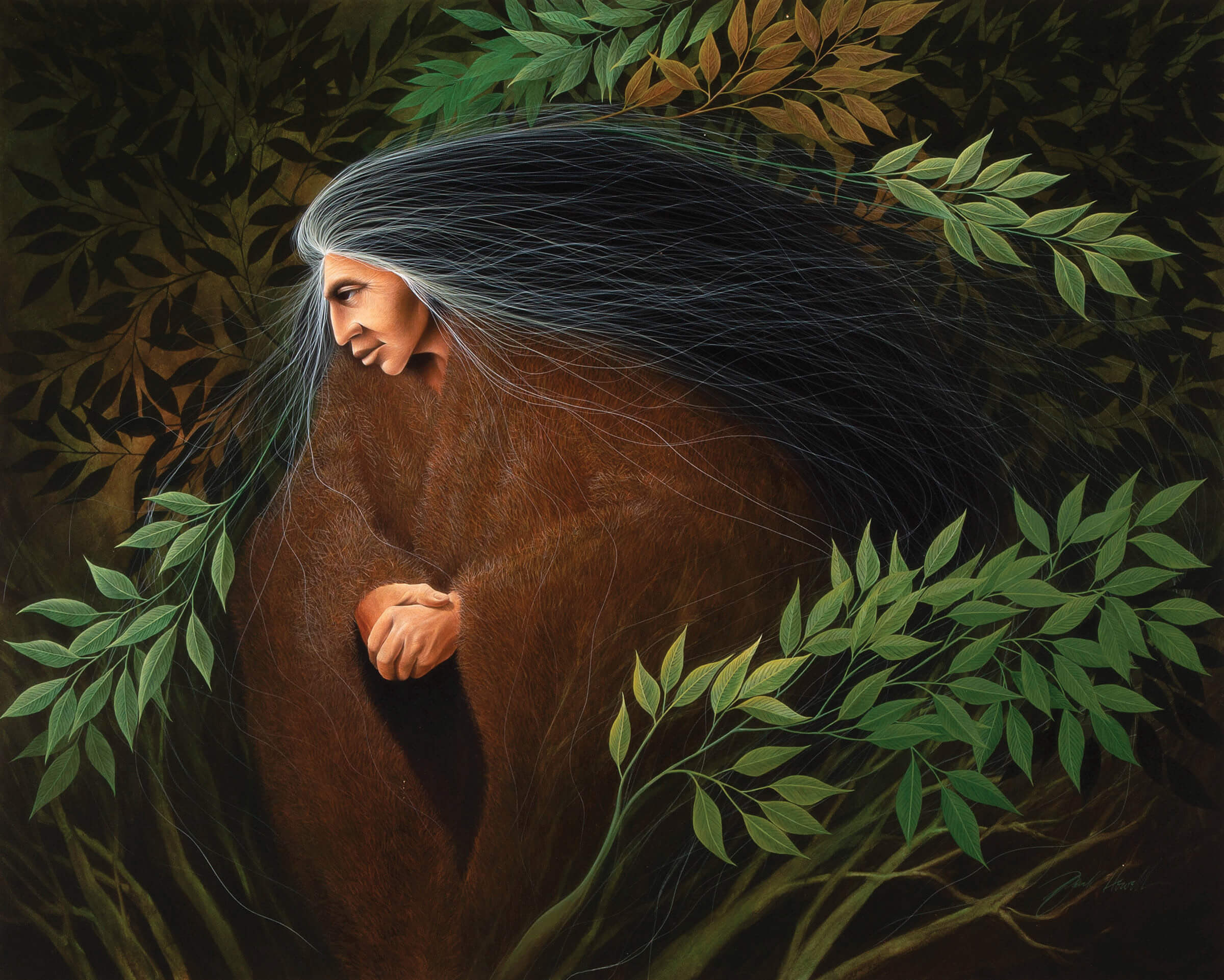 Frank Howell, Spring Matrix | Limited Edition Serigraph | 32 x 40 inches | Sold: $28,060 | Courtesy of Santa Fe Art Auction
15 Mar

Auction Block: A time, A place, A people

Tradition is a term that is used frequently as a statement, ending discussions instead of starting them. But such reluctance does not apply to traditional Western and Native American art. In that context, it refers to generations of experts who sought and, in some instances, achieved the highest standards for artistry and expression.

Traditional Western paintings and sculptures elicited the strongest responses among collectors during sales that bridged 2022's waning weeks and the start of 2023. Works tied to the Cowboy Artists of America Exhibition & Sale brought to life the meaning of the term in Western art: Here are figures, subjects, colors, and tonal values that evoke a time, a place, and a people.

The same goes for Native American works that found worthy reception at the Santa Fe Art Auction, Sotheby's, and Bonhams. Certain items fired the imagination and enthusiasm of the crowd, with the pleasing outcome of higher-than-anticipated prices.

There was a celebratory sense at Brian Lebel's Mesa Old West Show & Auction after its return from a brief hiatus. The event saw Hollywood cowboys' gear and guns go for tidy sums in a sign that Americana is still popular.
Santa Fe Art Auction: Native American Arts
February 9–11, 2023
Total: $950,000
Vessels were among humankind's earliest forms of three-dimensional art, and in the beginning, they were primarily designed for utilitarian use. Over time, inspired by the compelling power of creativity, jars, bowls, and other items were decorated with increasingly sophisticated designs and images.
Those early efforts preceded the stunning examples of pottery that exist today, and a good proportion of those are created by artists from Native American tribes in the American Southwest. One such artist is the celebrated ceramicist Tony Da (San Ildefonso Pueblo). His death in 2008 marked the passing of a legacy that will be challenging to rival.
An inlaid jar by Da led Santa Fe Auction's Native American Arts sale in February, where many items exceeded their estimates. The turquoise inlay jar sold for $61,000 (with buyer's premium), compared to pre-sale estimates of $25,000 to $35,000. The winning bid represented the third-highest price ever paid at auction for a Da.
The second top-selling lot was an oil by the talented painter Fritz Scholder (Luiseño). The Border #2, a solemn pictorial commentary in which chiaroscuro heightens tension, brought $42,700 against estimates of $30,000 to $50,000.
In 1974, just four years before his death, Kiowa artist T.C. Cannon produced a stylized painting Moon and Stars Over Taos. The acrylic and metallic work gives equal size to the moon and surrounding stars — or circles — in a format of three across and three down. Color identifies the moon, which glows yellow, emitting light to see in the darkness. The painting sold for $39,650 to take the third slot during the auction and third overall for Cannon pieces ever sold at auction. The painting was anticipated to bring $20,000 
to $40,000.
The sale of an outsized painting by Frank Howell marked a new auction record for the Lakota Sioux artist. The symbolic Spring Matrix went for $28,060 against estimates of $6,000 to $9,000. The work is pictorial testimony of the deep and abiding relationship between man and nature.
A painting by Howell also occupied the fifth position. Grandmother's Winds sold for $19,520, easily outdistancing expectations that ranged from $2,000 to $4,000.
Jackson Hole Art Auction's Third Annual Online Auction
February 18, 2023
Total: $836,000+
Carl Rungius has inspired generations of painters, bringing new life to art depicting the American West's wild animals. Just as Giotto began to give dimension and feeling to the religious figures in the late Middle Ages that just a century before were flat and remote, Rungius mastered drawing and painting wildlife as living creatures rather than static objects.
Appreciation for the German-born and Wyoming-inspired wildlife artist has spanned from the late 19th century to date. Rungius was in high relief during Jackson Hole Art Auction's Third Annual Online Auction, when a small paper etching of bears, The Family, sold for $30,000 against estimates of $4,000 to $6,000. The painting was the fourth top-selling item at the event. "We saw an increased interest in work by Carl Rungius, especially rare pieces like The Family, which are highly sought after," says Kevin Doyle, Jackson Hole Art Auction's managing director.
Paintings by Richard Schmid occupied the first and third positions, with Gaylordsville in February and Untitled (Pamela Reading) selling for $51,000 and $33,000.
In another accolade to wildlife art, a painting by Richard Friese tied for third. Untitled (Caribou in Winter) brought $33,000 compared to the anticipated $20,000 to $30,000. The tonal values of the oil on linen are remarkable for their impact as caribou step among boulders in the snow.
A John Clymer oil, Untitled (Roping a Calf), went for $22,800. It was expected to achieve from $30,000 to $50,000.
Brian Lebel's Mesa Old West Show & Auction
January 20–22, 2023
Total: $1,755,000+
Everything from the era of the Hollywood cowboy sold briskly during Brian Lebel's Mesa Old West Show & Auction.
With each celebrated saddle, hat, and other accouterments of the hero-cowboy in Westerns comes a layer with deeper meaning. The saddle that topped sales at the Mesa, Arizona, auction was prominently featured in actor John Wayne's final film before his death from cancer. "The Shootist" is a drama about a legendary but aging gunman seeking redemption in the changing American West at the turn of the 20th century. In the film, the protagonist faces his final challenge — death. The saddle, with a tag on its underside burned with "J B Books," the name of the character played by Wayne, went for $23,600 (with fees) compared to the anticipated $6,000 to $9,000.
A black leather saddle, matching bridle, and breast collar by the celebrated Edward H. Bohlin brought $24,200. The floral-carved parade saddle, with square flower conchos, and its accompanying tack were estimated to fetch between $25,000 and $35,000.
For fans of old Westerns, it is difficult to envision Roy Rogers without a smile, a scarf, and a pair of Colts. The gold-plated, 7.5-inch revolvers that took the third position at the auction had been ordered for Rogers by a friend. The single-action Colts were in Rogers' hands when he was depicted on comic book covers. The Colts sold for $24,200 against estimates of $30,000 to $40,000.
The offerings of gear and guns used by hailed Hollywood cowboys didn't end with Wayne and Rogers. A gun rig with single-action Colts used by Tom Mix brought $29,500, or nearly twice the high estimate of $15,000. The outfit included a floral double belt and single loop holsters containing a pair of Mix's .44-40 caliber, 4.75-inch barreled Colts with two-piece stag grips.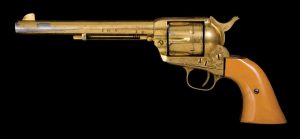 A gold-trimmed Buscadero gun rig made by Nudie's of North Hollywood for Roy Rogers in 1948 went for $41,300, compared to estimates of $60,000 to $80,000.
Sotheby's American Indian Art
January 18, 2023
Total: $860,000
Native American art was beautiful in the eyes of many beholders during Sotheby's sale of everything from baskets to moccasins.
A Dakota ceremonial pipe and stem ornamented with stylized figures and presented to one of its several owners beginning in the 19th century led the auction, with the piece going for $100,800 (with fees) against estimates of $100,000 to $150,000.
There was so much enthusiasm for a friendship basket that it outstripped expectations ranging from $30,000 to $50,000 to bring $94,500. The Wukchumni Yokuts friendship basket shows rings of human figures joining hands and features a border of 25 bears. The work is attributed to Mary Dick Topino and is considered a masterpiece of California basketry, woven by one of the greatest artists in the history of Native American basket weaving, according to Sotheby's catalogue note.
A Punuk bucket handle, dated anywhere from 800 to 1400 A.D., outdistanced its anticipated price, bringing $50,400 instead of its estimates of $5,000 to $7,000.
Similarly, a Chumash polychrome treasure basket climbed to $44,100, above its estimate of $20,000 to $30,000.
Quilled hide moccasins of the Great Lakes region fell within presale expectations by selling for $32,760 amid estimates of $30,000 to $50,000.
Coors Western Art Exhibit & Sale
January 3, 2023
Total: $1 million
Sophy Brown's acrylic on board A Lit Fuse and Count to Ten won Best in Show during the Coors Western Art Exhibit & Sale, a centerpiece of the National Western Stock Show in Denver, Colorado, every winter. The 84-by-47-inch acrylic on board finds strength in size and emotion. The painting, depicting a horse boisterously trying to buck off its rider, sold for $19,800 and was among the top prices achieved at the sale.
Reaching, an oil by David Grossmann, was the top-selling item at $21,500. He describes the work and its creation as a "murmuration of starlings rises from an autumn cottonwood, jerking my mind to a space of reverie as I watch the patterns of birds flying upward and the patterns of leaves catching in the wind. One layer of meaning after another emerges as I paint this memory of a tree and a flock of birds."
Michael Cassidy's portrait poster, Peter Rice, gained the second-highest amount at the sale, with the oil on linen going for $20,000. Cassidy says in his artist statement that his lifelong career allows him to paint what he loves — and it shows. Peter Rice has all the trappings of action and color that attract the eye and would compel an observer to purchase the magazine that Cassidy's painting mimics.
Additional artworks that brought top amounts were Ezra Tucker's The Bold and the Brave at $19,800; Adrienne Stein's Arc, which went for $18,000 and won the Artists' Choice Award; and Quang Ho's A Cowboy and His Dog, which also sold for $18,000.
A prophetic painting by Sally Maxwell, Corvid #19, The Omen, received the Peoples' Choice Award. The colored scratchboard shows a mountain lion fixing its gaze on a distant reality as a raven flies aloft with outstretched wings.
Proceeds from the show and sale benefit the National Western Scholarship Trust.
Bonhams: American Indian and Tribal Arts
December 16, 2022
Total: $640,000
A 43.25-inch polychromed wooden pole carved with totems by Haida artists barreled past estimates of $6,000 to $8,000 to garner $63,375 and lead Bonhams' sale of American Indian and Tribal Arts in mid-December.
The following four bestsellers also rose far above expectations, indicating that one-of-a-kind works by Indigenous peoples are prized for their artistry, craftsmanship, and cultural significance.
The second top-selling lot was another polychromed wooden pole by the Haida people and, as with the top-selling pole, it is believed to have been carved in the last quarter of the 19th century. The pole went for $53,295 instead of the estimated $6,000 to $8,000.
A Comanche girl's dress of beaded hide, a hem ornamented with rows of tine cones and bands of knotted fringes, realized $24,225 against estimates of $15,000 to $20,000. The dress — with a beaded collar and red trade cloth accent — is thought to have been crafted in the late 1800s; underscored by its excellent condition, the clothing worked by hand and made with earthen materials existed throughout centuries.
A large-sized Plateau Crow beaded buffalo hide blanket strip was expected to go for $8,000 to $12,000, but instead, the price climbed to $21,675 to become the fourth highest-selling item, followed by a Crow beaded hide mirror bag, which sold for $15,300, compared to estimates of $2,500 to $3,500.
Cowboy Artists of America Exhibition & Sale
November 4–5, 2022
Total: $1.3 million+
The Cowboy Artists of America Exhibition & Sale in November marked its 56th year with a crowd whose size was as large as their enthusiasm — Texas style. The event, which took place in the Will Rogers Memorial Center in Fort Worth and was supported by the Fort Worth Stock Show & Rodeo, culminated in a fixed-price sale led by a Bruce Greene painting.
The oil, Out of Nowhere, sold for $57,000, a bargain in light of the painting's rich narrative, refined use of color, and painterly style. It depicts a cowboy on horseback seeking to rope a calf as a buck springs without warning from the underbrush. The painting freezes a moment in time and makes realistic references to action.
Martin Grelle's oil on linen The Overseer sold for $52,000 to achieve second place. And C. Michael Dudash's outsized oil A Journey Ends, A New Home Begins won a gold medal and sold for $42,000. The narrative work shows Native Americans moving and reestablishing camp.
Mikel Donahue's Ropin' a Wild One was the highest-selling acrylic at $25,500. The artist also won a gold medal in the mixed media category with For Want of a Nail, which brought $18,500.
Additional gold medals were awarded to: Tyler Crow for his drawing The Set Up, which sold for $8,950; Greene for his sculpture Scrambled Eggs, which sold for $16,500; and Phil Epp's painting The Long Road. Epp's piece sold for $8,500 and earned the artist the Anne Marion Best in Show winner. The award is named for the late matriarch of the Four Sixes Ranch.
The Cowboy Artists of America (CAA) was formed in 1965 by artists Joe Beeler, Charlie Dye, John Hampton, and George Phippen to promote the West and cowboy life in art. The CAA's nonprofit, Joe Beeler Foundation, promotes the development of young artists in traditional Western art through workshops, mentoring, and scholarships. Proceeds from the sale and exhibition help fund the foundation.