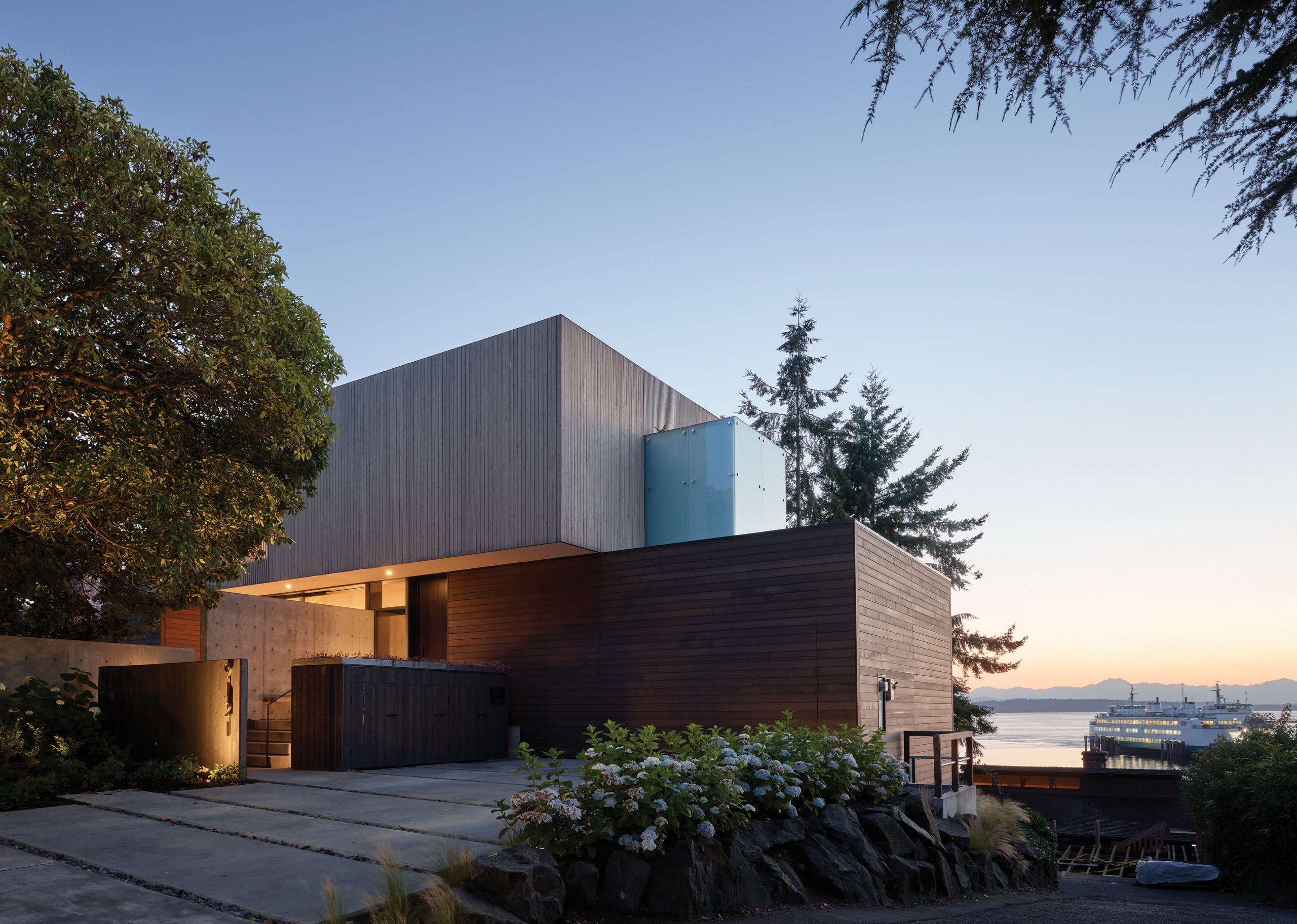 In a home called Fauntleroy, the garage door was designed to be virtually invisible, and the driveway is broken into segments to minimize an auto-centric feel. The "ice cube" above the garage hides an outdoor shower, where the family can wave to the ferry-boat captains while bathing in privacy.
15 Mar

Rendering: Responsive and Resonant

You don't come across too many architecture firms named after a flower, but Seattle-based Heliotrope Architects chose a flower named for the Greek god of the sun, a flower that constantly turns its face to the light. In 1999, founders Joe Herrin and Mike Mora were on their way to a meeting when they realized they needed to name their new firm. By the time they'd arrived, it had become Heliotrope. For the architects, their link to the sun-following flower is their concentration on the human connection, and from there, a turn toward that intangible something that becomes exceptional.

"We're interested in developing solutions that are unique to the situation, to the client, and which couldn't really be anywhere else," says Herrin. "When we're hitting our stride, we've been successful at that."

As passionate as the two architects are about their work, and as proud, they're light years from pretentious, leaning more toward dry humor. While they've worked in California, New York, the Bahamas, and New Zealand, the majority of their projects have been in the Pacific Northwest, in Seattle and the San Juan Islands. Their contemporary structures are elegantly clean but habitable, and their intention is to create sustainable designs that sit lightly on the land and will endure for generations.

"We're not Richard Meier," Herrin says. "When you visit one of our projects, you see all the ways we're manipulating the architecture to bend it to the will of the site and to the interests of the owner. That's what we really take pride in, and it's resulted in a portfolio that's pretty varied. Sometimes the clients don't know what they're going to get, whereas if you go to a Richard Meier office, you know what you're going to get before you start. With us, we don't even know what you're going to get."

In Seattle, they're often working with problematic lots. Solving problems, Herrin says, is the fun part. "That's why I'm not an artist," he says, laughing. "The blank canvas scares the hell out of me — but give me a building code, give me a zoning code, give me guardrails, please. A client's program, a budget. I love it."

"You say problem; I say puzzle," Mora adds.

While the two partners share the same goals and philosophy, they don't design in tandem. Buildings are attributed to the firm, but one or the other principal is at the helm of each. "On each project," associate Jonathon Teng explains, "there's one principal, one project architect, and another staff member. Then, between us staff members, we all meet once a week and present our projects to each other. We're collaborating in that way, and it's through everyone's past experiences that we're carrying on lessons from other projects, so we're learning from those mistakes."

"At the end of the day," says Herrin, "I only have to lose sleep over half the jobs in the office because I know that my business partner is losing sleep over the other half. Whereas, if I was responsible for all the jobs in the office, I would never sleep again."

They have always taken a collaborative approach to architecture, and the firm now numbers 13. "We've worked hard to design our lifestyle," Herrin says. "And we've talked about how it relates to the work. We bought a building so that we could design our space, a place where we're happy to spend more than half of our waking life, and then we hired a group of people who are excited to come to the office in the morning. Definitely a no-drama kind of environment."

"We're all set now," Mora says. "We've grown incredibly slowly over [more than 20] years, and that's intentional too. [We want] to enjoy what we do and not overly stress ourselves out, so we hire infrequently, and we hire for the long haul."

Heliotrope provides a questionnaire to clients, which Herrin says has become more refined over the years. "It's not just what size refrigerator do you want," he says. "It's what books are on your nightstand? What magazines do you subscribe to? Where do you like to travel? Then it's very old-school, in a way. We start with a detailed site analysis. Everything we see is going to influence the architecture. It can be prevailing wind patterns; it can be the slope and the grade; it can be significant trees or rock outcroppings, sunlight, whether that will be a challenge or an overabundance. We're trying to push toward our projects all being net zero or net zero ready."

The firm has signed on to the AIA 2030 Commitment, which has a goal of carbon neutrality by the end of the decade. As a step toward that effort, the two steer their clients toward smaller homes with efficient envelopes. They don't expect construction costs to go down anytime soon, which also influences a home's size. For Mora and Herrin, it simply makes more sense to spend on the quality of the details, not on square feet. And since longevity is an important aspect of sustainability, their intention is to create structures that won't become dated.

"I've always liked the idea of a house not being that friend we all have who's such a strong personality that you can only take so much of them," Mora says. "I want our designs to be visually and emotionally gratifying but also provide those physical spaces that you can fill up with your life."

The firm designs for resiliency by planning for the future and considering how the owners might interact with the house over time during different phases of life. "Work that endures is pretty important to the practice," Herrin says. "The idea that what we're doing isn't too precious and doesn't require a lot to maintain. They're 100-year houses, and they should look good 20 years down the road without having required a great deal of handholding. We've learned all this the hard way — particularly in the Pacific Northwest, with the amount of rainfall that we get, having to re-stain your house every three to five years can cost $20,000 a pop. We have clients who can afford to do that, but if we can avoid it by having some generous overhangs, then why wouldn't we do that?"

Over the years, the firm has evolved from primarily residential work to a mix of commercial projects, including award-winning restaurants, which keeps the team energized. Their commercial buildings focus on human scale and comfort.

Herrin and Mora have always used computer programs, like SketchUp and Revit, which give clients a 3-D understanding of the designs, but they sketch as well. "The sanctity of the sketch is a little bit of a trope, and in the end, all that matters is this built thing," Mora says. "You use whatever means to most effectively get there. It depends on where you are in time and technology, but also what seems to suit the client best in terms of how they want to be communicated with."

"I had a professor at grad school," Herrin says, "who worked for a famous Italian architect, Carlo Scarpa, who'd draw on paper, but rather than erase, he'd just paint over things with gesso and keep doing that. In the end, the process was beautiful, but for me, it was just awful. Horrible. It just made everything precious."

Herrin also worked in Robert Venturi's office, where, he says, designs went right to the Museum of Modern Art. "I left my commercial gig because I wasn't getting the work built," he says. "At some point, what is architecture? What is being an architect? Is it just pretty renderings on a website, or is it going out there and figuring out how to build, how to keep the water out, how to have a good relationship with the contractor, have a good relationship with their subcontractors, how to maybe make some money? That's what it's all about. I love that. I love the process."

In the end, Mora and Herrin want Heliotrope Architects to continue to be known for collaboration, calm under pressure, and reliability. If mistakes are made, they acknowledge them and are there to make adjustments through the finish. They want to continue to be known for the quality and inventiveness of their work.

"I gladly take credit for Mike's work and vice versa," Herrin says.