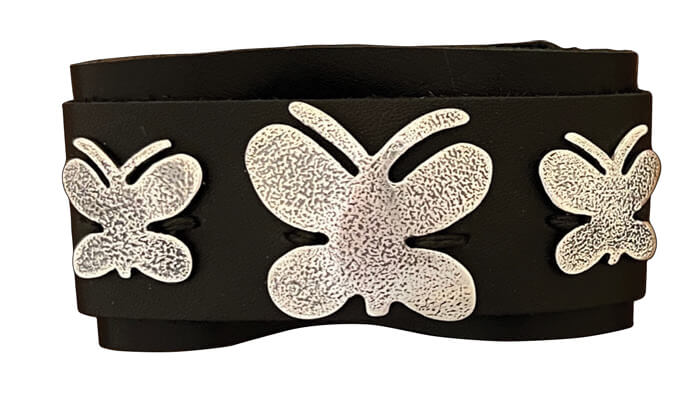 15 Mar

Things We Love
Jewelry by Melanie Yazzie
Colorado-based artist Melanie A. Yazzie (Navajo-Diné) has made a name for herself in a variety of mediums, including printmaking, painting, and sculpture. More recently, she has partnered with Glenn Green Galleries in Santa Fe, New Mexico, to create a jewelry line that represents the Navajo philosophy of seeking beauty, balance, and harmony. Her pieces often feature animals, insects, and figures that are meant to protect and give strength. We love Yazzie's stylized designs in textured cast sterling silver, and how they offer a sense of whimsy and beauty from the natural world. Yazzie's work is featured in numerous museum collections, and she has exhibited, lectured, and taught around the globe.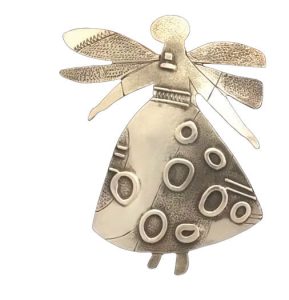 Salt Water Girl Pendant: 3.50 x 2.50 inches, $575
Butterfly Leather Cuff: 9.5 inches long
(adjustable) x 1.5 inches, $585
glenngreengalleries.com
 Trunks and Luggage by J. Greenwood Leather
Inspired by "the golden age of travel," Jared Greenwood's handcrafted leather pieces harken back to the Old West while also serving as functional home décor. "My goal is that their owners feel a sense of time travel … and that it connects them with a bygone era of luxury and craftsmanship not found in the modern world," the artisan says. Greenwood sources materials from some of the most sought-after tanneries, fabric mills, and hardware manufacturers to incorporate a variety of leather options and materials in his work. Each piece is made to order in his Boise, Idaho, studio where seams are sewn by hand, every nail is individually set, and each cut is performed manually. Greenwood also caters to safari and big game hunters by transforming their own trophy skins and leathers into custom pieces.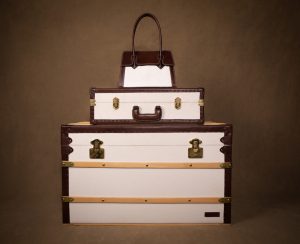 Trunk: 32 x 19 x 17.5 inches, $7,500
Suitcase: 22 x 13.5 x 7 inches, $3,000
Bag: 12 x 6 x 9 inches, $1,800
jgreenwoodleather.com
Fusion Notes by Preston Singletary
Through his glass sculptures, Preston Singletary merges the Tlingit culture of the Pacific Northwest with fine art, using mythology and traditional designs to shape his contemporary perspective of Native American culture. This, along with other influential elements of his life and work, is explored in the artist's new book, Fusion Notes, to be released in the summer of 2023. Described as a visual memoir, the title represents Singletary's "multi-faceted spirit, Tlingit background, many creative explorations, commitment to family, communities, cultural knowledge, and enduring love of the medium of glass." Singletary started his journey in glass in 1982 and has had a significant influence on contemporary Indigenous art throughout his career and collaborations. His work is in museum collections around the world.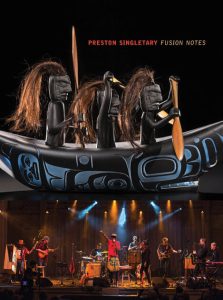 Hardcover, 8 x 10.75 inches
144 pages
$50
minormattersbooks.com
Italian Silk Scarves from Isa Catto Studio
Artist Isa Catto has worked in watercolor and mixed media for 25-plus years while also teaching workshops at art institutions around the country. In 2019, she opened Isa Catto Studio, collaborating with her design team to transform her paintings into functional products, such as handmade journals, tote bags, and even wrapping paper. Located at 8,000 feet just outside of Aspen, Colorado, and open by appointment, the studio looks out toward the Elk Mountains and is adjacent to her carefully cultivated high- altitude gardens. So, it's no wonder that Catto's work is rooted in nature and that the studio partners with several conservation nonprofits. We love her Italian silk scarves that feature a variety of colorful designs — from flowers to hummingbirds. Made from high-quality silk charmeuse with hand-rolled, hand-sewn hems, they're printed in Italy and finished in the U.S.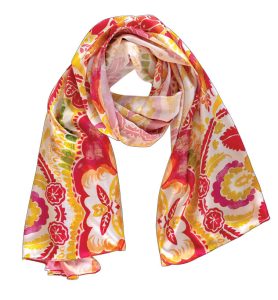 26 x 68 inches
$240
isacatto.com
Jupiter Glassware from Fortessa
Brothers Scott and Eric Hamberger have always shared the belief that some of the most important experiences and memories are made around the dining table. So, when the entrepreneurial duo discovered the quality and craftsmanship of fine German porcelain, they decided to launch Fortessa in 1993, initially importing and selling thoughtfully-designed dinnerware out of their parent's garage. Since then, the company has expanded into products made in more than 60 small factories around the world, including various dishware, flatware, and drinkware styles. We love the timeless elegance and exceptional quality of the Jupiter Collection. Inspired by Parisian flea market finds, the handcrafted beaded detailing and array of colors will spice up any table.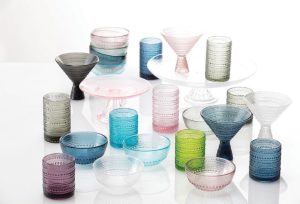 10-ounce: $47.70 (set of 6)
13-ounce: $59.70 (set of 6)
fortessa.com
Murcell Dining Table from Soho Home
Soho Home is the home and lifestyle brand from Soho House, the members-only club with houses around the world that serve as gathering places for young creatives. Each location is designed with modern interiors and hand-picked décor. After many inquiries about where specific high-end pieces were sourced, Soho Home was born, featuring furniture, lighting, tabletop items, textiles, and other elements that mirror different "houses." We love the mix of materials and textures of the Murcell Dining Table. The green Brazilian marble is polished to uncover intricate veining and crystallized accents, offset by a solid walnut-clad pillar base. Also available with a white Carerra marble top and oak bottom, it's sure to make a statement in the dining room.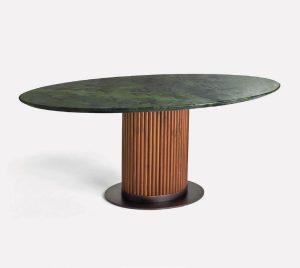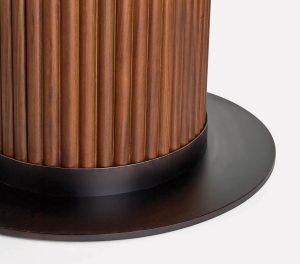 29.9 (H) x 78.7 (W) x 47.2 (D) inches
$6,995
sohohome.com
Ceramics by Erin Hupp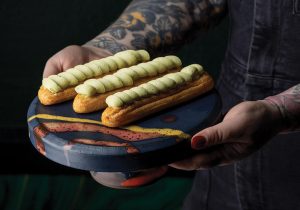 Ceramic artist Erin Hupp is known for her one-of-a-kind hand-thrown tableware designs in hauntingly elegant colors. Along with vases, cake stands, and caviar servers for the home, she collaborates with fine dining establishments and interior designers around the country to conceive custom collections. "My hope is that my pieces invite diners to slow down and take note of the slight imperfections in hand-thrown pottery that signal the touch of the human hand," she says. Hupp has been working in ceramics for more than 20 years as both an artist and teacher, and her work has appeared in a number of juried exhibitions. We love the splashes of bright glazing she adds to many of her pieces, adding a burst of color that contrasts with the more subdued base.
Midnight Campfire Bracelet Vase, 8 x 5 inches, $1,200
Midnight Campfire Cake Stand, 8 x 5 inches, $700
erinhuppceramics.com