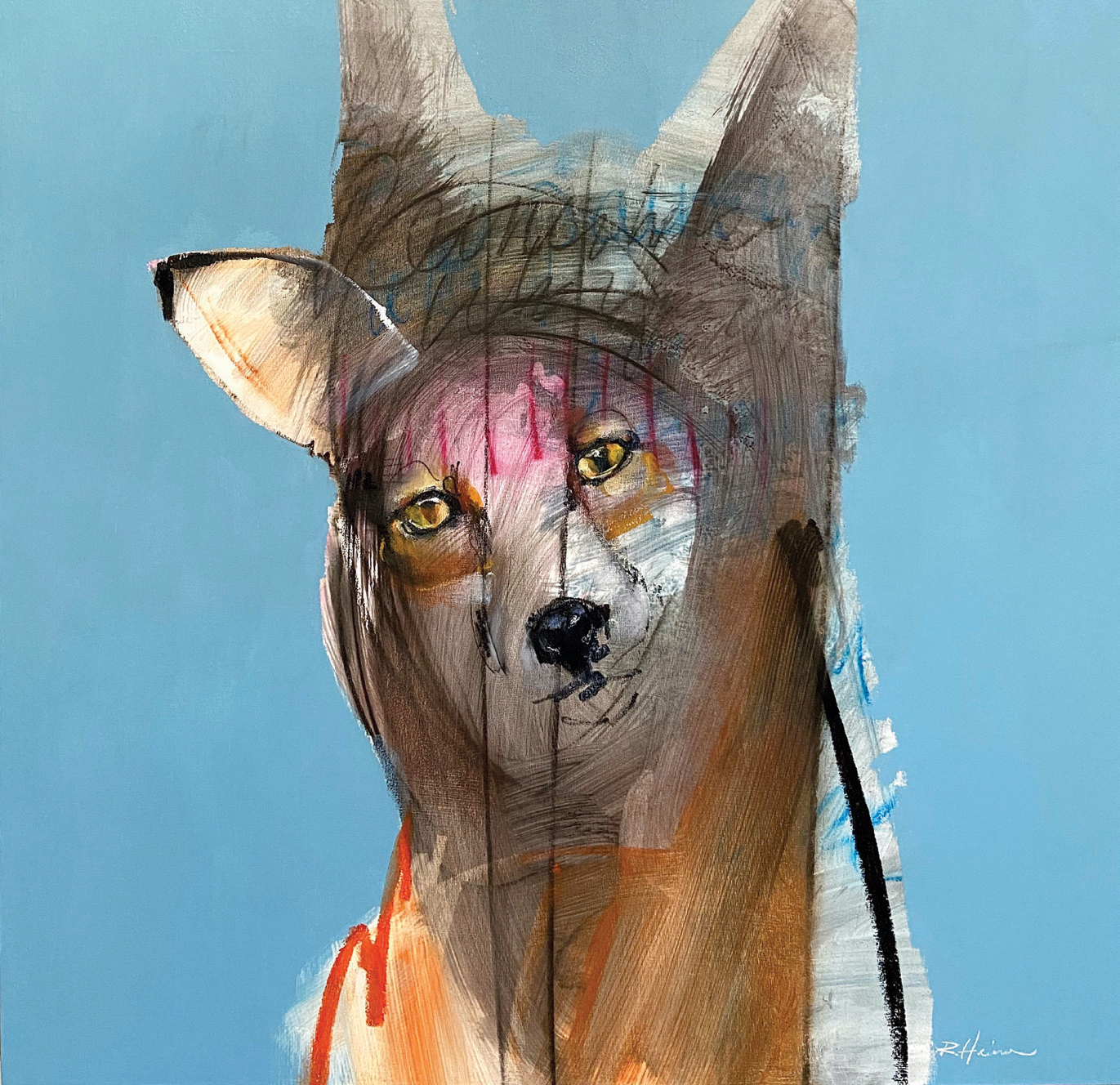 Dreaming a World | Oil on Panel | 24 x 24 inches | 2020
17 Mar

Artist Spotlight: Rebecca Haines

Rebecca Haines resolutely resists the labels many people feel inclined to attach to an artist's work. One glance at her dreamlike, colorful, and boldly delineated images of wild creatures, drawn in oil sticks on wood panels, gives a good sense of why. "I resist the term 'wildlife artist,'" she says, "because I don't show my subjects in natural settings but in more amorphous environments." Pondering that thought, she then offers a description she might accept: "abstract animal portraits." Regardless, she adds, her goal is "very much to honor the spirit in the animal."

Haines grew up in a Wyoming ranching community. From drawing people's faces in blue crayons on the inside of her closet walls to winning ribbons for portraits at the county fair, she always loved art. She decided to make a serious career of it after high school by attending a commercial art school in Denver, Colorado. After working for a few years for a screen printer and a sign maker, she enrolled in Metropolitan State College of Denver, earning a Bachelor of Fine Art with an emphasis on drawing.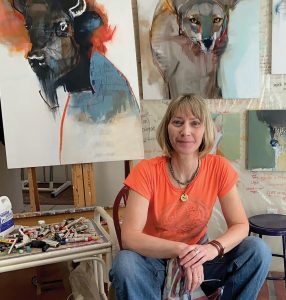 During her last year there, Haines took a Native American history class and supported herself with a sales job in a gallery, specializing in Southwestern and tribal art. After graduation, they invited her to become gallery director and to show her art there. "I began working with the artists and hearing their stories," she says. "And at the same time, I was learning about the symbology in Indigenous art and reading animal stories from different cultures." That knowledge came into play in her work, and she began portraying wolves, bears, coyotes, owls, ravens, and other animals.
After seven years at that gallery, Haines accepted a job at another gallery that featured Native American art in Berkeley, California. Then came a move to Santa Fe, New Mexico, directing a gallery and showing her work there. When that place was sold five years ago, she says, "I decided to paint full time."
Since then, Haines' work has become ever more expressive. "I used to work a lot tighter, but I like to see the artist's process, like in da Vinci's studies. You get to see behind the curtain; how the art is made." She began Dreaming a World, for example, by writing intentional phrases like "remember who you are" in blue and black grease pencils on the gessoed surface. Then, she smeared the writing with a cloth soaked in odorless turpentine and, almost magically, images suggesting a head and two ears appeared, leading her to create a mystical visage of a fox in layer after layer of paint, "like he's peeking out of some other dimension." Such a process gives her finished works its primal energy. "It's like a dream in nature where you see an animal, and everything else just falls away," she says, adding that knowing when to stop is also important for her. "I'm always striving to say more with less. I try to listen, quit thinking, and invite the spirits in."
Haines is represented by Giacobbe-Fritz Fine Art in Santa Fe, where her work will be featured in a solo show this June; and RARE Gallery in Jackson Hole, Wyoming.