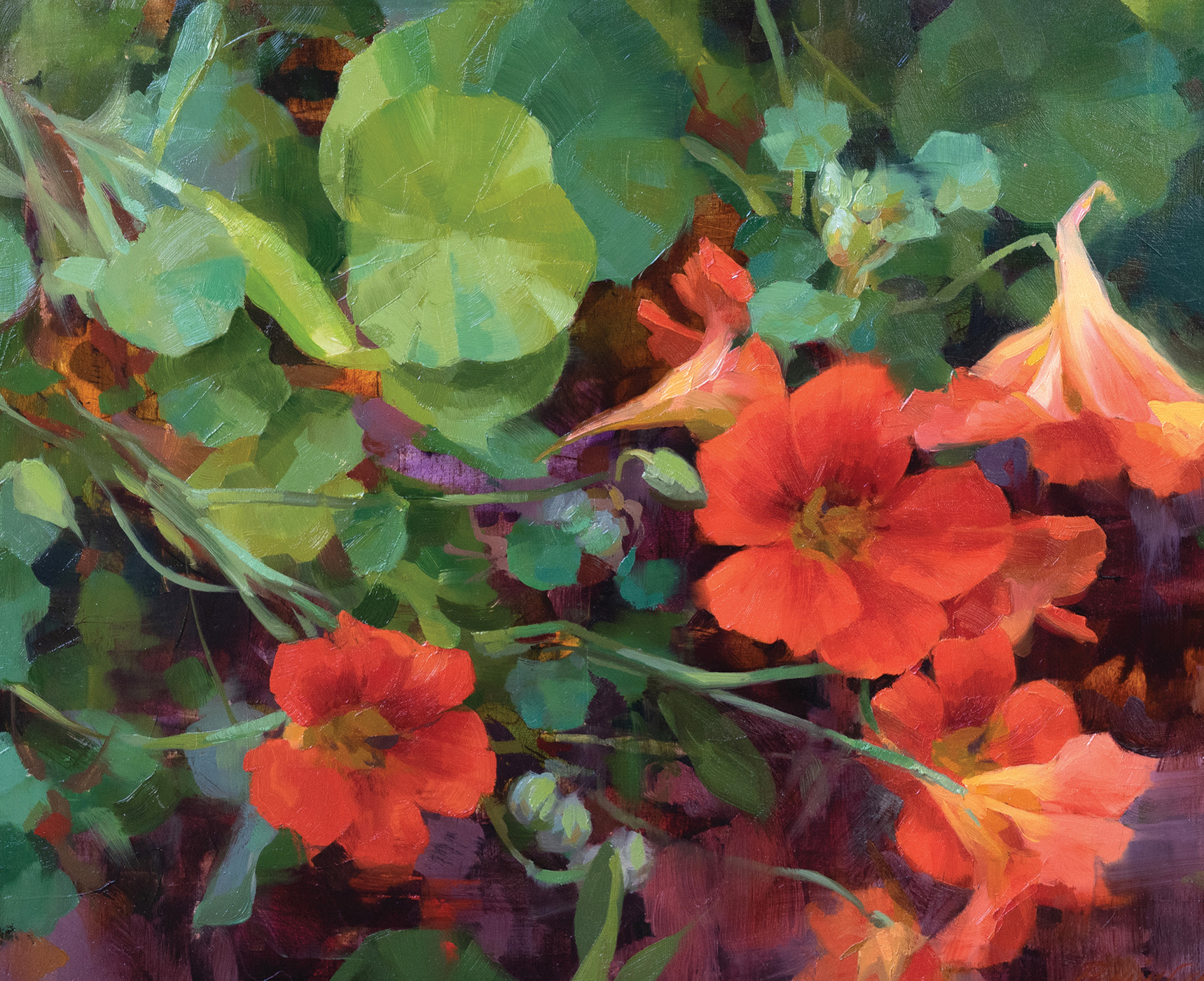 Nasturtiums I Oil on Panel | 8 x 10 inches | 2020
17 Mar

Artist Spotlight: Robin Cole

Robin Cole enthusiastically declares herself "primarily an oil painter now," but she quickly adds that all her work continues to be "very much informed by my original love affair with drawing." Both elements come dynamically into play in recent works the artist describes as "vignettes of overlooked nature, in which light is the driver of the narrative." If that at all sounds puzzling, one look at her canvases that portray hidden tangles of leaves or blossoms dappled with sunlight and it's abundantly clear not only what inspires Cole but also the level of mastery she has attained.

Born and raised in Littleton, Colorado, Cole gained distinction early on for her drawing talent. "Oh dear, I got all the awards, from grocery store contests to rising star ribbons," she says, laughing. More importantly, however, "art was a reliable refuge that was very empowering, giving me a voice and a domain that was my own."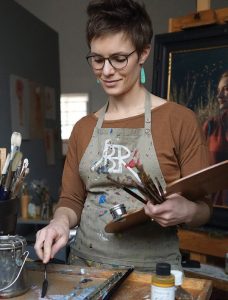 She attended Colorado College on a prestigious scholarship from the Boettcher Foundation, long dedicated to rewarding outstanding scholars in the state. There she found herself increasingly attracted to literature, graduating in 2007 with an English degree. "Literature strongly informs everything I do artistically," she observes. "Particularly in poetry, there's so much that has the same sort of intangible, slightly magical quality you find in art."
The visual world continued to enchant her, however, and she pursued a post-baccalaureate program to study photography and drawing at the Burren College of Art in Ireland. "When I came home, I wanted to find somebody who would teach me to draw better," she says. Cole found just the program she desired at the Laguna College of Art and Design in Laguna Beach, California, where she graduated in 2013 with a Master of Fine Arts with an emphasis in drawing.
Within a year, however, she'd begun to think that her work felt "a little austere." That's when she started incorporating tonal colors along with encaustic, sandwiching multiple layers of drawings and wax to give her finished pieces "a radiant glow from the light bouncing around between the layers." Eventually, the subtle moods evoked by that approach moved her more and more in the direction of painting with oils.
"In 2016, I plunged into color without looking back. Now I see so much color in the world," she says. Cole's chromatic approach has led to such mesmerizing works as Anna's Hummingbird, in which the title avian appears to viewers almost as if by magic, poised high on a branch among the leaves of a sycamore tree. And the artist's ever-growing adroitness shines in such paintings as Beginnings, inspired by the morning view of trees out her bedroom window in Southern California, where she lived before moving near the nature preserves and horse pastures on the outskirts of Denver. "The light that came through that pair of sheer curtains conveyed the most ethereal, divine feeling; a really simple, innocent sense of hope that just kind of shows up in your life. I'd always wanted to paint it," she says.
Cole's works will appear among those of 60 artists in the annual Colorado Governor's Art Show & Sale at the Loveland Museum, May 22 through June 27. She is represented by Gallery 1261 in Denver, Colorado; and Broadmoor Galleries in Colorado Springs, Colorado.