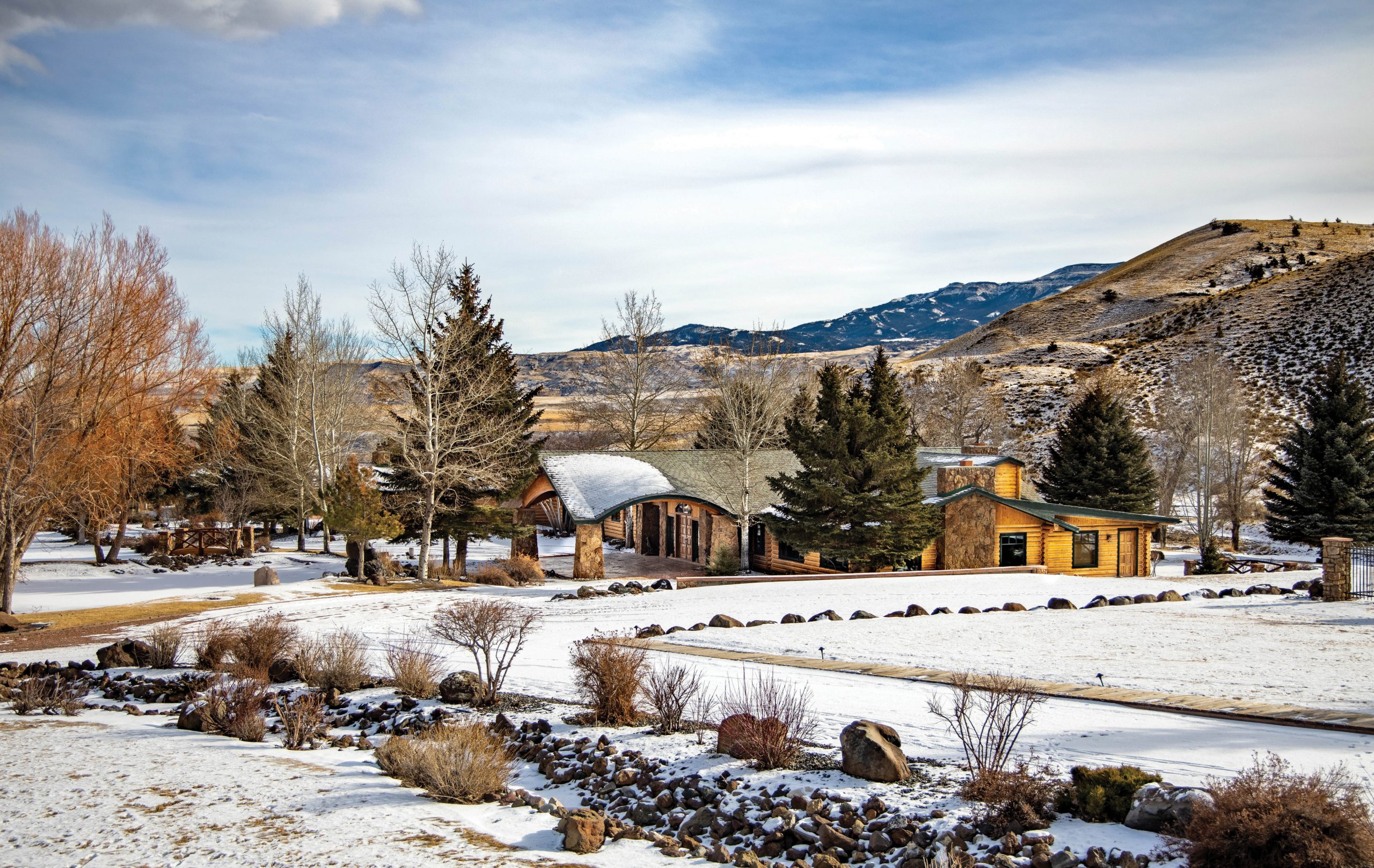 12 Mar

Big Hat Ranch

You have to really want to find the Big Hat Ranch. After a long drive past fields of baled hay, turbulent rivers, and charming old barns, you eventually turn onto a dirt road heading deeper into a box canyon surrounded by craggy peaks. While dust swirls and gravel crunches under your tires, your eyes are drawn to the still raw region with high prairie sage and knarred pine trees glued to rigid rock cliffs. Falcons and ravens, perched on weathered fences, watch you drive by. Only after passing under the towering ranch gates does the house — an expanse of log cabin splendor set among spacious lawns and trees — come into view.

Originally a dude ranch with the distinction of having John Wayne as a guest, the house was rebuilt after Naoma Tate and her late husband, Hal, purchased the property in Cody, Wyoming, in 1998. For a couple who believed in the art and beauty of the American West, their collection began with a nod to Hal's summer jobs during college, and they first bought paintings of landscapes found in the national parks with which they were familiar. They also commissioned Utah artist Michael Coleman to paint two large works that would anchor the entry of the ranch house. Coleman painted the Grand Canyon of the Yellowstone and the Great White Throne, and their collaboration evolved into a friendship that would last a lifetime.

Not long after the Tates moved into their new home, Hal passed away. His large vision for the ranch and the collection, though, had been set in motion, and Naoma devoted herself to the project of building their Western art collection as it is today and continuing her husband's work as a trustee on the board of the Buffalo Bill Center of the West in Cody.

Naoma's initial purchases were tentative, and it was their good friend Forrest Fenn who challenged her to buy a Herbert Buck Dunton painting of a bear. This acquisition marked a deepening of her commitment to building a serious collection around the great Western masters. As a historian and certified gemologist, Naoma trained her eye to search for beauty and perfection with a disciplined approach. She focused on buying the best paintings from the decades around the turn of the century (roughly 1850–1930) by the most talented artists who worked in the region around Cody.





Frank Tenney Johnson, more than any other artist, typifies the tenets of her collecting strategy. Johnson spent summers on his Rimrock Ranch not far from Naoma's home. He reveled in the ranching life and knew how to paint it intimately. As Naoma continues to systematically collect his easel works, illustrations, and studies, she's visually telling the unrivaled story of his career through primary sources.
Another painter whose depictions of early Wyoming imagery, in finished work and studies, add depth and rarity to the narrative and theme of her overall collection is Alfred Jacob Miller. In 1836, Sir William Drummond Stewart, a Scottish adventurer and British officer, hired Miller to travel with him and paint the fur trade and rendezvous in Wyoming's Wind River Mountains. During the three-week event, Miller took in and painted his unforgettable experiences.
The formal dining room seats 18 people. The table, chairs, and sideboards were made in the 1870s and were imported from the Mediterranean.
The homeowner's bedroom offers expansive views and an 18th-century Santos holding a silver orb from Uruguay.
In 2016, Naoma added a complement of eight Carl Rungius wildlife paintings to her collection. The artist often painted wildlife and ranching life in Wyoming. She was drawn to the modernity of his loose and broken brushstrokes, the artist's agile use of color, and also to the temperament of each animal, exhibiting such traits as curiosity, stealth, mischievousness, wisdom, and pride.
Also of particular interest is Naoma's early recognition of the value of Illustration Art, a genre that often shows action and references a story in a book or magazine. These works are frequently painted quickly for a deadline, displaying the skill, talent, and buoyant brushwork
of each artist. Naoma's painted illustrations include works by such artists as E. William Gollings, Dean Cornwell, William H. D. Koerner, Maynard Dixon, N.C.
Wyeth, Oliver Kemp, William Herbert "Buck" Dunton, and Philip Goodwin.
In this hallway hangs a deer painted by W. Herbert "Buck" Dunton and eight Carl Rungius portraits of Western wildlife originally commissioned as a set in the 1940s.
The Dean Cornwell illustration, featured in the book The Enchanted Hill, sits above a King Charles III marble fireplace surround.
For Naoma, living with her collection allows her to be in the company of the artists who created it. She believes that art, along with any object that was created with enormous talent and effort, contains the energy of its maker. "I never tire of looking at them," she reflects. "The human spirit is just under the surface if you take the time to feel it."