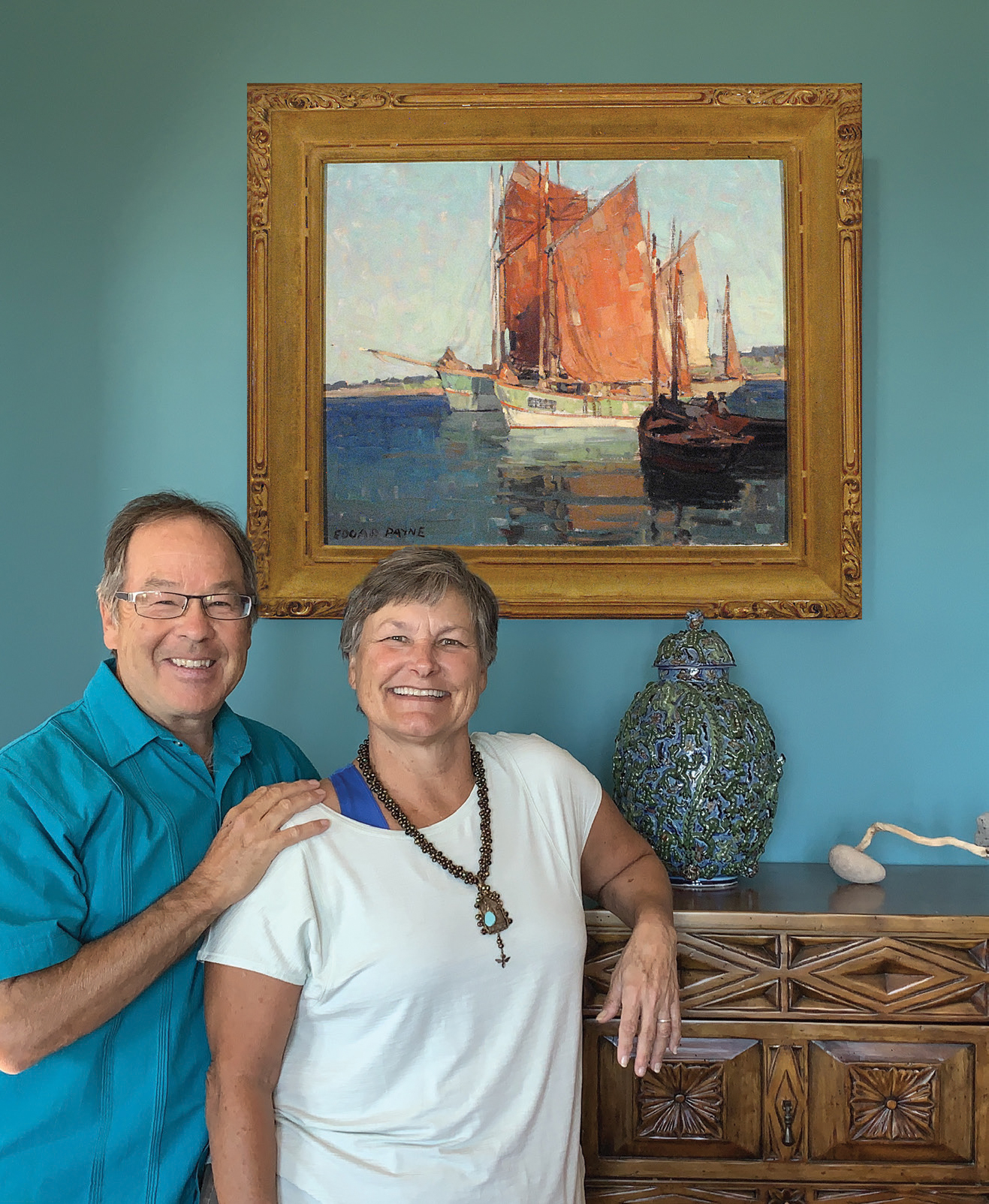 Artists and art collectors Kevin and Wanda Macpherson love this painting from their collection by Edgar Payne, depicting boats on the coast of Brittany, France.
17 Mar

Collector's Eye: Creating and Collecting

In 1987, Kevin Macpherson joined a group of 
artists who became known as the Plein Air Painters of America. Under the auspices of the Catalina Art Association, they painted as the Impressionists did: outdoors and from life. Serving as the organization's first president in 1996, Macpherson led the group to new heights, igniting others to follow. Tired of painting staged material in their studios, many artists joined their ranks and found new inspiration working en plein air, where the light changes every minute, where trees awakened by breezes don't hold their shape, and where the elements pay no heed to human concerns.

From those early beginnings, Macpherson's prominence as an Impressionist has garnered him master status in venerable organizations, including the Oil Painters of America, the California Art Club (founded in 1909), and the Society of American Impressionists. Recently, a collection of more than 365 paintings from his book, Reflections on a Pond, completed a five-year exhibition around the world.

Macpherson also teaches, mentoring artists worldwide. "Some artists just paint and make a great career. But giving back by teaching has been, for me, a good thing," he says. The artist has also published four books and produced a television series titled "Passport and Palette." His travels to more than 35 countries led him to establish a non-profit organization, Art Ambassador for a Colorful World, through which he shares the joy of art in rural communities. "Whoever you are, you hope you leave the world a better place," he says of his efforts.

Macpherson's partner in life is Wanda, whom he credits for her enduring attention to the business side of art. She also understands the principles of art, as she's a painter and photographer. They met as students at Northern Arizona University and recently celebrated 41 years together.

Together, they've built an admirable art collection. "Generally, all of the paintings we've collected are by artists who paint from life in an Impressionistic style," Macpherson says, "including Nicolai Fechin." Works by Edgar Payne, Arthur Grover Rider, Hanson Puthuff, and Franz Bischoff join those of John Asaro, Quang Ho, Gay Faulkenberry, Clyde Aspevig, Laura Robb, and Walt Gonske, among many others painters. And they also collect sculptures. "We love our pieces by George Carlson and Sherry Salari Sander, who sculpt with light and form, the way painters paint," Macpherson says.

Art has made an obvious difference in the lives of the Macphersons. In their picturesque mountain home outside of Taos, New Mexico, richly colored walls are filled with gilded paintings. And their alternate home on the Sea of Cortez in Baja, Mexico, provides endless inspiration with changing light and color that makes art, to them, a way of life.

WA&A: What inspires you to collect art?

Kevin Macpherson: Obviously for me, it's the visual beauty. I am attracted to light, colors, and shapes from the very moment I wake up. My life as an artist — the "why I paint" — is because I want to convey what I see. As for why I collect art, my whole life has been as an artist, so why not collect something that I understand, that I know, that I have a connection to?

WA&A: What is the first artwork you purchased?

K.M.: The first collectible oil painting we bought was a Dan McCaw from Trailside Galleries that depicted two women with umbrellas on the beach. Wanda's very first purchase was a John Moyers painting called Troublemakers; it's a little burro and goat oil painting that she bought for my birthday.

WA&A: Was there ever one that got away?

K.M.: Well of course! Some you remember forever. When I started out as an illustrator, Wanda and I took a trip to San Francisco. In a gallery, I saw a Norman Rockwell painting of a little girl sitting in front of a mirror in her attic. Another time, there was a drawing of a female nude by Nicolai Fechin that I loved at the Fenn Gallery in Santa Fe. That was one that I wish I'd bought!

WA&A: When did you realize you were collectors?

K.M.: I guess one realizes they are a collector when they buy a piece of art, come home, and then have to spend days figuring out where to find a blank spot on the wall.

WA&A: What is your most beloved piece?

K.M.: That's a difficult one. It's like asking, "Who's your favorite child?" They all have their good qualities; each has its own personality. In different times, you will see them differently, as they hang on various walls with the light hitting them in new ways. When you have a treasure of so many, it's hard to say which one is most beloved.

WA&A: If you could be any artist in history, who would it be?

K.M.: Well, let's see — Michelangelo? No, I already have a sore back. How about Walter Sickert? I loved his gray tones, but I'm not a ripper. Gauguin? I love the island life and the adventure of travel, but I get seasick. Maybe Monet? He's one of my all-time favorites; he also had similar vision problems as I do, and we both have ponds. With all that said, I'd have to choose myself: I'd be me. I've had a wonderful, adventurous life. I am so very grateful and fortunate to have lived this life as an artist.

WA&A: Which artist would you invite over for dinner?

K.M.: Probably Picasso; he would not be boring. Everything he saw or touched he made into art.

WA&A: Where do you see your collection in 100 years?

K.M.: I consider myself fortunate that I've had the privilege to live with these paintings and sculptures; I feel like I am a steward of them. I hope that someone else who appreciates them might want them in their collection.

 WA&A senior contributing editor Shari Morrison has been in the business of art as an administrator, publisher, curator, writer, and collector for more than 30 years.