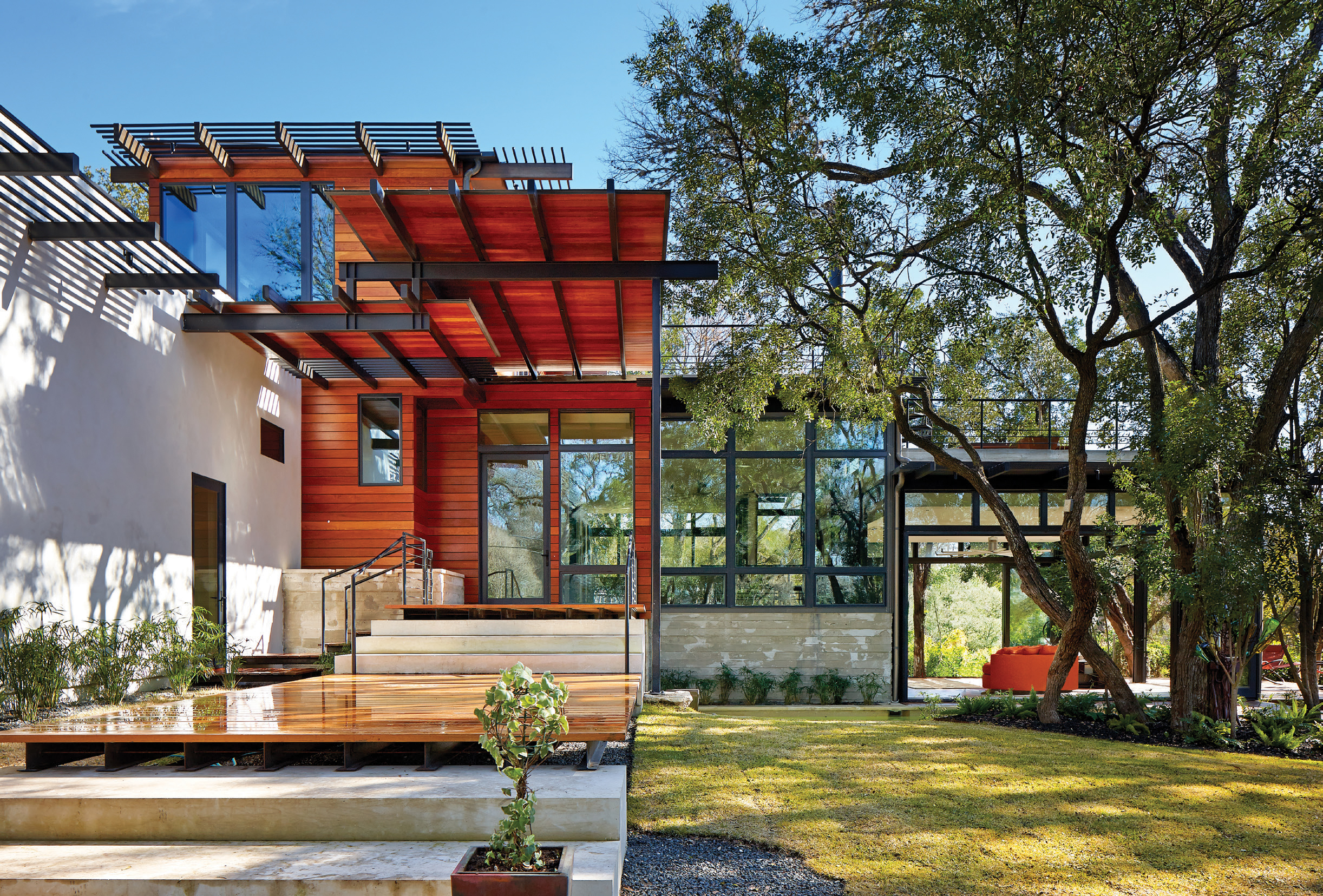 A project titled Green Lantern honors its natural site, including the stately old-growth oak trees. A calming bridge-style processional entrance passes beneath the rich tones of an angelium wood rainscreen. Lueders limestone steps lead past a fountain.
17 Mar

Rendering: Designs that Endure

"All of my peers, my team — we live in a world of architecture 24/7," John Grable says. "It's something that you can't turn off, and if you can't live that way, there are lots of other ways of making a living."

The San Antonio, Texas-based architect left to start his own firm, John Grable Architects, in 2004 after nearly 19 years as a project manager and partner at Lake|Flato. As passionate as he is about discussing his firm's award-winning work, he spends an extraordinary amount of time praising his peers, including a large, spread out group of architects with whom he stays in more or less constant contact.

"They call me 'The Connector,'" Grable laughs. "It started when I left Lake|Flato, which was a hard thing to do. I loved everyone there, but I wanted to get back to the garage band days. I wanted to get on the edge and sweat and push things, because I felt the bigger we got [at Lake|Flato], the less exploration we were doing."

In conversation, Grable leaps from subject to subject, often quite poetic and always engaging, even as he digresses. His strong desire for community no doubt comes from his upbringing in a military family, a nomadic life that involved moving every two to three years, forming fast friendships at the drop of a hat, then inevitably losing contact. He developed a capacity for friendship and a constant exchange of ideas, especially when it comes to teaching the next generation.

One formative childhood move for Grable was to Italy. "We lived a mile and a half from [Andrea] Palladio's Villa la Rotonda," he says of one of the Renaissance architect's seminal works. Grable's mother was artistic and wanted to be a fashion designer. She made her own wardrobe, and he describes her as a visionary. It was his mother who encouraged him to draw, taught him perspective, and introduced him to the work and philosophy of Palladio.

Another significant memory is a trip to Missouri with his father, where they visited the town in which his late grandfather had been a wheelwright and blacksmith. His grandfather's friends asked, "Did you know your grandfather made the roundest wheel in the county?" Grable didn't understand the significance until his father explained how hard it is to make a perfect circle by hand.

These experiences guided him toward architecture. "I was raised having the left and the right side of my brain challenged and inspired," Grable explains. "I've been a very happy person because of that. From there, I learned how to explore and never look back over my shoulder, but to look forward to all the possibilities. That's been the foundation of my life and the architectural process."

For Grable, successful design is inextricable from respect for nature. "I think we can live in modern times and be in concert with the earth," he says. "But morally right now, it's going to catch up with you. I believe if you continue to take without giving back, you're going to end up with a bill that you can never pay. But being respectful of the land, co-existing with it to the point where you're honoring it, will animate your work beyond your comprehension."

In the master's program at the University of Texas at Austin, he also developed a deep appreciation for simplicity. "Simplicity is hard," he says. "The road to simplicity is a complicated path. You can throw money, you can throw time, you can throw intellect at things, but until you drill down into the simple, you can't go anywhere."

John Grable Architects, a firm of four, was formed with three architects fresh out of university with master's degrees. "I wanted a dry sponge," Grable explains. "What I taught them was the art of listening, and to try to concentrate on the basics: siting the building, following the light, choosing materials and making the best details out of that existing material palette, then distilling it down to the point where you can't take another thing away from it. I know this has been said, but it's design by subtraction. In the beginning, they were so full of too many ideas, and they didn't know where to go. And I said, 'Let's get to an anchor point and go from there."'

Proportion and a respect for context are also crucial for Grable. Some of his most celebrated designs have been in historic neighborhoods, where he's created innovative, light-filled, modern houses that manage to honor the surrounding structures without overpowering them.
Members of the design team work together in one large room. "If I get in trouble," Grable told them at the outset, "I want you to hear me get in trouble. This is osmosis. You're going to learn everything. I'm not going to create a hierarchy."

Once they've met with clients, listened to their desires and lifestyle needs, and walked the site, Grable says the design starts to take shape within the first five or so hours. Drawing is essential, but they also use computers, working out the specifications as they go.

San Antonio was hardly a hotbed of modern design when Grable completed the house he calls Green Lantern. Built using the foundation of a 1948 ranch house, the home also replaced and recycled wood from the original structure. The resulting design creates the illusion of an even larger house through multi-level living spaces. It's entered via a bridge over the swimming pool, and the contrast of wood, black steel, glass, and the original white stucco melds for a rich play of light across materials on a site with carefully protected old-growth oaks. "That house was a stake in the ground for green building," Grable says. "It addressed off-the-grid living and tried to embrace or embody a new energy."

For another of the firm's projects, titled Light and Shadow Box, the original house was completely torn down on a 50-by-150-foot corner lot in San Antonio's Cottage District. The new house's black steel, wood, and white stucco are deliberately pulled back to allow for a courtyard and pool that's hidden behind a street-facing stone wall. It's a one-room-wide house, like its cottage neighbors, with a modern ode to bay windows. Grable is fascinated by the proportions of one-room-wide buildings, which he finds friendly on a human scale. "It was really the archetype of San Antonio when it was first built," he says. "It was driven by the limits of the materials, and without electricity, you needed natural light and cross-ventilation."

Light and Shadow Box is a dramatic, sustainable, modern interpretation that changes character with the passage of the sun. "The house is like a giant sundial," Grable says. "Throughout the day, the shadows on this thing are amazing."

For a project titled Madonna and Child, the clients expected to raze the house they'd lived in for 50 years. The structure was historic, built in the 1930s by a German family out of stacked cement blocks that were cast onsite. That fact and the home's rich family history convinced Grable that it had to remain. The modern additions embrace the one-room-wide original home, which also became the heart of the building.
The legendary architect O'Neil Ford once told Grable, "You have to build a building as if it's a ruin." He meant that design must endure. "If you go back after 20 years and a building doesn't look appropriate," Grable says, "then you've failed."

For Grable, that means going back to the basics. He's driven by history — still the boy who encountered Palladio — and believes there's really nothing new under the sun. But from the basics, the imagination takes hold — the will to explore and push the edge of possibilities. At the core is empathy, creating projects that honor the earth and human existence. "What comes out of that process," he says, "is an intangible commodity which imbibes a respect for the land and the heart and soul of the human spirit."

Looking to the future, the firm would like to take on more public projects, Grable says, adding that he wants to apply what they've learned in the residential market to commercial and communal structures. "I don't want to get big for the sake of being big," he says. "That doesn't do anyone any good." But Grable is up for the challenge of larger projects and finding new ways to unleash that garage band spirit.