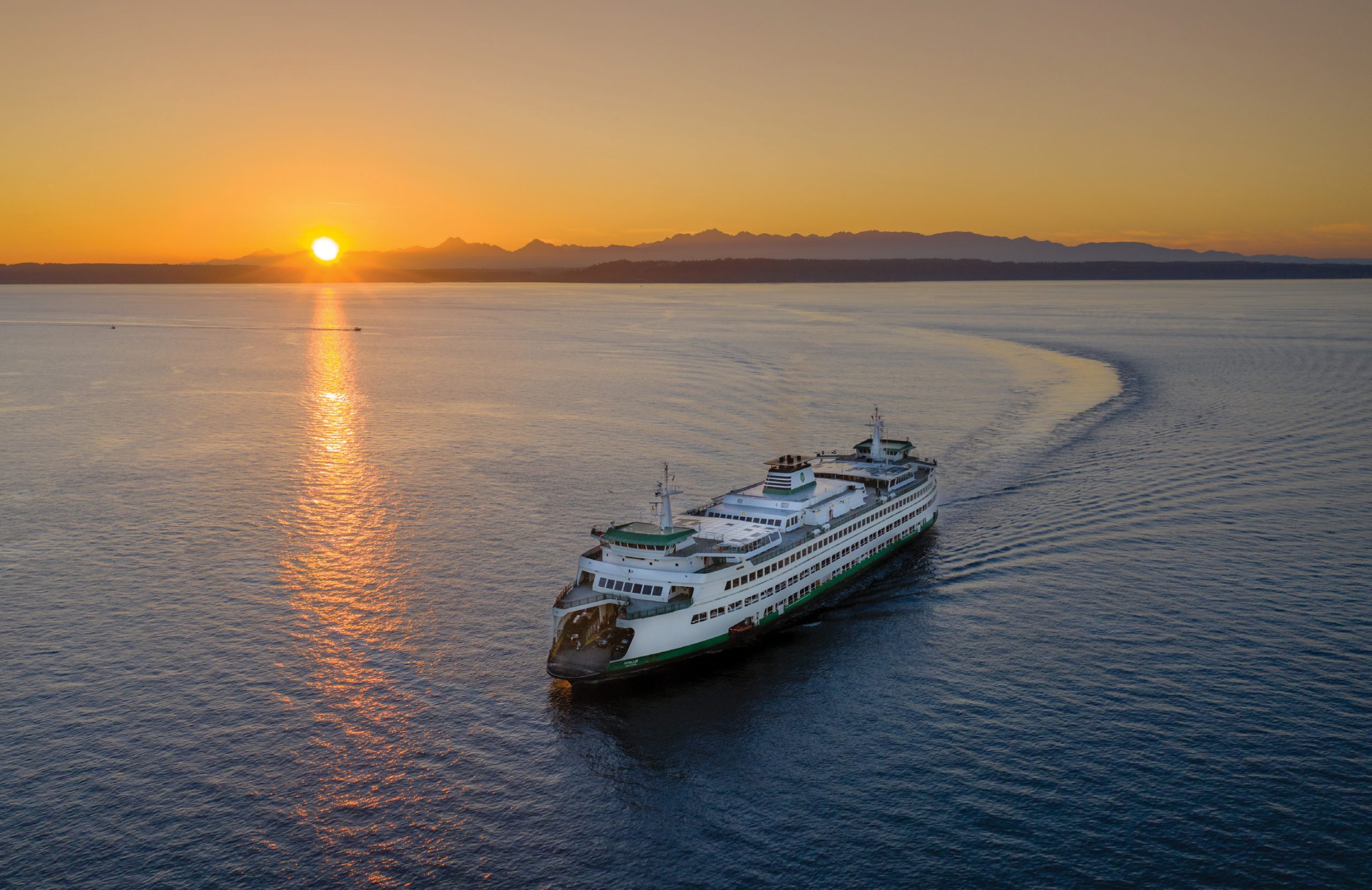 A Washington State Ferry crosses Puget Sound. Over 20 daily trips connect Edmonds to the Kitsap Peninsula and the western corner of the state. Photo courtesy of Discovering The High Life Productions
17 Mar

Wanderings: Edmonds, Washington

There's something special about waiting in line for a ferry. The suitcases are packed, and the air is crackling with anticipation. But unlike air travel, the anxiety level is turned way down. Instead of taking shoes off in security lines, ferry passengers relax and roll their windows down. Seagull cries and boat horns take the place of overhead announcements, and coffee comes from a brightly colored roadside kiosk instead of the gate-side coffeehouse chain.

The space between anticipation and relaxation, between the industrial realities of toll booths and the seaside pleasures of windchimes, is the perfect space to create something beautiful. And so it only makes sense that the town surrounding the ferry dock is bursting with art.
Fifteen miles north of Seattle, the road to downtown Edmonds, Washington, descends a series of hills to the edge of Puget Sound. Across the water, the Olympic Mountains rise above the wooded peninsula. The forest, water, and peaks provide a tucked-in feel for a multitude of art studios, cheese shops, restaurants with sidewalk patios, and museums.

Across from the ferry terminal is Cascadia Art Museum, a waterfront space once used as a grocery store. The high ceilings and exposed wooden beams showcased bins of apples and rows of deli meats until 2015, when the store morphed into a museum. Now, the space celebrates Northwestern artists. The permanent collection reaches past traditional watercolors of murky skies and mountains to include abstract works by Mark Tobey, John Matsudaira's Quiet Motion and Blue, and several pieces by Edmonds native Guy Anderson. More than half of the gallery space is dedicated to changing exhibitions, all of which feature regional artists. Also on exhibit is a piano donated by Rick Steves, the famous travel guru originally from Edmonds who also owns the Travel Center downtown.

Across from the museum and a few steps closer to the waterfront is Arnies Restaurant, one of Edmond's oldest eateries. Overlooking Puget Sound and the Olympic Peninsula, Arnies features a classic Northwest menu that's heavy on the steak and seafood. Salt & Iron is another local favorite, that features an oyster menu and popular weekend brunch, (be sure to make reservations.) If you've had your fill of seafood, Las Brisas offers Mexican fare in a charming setting with an outdoor patio. For lunch, head to The Cheesemonger's Table to enjoy sandwiches or mac and cheese on the patio. If rain thwarts your outdoor plans, head around the corner to a building that once housed the town's first hardware store and is now the home of Chanterelle, a cheery establishment with a classic bistro menu.

After eating, retrace your steps toward the museum to visit Scratch Distillery, where you can take a class to learn about the history of gin, create your own recipe, and take home the bottle you made. If you want a more cacophonous and casual experience in alcohol creation, head across the street to Gallaghers' Public Brewing House. Locals come here to make wort in professional copper kettles and then return after a few weeks to bottle their brew. At Gallaghers' you can enjoy a flight, watch a game on TV, and chat with locals (and their dogs). Or, for an intimate experience with charming bartenders and specialty cocktails, head downtown to the tiny Daphne's Bar.

Edmonds also offers DIY opportunities that are of the artistic variety. Aria Studio Gallery hosts twice-monthly watercolor and oil workshops, and Cole Gallery & Art Studio also offers hundreds of classes.

Cole's Gallery collection includes bronze sculptures by Rip Caswell, handcrafted tables by woodworker Gary Leake, impressionist pieces by Pam Ingalls, and Pop Art paintings by Kait Schoeb. Owner and artist Denise Cole opened the gallery in 2006 and has established herself as a force in the Edmonds art scene. She was a founding board member of Art Walk Edmonds, chair of Mural Project Edmonds, and was instrumental in helping the city earn recognition as a Creative District. With its cluster of downtown galleries, hundreds of sculptural installations, and public art on nearly every corner, it was hardly a surprise when Edmonds was deemed Washington State's first Creative District in 2018. The endorsement opens up funding to ensure that Edmonds can keep the arts at the forefront of city planning.

This connection between community and culture is on display every third Thursday. Since 2002, art enthusiasts have gathered for Art Walk Edmonds. In true Northwest fashion, Art Walk is held year round, rain or shine. This free community event highlights dozens of galleries, shops, and businesses that host local artists while art patrons stroll through downtown Edmonds. There are also painting demonstrations, musical performances, and book readings. A great starting place is the Frances Anderson Center. Check out the Festival Gallery, listen to some music, and then head west toward the water fountain in the center of Main Street. Watch Joan E. Archer paint at Aria Studio Gallery (she works in-studio daily, in case you miss Art Walk). Check out Mid-century art at Driftwood Modern, and then stop in to Gallery North next door, a cooperative gallery run by local artists. Members work at the gallery as artists-in-residence and hang new artwork each month. The showroom is awash with paintings, photography, sculpture, pottery, woodwork, glasswork, and jewelry. And the Edmonds Center for the Arts offers performances by hip-hop orchestras, all-female mariachi bands, and dance companies to round out a full calendar of events.

Recently, Edmonds has been digging beyond their 1890 founding and the European settlement and colonization that followed. To recall the area's heritage, several murals were commissioned. Andy Eccleshall recently completed Before Edmonds, a mural on Main Street between 4th and 5th avenues. The painting of a fishing party at sunset was completed with consultation from Ty Juvinel, a local Coast Salish artist from the Tulalip Tribes, to ensure an accurate representation of the Coast Salish culture. Juvenil also recently completed a cedar panel carving displayed at the Edmonds Historical Museum, a free museum that showcases local history.

In the summer, Edmonds emerges from its rain-soaked fog and makes the most of the warmer months. Edmonds Farmers' Market runs on Saturdays from May to October, the Taste of Edmonds food festival is held yearly in August, and Summer Wine Walks showcase local wineries while also raising funds for the arts.

Working off food festival fare is easy in Edmonds. A few miles north of town is Meadowdale Beach Park trail, a wooded two-mile, out-and-back hike down to the beach. The more adventurous can don scuba gear and dive down into Edmonds Underwater Park. Next to the ferry docks, human-made reefs feature an artificial habitat of sunken ships and old tree trunks.

On the third weekend of September, Edmonds artists open up their homes and invite people to explore their studio spaces, whether they work in rooms that overlook Puget Sound or studio-sheds in backyards. Unlike Art Walk Edmonds, which covers a walkable seven or eight blocks, a car is required for the Edmonds Art Studio Tour. There's a map online of all the home studios, and the tour winds through side streets and neighborhoods. Not only is it a wonderful way to talk to artists and view their work, but the short drives from studio to studio allow you to see the leafy neighborhoods, sweeping Puget Sound views, and evergreen backyards in an intimate way.

Venturing up in the hills, just a few blocks east of downtown Edmonds, allows travelers to cast their eyes west to plan their next move. You can continue east, climbing the hill until you reach the freeway that takes you to Seattle, where one can explore all the art experiences, fine dining, and museums that city has to offer. Or you can return to downtown, wait in that ferry line, and get your final glimpse of Edmonds as you soar across Puget Sound toward the rainforests, mountains, and Pacific Ocean that wait just on the other side of the channel.