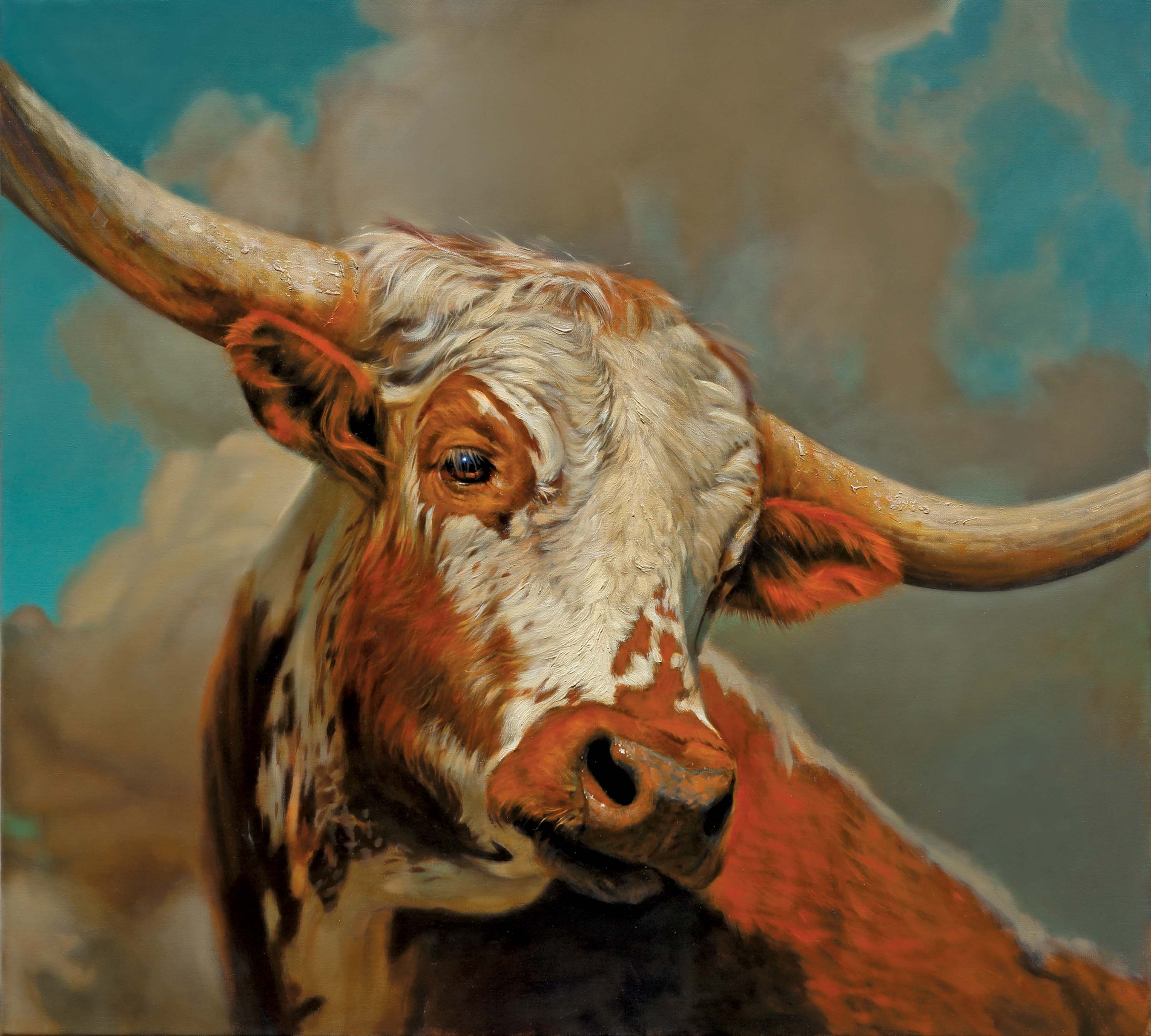 Teresa Elliott, "High Noon" | Oil on Canvas | 36 x 40 inches
02 Mar

Auction Block: Achieving Balance
---
The first quarter of 2015 showed modest but steady gains for the Western art market despite concerns that buyers whose fortunes rely on the energy industry might be hesitant to make purchases amid the recent downturn in oil prices.
Gallerists, show owners and managers say collectors have found their balance after the buffeting from the recession that hit in the latter half of the last decade. Signs that the rebound is steady, and not subject to steep highs that bring severe lows, include sales at key shows that either equaled or surpassed 2014 figures.
Auction highlights so far for 2015 suggest collectors chose gold over gilt, showing less inclination to invest in one-hit wonders than in tried-and-true talents such as Howard Terpning and widely acclaimed contemporary artists such as Logan Maxwell Hagege. Those painters fared better than well at the Autry's annual show and sale, affirming early promise that has blossomed into mature mastery.
The sale of Western collectibles at the High Noon event in Arizona in late January showed the lure of the Old West is timeless, as is the appeal of deceased Western artists such as Charlie Russell.
---
Los Angeles Modern Auctions March 1
LAMA's Modern Art & Design Auction featured a rare monumental sculpture crafted in 1961 by the late American modernist Harry Bertoia. Dubbed by the auction house "one of the great multidisciplinary talents of 20th-century art and design," Bertoia was known for metal sculptures that were at once spare and emotive.
The centerpiece untitled work by Bertoia, which measures 78 inches tall and is interwoven with steel music wire, brass and bronze, fetched $550,000, exceeding its top estimate of $350,000 during a sale that realized a total of $4.1 million.
In other highlights at the event, new world auction records were attained for De Wain Valentine for the rare and early cast resin sculpture Blue Slab, which garnered $175,000 or more than twice the previous high for the artist.
And world auction records likewise were set for Frederick Hammersley for the oil Adjective, which brought $100,000; for Mary Corse for an untitled work in acrylic and glass on canvas that fetched $81,250; and for Peter Alexander, whose sculpture Wedge with Puff garnered $68,750.
---
American Miniatures Show & Sale at Settlers West February 14
Love was in the air among buyers who attended the opening night sale of small-size works by top Western and wildlife artists at Settlers West Gallery in Tucson. Sales at the annual American Miniatures Show & Sale topped $450,000 for 2015, more than totals tallied over the past three years, according to gallery manager Mike Salkowski.
Settlers West, the sole gallery to represent premier Western painter Howard Terpning, saw roughly half of the 358 original paintings and sculptures sell during the gala event on Valentine's Day, and collectors were expected to continue making purchases through February, Salkowski said.
The art this year represented the works of more than 220 artists, constituting a larger show than the one that took place in 2014. The 2015 event once again featured an original by Terpning, but the buyer of a 12-by-9-inch oil depicting two Native Americans on horseback, Blackfoot Medicine Man, requested that the amount he paid be kept private, gallerists said. The minimum bid for the piece was $38,000.
Terpning is a painter who has mastered the art of exclusivity by presenting just three new paintings a year to be sold by Settlers West, and who otherwise shows only at the Autry's Masters of the American West. Terpning also is a member of an elite group of artists whose works showed strong sales even amid the U.S. recession that dampened the mood of art buyers beginning in 2008. Art experts such as Salkowski and John Geraghty, special advisor to the Masters, say the market for the remainder of 2015 is expected to remain strong for the upper echelon of Western artists such as Terpning.
Highlights of the American Miniatures event in February included a 10-by-5-inch oil of an Indian doll by Taos – based painter William Acheff. The piece, Navajo, fetched $5,500 and was among works by established artists that buyers snapped up with higher-than-average bids at this year's show. Two miniature paintings by celebrated wild life artist Ken Carlson quickly sold, with one an oil of bighorn sheep and the other of a Western gray wolf, realizing $7,800 and $4,600, respectively.
---
Masters of the American West Fine Art Exhibition and Sale January 31 – March 8
The Masters of the American West show and sale at the Autry National Center in Los Angeles proved in 2015 what it has confirmed all along: The annual event is as much anticipated by artists, buyers and art enthusiasts as it is celebrated while under way.
The spirit of the exhibit and sale is sustained by John Geraghty, Autry trustee and special advisor to the Masters, whose support of emerging artists and guidance for the stars of the Western art galaxy has proven both prescient and invaluable.
More than 75 nationally recognized contemporary Western artists present their top works at the event each year, with the 2015 fine art auction following a cocktail reception January 31, on track at $3.9 million to equal or surpass the $4.1 million garnered during the show and sale in 2014, according to Geraghty.
Geraghty said the most challenging task this year, as every year, was selecting the winners of a host of awards that represent everything from artistic merit to recognition of pieces most endorsed by artists on the event's roster. Consultations over artworks begin early and end late among Geraghty, Autry chief curator Amy Scott and Masters' chairman Jay Grodin.
Howard Terpning's painting, The Patrol—1877, of U.S. cavalry officers puzzling over the location of the quarry they sought in the limitless horizons of the Great Plains, fetched $1.3 million.
Terpning continues to stand tall among Western art giants, as does George Carlson, whom Geraghty acknowledges as the greatest American sculptor, while at the same time calling him a virtuoso painter in pastels and oils that Geraghty describes as "absolutely beautiful things."
"George has reached a point that is just beyond explanation with his work," said Geraghty. "His understanding of art, his textures and values, his composition and the overall balance of his paintings are so beautifully handled and so strong that they almost need their own wall."
Terpning, Carlson and Mian Situ garnered top honors at the Masters, with Carlson's Witness of Time awarded the Masters of the American West Purchase Award, meaning it has been acquired by the Autry for its permanent collection. Terpning gained the InSight Gallery Thomas Moran Memorial Award for Painting in recognition of the artistic merit of The Patrol—1877. Situ was the recipient of the James R. Parks Trustee's Purchase Award for an oil depicting historic Asian gold miners in the American West, The Gold Nugget, Chinese Camp, 1850.
Additional artists honored with awards tied to the Masters were John Coleman, Honeymoon at Crow Fair, the Kenneth T. And Eileen L. Norris Foundation Award for Sculpture; John Fawcett, The Officer's Saddle, the Autry National Center Award for Watercolor; Dustin Van Wechel, The Boys of Summer, the Bob Kuhn Wildlife Award sponsored by Carl and Rosella Thorne; Bill Anton, Campers or Cow Thieves?, the Don B. Huntley Spirit of the West Award; George Carlson, Witness of Time, the Ross and Billie McKnight Artists' Choice Award in Honor of John J. Geraghty; John Coleman, Honeymoon at Crow Fair, the Marjorie and Frank Sands Patrons' Choice Award; Logan Maxwell Hagege, the Gene Autry Memorial Award sponsored by Jay Grodin for the most outstanding presentation of three or more works; Don B. Huntley, the John J. Geraghty Award, recognizing an individual for his or her enhancement of contemporary Western art.
---
Brian Lebel's High Noon Show & Auction January 24
In the first High Noon auction to be hosted by Brian Lebel since he purchased it last spring, the sale in Mesa, Arizona, saw more than 400 auction lots cross the block for sales that exceeded $1.8 million, representing a 95 percent sell-through rate.
Western American memorabilia and collectibles ruled the affair, which gathered an in-person audience of nearly 400 and several hundred bidding by telephone, according to Melissa McCracken, co – owner of the annual event, which in 2015 marked its 25th year.
The top seller was the last Winchester rifle owned by Old West figure Tom Horn, whose 19th-century escapades included stints as scout, hired gun and lawman, but who ultimately was hanged in Wyoming after a jury found him guilty of killing a teenager with a 30-30. The gun that fetched $149,500 was the one Horn was said to be carrying when arrested for the death of the teen. The pre-sale estimate for the rifle ranged from $125,000 to $175,000.
A letter from Western art giant Charles M. Russell to his friend, actor Harry Carey, sold for $126,500, compared to an estimate of $90,000 to $115,000. But the surprise high-seller of the night was an original mixed-media painting by Richard Amsel used in the movie poster for "The Shootist," John Wayne's final film. The piece sold for $18,400, more than twice its low estimate of $8,000.
McCracken said the market for Americana mimics that for fine art. "Items that bring the top money always do so because they're great items. The good stuff will always be good stuff regardless of trends," she said.
---
La Art Show January 14 – 18
The 20th annual LA Art Show attracted a record 60,000 visitors to sample fare offered by 120 galleries from across the United States and 22 countries.
Sales at an art extravaganza that once featured just 14 galleries and played to a mostly regional audience were estimated at $30 million this year, when exhibitors reported stronger sales and more excitement than recollected in previous years, said show manager Allison Starcher.
Agnes Gomes-Koizumi, who handles media for the event, said a trend included a wealth of Asian art, featured in both special exhibitions from China and Korea but also in many of the non-Asian galleries that were highlighting works by Asian artists.
---
Coors Western Art Exhibit & Sale January 6 – 25
Teresa Elliott saw her oil, High Noon, an arresting portrait of a Texas longhorn, added to the National Western Stock Show's permanent collection, stemming from her selection as the 2015 featured artist of the 22nd annual Coors Western Art Exhibit & Sale in Denver.
Elliott has lately proven a darling of the event, which is part of the National Western Stock Show. The largely self-taught artist's paintings, which pair rich colors with cattle that are frequently posed in formal attitudes benefitting the 16th-century heyday of portraiture, have garnered the show's People's Choice Award in recent years in a sign of her growing appeal.
"I've always thought Teresa Elliott was a great 'bridge' artist for new collectors to Western art," said sale curator Rose Fredrick. "Her work is highly detailed and stylized, even romanticized, yet when you look deeper at the work, the cattle she paints are all elevated to princely status by the way they're portrayed in lovely Italian Renaissance backgrounds."
Yet another so-called bridge artist who continues to star at the Coors event is Scott Fraser, the Colorado artist whose quirky still lifes, combining time – honored traditions with pop culture, are avidly collected by museums. Fraser, famed for Contemporary Realism, has attracted an international following, Fredrick said, and his paintings give rise to ideas and interactions that range from the cowboy to fine art.
The annual event this year broke records for attendance, ticket and table sales during the opening night's red carpet reception January 6. The show's emphasis on contemporary art again triggered robust sales despite the downturn in the oil industry, which provides the mainstay of buyers for Western art.
Artworks realized $931,290, within striking range of the record-breaking $1,050,000 sold in 2014.
Best of Show, offering a cash award donated by Kathy and Brad Coors, went to Brent Greenwood for Native Sisters, a colorful acrylic depicting American Indian women. Oil painter G. Russell Case was honored with Artist's Choice while Fine Art Connoisseur Coors Western Art Award of Recognition went to Dean Mitchell for the watercolor Barns. The Fine Art Connoisseur Young Guns Award of Recognition went to John Taft for his oil, Sleeping Acres. Painter Dinah K. Worman netted the Southwest Art Award for her body of work.