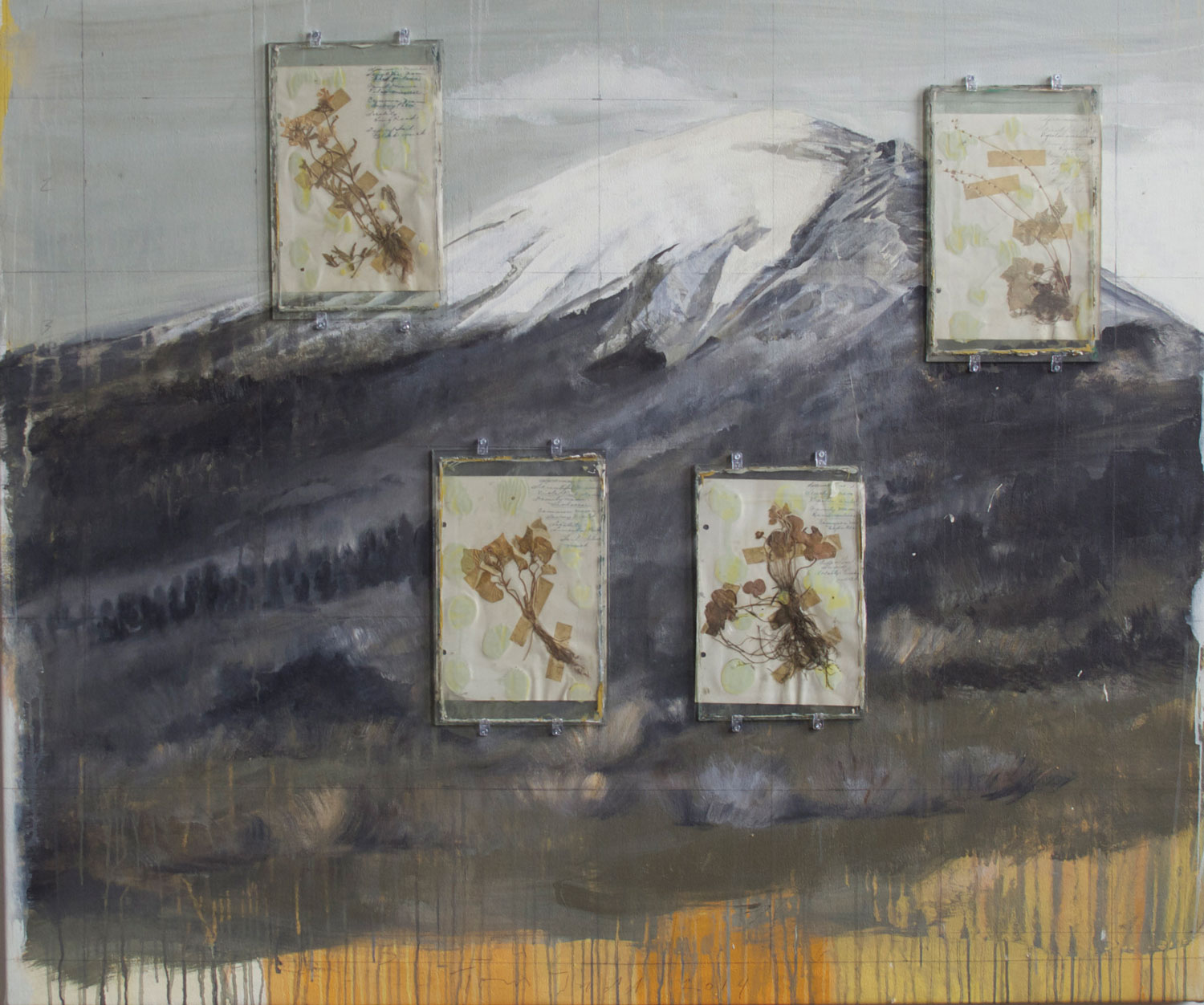 "The Central Flaw" | Oil on Canvas with Glass Panes and Collage Elements | 48 x 57 inches 2014 | Courtesy of the Artist
09 Jan

An American Original: Tom Judd

THOSE GROWING UP IN THE WESTERN part of the United States are forever shaped by its landscape. Its open spaces mold you, its winds erode and reshape you, its vast vistas free your perspective. Its cultural history — with its abundance of mythic iconography — imprints upon you in much the same way that transparent layers of color enhance a lithograph, building to a unique whole. Artist Tom Judd draws upon his own rich Western inheritance to create decidedly original mixed-media artworks.
Judd combines painting and collage in an innovative fashion, incorporating landscapes, figures, plants, and birds alongside strips of floral wallpaper, maps, botanical prints, and an eclectic assortment of patterns and materials. Most of his creations reference imagined ideas about the American West that have arisen over the past century and a half through explorers' tales of adventure, settlers' stories passed down through generations, and Hollywood's imagined heroics. His art is not meant to be nostalgic. Rather, he interrogates the past, braiding together disparate elements of culture, history, and pop art to project fresh and thought-provoking ideas.
Judd grew up in Salt Lake City and attended the University of Utah. There, he met Alex Katz, a visiting artist in residence who encouraged him to travel east. The following summer, Judd met Puerto Rican artist Rafael Ferrer while he was leading a seminar. "Rafi was like a Che Guevara — an insurgent revolutionary against the established art world," Judd says. "I was immediately drawn to him and wanted to be part of his perceived insurrection." Both of these encounters led Judd to transfer and attend the Philadelphia College of Art (now the University of the Arts), where he studied with Ferrer, Bob Kulicke, and Larry Day, and completed his Bachelor of Fine Arts. 
At age 25, having never been represented by a gallery, Judd's talent was recognized by Anne d'Harnoncourt, the respected former curator of contemporary art at the Philadelphia Museum of Art. She later invited him to participate in an exhibition where his piece, The Longest Journey (1979), was purchased by the museum for its permanent collection — an exceptional honor for an emerging artist.
Judd has since been living and working in Philadelphia for 44 years, where he creates a series of collages and fragmentations of surfaces and imagery, "never ever" just one piece at a time. An initial concept is developed into several different paintings, often in several different media at once. He thinks of his art as "visual poetry" embedded in a context that "digs toward a hidden truth," as he strives for a sense of time transmuted. Sometimes, he feels that the subject matter chooses him: "I get an idea that calls to be explored with my process. It's as simple as that. I don't analyze it or even think about it that much. I put the images to work, combining and comparing, playing around with different possibilities until something gets revealed. I work quickly; I want to capture a moment, not refine an idea."
Two of Judd's recent ongoing series — Manifest Destiny and The Myth of the Frontier — exemplify the artist's signature style. Judd refers to these series as "hymns for a mysterious American Landscape that we steadfastly conquered and depleted. … They conjure up a longing for the foothills of the Wasatch Mountains where I played as a child."
These images pounce upon the viewer with a jolt that requires a closer look. They suggest change and transformation of our former understandings of history and often contain a dollop of irony or sly humor. They are disorienting at times, and figures often appear to be bearing witness to events. Take, for example, Where the Buffalo Roam, from The Myth of the Frontier series. The painting depicts a somber Native American being glad-handed by a heavily armed cowboy with three arms. A symbol of insincere dealings in the early West? There's room for every viewer to personally shape its meaning. 
A mixed-media work in the Manifest Destiny series shows how Judd also incorporates random objects in some works. The Central Flaw begins with a cool-hued background of soaring
mountain peaks and foliage that is slowly abstracted into drips and marks. Judd took four found botanical specimens, hand-labeled and glued to paper, and covered them with old panes of glass. They were then affixed to the painting's surface with mirror clamps. There's a hint of a natural history exhibit, an historic explorer's scientific record keeping, perhaps even a documentation of a disappearing ecosystem. These elements pose questions and prompt viewers to embed the images within their individual experience.
Represented by fine art galleries from coast to coast, enthusiasm for the variety and diversity of Judd's art continues to build. Denver, Colorado's Robischon Gallery has always shown artists
whose work reflects the history of the West in a contemporary context. "Tom Judd is the perfect artist for us, as he has focused his presentations of the West in an exciting and varied manner, careful to avoid the overly romanticized Hollywood view," says Jennifer Doran, who co-owns the gallery with her husband, Jim Robischon. "He employs a deft painterly hand in his wit-filled narratives. He takes on historical imagery without it being stodgy or predictable; abstraction without being formulaic."
In November 2018, during a show titled Point of View at Modern West Fine Art in Salt Lake City, visitors enthusiastically pored over Judd's paintings. "Judd's work resonates with collectors," says gallery owner Diane Stewart. "They see within them their own connections to the West — something beautiful, a little political, a little humorous, a sense of irony."
In addition to his exhibitions in galleries and museums, Judd has participated in many public art and installation projects. He is a recipient of a prestigious Pollock-Krasner Foundation Grant and several other prominent fellowships. His work is in private collections as well as in the permanent collections of museums and corporations in the U.S. and abroad.