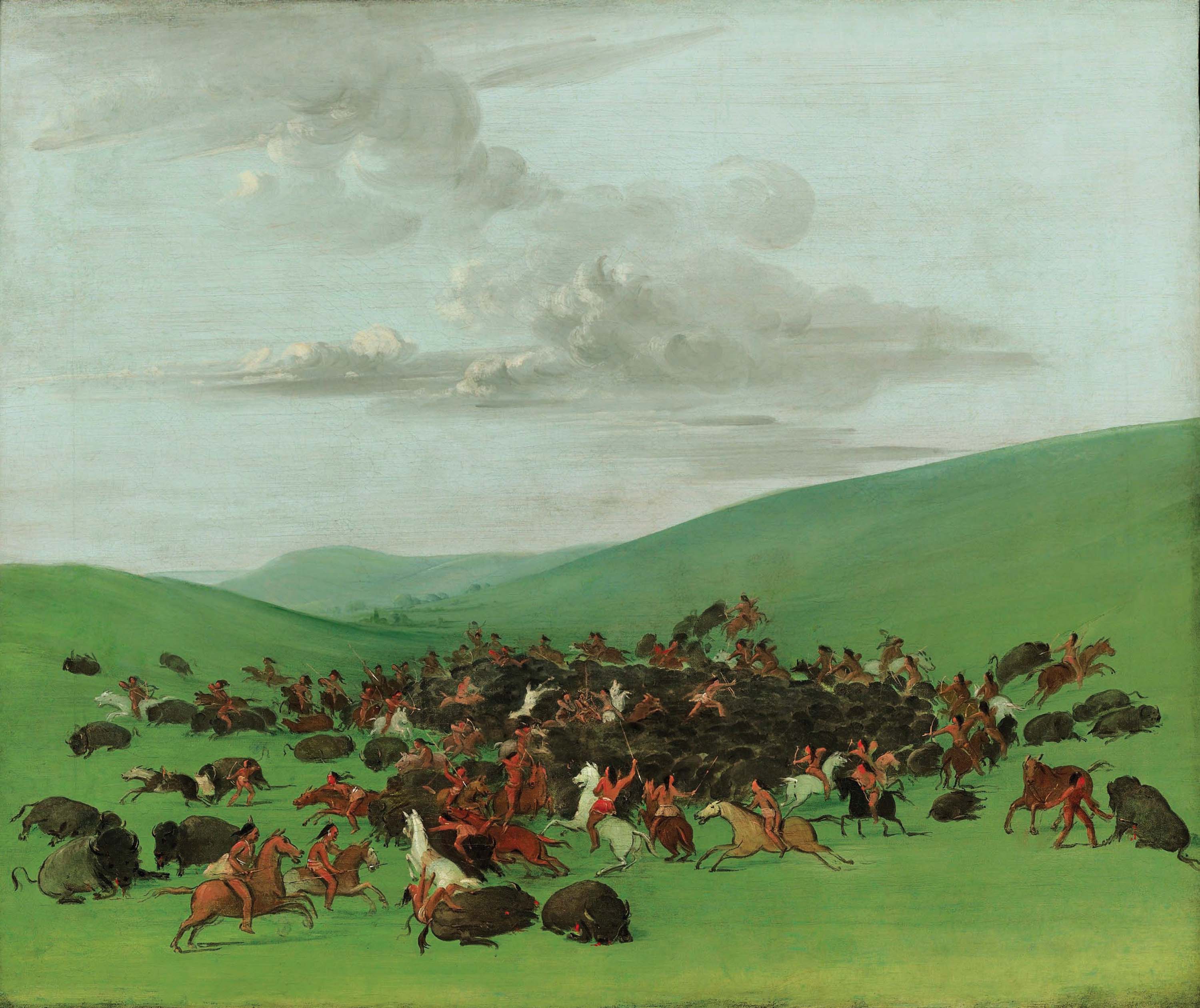 George Catlin | "Buffalo Chase, A Surround by the Hidatsa" | 22.5 x 27 inches | Sotheby's | est. $800,000-$1.2 million | Sold for $1,112,500
01 Feb

Auction Block: A Good Year
---
Cinching up 2011 on an upsurge, auctions and sales that specialize in American and Western art posted strong results in the last quarter. Specifically, Sotheby's and Christie's, as international sources in the art market, each reported solid numbers for Important American Paintings, Drawings and Sculpture auctions in New York City. Achieving well over each auction house's high projections with sales totals of $24.5 million (Sotheby's) and $25.8 million (Christie's), these numbers will prove to be benchmarks for the market in the coming year.
"Today, top prices returned to the American marketplace," said Eric Widing, Head of American Paintings for Christie's.
Heritage Auctions also posted records for artists at recent sales. On the contemporary side of the market, Los Angeles Modern Auction recorded its highest grossing sale, while cowboy art events also reflected strong interest among buyers. If 2012 follows this trend it's going to be a good year.
---
Los Angeles Modern Auction (LAMA) | Important Modern Art & Design
In what owner Peter Loughrey calls LAMA's highest grossing auction to date, 74 percent of the important post-war American design pieces and fine art lots sold for a total of $2.88 million. The auction drew private collectors and museum curators to bid on 505 lots and particularly on a prominent West Coast collection that featured extraordinary pieces from Greene & Greene, Con Edison, Charles and Ray Eames and Isamu Noguchi.
While Modern Design was the strong suit of this sale — a Noguchi chess table that sold for five times the estimate at $187,500 and a Dale Chihuly chandelier that brought $84,375 — fine art also played a significant role. The top-seller of the auction was John Chamberlain's mixed media, Untitled, 1962, which drew lively bidding and closed at $275,000 (est. $150,00-$200,000). Robert Rauschenberg and Tim Hawkinson works also sold well above the original high estimates among the mix of other works by masters such as Andy Warhol and Pablo Picasso.
---
Sotheby's | Important American Paintings, Drawings and Sculpture,
December 1, 2011
Offering a diverse selection of American works, Sotheby's hosted a solid sales total of $24,557,751 with good representation of Western art. Of the top 10 highest selling lots, four of them were paintings of American Indians by George Catlin, confirming the genre's significance in the body of American art.
Other Western artists were featured, from Remington to Russell, but it was the rare group of four 19th century Catlin paintings from the Benjamin O'Fallon Collection that led the sale. The realized price of $1,538,500 for Interior of a Mandan Lodge by George Catlin was above the high estimate of $1.2 million. Collectively with the other three paintings from Catlin: Buffalo Chase, A Surround by the Hidatsa; One Horn, Head Chief of the Miniconjou Tribe, Teton Dakota (Western Sioux); and Black Hawk, Prominent Sauk Chief, Sauk and Fox achieved over $4.5 million.
American Modernist Marsden Hartley's Untitled (Still Life), 1919 was the highest selling lot; it brought $3.2 million, well above the high estimate of $900,000. The sale was a success with 79 of the 111 lots sold.
---
Christie's | Important American Paintings, Drawings and Sculpture,
November 30, 2011
Featuring select works from some of the finest in American paintings, sculpture and works on paper from the colonial period to 1950, Christie's fall auction grossed $25,806,550.
Records were set for two artists at this sale, marking a turn in the market toward high prices. Oscar Floranius Bluemner's [1867-1938] Illusion of the Prairie, New Jersey sold for $5.3 million and Louis Ritman [1889-1963] set a sale record as well for In the Garden at a $542,500 realized price.
Specifically two significant works from Georgia O'Keeffe [1887-1986] drew collectors to the sale. My Autumn, 1929 was estimated between $2-$3 million and brought a solid figure just over $2.7 million; and Black Iris for $1,426,500. Her smaller and subtle piece, Untitled (Pedernal), nearly doubled its high estimate to bring $98,500.
On the Western art front, a series of Frederic Remington [1861-1909] bronzes sold well within their valued range alongside a handful of other respectable artists of the genre.
---
Bonhams and Butterfields | California and Western Paintings and Sculpture,
November 21, 2011
Leading this auction was a strong selection of Western paintings, including Frank Tenney Johnson's Beneath the Southern Moon (est. $200,000-$300,000) which realized a mid-range price of $242,500, among a wide array of important Western scenes, Plein Air, Society of Six and land and cityscapes. Noted artists represented in the fall sale include Jessie Arms Botke, Maynard Dixon, E. Charlton Fortune, John Marshall Gamble, Joseph Kleitsch, Granville Redmond and William Wendt, among others.
A notable high-selling artist was William Wendt, led by his oil painting American Sycamores, for a final bid of $122,500. Further works of note from the fall sale include High Desert in Bloom by Granville Redmond, which sold at $230,500. Works by John Marshall Gamble, Jessie Arms Botke, E. Charlton Fortune and Joseph Kleitsch punctuated the offerings.
---
Altermann Galleries,
November 12, 2011
Altermann Galleries' auction in Santa Fe produced $1,962,380 in sales. One of the more impressive portions of the auction was in three-dimensional objects, including basketry, bronze and wood sculpture.
Of the 39 objects offered, all but five sold. Harry Jackson's Flag Bearer (est. $24,000-$28,000) fetched $36,000, including the buyer's premium. Joe Beeler's Night Song blew past its pre-sale estimate ($15,000-$20,000) and ended up at an impressive $28,800. The Beeler bronze was accompanied by a drawing of the sculpture (est. $5,000-$7,000) and it realized a very impressive $18,000.
High sellers included G. Harvey and Martin Grelle. G. Harvey was represented by 12 paintings, all of which sold. The top performing Harvey painting was Independent Texans (est. $70,000-$90,000) which brought a very strong $82,800. Martin Grelle's cowboy painting, Refuge From the Cold (est. $45,000-$55,000), sold for $72,000, and his Plains Indian work, The Sign (est. $50,000-$60,000), was hammered at $78,000.
---
Santa Fe Art Auction,
November 13, 2011
With autumn colors peaking in Santa Fe's landscape, art patrons gathered in the equally colorful Santa Fe Convention Center in hopes of going home with a favored artist's work. With offerings from the Taos School to Maynard Dixon and Edward Borein, to 58 of today's creative living artists, there were 155 artists represented.
At the end of the day, the auction totaled $2,388,000. Peter Reiss, curator, noted that "The market for good Western art is strong, the works that are '10' or you could say, exquisite works of art, will always be sought after."
Maynard Dixon [1875-1946] took top honors. Starting as an artist after receiving encouragement when Frederick Remington saw his sketches, his piece, Oncoming Storm, was hammered at $582,400. An Arizona landscape with Indians painted in 1941, it was exhibited that same year at the Temple of Music and Art in Tucson.
Ernest Blumenschein of the Taos Founders notched second with a personal painting of his studio fireplace in Taos, still open to visitors on Taos's Ledoux Street. One of several of Blumenschein's paintings that belonged to the family of one of his close friends, it was the only one of five to sell, at $476,000.
Topping the list of today's producing masters, the bidding on Martin Grelle's Apsaalooka Horse Hunters, a winter scene, started at $110,00 and with fervor, quickly rose with a number of bidders to its selling price of $268,800.
---
Heritage Auctions | Art of the American West,
November 5, 2011
In Dallas, Texas, Heritage Auctions reported robust sales in the "ever-strengthening Western Art category," according to public relations director, Noah Fleisher. Posting $2.27 million in total sales with a healthy sell-through rate of 95 percent for 74 lots, this signature sale from the world's third largest auction house drew 262 bidders and was punctuated by the event's climax with the sale of a W.R. Leigh oil that hammered at $1.195 million. Home, Sweet Home (1932) set a world record sale for the artist.
Other artists whose work performed well include Tom Lovell, Maynard Dixon and Birger Sandzen. Tom Lovell's The Raven Followers, 1975 drew $131,450. Dixon's Calico Hills (Virgin Valley, Nevada; No. 350, 1927) sparked a bidding war and led to a final price of $95,600, tripling its high estimate of $30,000. A pair of oil paintings from Birger Sandzen also sold above their estimated value: Early Fall, Smoky Hill River (Kansas), 1940 realized $71,700 and Cottonwood Trees and Pond, 1922 brought $47,800.
---
The West Select | Phoenix Art Museum,
October 21, 2011
Uniting 30 of today's leading artists and featuring 100 paintings, drawings, sculptures and photographs, the Phoenix Art Museum's Men's Art Council launched The West Select to great fanfare with $700,000 in gross sales.
"Where do you draw the line on Western art? Anything west of the 100th meridian," said museum director James Ballinger. "It's a state of mind; it exists in many forms with many definitions for different people, so there's no right or wrong answer to that."
While still offering iconic Western art scenes from artists including Bill Anton, William Matthews, Bob "Shoofly" Shufelt and many others, there was also an edgy Modernist element from Phoenix local Ed Mell, Howard Post and Bill Schenk. Large format photography from Thomas Struth and Andreas Gursky expanded the perspective of how we view the western landscape.
Many artists were honored at the event. Arturo Chávez won the Phoenix Art Museum's purchase award, bringing his dramatic oil painting into the museum's permanent collection. Best in show was awarded to Curt Walters for his painting Sun-Shadow-Wind.
---
Cowboy Crossings | National Cowboy & Western Heritage Museum,
October 15, 2011
The National Cowboy & Western Heritage Museum in Oklahoma City launched the inaugural event, Cowboy Crossings, with an impressive $2.2 million in sales. Hosting 42 artists and more than 400 guests, the museum presented the Cowboy Artists of America (CAA) 46th Annual Sale & Exhibition alongside the longstanding Traditional Cowboy Arts Association (TCAA) Exhibition and Sale, now in its 13th year. The combination offered fine art collectors access to 174 pieces of Western art and fine Western craft by many of the best contemporary Western artists in the nation.