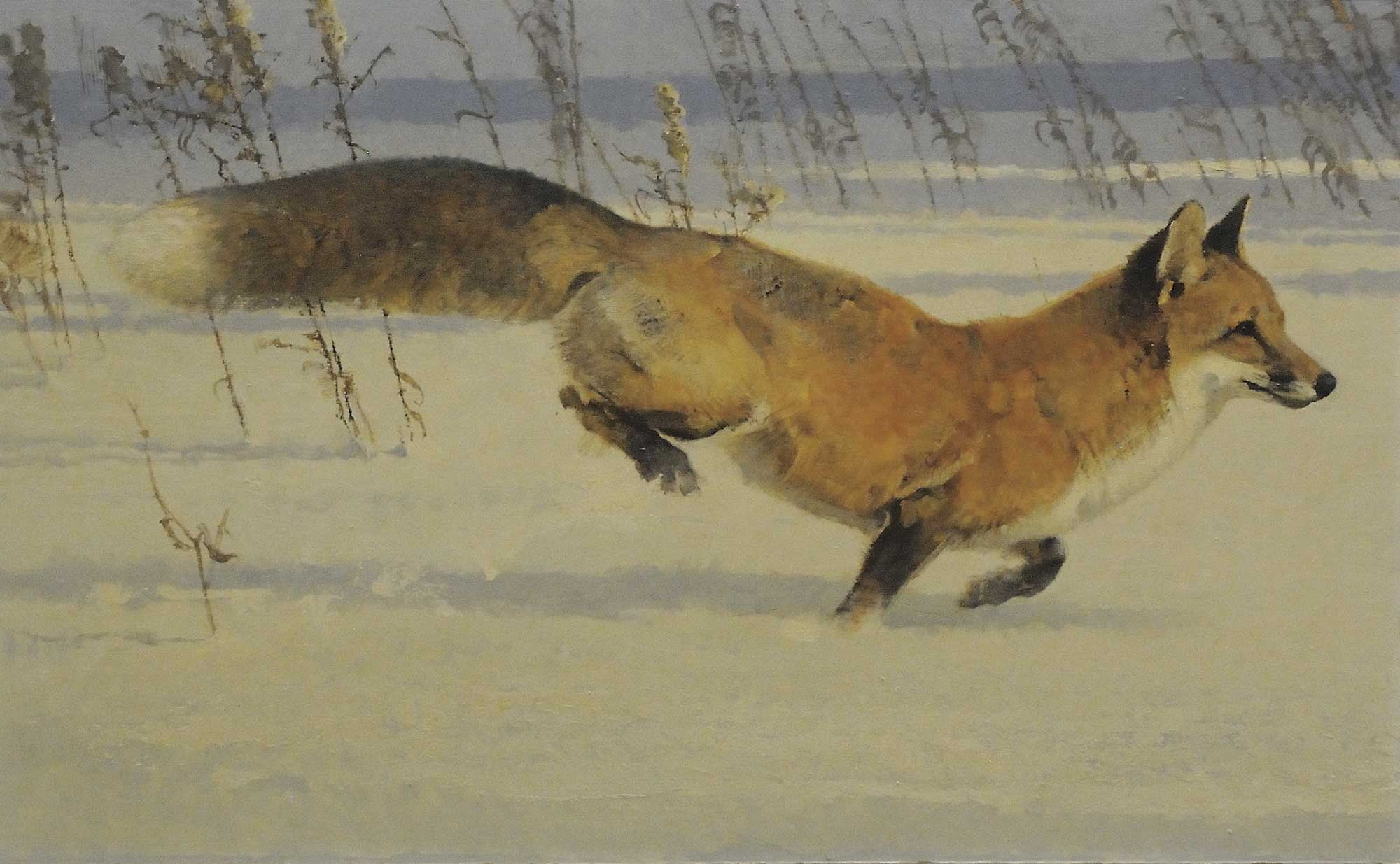 Bob Kuhn | "Like the Down of a Thistle" | Acrylic on Board |17 x 28 inches
01 Sep

Auction Block: Adjusting Our Expectations
---
Wrapping up the summer art season, a sense of calm and readjustment seems to have settled over the art world. That's not a bad thing. It's just that from halting drops in sales at the Coeur D'Alene Art Auction in July to steady sales at other venues in August and September there seemed to be a true reevaluation of commercial expectations. As a result, while overall sales at the annual Buffalo Bill Art Show & Sale remained strong, the gathering centered on renewing relationships and reaching out for future endeavors. At the Jackson Hole Art Auction, executive director Heidi Theios noted that the partners had adjusted their expectations and focused on quality works rather than numbers. The shift has paid off, ultimately, and although the art world of today is very different from what it was a year ago, it continues to show sustained interest, support and profit. It's a good sign for the future.
---
Buffalo Bill Art Show & Sale | September 25 – 26, 2009
With one last push to enjoy the summer weather, the community of Cody, Wyoming, rolls out the red carpet for art collectors, artists and loyal patrons of the Buffalo Bill Historical Center each September. Some of the country's finest contemporary artists gather for the art show and sale to benefit the museum. Friday's dinner and auction drew a sold-out crowd of 650 collectors and museum patrons to view some extraordinary Western art. Saturday's Quick Draw drew an even larger crowd and resulted in live auction sales above $81,000 for 34 lots.
The prestigious Best of Show award, which for the first time in the event's 28-year history came with a $20,000 cash award, went to painter Kyle Sims for his stunning oil of a mountain lion, Spring Loaded, which sold for a gavel price of $18,000, well above the $10,000 estimated value. Following Sims' sale, honored artist T.D. Kelsey's landmark bronze sculpture, Fly Fishin', sold for a gavel price of $36,000. With the majority of works selling at or below estimated value, there were many ecstatic collectors. Artists were happy too with the sold-out attendance and the relatively small number of passes, says Kathy Thompson, director of the Show & Sale. "The artists were pleased, and we feel really good [about the results], having seen what's happened at other shows." Of the 146 lots, which ranged spectacularly in media from oil, acrylic, pastel and watercolor to sculpture in bronze, stainless steel and clay, the event reached $770,000 in total sales, compared with 2008's $750,102 tally.
Proceeds from the Buffalo Bill Art Show & Sale have benefited the Buffalo Bill Historical Center, the Cody Country Chamber of Commerce, the Cody Country Art League and the Park County Arts Council for the last 28 years. Next year's show and sale will be held September 24 – 25, 2010; www.buffalobillartshow.com.
---
Cody High Style Exhibition | September 22 – 26, 2009
Featuring more than 40 of the nation's leading Western furniture, metal and fashion designers, this is an event with enduring spirit and talent. As a central part of Cody's Rendezvous Royale, the exhibition is on display at Buffalo Bill Historical Center every year.
Cody saddlemaker Keith Seidel won the honorable Switchback Ranch Purchase award for custom saddlebags that will be added to the historical center's permanent collection.
---
Jackson Hole Art Auction | September 19, 2009
Lively bidding for deceased wildlife artist Bob Kuhn's Like the Down of a Thistle set the tone of enthusiasm for this young art auction that has clearly emerged as a destination event. The painting was estimated to sell between $75,000 and $125,000, but finally went to a triumphant bidder at $299,000.
With 300 guests attending the event at Jackson's Center for the Arts, sales were consistent and strong, albeit much less than previous years. The total sales at press time were more than $6 million, a mark which executive director Heidi Theios said was within the partners' goal for this year. The wildlife genre remained a strong seller and some of the region's best artists were represented at this auction. Additionally, an historic painting by Albert Bierstadt, Study for the Buffalo Trail, sold for $172,500, and a Berninghaus, Short Cut, went for $431,250.
It is clear that the JHAA is becoming a destination auction, said Theios, " … as we had people from over 30 states, as well as Germany, Peru and Switzerland bidding on the art."
---
Western Visions: Annual Miniatures and More Show & Sale at the National Museum of Wildlife Art of the United States | September 19, 2009
Prelimary sales for this longtime show, which is a benefit for the National Wildlife Museum of the United States, equated to $552,000, based on paintings, sculptures and sketch sales. (The final total was not available until after WA&A's press date.)
A loyal crowd of museum patrons and collectors gathered at the National Museum of Wildlife Art in Jackson Hole, Wyoming, for the Miniatures and More Show & Sale, the culminating event of Western Visions, the five-day annual fundraiser for the museum. Among the many original works commissioned for this esteemed show, the top three best-sellers were Tucker Smith's Moose at Dean Lake, which sold for $38,000; Greg Beecham, The Wild Ones, which sold for $37,850; and Lindsay Scott's Fleeting Encounter, which sold for $31,000.
Next year the Miniatures and More Show & Sale will be held September 20, 2010. Please visit www.wildlifeart.org for further information.
---
Western Design Conference | September 9 – 11, 2009
Kicking off the 10-day string of events for Jackson's Fall Arts Festival, which marked the event's 25th year in 2009, the Western Design Conference showcased some of the best designers and artisans in the country. This 17th annual design event is hosted by Teton Home and Living magazine; it begins with a runway fashion show and evolves around daily exhibition of works of art ranging in styles that include Western, Adirondack, Rustic, Lodge, Asian, Southwestern, Spanish, Native American and Modern.
The prestigious awards ceremony gifted $22,000 to artisans and craftspeople, from furnishings to wearable art. Among the many talented artists was the award for Best of Show to The Lucky Star Gallery, Harriette Allison, of Reno, Nevada. She received a $5,000 award sponsored by Foster and Lynn Friess for a hand-painted club chair.
Jackson's Fall Arts Festival is recognized as one of the premier art events in the Rocky Mountain West, with world-class installments of visual, contemporary, culinary, Western, landscape, wildlife and Native American arts. The next Jackson Hole Fall Arts Festival is slated for September 9 – 19, 2010; visit www.jacksonholechamber.com. The Western Design Conference will be held September 9 – 11, 2010; visit www.westerndesignconference.com.
---
Quest for the West Art Show and Sale | September 11, 2009
An annual benefit for the Eiteljorg Museum in Indianapolis, Indiana, for the fourth year running, the event attracted more than 300 guests and generated nearly $800,000 in art sales that will help fund the museum's permanent collection.
"It once again provided us an opportunity to host some of today's best Western artists and enthusiastic art collectors from across the country," said John Vanausdall, Eiteljorg president and CEO, in a press release. Featuring 50 invited artists with works that represent landscape, wildlife, historical narratives, portraits and still life compositions that celebrate the American West, the event is one to watch for the future. Among many other awards, the Patron's Choice Award went to John Buxton for Winter Windfall. Next year's event will be held on September 12, 2010. For more information, visit: www.eiteljorg.org.
---
Western Rendezvous of Art | August 20 – 23, 2009
Helena, Montana's Western Rendezvous of Art celebrated its 31st year in August. A perennial favorite with art collectors, artists and art appreciators from all across the country, nearly 1,000 folks viewed the Rendezvous Art show over a three-day period.
Featuring 186 pieces from 52 Northwest Rendezvous artists, paintings by Laura Robb and Matt Smith, as well as Huihan Liu sold well. Gerald Balciar and the late Joe Halko's sculptures were among the most popular with the buyers. The total art sales, including the set-price sale and quick-draw auction, totaled more than $319,000.
Artist's awards at this year's Rendezvous event included the John Scott People's Choice Award, voted on by all those who attend the show: for painting, Laura Robb for Crimson Poppies, and for sculpture, Gerald Balciar, for Follow the Leader. The Ben Stahl Artist's Choice Award, voted on by NWR artists for the overall best collection of works at the show, went to painter Matt Smith. The Heritage Award, for a piece of art most reflective of the spirit of Western history, was granted to Barry Eisenach for Two Horse Mountain Mowing Machine. The Legacy Award, selected by the Montana Historical Society and added to its permanent collection, went to Joe Halko for his Headed for the Highwoods, Busy Banties and Summer Sandhill.
The atmosphere for the entire weekend was a familiar, friendly and fun benefit for the Montana Historical Society. Next year's event will be August 19 – 22. For information go to www.westrendart.org.
---
Coeur d'Alene Art Auction | July 25, 2009
Held in Reno, Nevada, Coeur d'Alene Art Auction's annual sale of classic and contemporary Western, wildlife and sporting art was the barometer for Western art world sales. Despite softer sales, there were record prices for some individual artists and overall the CDAA recorded an astonishing 91 percent sale of the 284 items offered. More than 700 collectors and artists packed the Grand Exposition Hall of the Silver Legacy Resort for the country's largest Western art auction; it was clear that interest remains strong for works of art. The effects of the recession contributed to softening in prices in certain areas of the market, and the overall sale grossed almost $12 million, a tremendous drop from the previous year's $36,966,425 total.
In spite of the economic downturn, a number of works realized record or near-record prices. Topping the sale was a remarkable post-1900 watercolor measuring 19 x 27 inches by Charles M. Russell (1864-1926) entitled The Truce, which sold to an anonymous telephone bidder for $2,031,000, and a wonderful 12 x 18-inch oil titled Dakota Chief brought $631,000. Newcomer Z.S. Liang also notched a record price with a most impressive 42 x 64-inch oil painting entitled Painted Robe for Powder and Ball at $345,000. Continuing his impressive run at auctions was the wildlife master, Bob Kuhn (1920-2007), whose two paintings, El Jefe, 18 x 24 inches, and Proud Fox in the Snow, 16 x 20 inches, sold for $138,000, and $109,250.