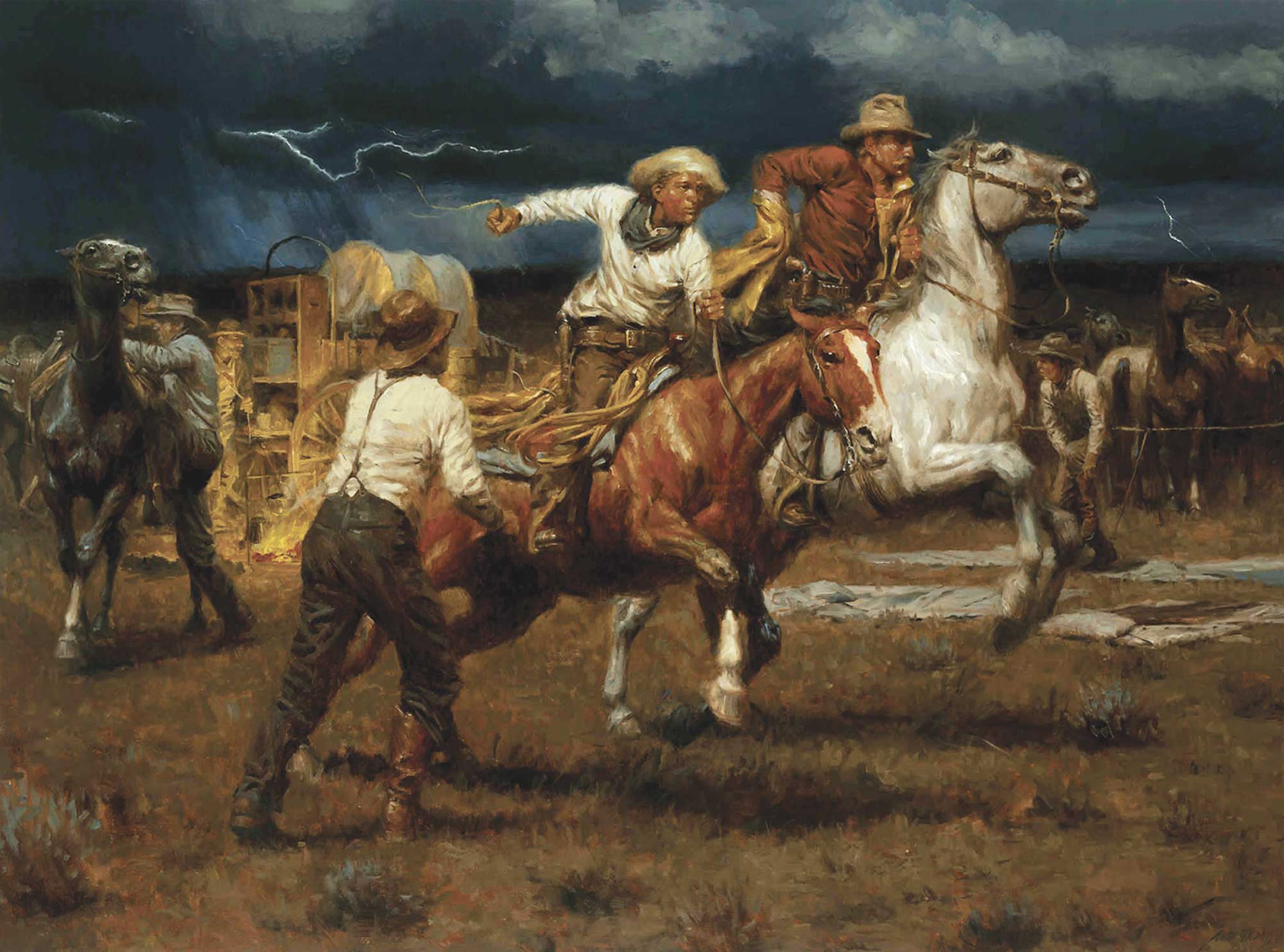 Andy Thomas, Stampede! Stampede! | Oil on Canvas, 36 x 48 inches | Lot 105 | Estimate: $52,000 - $58,000 | Sold: $80,000
30 May

Auction Block: Against All Odds
---
At the grand finale of the C.M. Russell Museum's benefit sale recently, executive director Daryl Beauchamp kicked off the live auction with this rallying call: "Let's sell some art!"
Simple as it may be, the call to action echoes the overall tempo of art in the West as the nation's economy moves from crisis mode to recovery. Art collectors, artists and patrons marked events from Santa Fe to Los Angeles with fantastic attendance. At auctions quality works are coming up on the block and passionate buyers are not overlooking opportunity. The result is proof that the work of contemporary and deceased artists continues to be a beautiful and sound investment.
---
Altermann Galleries Annual Spring Auction | March 27, 2010
Offering the perfect assortment of old and new, Altermann's spring auction featured historic Western masters such as Olaf Wieghorst, Frank Tenney Johnson and Edward Borein right alongside many Cowboy Artists of America members, Gordon Snidow and contemporary Western painter Martin Grelle. A benchmark for the event was "The Opportunity Sale," wherein Altermann Galleries and Auctioneers were directed by consignors to set conservative estimates and low or no reserves on lots for the second session of the auction.
"We've had opportunity-sale format periodically over the past 30 years," stated Richard Altermann. "It's particularly appealing to seasoned collectors who continually monitor the market and recognize when there is a good opportunity to make a purchase as the market continues to improve."
The strategy proved to be just the right medicine as total sales for the day summed up to $666,840. The highest selling lot at the auction was Indian Scount In Moonlight by Frank Tenney Johnson at $48,000. Other unique offerings were unusual prints from Albert Bierstadt, George Catlin and Gerald Cassidy.
---
The 42nd Annual C.M. Russell Art Auction | March 17 – 20, 2010
Kicking off Art Week in Great Falls at the Heritage Inn, this long-time event brought out many regional artists, collectors and local boosters with a strong effort to carry on a Western tradition after the recent split from the C.M. Russell Museum. Final reports tallied the amount at around $750,000, including two nights of quick-draw sales.
Leading the total was the highest selling painting from Andy Thomas, Ambush on the Bandit Trail, at $60,000. Newcomer Bryce Cameron Liston won several awards during the event, including the Ralph "Tuffy" Berg Award for best emerging artist. Sculptor Jerry McKellar's Broken Promises captured the People's Choice Award for best sculpture, while Great Falls artist Cliff Rossberg won People's Choice Award for best painting.
Attendance was slightly down, but most of the lots did sell. Many exhibitors at the event reported strong retail sales throughout the weekend. Artist Gary Lynn Roberts sold most of his paintings displayed in his gallery space, while Buddy Le of The Coeur D'Alene Art Galleries, who represents Terry Mimnaugh, Brett Smith, Tim Shinabarger, and deceased artists William Standing, O.C. Seltzer and Carl Rungius, reported similar success at the event.
By design, Friday's and Saturday's auctions featured a broad array of artists, both historic and contemporary, famous and little known.
"In projecting for the sale we tried to find a more varied number of artists and price ranges for the lots," said Sarah Becker, executive director of the Great Falls Ad Club, who organizes this event.
---
The Russell, The Sale to Benefit the C.M. Russell Museum | March 18 – 20, 2010
With three days of sold-out events, the C.M. Russell Museum's executive director, Daryl Beauchamp, was satisfied with the overall results and the final total of $1.6 million in sales.
"We are very pleased with the success of this event," said Beauchamp. "The loyalty of collectors and patrons was shown this weekend and it proves that people want to support the museum."
This inaugural event kicked off with a well-designed fixed-bid Wall Sale on Thursday that garnered $497,000 and featured the event's highest-priced offerings, including works from Maynard Dixon, E.I. Couse, Bert Geer Phillips and Ernest Martin Hennings, among others. Contemporary works were also featured, including the debut of newcomer artist Cheyenne Hawkins, whose father, Rocky Hawkins, has been a long-time participant at the Russell.
Friday's Art in Action showcased 25 artists in a protracted quick draw at the local country club. All of the $121,000 of proceeds will benefit the museum.
Saturday's finale event was the live auction. It started with a commemorative lot, a Charlie Russell wood illustration block that sold for $2,500. Things heated up deeper into the auction with the top-selling painting, Stampede! Stampede!, by Andy Thomas, which sold for a hammer price of $80,000; John Contway's sculpture, Turning 'Em North, went for $70,000; and deceased artist Ogden Pleisner's Poling Up the York sold above the estimated value at $65,000.
---
March in Montana | March 19 – 20, 2010
With an impressive line-up of classic Western works of art from the Robert L. Praegitzer Collection, March in Montana proved to be a hotspot for collectors with an eye for a bargain. With high-quality offerings selling at this no-reserve auction, the two-day event realized nearly $1.5 million in sales.
"We were conservatively optimistic prior to the sale," said owner Charla Nelson, of Manitou Galleries. "The sale actually exceeded our expectations in the current market."
Some auction highlights included Joseph H. Sharp's Hunting Son – Taos Indian, estimated at $100,000 – $150,000, that ultimately sold for $129,800, and a surprise run on three of the six lots from W.H.D. Koerner went well over their estimated values. Other lots in the auction ran the gamut of rare Edward Curtis photogravures to smaller Western collectibles to Charlie Russell bronzes.
Auction partner, Mike Overby, of Coeur D'Alene Art Auction, noted that attendance at the show was up compared with last year. He echoed Nelson's optimistic sentiment, commenting that the sale has become known for relative bargains since 95 percent of the lots are offered with little or no reserve prices.
---
Yellowstone Art Museum Annual Auction | March 6, 2010
With the theme of "Hollywood Extravaganza," more than 500 revelers packed the museum to support the Yellowstone Art Museum's 42nd annual art auction in Billings, Montana.
Artwork ranged from "cutting edge" contemporary to traditional landscape to Western, and included painting, sculpture, ceramics, furniture and jewelry. True to its support of contemporary art, the top-selling piece was a painting by Ted Waddell at $11,000, which contributed to the overall total of $158,300.
"We had a higher turnout than in years past and worked to price our items in a range that would be affordable to our patrons," explained Shawn Conrad, public relations coordinator at YAM. All of the proceeds from Art Auction 42 help to fund the Museum's exhibitions and education programs.
---
ArtFeast | February 26 – 28, 2010
Santa Fe celebrated the thirteenth year of its annual ArtFeast with more than 2,500 patrons filling the galleries and venues. Food, art and frivolity prevailed as visitors from more than 30 states participated in gallery openings, a fashion show, a dine-with-an-artist luncheon and a gourmet dinner prepared by six of Santa Fe's finest chefs.
The newly added Feast or Famine after-hours party, designed to attract the young-but-over-21 crowd, was packed with more than 500 at the ever-popular Coyote Café.
Connie Axton, president, reported that in excess of $200,000 was raised at the event, which will go to support art programming in public schools. One of this year's highlights was a set of 12 Georgia O'Keeffe dinner plates made by children that sold for a record $3,750. To date, $750,000 has been donated to teachers and schools through Art Smart, the 501c3 organization that sponsors ArtFeast.
---
The Masters of the American West: Fine Art Exhibition and Sale | February 6, 2010
Revering the history of the American West and its awe-inspiring landscape, the collection of artists at the Autry Center's Masters of the American West in Los Angeles shined. With the guidance of trustee John Geraghty and a team of dedicated staff, the annual Master's show raised $3.8 million, an encouraging $200,000 more than last year's total sales.
"We are extremely pleased with the dedication of the artists and the ever-increasing quality of the works presented at this year's Masters," said Geraghty.
In a sealed-bid sale at the event patrons had the opportunity to bid on paintings by Z.S. Liang, Mian Situ, Tucker Smith, Howard Terpning and Morgan Weistling. Terpning's The Sound of a Distant Bugle sold for $1,050,000. Weistling was granted the Patron's Choice Award. Idaho painter George Carlson was chosen by his fellow artists for the Artist's Choice Award and the Autry's Purchase Award, along with sculptor Kenneth Bunn for his bronze, Rimrock Cougar.
---
Los Angeles Art Show | January 21 – 24, 2010
Despite some inordinately wet weather, the spirit of the 15th annual Los Angeles Art Show was hardly dampened. More than 3,500 attendees braved the L.A. torrents for the opening night gala in support of the Los Angeles County Museum of Art & Inner City Arts. Sales throughout opening night included works by Edouard Vysekal, Harry R. Harvey, Percy Gray and Alex Guofen Cao and totaled $1 million. Over the four days of the show, presented by the Fine Art Dealers Association and considered to be the largest art show on the West Coast, some 10,000 works of art were seen by 40,000 visitors. Sales throughout the show topped $25 million. In the same location for the second year running, the Los Angeles Convention Center was transformed with monumental sculptural displays, cutting-edge installations and a remarkably diverse collection of works from more than 100 exhibitors from around the globe.
---
The 2010 Coors Western Art Exhibit and Sale | January 6 – 24, 2010 | Denver, Colorado
Amid the National Western Stock Show events that range from rodeo to cattle sales, the Coors Western Art Exhibit and Sale in Denver, Colorado, continues to draw a sophisticated group of collectors. This year overall sales were up 33 percent over last year and the attendance was strong despite snow and cold; there were more than 800 people in attendance on opening night. The show has been running for 18 years and this year 60 artists garnered $787,000 total sales for the event, just $8,000 shy of an all-time record.
"We are the coolest Western art exhibit in the country," said curator Rose Fredrick. "We really try to go out of the box and try to show people what's happening in the West today."
The sales support college scholarships for National Western Stock Show, for schools in Colorado and Wyoming, and the art sale is among the biggest supporters of that fund.