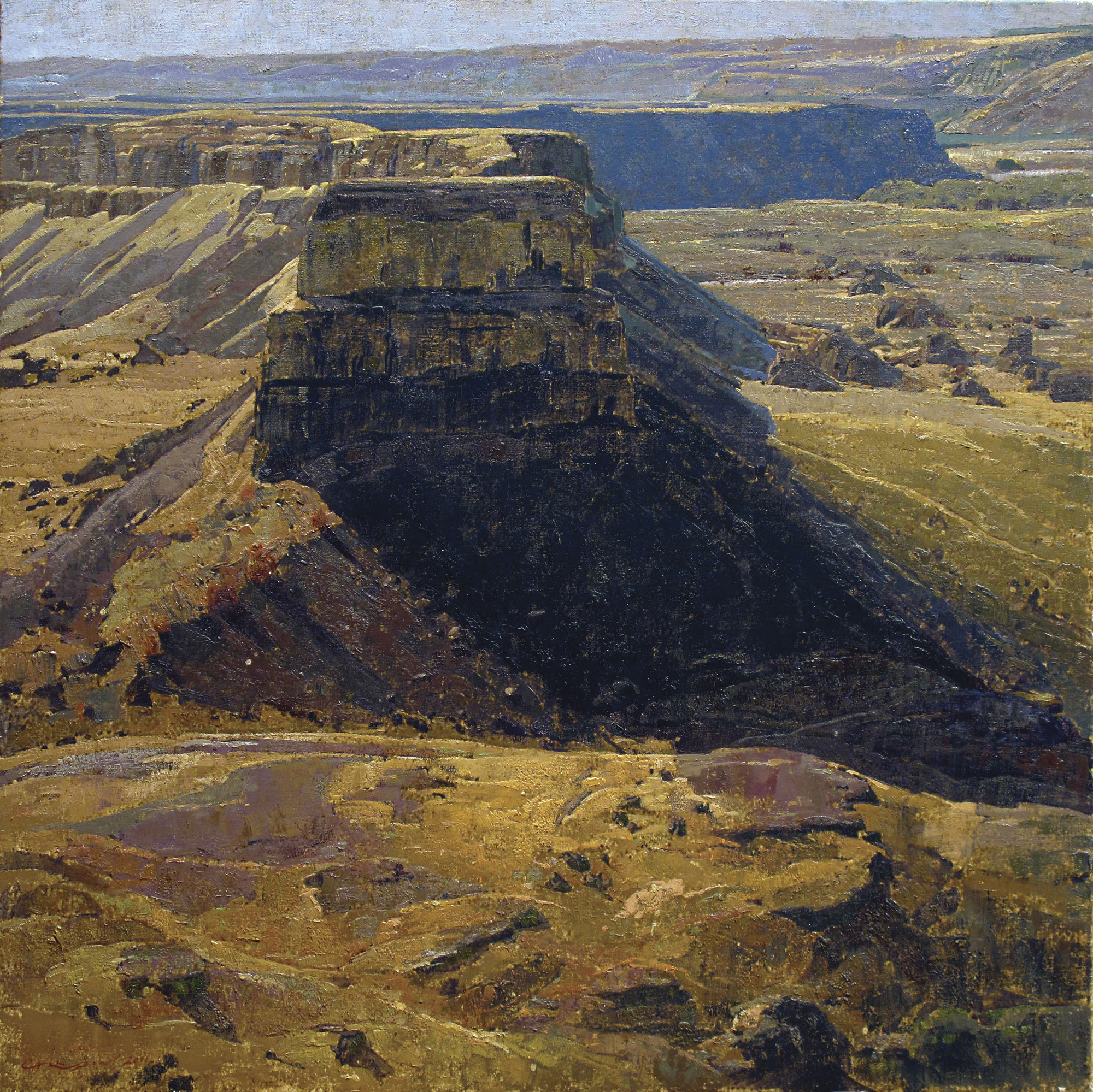 George Carlson, Umatilla Rock | Oil on Linen, 42 X 42 inches
24 Jul

Auction Block: Better Bidding
---
If the Western art world could be defined by one style of dance, it would be the Jitterbug. Think of something with a quick tempo. Get ready for some moves that keep you on your toes for the twists and turns that spontaneously swing in and out of the song. In the last quarter, the art market has shown surprisingly strong sales. Nationally, the last few months have delivered ups and downs in the economic news that have at once invigorated consumer spending and then quickly clamped down on growth. It's enough to keep your head spinning if you don't have a good partner in this quick-paced dance for the savvy collector.
In New York, Sotheby's and Christie's reported some record-breaking sales that bode well for smaller auction houses, museum events and the Western art genre's overall profile.
"The auction market for American art continued its climb today, with results just ahead of our December 2010 sales total," said Eric Widing, head of American Paintings at Christie's, in a press release summarizing his reaction to the $22,193,800 total sum for the Important American Paintings, Drawings and Sculpture auction on May 18, 2011. The sale included a western landscape from Guy Rose [1867 – 1925] Martin's Point, Carmel, which sold at a realized price of $890,500, well above the $350,000 to $500,000 estimate; another landscape by Albert Bierstadt [1830 – 1902], Seal Rock, California, sold at the top of its estimated price at $794,500.
That same day at Sotheby's American Indian Art auction, on May 18, 2011, a rare Oglala Sioux War Shirt sold for $2.7 million (buyer's premium included). The beaded and fringed shirt once belonged to the celebrated Sioux Chief Black Bird, and sold to an anonymous donor, proving that the love for significant Indian artifacts is alive and well. That single lot made up more than half of the $4.8 million sale.
The next day, Sotheby's American Paintings, Drawings and Sculpture on May 19, 2011, achieved $27,124,125 in total sales. Significant to the Western art world is the new sales record set for deceased artist Ernest Blumenschein [1874 – 1960] for White Blanket and Blue Spruce, which brought $1.5 million, well over the estimated $900,000 and four times the previous record for this artist set at a 1998 Sotheby's auction. Additionally, Walter Ufer's After the Chapel Hour sold above its high estimate for $818,500.
These numbers prove there is a slight upswing for the American art market. Other figures from regional sales and auctions add to this growth, but in this economic climate, it's challenging to keep up with the dance.
---
38th Annual Prix de West Invitational Art Exhibition and Sale | June 11, 2011
The stars of Western art came out to shine at this annual event, hosted by the National Cowboy & Western Heritage Museum, which drew patrons from across the country to Oklahoma City. Showcasing more than 300 works from America's contemporary Western painters and sculptors, the 38th Annual Prix de West Invitational Art Exhibition and Sale was a tremendous success. Leading artists brought works that ranged from historical Realism to breathtaking landscapes at this invitation-only event that honors artists with some of the country's most prestigious awards.
With a total opening night tally of $3.3 million, the museum matched its earnings from the previous year. The fixed-price sale offered impressive pieces, such as the show's highest-priced artwork, Gifts for the Little People, a 46- by 36-inch oil-on-linen painting by past Prix de West Award-winner, Martin Grelle, which was priced at $65,000 as minimum-bid entry.
The event drew 1,000 guests. The live auction featured work of traditional genre, ranging from cowboy scenes to still lifes and wildlife, depicted in media that spanned paintings in oil, sculpture in bronze and a drawing in graphite. Participating artists included Tom Browning; G. Russell Case; Luke Frazier; Thomas William Jones; Kelley Ramon; Dan Koch; Richard Loffler; Dan Mieduch; Paul Moore and Robert "Shoofly" Shufelt.
Museum President Chuck Schroeder attributed the success to a range of prices for both the beginning collector and the seasoned aficionado. "This year, three pieces tie for the lowest price at $950 each and are sculptures from three distinguished sculptors — Gerald Balciar, Ross Matteson and Edward J. Fraughton. In addition, there are about a dozen or so artworks in the $2,000 and lower price range, both paintings and sculptures," he told The Oklahoman newspaper on opening night.
Following the live auction, Prix de West's annual award winners were announced at Saturday night's banquet. Idaho painter George Carlson won the esteemed Prix de West Purchase Award for Umatilla Rock, oil on linen, 42 by 42 inches, which was chosen by the National Cowboy & Western Heritage Museum for its permanent collection. The recipient receives the $55,000 purchase price, a $5,000 cash award and the Prix de West medallion, sponsored by Roberta M. Eldridge Miller. Carlson also received the Robert Lougheed Memorial Award for the best display of three or more works at the show.
The piece chosen for the Nona Jean Hulsey Rumsey Buyers' Choice Award was granted to master artist Curt Walters for his painting, Enigmatic Long House. Additionally, sculptor Walter T. Matia's bronze, For Spacious Skies, won the Major General and Mrs. Don D. Pittman Wildlife Award. The Express Ranches Great American Cowboy Award went to Bill Anton for his oil, Winding Down; Blair Buswell won the James Earle Fraser Sculpture Award; and the Frederic Remington Painting Award was granted to Terri Kelly Moyers of Santa Fe, New Mexico.
As the National Cowboy Museum's primary fundraiser, all proceeds benefit the museum directly. Even with the impressive sales total for the opening weekend, many works are still available for purchase via the online catalog or at the museum. The show runs through August 7, 2011.
---
Bonhams & Butterfields Fine Native American Art Sale | June 6, 2011
Bonhams & Butterfields Fine Native American Art sale garnered impressive results, with sales bringing more than $2 million. Leading the auction were important pieces from the Northwest Coast areas of the United States and Canada, namely from the Muchnick-Milliren Collection of some 50 works of art, mostly antique, but contemporary as well.
Top lots from the collection included a Tlingit bird effigy bowl, which sold for $158,000, carved in bold relief, depicting a raptor, with its beak and wings projecting strongly and its tail feathers jutting from a second totemic face; and a Tsimshian raven rattle, which sold for $91,500, featuring a raven figure with a humanoid, frog and kingfisher in full relief at the top and a hawk face on the underside, that clutches a "box of daylight" in its beak. Additional Muchnick-Milliren Collection highlights included a Tlingit fish club, likely used for ceremonial purposes, which sold for $48,800; a Tlingit raven rattle, which sold for $46,360; a Tlingit soapberry spoon, featuring animal imagery, sold for $46,360; a Tlingit pattern board, used as a pictorial guide for a blanket weaver, from the Andy Warhol collection, sold for $42,700; and a painting by the highly respected Haida artist Robert Davidson, sold for $42,700.
According to Jim Haas, Vice President and Native American Art Director, the sale exceeded the firm's expectations. "In spite of the uncertain economic times, we were pleased to see buyers from across the country and beyond participating in the auction; some for the first time."
Significant 20th-century pottery from the estate of Isadore Samuels of Northern California also led the sale. Highlights included a San Ildefonso lidded blackware jar by Tony Da, which sold for $73,200, and was estimated at $30,000 to $50,000; and a San Ildefonso sgraffito redware bowl, also by Da, that sold for $23,180.
Additional highlights included a colorful, fully-beaded Crow cradle, which fetched $41,480; a rare Navajo pictorial rug circa 1910, attributed to Gle-nuh-pah, depicting a single Yei figure with arms raised, sold for $37,820; a Sioux quilled tobacco bag designed with a pair of thunderbirds on one side, the reverse showing a bighorn sheep, sold for $31,720; Apache artist Allan Houser's signed bronze Reclining Navajo Woman, 1992, sold for $21,960; and a Sioux beaded pictorial vest came in at $21,400.
Also, adding lasting sparkle to the sale was a great selection of jewelry, including several Hopi pieces by Charles Loloma, such as a ring, the interior of its 14-karat gold band inlaid with turquoise, lapis and spondylus shell, which sold for $7,930; a pendant by Loloma of an abstract human figure, in 14-karat gold and inlays of gold, lapis, turquoise and spondylus, sold for $7,320; and another Hopi ring in 14-karat gold, with an unusual multi-arm openwork bezel accented by small circular cavities and supporting an emerald-cut smokey citrine quartz, sold for $4,880.
There was also a significant offering of turquoise and silver Navajo bracelets and other jewelry from the collection of Everett and Martha Thomas, Southern California. Compiled throughout a 30-year period, the collection included approximately 150 pieces of mostly pre-1940s jewelry. Top lots from that collection — all featuring turquoise — included a Zuni fetish necklace, which sold for $7,320; a Navajo bracelet sold for $3,660; a set of four Navajo bracelets sold for $3,416; and a set of three Navajo bracelets sold for $3,050.
---
The Clymer Art Auction, Exhibit and Gala | May 20 – 21, 2011
Celebrating the 20th anniversary of the Clymer Museum and Gallery of Art, this event assembled a great roster of artists to honor the life and work of John Ford Clymer. Many of the exhibiting artists knew Clymer and are familiar with his long and diverse career.
The mix of traditional and contemporary works from a list of living artists read like a who's-who of the West, including Buckeye Blake, Donna Howell-Sickles, Rocky Hawkins and Oleg Stavrowsky. Additionally, relative newcomers with a bright future, such as Teal Blake and Cheyenne Hawkins, showed next to veteran artists. The auction drew 100 patrons to the event at Swift Water Cellars and raised $60,000 for the Clymer Museum and Gallery
"We were so pleased with this event," said Mia Merendino, director and curator at the Clymer Museum and Gallery. "Every year, we hope to showcase a significant work of Clymer's for this event, one that is not in our collection, but that his patrons will have the privilege of viewing and possibly owning."
This year, the heralded Clymer original did not sell for the estimated $50,000, but 32 of the 40 works offered did, marking a positive start for the inaugural sale. Live auction highlights included Brett Smith's Challenge in Fall, which sold for $12,000.
As a first year event, Merendino was cautious about pricing, noting a small number of lots with minimal reserves and small dimensions. Artwork was chosen on the basis of the diversity from contemporary artists who painted in areas that Clymer painted. Clymer's best-known works are of the settling of the Western Frontier and many of the show's pieces depicted similar subject matter.
Awards were granted at the evening's event, including The John and Doris Clymer Legacy award to Brett Smith. The Clymer Wildlife Award went to Sarah Lynn St. Claire for Shore Patrol; She Loves Their Stories, by Laurie Stevens, won the People's Choice Award.
All of these artists were honored to be invited, and were familiar with Clymer's work. The event celebrated a 20-year anniversary for the Clymer Museum and also launched a new tradition. The intention is to raise visibility and funds for the Clymer Museum, which houses the largest collection of John Clymer's work.
"We need to broaden his base of appreciators. We are in acquisition mode at the museum. In fact, we acquired three Clymers in the last year," noted Merendino.
With hopes of establishing Ellensburg, Washington, as an art destination similar to Great Falls, Montana's C.M. Russell Museum's Western Art Week, The Clymer Museum sale events were staggered to accommodate the Western Art Association 39th National Art Show and Auction, which was held May 20 – 22, but could not be reached for results at press time. This longstanding event has historically featured the work of Clymer, along with many other talented artists, drawing collectors from across the country to this Northwestern town. Claiming to be the second longest-running Western art show in the country, the Western Art Association National Art Show and Auction includes painting, sculpture, woodcarving, photography, stained glass, jewelry, pottery and etchings.
---
Rendezvous: Artists' Retrospective Exhibition and Art Sale | April 15, 2011
Showcasing the works of Curt Walters and Veryl Goodnight for the Gilcrease Museum's annual Rendezvous: Artists' Retrospective Exhibition and Art Sale, the 2011 event proved to be a great success. The invitation-only gala drew 300 prospective buyers and patrons to view the retrospective works of two important American artists. The audience responded tremendously by making purchases in the fixed-price box draw; the sell-through rate was 62 percent. Overall sales were up by 10 percent over last year's event, according to Linda Galbraith, a representative of the Gilcrease.
"It was a wonderful show, Curt and Veryl are so talented and so many people supported these artists," said Galbraith.
Highlights of the sale included Walters' Mercurial Sun of January oil, 40 by 40 inches, which sold for $40,000. Both artists donated works to the Gilcrease's permanent collection: Curt Walters gifted Winter's Levity, a 50- by 80-inch oil on canvas and Veryl Goodnight contributed High Country Summer – Life, a 44- by 38- by 12-inch bronze.During the opening weekend, plein air Impressionist artist Walters, this year's selected Rendezvous painter, led a three-day oil painting experience for working artists. Walters is recognized worldwide for his interpretations of the Grand Canyon and among environmentalists for his contribution to fighting the effects of air pollution throughout the entire Colorado Plateau. Additionally, Goodnight demonstrated the process she uses to construct the head of a horse using molds, and a live model illustrated her discussion.
The exhibit continues through July 10, 2011. Works not sold at the opening night art sale will be available for purchase throughout the exhibition by calling the Museum Shop at 918.596.2725.
---
Cattlemen's Western Art Show and Sale | April 8 – 10, 2011
Brisk sales and strong attendance launched the 21st annual Cattlemen's Western Art Show and Sale.
"Those who attended the artist reception on Friday evening were treated to an evening of great wine, hors d'oeuvres and artistic talent unequalled on the Central Coast," said organizer Dee Pellandini.
The show drew 60 Western artists from across the region, including Bob Coronado, Karen Cooper and Craig Bergsgaard, among many others. The People's Choice award winner was Glynnis Miller, with honorable mention going to Cali Roberson as runner up. Artists' Choice award went to sculptor Joe Eggert.
---
Bonhams & Butterfields California and Western Paintings & Sculpture | April 6, 2011
This sale offered a wide array of important 19th-century landscapes, Western scenes, Impressionist and Modernist compositions, including Joseph Kleitsch's rare-to-market still life entitled, Highlights, which brought $506,000 to the sale. The event totaled $2,789,506 in overall sales.
Following Highlights, the second-highest price paid was for Pink and white roses in vases on a table, by Franz A. Bischoff; estimated between $70,000 to $100,000, it sold for $152,000. Throughout the sale California Impressionist works by Albert Bierstadt, William Ritschel and E. Charlton Fortune sold well, among others.
The standouts from the selection of Western paintings included works by Ernest Martin Hennings and Maynard Dixon. Lots by contemporary painters Russell Chatham and Theodore Waddell also contributed to the successful sale.
---
Scottsdale Art Auction | April 2, 2011
Shattering all of its previous sale records and setting the pace for the spring auction season, there was plenty of excitement for collectors at Scottsdale Art Auction's 2011 Sale, which tallied more than $15 million. The top lot, Thomas Moran's oil, Indian Summer, Green River, Wyoming, estimated at $3,500,000 to $5,500,000, saw plenty of action before the hammer came down at $4,159,000 to a buyer in the room. Starting with five bidders, including several museums, they kept the war going up to the $3 million mark. Four continued on until the winning bid was announced. The sought-after Moran went to a private collector.
With a broad spectrum of Western art offered, favorites Remington and Russell didn't disappoint their fans. Two of Frederic Remington's 27- by 40-inch oils, Pretty Mother of the Night—White Otter is No Longer a Boy, estimated at $1,500,000 to $2,500,000, brought $1,583,000; and The Wolves Sniffed Along the Trail but Came No Nearer, estimated at $800,000 to $1,200,000, reached $1,471,000.
Charles M. Russell's 20- by 30-inch watercolor, Turning the Leader, estimated at $150,000 to $250,000, hammered down for a whopping $460,000.
Contemporary favorites included G. Harvey, whose painting, Mountain Mist, estimated at $50,000 to $75,000, drew $103,500. Youngster Kyle Polzen, at 37, set a record when his painting Back at the Bunkhouse, estimated at $7,000 to $10,000, sold for more than twice its high estimate, at $23,000.
This year's auction experienced a sell-through of more than 86 percent of its lots for a total of $15,250,000, with follow-up sales bringing the total well above the $15.4 million mark, making it the leader of Western art auctions. Brad and Jinger Richardson attributed the success to the strong selection of lots offered and to the fact that some rare-to-market historic Western art works were available.