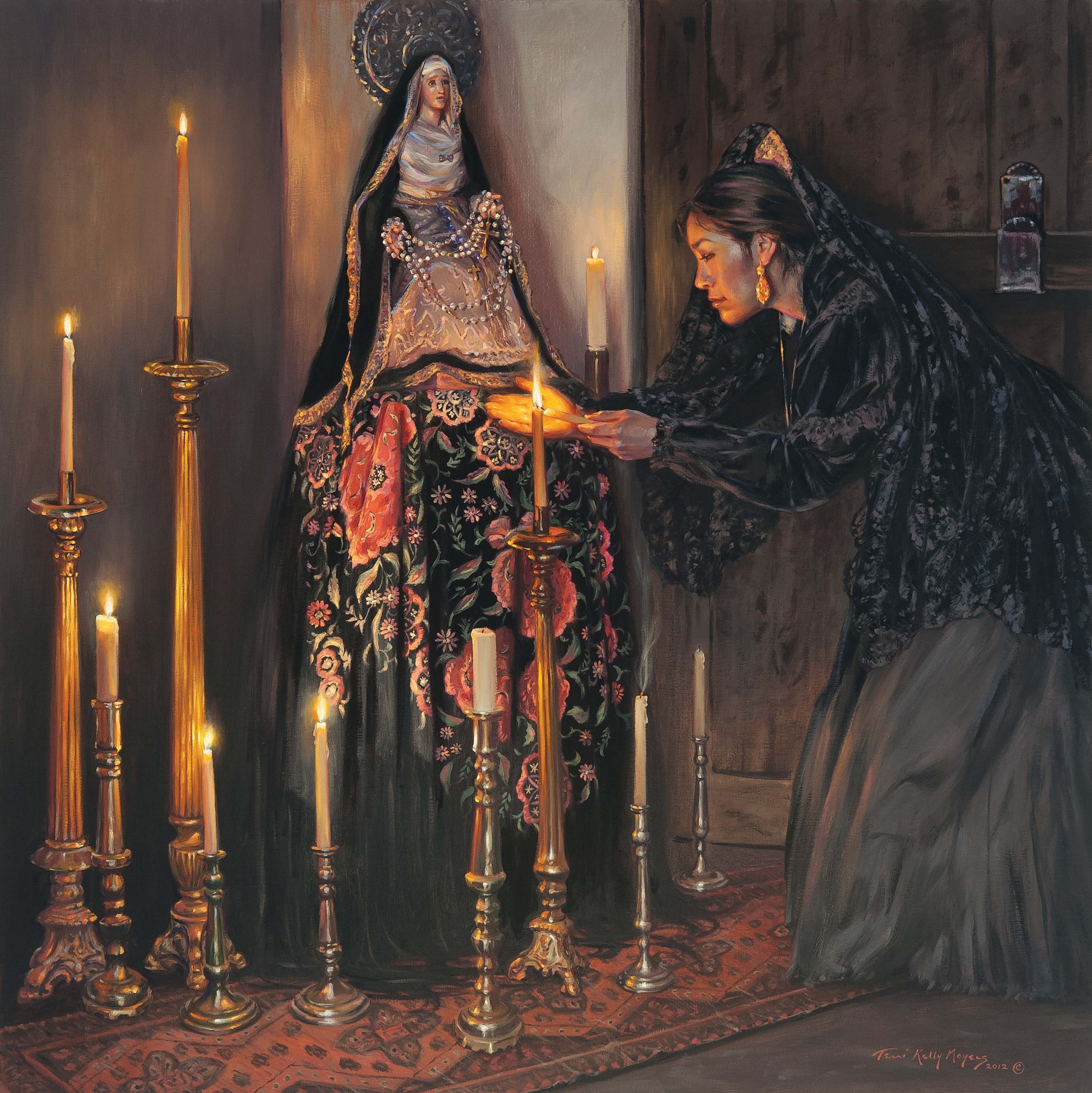 Prix de West Purchase Award | Terri Kelly Moyers | "La Luz de Fe" | Oil | 48 x 48 inches
04 Aug

Auction Block: Collector's Choice
---
Launching the summer season, regional museum events and focused auctions posted healthy sales and signaled a market that is ripe for the collector's choice.
The lagging economy still seems to be hanging heavy on the art world. In some cases that means sluggish sales, in others that means rare, high-quality works are being pushed onto the market by collectors who are interested in gaining some liquidity during this period of financial transition. Likewise, the pressures of extended and relatively uncertain economic times have left some collectors cautious, yet still ready to spend for a special piece of fine art. For this reason, the miniatures market is thriving and many museum events continue to survive, even as new venues gain a following throughout the U.S.
---
20th Annual Eiteljorg Museum Indian Market and Festival
June 22, 2012
Celebrating 20 years of Indian Market in Indianapolis, Indiana, at the Eiteljorg Museum a team of nationally known judges awarded more than $26,000 within 10 divisions of fine art and traditional medium. One of the largest juried sales and shows of Native American art, the event is a full cultural experience that showcases authentic foods, performance art, demonstrations and family activities for the community.
But at the center of all the festivities is the artwork and artists. This year Cherish Parrish (Gun Lake Band) received the Best of Show award for The Next Generation II, a remarkable example of traditional weaving technique. Other major awards included The Helen Cox Kersting Award; this year's winner is Jason Garcia (Santa Clara Pueblo) for Corn Maiden #8, it is given to an artist whose work exemplifies the highest quality of execution and innovation within a traditional medium. Additionally, the Harrison Eiteljorg Purchase Award went to Todd Bordeaux's (Sicangu-Lakota) Fertility Blessing and to Charlene Holy Bear (Standing Rock Sioux) for The Shawl. Both pieces will be added to the museum's permanent collection.
---
Brian Lebel's Old West Show & Auction
June 22 – 24, 2012
This year's Old West Auction in Denver proved that the public still loves Roy and Dale; the Western art and collectibles market continues to improve; and great items will always do well.
The 381-lot auction, which included items from the Roy Rogers – Dale Evans Museum, did $1.5 million in total sales, more than the previous year's auction of more than 500 lots. The top lot was Roy Rogers' first gun rig, a Gilmore with Colt single actions, which brought $103,500, well above the $30,000 – $40,000 estimate. The matching spurs sold for $20,700. Roy's ornate Nudie's rig and matching spurs sold for $97,750 and $18,400 respectively. The famous Clark Gable Model 12 Winchester brought $71,300.
Reporting a remarkable 95-percent sales rate, Lebel noted that the Roy Rogers Museum pieces covered 35 percent of that. Additionally, a small pen-and-ink by Charlie Russell sold for more than twice the estimate, at $9,775, and a contemporar y oil by Eric Michaels brought $17,250. Native American artifacts also did well, including a Sioux beaded cradle cover for $9,775, and a Woodlands pipe and stem at $4,025, both firmly exceeding estimates. Cowgirls were present as always, with the proceeds of three lots totaling more than $6,400 being donated to the acquisition fund of the National Cowgirl Museum and Hall of Fame. Queen of the West, Dale Evans' gun rig and pearl-handle Colt brought a respectable $17,250.
"There is an excitement in the collecting field right now; collectors feel it is a good time to buy," said Lebel.
The accompanying three-day Old West Show supported his theory. "Dealers that brought rare, fresh and unusual items did very well, and total sales of six figures were not uncommon." Contemporary spurs, bits and saddles did well at both the show and auction, indicating the buying public's continued appreciation for high quality, contemporary artisans.
This was the Old West Show & Auction's second year in Denver after 19 years in Cody. Bidding was spirited on the crowded floor, six phones and two Internet platforms, and remained that way until the very end of the evening, when the final lot created an exciting bidding war. Lot 381, a framed print (a likeness of Roy tipping his hat) that for years hung at the exit to the museum, went up for bid with no estimate. When the dust settled, it sold for $14,950.
---
Prix de West Invitational Art Exhibition and Sale — National Cowboy & Western Heritage Museum
June 8 – 10, 2012
Marking its 39th anniversary, the prestigious Prix de West Invitational Art Exhibition and Sale, hosted by the National Cowboy & Western Heritage Museum in Oklahoma City, opened with a gala event that drew more than 1,000 guests. Sales for the weekend topped $3.25 million, with a portion of sales benefitting the museum's programs and operations.
Representing a wide diversity of styles, invited artists offered works that reflect the early days of the West to more contemporary and impressionistic works of art. Landscapes, wildlife and illustrative scenes remained a popular highlight of the exhibit.
The Prix de West Purchase Award crowned the open- ing night ceremony at the event, honoring artist Terri Kelly
Moyers for her piece, La Luz de Fe, which will become part of the prestigious museum's per- manent collection. Moyers is only the second female to be granted with the award. The first was Bettina Steinke, who won in 1978.
Additional awards recognized works of note at the show. George Carlson's Stillness in Moonlight, Winter Season and Lone Pine won the Robert Lougheed Memorial Award, voted by Prix de West buyers for their favorite display of three or more works they most admire. For the Nona Jean Hulsey Rumsey Buyers' Choice Award, Doug Hyde's bronze, People of the Red Tail Hawk, was chosen as the work that best exemplifies the mis- sion of the National Cowboy Museum. Other awards were presented to John Moyers, Richard Loffler, Walt Gonske and Ross Matteson.
The 351 sculpture and painting works will be on display until August 5.
---
Bonhams Native American Art Auction
June 4, 2012
Representing rare art and artifacts from Native American tribes across the country, Bonhams reported a notable showing of collectors' interests recently in San Francisco.
With a sale total of $1,456,776 for approximately 500 lots from three separate auctions, James Haas, Bonhams' vice president and Native American art director, was pleased with the results. "In spite of the obvious belt-tightening seen amongst both dealers and collectors, it was heartening to see the strength of interest in some of the fine and rare examples of Native art we are privileged to handle," he noted.
---
Icons of the West
May 29, 2012
Dudley Dana spent Memorial Day weekend working 12-hour days, painting the walls of his gallery and arranging 120 pieces of art in preparation for the second annual Icons of the West show in downtown Missoula, Montana.
The summer exhibit, on display at the Dana Gallery through July 10, invited artists to create unique interpretations of Western icons to reveal visions of the West, past and present. The nationally advertised show drew 234 submissions, which were narrowed down by a jury to 120 entrants who competed for $25,000 in prizes.
Dana suspected he'd see paintings of bison, grizzly bears, cowboys and horses, but was surprised by images of oil wells, prostitutes and Apple computers as artists liberally interpreted "Icons of the West" with unique vision.
The Best of Show award was granted to newcomer Julie Chaffee, of Missoula, whose painting titled Woman Kills Two Geese With One Shot received the $5,000 grand prize. Additionally, the Southwest Art Award of Excellence went to Jeff Ham for Mislabeled; Kevin Red Star garnered the Big Sky Journal Award of Excellence; the Western Art & Architecture Award of Excellence went to Wanda Choate; and the Western Art Collector Award of Excellence was granted to Caleb Meyer.
---
Phippen Museum Western Art Show and Sale
May 26 – 28, 2012
More than 100 artists gathered at the Phippen in Prescott, Arizona, for a successful art show, miniatures sale and live art auction at the 38th annual Western Art Show and Sale. The visual feast brings artists from around the country together for this juried art show that is also highlighted with exciting quick-draw art demonstrations; free admission to the artist' exhibit; and a gala evening affair honoring the artists. Final results of the event were not available at press time.
---
Clymer Art Auction
May 18 – 19, 2012
For the second year in a row the Clymer Art Auction was held at Swiftwater Cellars, near Ellensburg, Washington, as a fundraiser for the local Clymer Museum. The weekend event was well attended. However, museum director Mia Merendino noted that total sales did not match last year's numbers, with only a 68 percent sell-through rate. A significant painting by John Clymer, Spring Freshet, sold for $5,000, depicting a local scene painted for his wife, Doris. Friday night's quick draw event attracted a crowd of more than 100 patrons, with eight artists creating quick draws and a big crowd. Western artist Gary Lynn Roberts' works drew premier prices at the show; his was the top quick-draw sale at $1,500, and his auction work, Colors of Fall, sold for the estimated $4,000 – $5,000 range.
"We plan to host the auction again next year with a few new wrinkles, and online bidding," concluded museum director Mia Merendino.
---
40th Annual Ellensburg Art Show and Sale
May 18 – 19, 2012
To honor the 40th year, on April 22, the Western Art Association hosted a reception at the gallery in Ellensburg, Washington, to honor past members and volunteers who have kept the organization growing for the past four decades. Executive director Joanne Wise reported Friday's quick draw and successive auction were a success. Eight artists participated in the quick draw and auctioned paintings created on site.
On Saturday approximately 200 people attended the art show, and artists reported exceptionally good sales. Of the 63 artists who participated, the Best of Show award, voted on by all the artists, for oils was given to Karen Boylan for First Day of School; for watercolor and acrylic to Dave Bartholet's Big Blue; for sculpture to Stephen Fair; for other media to Pattie Reid; and the John Clymer Award, presented by the Clymer Museum, also went to Stephen Fair. Finally, the People's Choice Award was given to Robert Walton for Late Evening Blue.
---
Sotheby's American Art Sale
May 17, 2012
The New York auction featured a superb selection of Western art by Frederic Remington, Charles M. Russell, William Robinson Leigh and Hermon MacNeil, along with notable Impressionist, 19th century, Modern and Western paintings, drawings and sculpture. Sotheby's total of $34.7 million was a significant sale this year.
Two major works led the American Art Sale from two iconic American artists: Edward Hopper's Bridle Path, 1939, being sold by the San Francisco Museum of Modern Art to benefit the acquisitions program (which exceeded its pre-sale high estimate of $7 million and sold for $10,386,500); and George Bellows' Tennis at Newport, 1920, from a distinguished American collection that realized its $7 million high point.
Also of note was the impressive sale of Frederic Remington's fireside scene, A Halt in the Wilderness, which drew well above its estimated $800,000 – $1,200,00, for a final gavel price of $2.7 million. A trio of C.M. Russell paintings did well on the block, as did many others.
---
Sotheby's American Indian Art Sale
May 17, 2012
An impressive report of $3.2 million in sales for rare and important American Indian Art was encouraging this spring in New York. Displaying a diverse range of works from tribes of the Northwest Coast, Eskimo, Southwest, Plains, Great Lakes and Eastern Woodlands, the American Indian Sale included masks, figurative sculpture, amulets, rattles, pipes, basketry, textiles, pottery, functional objects such as cradles, clothing and weaponry. There was an emphasis on historic material from the 18th and 19th centuries.
Highlights included an important Nez Perce beaded and fringed hide war shirt, which sold for $482,500. A Naskapi painted hide hunting coat, made in the style of an 18th-century riding coat, drew a healthy $278,500 price, while a Haida Polychrome Wood Doll escalated in spirited bidding to surpass its $50,000 – $80,000 estimate with a thrilling hammer price of $254,500, with buyer's premium.
---
MAC Art Auction
April 21, 2012
Reports of success rang through the historic Davenport Hotel in Spokane, Washington, as Rebecca Bishop, of Northwest Museum of Arts & Culture, reported total sales that topped last year's success. More than 200 supporters gathered for a quick draw, formal dinner, live auction and music this spring.
This year's Patron's Choice Award went to contemporary artist Lila Girvin for her piece, Be Ready for Rain. The live auction included a range of genres, from classic Western painting to bronze sculpture, to photography and clay, with works from James Moore, Todd Connor, Stephen Shortridge, Jim Wilcox, Joe Kronenburg, Tim Sullivan and many others. Proceeds from the event benefit the Northwest Museum of Arts and Culture.