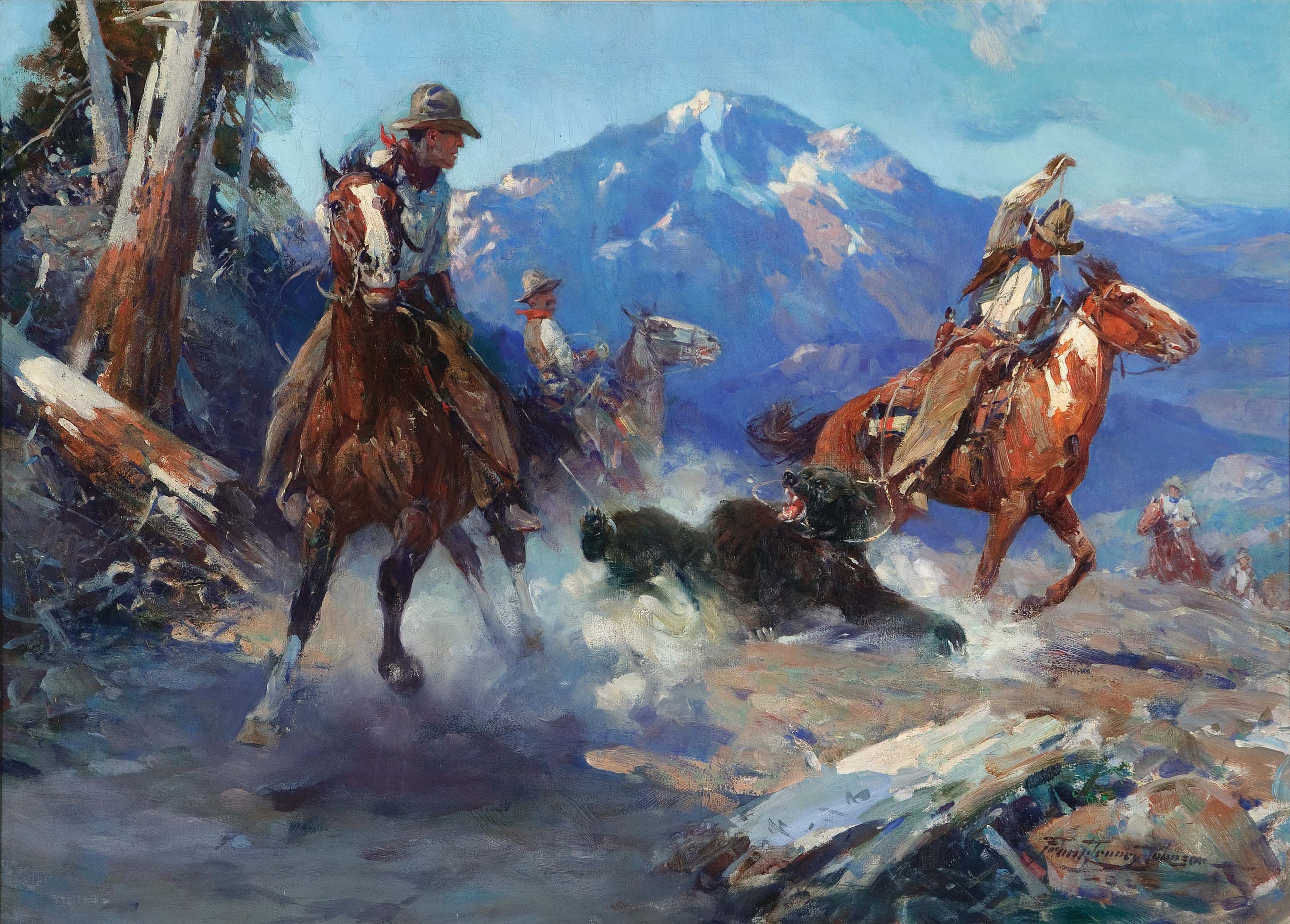 Coeur D'alene Art Auction | Frank Tenney Johnson [1874-1939] | "Cowboys Roping the Bear" | Sold at Auction: $921,000
19 Oct

Auction Block: Collector's Choice
---
This summer art events proved to be destination attractions. Experienced collectors and emerging art lovers traveled from far and wide to attend auctions, sales, festivals, quick draws and fundraisers around the Western U.S.
Specifically, the annual Coeur d'Alene Art Auction was a benchmark for the art market at large, with a refreshing report of $17.9 million in total sales. Yet other events in New Mexico, Colorado and Montana all reported encouraging attendance and healthy results. The strength of the past eight months reinforces facts found in a recently updated study on the arts and their effects on the American economy. The study, Arts and Economic Prosperity IV, was released in 2012, stating that the U.S. arts industry generated $135.2 billion in economic activity, according to the nonprofit organization Americans For Arts. That includes performances, exhibits, events and sales. The summer roster of arts events further confirms the report: Even in America's Great Recession, the art world is strong.
---
Western Rendezvous of Art,
August 19 – 21
Helena, Montana, shone during the 34th annual Western Rendezvous of Art. The four-day art gathering featured art shows and auctions, an awards dinner and presentations on artists Newman Myrah, O.C. Seltzer and Charlie Russell. Net sales for the event totaled $198,400, a portion of which goes to Montana Historical Society, the event sponsor, for art acquisitions that will add to the permanent collection and education programs.
The popular Quick Draw event drew 425 attendees and also garnered national press coverage, said Susan Near, development and marketing officer for the Montana Historical Society. In an interview with the Helena Independent Record, she noted that attendance was on par with previous years, but that half of the guests were newcomers representing 17 different states and Switzerland.
This year 45 artists from around the country participated in Western Rendezvous, including guest artists John Coleman, Brent Cotton, Robert Lemler, P.A. Nisbet, John Potter, Jesse Powell, Roseta Santiago and Greg Scheibel. Awards were granted at the event as well. Montana artist Bye Bitney was honored with the Ben Stahl Award, voted on by all of the participating artists, for the best collection of work presented at the annual show and sale.
Matt Smith won the first Jean Baucus Western Rendezvous of Art Quick Draw Award for work depicting a feature of the Sieben Ranch where the Quick Draw event was held. Tony Hochstetler won the John Scott People's Choice Award, voted on by the patrons of the show, for his sculpture, Blue Heron. Montana artist Brent Cotton received the People's Choice Award for his landscape, Blue Willow. Additionally, the MHS acquired a new work, The Red Sled, by the Legacy Award winner Ralph Oberg of Montrose, Colorado, for the museum's permanent collection.
Awards of Merit, also voted on by the Western Rendezvous artists, included: Tom Saubert, for North of the Little Blackfoot (which also won the Joe Halko Heritage Award); Matt Smith, Scottsdale, Arizona, for Shadow Lake; Brent Cotton for Blue Willow; Huihan Liu, Kensington, California, for Summer Crossing; and Grant Redden, Evanston, Wyoming, for Horse Power.
Next year's Western Rendezvous of Art will be held August 22 to 25. For more information, visit www. westrendart.org.
---
SWAIA Indian Market,
August 18, 2012
Anchoring the celebration of the 91st annual SWAIA Santa Fe Indian Market, the event hosted the Best of Show Ceremony and preview of award-winning art. Held on the eve of the Indian Market, the event launches the largest sale and festival of Indian art in North America. Each year one work of art is selected from hundreds of submissions to be named the winner of Best of Show. This year's award was granted to Jamie Okuma for her quillwork doll, depicting a turn-of-the-century Lakota woman cradling her baby with vivid expression and meticulous craftsmanship. It was Okuma's third time winning the prestigious award.
Other awards in a variety of traditional and contemporary categories were given as well. For Best Jewelry, Vernon Haskie; Best Pottery, Lisa Holt and Harlan Reano. In the category of Paintings, Drawings, Graphics and Photography, Angela Babby; Best Wooden Pueblo Figurative Carvings and Sculpture, Arthur Holmes; Best Sculpture, Amelia Joe-Chandler; Best Textiles, Lola Cody; Best Diverse Art Forms, Kevin Pourier; Best Bead Work and Quill Work, Jamie Okuma; Best Moving Images, Yves Sioui-Durand; Best Basketry, Kathryn Kooyahoema; and in the overall youth category (17 years and under), Valerie Calabaza. SWAIA granted in excess of $100,000 in prize money and acknowledged the works of members from more than 100 different North American tribes.
Additionally, two-dozen Native artists' works were auctioned at the gala event, held on Saturday, Aug. 19th at the La Fonda on the Plaza hotel. Works ranged from the pottery of Jody Naranjo (Santa Clara Pueblo) to the painting of Nocona Burgess (Comanche). The artists donated all live auction items, with 100 percent of the proceeds benefiting SWAIA.
---
Auction in Santa Fe,
August 11 – 12, 2012
Growing attention for the Auction in Santa Fe, from Manitou Auctions, showed clearly in the numbers. The 8th annual event boasted $1.25 million over the two-day sale, held August 11 and 12 at the Hilton Hotel in Santa Fe. Acknowledging the investment opportunities found in art and collectibles, nearly 500 collectors boosted the sales through live attendance, absentee, telephone and online bidding.
Held annually prior to Indian Market week, art high-lights included Ray Swanson's Out With Mama's Flock, which fetched $43,125, and Rushing To Trade, by Alfredo Rodriguez, selling for $14,950. Cowboy and Indian artifacts fared as well, with a Frankie Paul silver saddle selling for $20,125; a Sioux cradleboard selling for $19,500; a Scout Shirt for $16,100; and a Two Grey Hills weaving fetching $14,950. A Santee Sioux beaded quiver brought nearly three times its estimate, commanding $12,650 as it crossed the block. Additionally, the Kit Carson and Meyers Family collection items received widespread national attention and brought more than $100,000, with the Model 1816 flintlock pistol selling for $17,250 and U.S. Army sabre for $11,500. The strong sales are a testament to buyer confidence in quality fine art and collectibles.
---
Coeur d'Alene Art Auction,
July 21, 2012
Bidding was lively with more than 600 bidders gathered from around the country at the Grand Exposition Hall at the Silver Legacy Resort in Reno, Nevada, for the 28th annual Coeur d'Alene Art Auction. Considered the premier sale of its kind in the country for classic and contemporary Western, wildlife and sporting art, the Coeur d'Alene Art Auction has become the seasonal standard by which the strength of this particular market is measured. This year did not disappoint, as sales soared to just under $18 million, with 93 percent of all items sold (or 7-percent buy-in rate).
Among the highlights was an extraordinary war shirt worn by Chief Joseph of the Nez Perce tribe when he made his famous "From where the sun now stands, I will fight no more forever" speech. He spoke those famous words in 1877, after surrendering to U.S. troops at the end of an epic 1,170-mile journey from Oregon to Montana. Considered to be one of the most important Native American artifacts in existence, the war shirt was sold to an anonymous bidder on the telephone for $877,500.
Other top lots included a dramatic scene, by Frank Tenney Johnson, of cowboys lassoing a grizzly bear, which far exceeded its high estimate, selling for $994,500 to a noted collector in the audience. Also of interest was a rare number-one bronze casting entitled Chief Black Bird, Oglalla Sioux, by Adolph Weinman, which brought a new auction record of $304,200. Strong results were also put in by Albert Bierstadt, with a luminous painting from 1887, entitled Sunset Over the Plains or Deer in a Sunset Landscape, which sold within its estimate for $514,800. Bidding intensified over a fresh-to-the-market painting by Russian ex-pat artist Nicolai Fechin, whose portrait of a young Indian girl in front of Taos Pueblo, entitled Lolita, exceeded its high estimate, selling for $555,750.
Records were also set across the board for an important single-owner group of 21 watercolors and drawings by Edward Borein from the collection of Sue and Ted Dalzell, proving once again the strength of a fresh-to-the-market collection, in good condition with realistic estimates. Strong results were also realized by a number of contemporary Western artists, led by Howard Terpning, whose dramatic painting from 1988 of Comanche warriors, entitled Scout's Report, approached record territory, selling for $994,500.
---
31st Annual Calgary Stampede Western Art Showcase,
July 12, 2012
Celebrating a century for the iconic Calgary Stampede, 90 original pieces were showcased in the 31st annual Western Art Showcase. Including significant work from artists C.R. Cheek, Harley Brown and Jack King, the Western Showcase was, as always, a highlight for Western art lovers at the Calgary Stampede. The 2012 Outstanding Artist Achievement and the Spirit of 1912 Awards were presented to Michelle Grant for her painting Blast From The Past. The event drew more than 100,000 visitors who attended quick draws, art shows and studio exhibits, in addition to rodeos and stock shows.
---
Brian Lebel's Denver Old West Auction,
June 23, 2012
The evening auction opened to a standing-room-only crowd of more than 350 people. The sale overall realized in excess of $1.5 million with a sales rate topping 92 percent.
An original 1881 reward poster for the arrest of Frank and Jesse James was among the highlights at Brian Lebel's notable 2012 Denver Old West Auction, causing a spirited bidding war between a phone bidder and a floor bidder, before ultimately selling for $56,050 over the phone. Also a bidding buzz swarmed over the rare cabinet card photo of Black Bart, which sold for $48,875.
As is customary for Lebel's auction, Old West artifacts were among the top sellers throughout the night. An extremely rare Buffalo Bill's Wild West parade flag sold on the floor for $46,000 to the National Cowgirl Hall of Fame. The Parker shotgun belonging to Frank Butler brought an impressive $37,375. A relic revolver, embedded in a chunk of wood from the tree that grew around it, ultimately brought $10,925 in a bidding war that encompassed floor, phone, internet and absentee bidders. Badges also did extremely well, with a Pueblo, Colorado Marshal badge realizing $19,550 and a Texas Ranger presentation badge selling for $25,875.
The top seller of the night was Edward Borein's watercolor, Charros in Mission Courtyard, which brought $80,500 after a phone and floor bidding war. A pair of original Molesworth club chairs brought $29,500 and $23,600, respectively. Native American artifacts are always good sellers at Lebel's auction, and this year included a Nez Perce pony beaded dress that brought $26,550; a collection of Navajo finery that realized $37,375; and a rare and important ledger drawing by White Bull, of the killing of Custer, that fetched $34,500.
Brian Lebel said of the sale overall, "As is always true, great items brought great prices. The Western collectibles market is made up of some very savvy collectors and dealers, and they will pay what it takes to own the best." As for some items that sold at bargain prices, Lebel stated, "Bargains are an inherent part of what makes auctions so exciting."