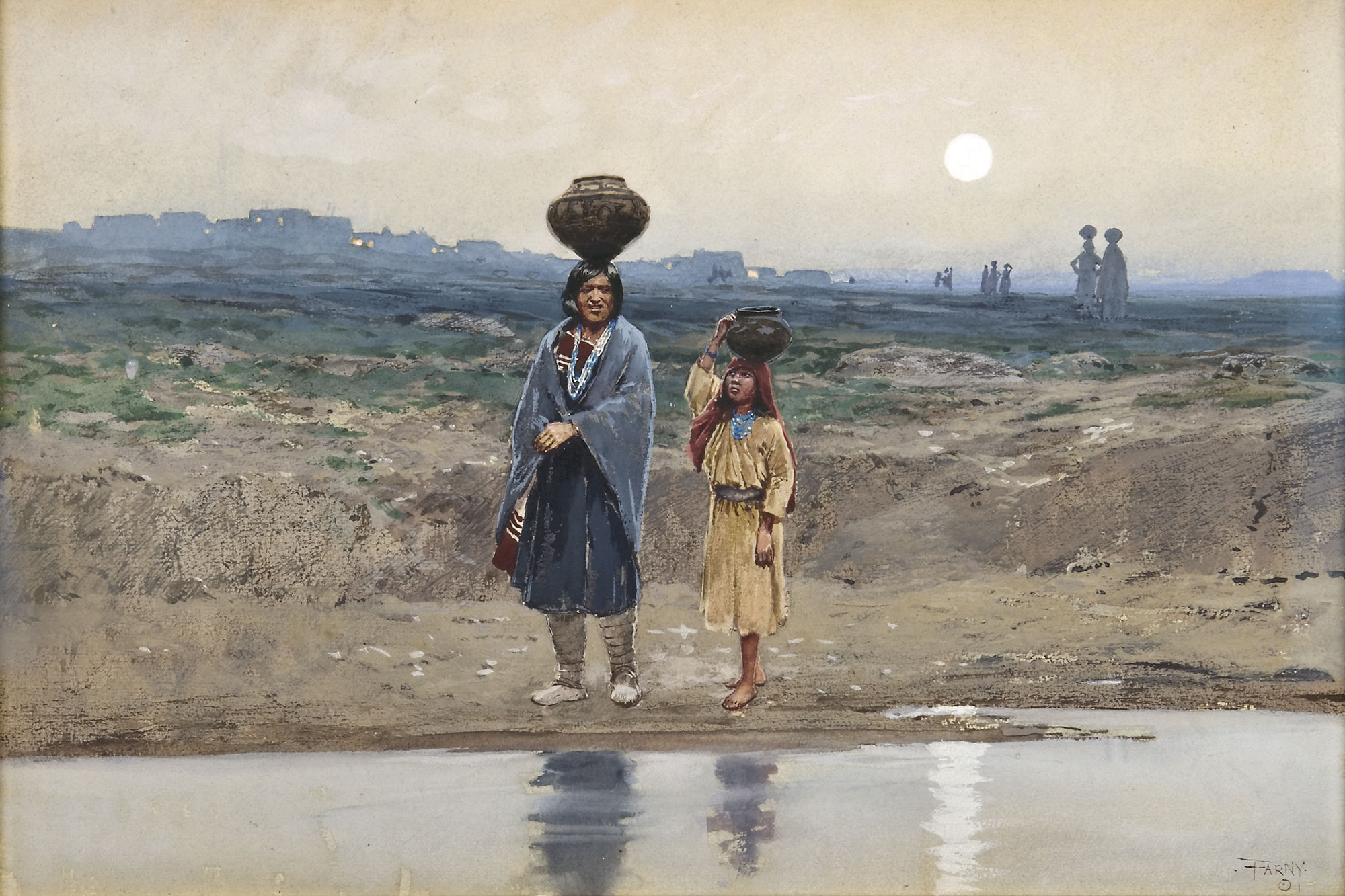 Henry Farny, Fairy Tales | Gouache on Paper | 10 x 14 inches | Sold: $192,000
24 Jul

Auction Block: Gathering Strength
---
While skeptics doubt the nation's economic recovery and worldwide news headlines continue to report financial struggle, the art world shows signs of positive growth. Credit it to a love of beauty or a gambler's penchant for betting against the odds, but numbers in the American art market reflect an increase in sales over last year.
Worldwide, both leading auction houses Christie's and Sotheby's European sales illustrate a buoyant climate with record sales of top-end artists. Records have been set for Manet, Picasso and Giacometti over the last quarter and there are rumblings that collectors are becoming more comfortable spending discretionary income again.
Domestically from coast to coast, art sales and auctions prove that the summer art season continues to improve.
---
Altermann Galleries and Auctions | June 19, 2010
Kicking off the summer season in earnest, Altermann Galleries' June 19th auction in Santa Fe realized $1.6 million in sales. One of the highlights was a small gouache by Henry Farny entitled Fairy Tales, a depiction of the Zuni Pueblo, which realized a healthy $192,000. Joseph Henry Sharp's oil painting Rendezvous for the Rabbit Hunt brought $201,000. Gerard Delano's depiction of Navajo sheepherders, Family Affair, exceeded its high estimate by ending up at $34,800.
In the wildlife category, Rembrandt Bugatti led the pack with his bronze sculpture, Les Deux Chacals, depicting a pair of African wild dogs, reaching $138,000. Top-ranking contemporary Western artists produced excellent results. James Bama's oil, Shoshone Chief, sold for $67,200, and his watercolor, Zandra Apple Sioux, brought $48,000. Roy Andersen's magnificent oil portrait, The One Called Braveheart, was hammered down at $42,000, including the buyer's premium. Arnold Friberg, an artist whose work seldom comes to the market, had his oil painting, Glimpse of Geronimo, sell for $51,000.
Master of Western action paintings, Frank McCarthy, had three offerings and all sold, with the top lot being Along the Rim, which brought a very strong $60,000. In the non-Western category, G. Harvey had three paintings and a bronze that performed well. One of the top crowd pleasers was Bowl of Oats, by Morgan Weistling, that brought $24,000. Two of Texas' best-known landscapes surpassed presale estimates and approached near-record prices of $31,200 for Porfirio Salinas' Hill Country Bluebonnets, and $25,200 for Robert Woods' Hill Country Bluebonnets.
"We are pleased with the continued improvement in the art market," commented Richard Altermann. "Our two auctions so far this year have exceeded last year's same date events. It's very encouraging for all of us, and that includes dealers, collectors and artists."
---
Prix de West Invitational Art Exhibition & Sale | June 17, 2010
Excitement was in the air as families came to Oklahoma City's National Cowboy and Western Heritage Museum to pick out their favorite piece of art in the 37th Annual Prix de West Invitational Art Exhibit and Sale. Grandparents and grandchildren as well as moms and dads were seen posing in front of their purchases making this a great family event that grossed an amazing $3.3 million the first evening of sales.
"We were, of course, thrilled with the dollar totals," said museum president Chuck Shroeder. "Having that broad level of excitement among collectors and artists was an important signal for not only the National Cowboy Museum and the Prix de West, but for the Western art world. Our artists brought their best work and collectors enthusiastically responded."
Ohs and ahs were heard as patrons were greeted by Greg Beecham's The Chase, a 30-by-50-inch painting of white wolves, which won the Nona Jean Hulsey Rumsey Buyers' Choice Award as well as the Major General and Mrs. Don D. Pittman Wildlife Art Award. The buzz about The Chase was heard all weekend in comments such as "It's as if it is in 3D" and "It seems as if the wolves could jump right out of that painting."
Christopher Blossom's painting, Sunrise in the Golden Gate; Downeaster Benjamin F. Packard, took the prestigious Prix de West Award, which includes the purchase price plus an additional $5,000 cash prize. The painting becomes a part of the permanent collection of the museum.
George Carlson, known for his sculptural work, took a double prize when his painting, Labyrinth of Space, took the Frederick Remington Award, and again when participating artists voted his three paintings as their favorite body of work, giving him the sought-after Robert Lougheed Memorial Award.
Sculptor Tim Shinabarger of Billings, Montana, was awarded the James Earle Fraser Sculpture Award for his bronze, Clash of Thunder, which he said was one of the most challenging sculptures he has created. This marks the fourth time he has received this award. The Great American Cowboy Award, by the Express Ranch, was bestowed on artist Howard Post of Queen Creek, Arizona, for his oil painting, Working The Remuda. Artist Martin Grelle, always a favorite with Western art collectors, sold his 46-by-58-inch painting, Apsaalooke Foot Soldiers, at a minimum bid sale for $151,800; its wall price was listed at $90,000.
A special tribute at Saturday night's awards banquet honored four Prix de West artists who passed away this year: Morris Rippel, James Reynolds, Pino, and most recently, William F. Reese.
The Prix de West Invitational Art Exhibition runs through September 6, 2010.
---
Los Angeles Modern Auctions (LAMA) Modern Art and Design | May 23, 2010
Opening to a standing-room-only crowd of 300 collectors from all over the globe, LAMA recorded its largest attendance yet and sold a total of $1.67 million. In the 450 lots presented on the auction block were big names, such as Andy Warhol, Francois-Xavier Lalanne, etchings by Damien Hearst, a custom rug by Frank Lloyd Wright and Sam Maloof furniture.
Four pieces that stood out as surprises were the Francois-Xavier Lalanne Monkeys, doubling the low estimate of $100,000, realizing $199,062.50. Three other interesting lots that far exceeded their expectations were the Pipsan Saarinen Swanson Group of Outdoor Furniture realizing $14,700 (est. $3,000 – $5,000), and Charles and Ray Eames' Hang-it-all, realizing $8,575 (est. $2,000 – $3,000).
---
Sotheby's American Paintings, Drawings & Sculpture, New York | May 19, 2010
Reinforcing the place of Western art's cultural importance in American history, the works of Frederic Remington, Nicolai Fechin, Childe Hassam and Charles Schreyvogel were offered alongside significant pieces from Winslow Homer, Mary Cassatt and Marsden Hartley in an auction that totaled $31, 927, 625.
Relatively speaking, this was a slow day at Sotheby's compared to monumental sales in London in June, but the highlight of the event was Georgia O'Keeffe's Black Petunia And White Morning Glory I, which sold well above the high estimate for $4.1 million. A subtle Oregon landscape from Childe Hassam, titled Harney Desert, exceeded the estimated $300,000 at a hammer price of $446,500. An unusual bronze from Frederic Remington, Mountain Man, also topped the high-selling category for the sale with a final price of $1,082,500.
Sotheby's representatives expect continued strong sales for the coming summer and fall season as a result of recent successes.
---
Bonhams and Butterfields Made in California Sale, Los Angeles | May 3, 2010
Heralding the strength of a recently bolstered California art market, this eclectic sale earned more than $1.4 million.
Highlights of the auction included a bronze nude by Robert Graham (est. $40,000–$60,000) that sold for
$97,600;
Ruth Asawa's looped-wire sculpture sold for
$91,500, nearly double the high estimate of $50,000; and an abstract bronze by Guy Dill, (est. $7,000–$9,000) that realized $39,650.
As California's oldest and largest auction house, Bonhams & Butterfields continues to break world-record auction prices for contemporary art. "We offered great work and people responded. We had our highest sell through rate ever," said Holly Sherratt, a specialist in Modern and Contemporary art.
---
20th Annual Cattlemen's Western Art Show, California | March 26–28, 2010
When the results came in they were a testament to record sales and attendance at the 20th Annual Cattlemen's Western Art Show.
Sales revenues were up about 40 percent over 2009 and daily attendance showed about a 50-percent increase, according to estimates. Additionally, the overall quality of artwork at the event was generally considered to be the best ever.
Sculptor Pedro Ramos of Loveland, Colorado, was presented the artists' choice award, a vote of confidence from his fellow exhibiting artists. Attendees selected Laura Talbot of Owens Valley as the People's Choice award winner.
Bob Coronato, who splits his residences between Hulett, Wyoming, and Atascadero, California, was the featured artist. He has been referred to as one of the nation's fastest-rising artists, and the paintings and etchings he exhibited at the show were a popular attraction.
The event was held at the Paso Robles Event Center. Proceeds benefitted the San Luis Obispo Cattlemen's Association's youth agricultural projects.