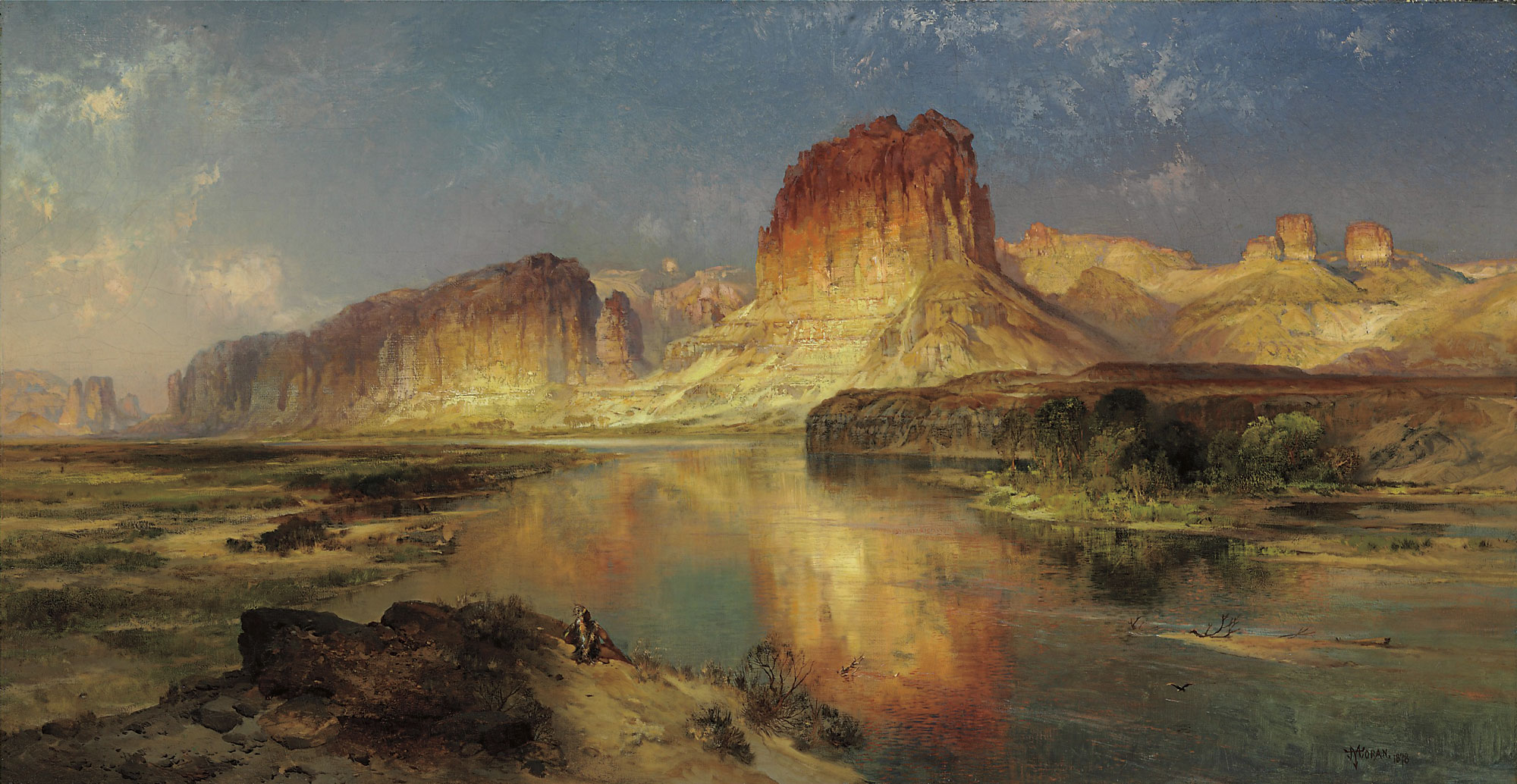 Thomas Moran, "Green River of Wyoming" | Oil on Canvas | Est. $3,500,000-5,000,000 | Sold for $17,700,000 | RECORD FOR THE ARTIST AT AUCTION
24 Jul

Auction Block: Hammering Down
---
Christie's and Sotheby's Set the Pace | May 22, 2008
This spring the Western art world buzzed with anticipation over the high-profile group of American paintings and sculpture up for auction at New York's most prestigious auction houses, Sotheby's and Christie's. The word on the street was that this collection of Russells, Remingtons and Taos painters would be the telltale sign of whether the fine art world would plateau or plummet in flattening economic times.
Surprisingly, against the grain of boom-and-bust patterns in American Economics 101, the Western art world was bolstered after more record sales in New York in May.
Christie's spring sale on May 22 for important American paintings, drawings and sculpture totaled $72.6 million, setting new records across the board.
Eric Widing, head of Christie's American Paintings, called the $17.7 million sale of Thomas Moran's masterwork, Green River, Wyoming, astonishing. "Today the Wild West came to Christie's as we shattered previous records," Widing announced.
Moran's remarkable oil had been estimated at $3.5 to $5 million, and the previous record for a 19th-century American painting was John Singer Sargent's Robert Louis Stevenson and His Wife, that fetched $8.8 million in 2004.
Not to be overlooked for record-breaking totals was the surging American Modernism category, Marsden Hartley's Lighthouse sold at $6.31 million, shattering the previous record for the genre when Georgia O'Keeffe's Calla Lilies with Red Anemone sold for $6.17 million in 2001.
When the hammer came down, the combined sales of Western art from the auction set eight new world records, including works by Albert Bierstadt, Walter Ufer and Joseph Henry Sharp. The success of the renowned Stegall Collection — the most important collection of Taos paintings to appear at auction in more than a decade — totaled $11.22 million on its own.
Adding to the high marks, Sotheby's May 22 auction of American paintings, drawings and sculpture tallied $87,006,200 in total sales for a New York auction that showcased an unprecedented collection of bronzes from cowboy artists including Remington, Russell and Borein, along with an unusual selection of Taos School painters such as J.H. Sharp and Nicolai Fechin. It was the second-highest total ever in the American paintings category.
"We saw great depth in the bidding at the top end, indicating a market that is hungry for high-quality works," said Dara Mitchell, executive vice president and director of the American paintings department. "We were fortunate to offer several estates with property that has not been seen on the market for a very long time."
Most notably, a rare collection of 10 sculptures, eight of which were Frederic Remington bronzes, including The Outlaw, which sold for a realized price of $3,401,000, and the companion, The Wounded Bunkie, for a final of $5,641,000, both going at the high end of their presale estimate, with the latter setting a record for the artist.
The results set a jubilant tone for other shows around the country. Even before the New York events, Arizona's Scottsdale Art Auction showed promising numbers as well.
---
Scottsdale Art Auction | April 5, 2008
In only its fourth year, this burgeoning auction has proved once again that interest in the historic masters and Western contemporary artists is still growing. This year's final sales totaled $9,203,757, an increase of more than $1 million from 2007.
Brad Richardson, of Legacy Gallery in Scottsdale, along with partners Michael Frost, of New York's J.N. Bartfield Galleries, and Jack Morris, Jr., of Morris & Whiteside Galleries in South Carolina, have cultivated a show known for high-quality historic and contemporary Western, sporting and wildlife works.
This year's show made a statement with interesting lots from cowboy artist Frederic Remington that ranged from artist's proofs to uncommon lithographs; a trio of Edward Curtis orotone photos; an array of provocative Howard Terpning oils; and a tranquil still life from Henriette Wyeth, among nearly 300 other impressive lots.
The day's top seller was a 30-by-30-inch oil by E. Martin Hennings titled Autumn Aspen, which sold for a realized price of $701,500. Sporting illustrator Philip R. Goodwin's oil, The Northwood King – Hunting Moose, brought a record-setting $225,500.
Predictably, Terpning's works brought in top prices, but surprise high sellers throughout the show went well beyond estimated amounts. A night street scene by G. Harvey, entitled Old Dallas, Main Street, started at $25,000. When the gavel came down, it sold for $124,700 (realized price). Likewise, The River Bank, an Eanger Irving Couse oil, sold at the high end of its estimate at $191,900; William Acheff's painting, Young Lady Blossom, went for $48,875, and was estimated to sell for between $15,500 and $25,000; and a sweet contemporary oil titled In the Garden, by Morgan Weistling, opened with a bid of $10,000 and sold with a final price of $43,125.
---
Ellensburg National Art Show & Auction | May 16 – 18, 2008
The Western Art Association hosted its 36th annual Ellensburg National Art Show & Auction in Kittitas Valley, Washington. Held at the fairgrounds in Ellensburg, the popular juried show annually draws 4,000 to 5,000 people over three days of quick-draw exhibition and live auctions. It features Western art — often focusing on rodeo, the cowboy way of life, nature, wildlife and family — by more than 100 artists, and includes paintings, sculpture, jewelry, pottery and woodcarving.
There are also artist demonstrations, quick-draw contests, live auctions (with everyone's favorite local auctioneer, Paul Newman) and autograph sessions with the artists whose work has been featured on posters for such events as the Ellensburg Rodeo and Spirit of the West Cowboy Gathering. Mike Wise, an avid outdoorsman and landscape painter, is the artist behind this year's poster for the art show, an oil painting of St. Mary Lake in Montana's Glacier National Park.
The event played to a full house and, for the second year in a row, the artist voted "Best of Show" ended in a tie for Karen Boylan and Mike Wise. Painter Robert Krogle received the "Kinney Family Wildlife Award," as well as the "Clymer Museum Award," for which the event was originally developed.
---
National Cowboy and Western Heritage Museum's Prix de West Invitational Art Exhibition and Sale | June 13 – 14, 2008
Held annually at the National Cowboy and Western Heritage Museum in Kerrville, Texas, the Prix de West Invitational Art Exhibition and Sale draws some of the country's most astute Western art connoisseurs. This year, the show attracted an elite crowd of 1,200 guests who helped raise a total amount of $4 million in sales that will benefit the renowned museum.
This year the prestigious Prix de West Purchase Award was awarded to Morgan Weistling for his painting, Indian Stories. Weistling received the $75,000 purchase price, plus a $5,000 award. The painting will be a significant addition to the museum's permanent collection. Past winners include Curt Walters, Oreland C. Joe, Martin Grelle and William Acheff, among many others.
During his acceptance speech at the Prix de West banquet, Weistling said, "This museum stands as an island of hope for representational art. It is our haven, as artists, where we know we can go to be celebrated and appreciated."
Lauded by collectors and peers, the Frederic Remington Award is given each year to an artist of exceptional merit. This year's winner is Dennis Doheny, for Tiers of Merced; he joins the esteemed ranks of painters Jim Wilcox, Howard Terpning, Dennis Doheny, Ken Carson, Mehl Lawson and many other honored artists.
Numerous other awards were granted to acclaimed artists on the final night of the event, including, Christopher Blossom; Craig Tennant; Greg Beecham; and Tim Shinabarger. Carrie L. Ballantyne captured the true cowboy essence in Jackson Wald — Cowboy 2008 and was given the Express Ranches Great American Cowboy Award. The final honor went to artist Craig Tennant for the painting A Distant Bugle, winner of the Nona Jean Husley Rumsey Buyers' Choice Award.
The exhibition of these coveted originals continues at the museum through September 7, 2008.