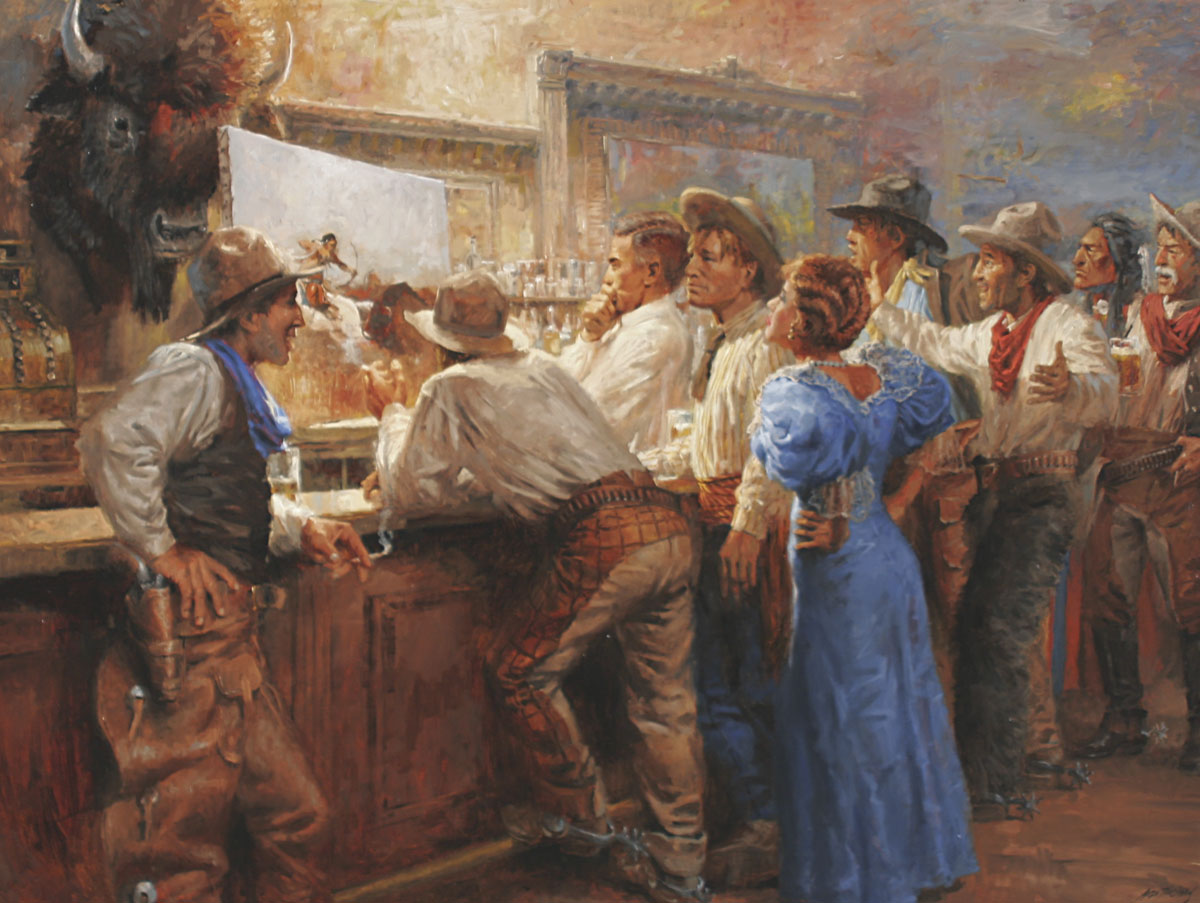 Andy Thomas, "Charlie Russell and His Characters" | 2008 | Oil on Canvas | sold at auction for $180,000
30 May

Auction Block: Holding Strong
---
C.M. Russell Auction | March 12 – 16, 2008
The 40th Annual C.M. Russell Auction eclipsed last year's record $2.4 million weekend with an unofficial total of just about $3 million. Highlights of this year's event included a single-night auction record of $2,052,750 on Saturday night, smashing last year's $1.46 million dollar record. The record was set in motion with the sale of Russell's Robbing the Eagle's Nest, which sold for $300,000, topping the previous high for a Russell painting of $240,000 at this event back in 2002.
In a room filled with longtime Russell collectors and newcomers, such as Denver Bronco football great John Elway, the roundup of bidding was lively. As Elway and Western art dealer Steve Zabel, of Montana Trails Gallery in Bozeman, went toe to toe for the contemporary oil painting, Charlie Russell and His Characters, by Andy Thomas, the audience cheered as the price climbed and eventually went to Zabel for an unprecedented $180,000 — the highest price ever paid for a piece of art at the auction by an artist other than Russell. Additionally, Honored Guest Artist Martin Grelle sold his oil painting, Crows on the Yellowstone, for a healthy $150,000.
"It was the best show ever," said Sarah Becker, Russell Museum marketing and public relations coordinator. "It was our 40th anniversary and we had a lot of enthusiasm from everyone who made the event come together."
Despite the fact that 22 lots failed to meet reserve prices at Friday night's live auction and ended in passes, the Quick Draw competitions Friday and Saturday made up for the disappointment. With a record total of more than $100,000, 100 percent of Quick Draw proceeds go directly to the C.M. Russell Museum.
During Friday Night's Quick Draw, Grelle's painting took top honors, selling for $18,000. On Saturday, Shawn Cameron, the other Honored Guest Artist for this year's auction, brought in $8,000 for her Quick Draw entitled Reminiscing. Andy Thomas' quick draw work also received the Jurors' Best of Show Award and brought in $9,000 for his painting of an Indian on horseback hunting buffalo. Top honors for Saturday night's Quick Draw went to Nancy Dunlop Cawdrey for a dye-on-silk piece entitled Camas Prairie Moon, which went for $9,500.
The 40th Annual C.M. Russell Auction was organized by the Great Falls Advertising Federation for the benefit of the C.M. Russell Museum; the Ad Club has donated more than $5 million to the museum in the last 40 years. Scheduled dates for the 2009 C.M. Russell Auction are March 18th through the 21st at the Heritage Inn, Great Falls, Montana.
Go to www.cmrauction.com for more information.
---
March in Montana: Fine Art & Collectibles Auction | March 14 – 15, 2008
Setting records and creating an additional art collector's attraction to Great Falls, Montana, is the March in Montana: Fine Art & Collectibles Auction that was held simultaneously to the C.M. Russell Auction. Total sales for March in Montana tallied $2.2 million.
"Sales at the auction this year were more than double that of previous years," said Charla Nelson, owner of Manitou Galleries, a partner in the show. It was the 21st annual sale, with 50 dealers showing antiques and collectibles at the Townhouse Inn in Great Falls. The event paralleled the famous C.M. Russell Auction and offered 604 lots, including Western sporting and wildlife art from historic artists, as well as cowboy and Indian collectibles.
Highlights of the event proved to be tried and true Western art names, including Paul Strayer's (1885-1981) Moose Calling oil on canvas, 34 x 27 inches, that sold for $10,350. Noted wildlife artist, Simon Combes' (1940-2004) Elephants and Igrettes drew an $11,500 realized price. The event's top selling lot was from Charlie Russell contemporary Philip R. Goodwin, whose iconic untitled log rolling scene sold for $82,000. There was also a diverse representation of artists that included historic masters — Remington, Russell and ADM Cooper, among others.
The only disappointment of the event came prior to the show when it was determined that a "fake" Charlie Russell painting was submitted to the auction on consignment at the last minute. Russell expert Ginger Renner appraised the painting for March in Montana partner Bob Nelson and declared it an imitation. Nelson accepted the assessment and withdrew the painting from the auction. "Ginger's word is good enough for me," he told the Great Falls Tribune. Renner asserted that she frequently sees Russell fakes and claimed that he is the most imitated artist of all time.
Find out more about March in Montana online at www.marchinmontana.com.
---
Yellowstone Art Museum Auction | February 29 – March 1, 2008
The ruby (40th) anniversary of the Yellowstone Art Museum's annual auction proved to be a showcase tribute to the who's who of regional artists. Many well-known regional artists attended, including Robert Royale, Carol Spielman, Shiela Miles, Josh DeWeese, Greg Jahn, Nancy Halter, Monte Dolack and many others who contributed contemporary works depicting life in the West with diverse craft and creativity. The most coveted lot, Sierra Grandeur, an oil on canvas by notable California landscapist Oliver Glen Barrett (1903 – 1970) was valued at $4,000, and sold for $1,375. It was donated by David Orser and Ossie Abrams, two patrons who have contributed a piece from their personal collection for the last five years in addition to a matching fund for the museum's endowment program.
The two-day event was celebrated with a silent auction and beer tasting one night, and a more formal affair the next night with dinner, Quick Draw session and the lively auction that featured 150 works by 88 regional artists. The celebration raised just more than $1 million in funds for the Yellowstone Art Museum in Billings, Montana.
Friday's silent auction drew a casual crowd of 350 and featured a lively Quick Draw event and silent auction. Saturday's formal affair and live auction attracted 300 guests. The top seller at the live auction was from Ted Waddell: Lynn's narcissus #3, 1998, oil, valued at $14,500, sold for $16,500. The next best price came for Nick Lamb's Fire Sale Merlin, bronze, valued at $3,500 and sold for $6,600. This artist's proof for an edition of nine bronzes offers a unique patina acquired in the August 2007 "Ford Fire" in Emerald Hills; it is the only piece of the artist's work that was salvaged from the fire that destroyed his home and studio.
To celebrate the accomplishments of longtime YAM supporters, staff and artists, the room was decorated with photos from the last 40 years of the event. The auction accounts for nearly 20 percent of YAM's $1.2 million operating budget.
Go to www.artmuseum.org to find out more about the Yellowstone Art Museum.
---
Autry National Center Masters of the American West 2008 | February 2, 2008
The 11th Annual Masters of the American West Fine Art Exhibition & Sale drew 700 enthusiastic Western art patrons to view works by more than 70 artists at the Autry National Center in Los Angeles. The bolo tied, cowboy booted, Navajo jewelry-attired crowd dined on miniature buffalo burgers and sipped fine California wines while admiring work by such Western art luminaries as Robert Griffing (winner of the 2008 Masters of the American West Purchase Award), Howard Terpning (who was awarded the 2008 Thomas Moran Memorial Award for Painting), Mian Situ (winner of the Gene Autry Memorial Award) and Morgan Weistling (who captured the Booth Museum's Artists' Choice Award, as well as the David P. Usher Patrons' Choice Award).
Artists gathered from throughout the West, and were represented internationally by painter Kristii Melaine, who traveled all the way from Australia to exhibit her oil paintings of cowboys and horses. Subject matter ranged widely, capturing the West in all its guises. The region's majestic wildlife was represented in avian bronzes by Walter Mattia, Tim Cherry and Gerald Balciar, and paintings such as Ken Carlson's woodland elk (which was awarded the Bob Kuhn Wildlife Award), Daniel Smith's stampeding buffalo and Luke Frazier's high country grizzly.
Don Crowley's contemporary Native American portraits provided a counterpoint to Kevin Red Star's mixed media tipis, Oreland Joe's Ute Indian with grizzly, and Doug Hyde's marble sculpture of a Hopi woman holding an ear of corn (titled The Offering, it captured the Kenneth T. and Eileen L. Norris Foundation Award for Sculpture). Historical subject matter charted the course of the West, from traditional Plains Indian scenes to the mountain man era to the early exploration of California, represented by Christopher Blossom's maritime painting of the brig Betsy in San Diego Bay in 1880.
The show makes clear that the Old West is not dead; the spirit of that West shines through in contemporary cowboy portraits by Carrie Ballantyne, in Jason Rich's cowboy with packhorse and Richard Thomas' scene of a high-country roundup. The American West is defined by its majestic landscapes; Jim Wilcox presented dramatic coastal impressions of California at Big Sur, while Curt Walters, who won the 2008 Trustees' Purchase Award, glorified the majesty of the Grand Canyon.
The Autry's straightforward intent-to-purchase format was enlivened by a sealed bid process for five special artworks: paintings by Terpning, Weistling, Situ, Acheff and Ken Carlson. When results were announced a collective gasp ran through the crowd: Howard Terpning's painting of three Indian braves resting in the lee of a boulder, their horses in the background, titled Hard Trails Wore Out More than Ponies, went for $1.25 million. Both Mian Situ's and Morgan Weistling's paintings — Situ's dramatic street scene capturing the 1906 San Francisco earthquake and fire, and Weistling's festive frontier wedding celebration — set records of $576,100 and $286,100, respectively. With $4.7 million in total sales, the Autry show continues to build on its own success, and is well positioned to execute its exciting expansion plan. The end result will be more space — and an even more spectacular Masters show.
For more information on the Masters show go to www.autry-museum.org.
---
Coors Western Art Exhibit at the National Western Stock Show | January 12 – 27, 2008
Now in its 16th year, the Coors Western Art Exhibit at the National Western Stock Show in Denver featured more than 200 pieces of artwork from more than 50 artists specializing in Western art. The Red Carpet Reception on the opening night of the exhibit attracted in excess of 900 attendees. More than 40,000 patrons visited the gallery during the two-week stock show; a new record for single-day attendance was set on January 19 with 5,566 visitors.
Total art sales were $792,000, up 10 percent from the previous year. Len Chmiel's painting, Another Encore, Vermillion Cliffs, sold for $31,500; Howard Post's painting, High Country Herd, went for $19,500; and G. Russell Case's painting, Navajo Sky, sold for $19,000. Other notable artists included painters Gordon Brown, William Matthews, Chris Owen and William Sharer; Santos artist Arthur Lopez; and sculptors George Carlson, T.D. Kelsey and Walter Matia.
The 102-year-old Stock Show is one of the world's largest cattle trade shows and indoor rodeos, displaying more than 15,000 head of livestock each year. The art exhibit is held on the third floor of the Hall of Education, and this year's show included oils, acrylics, fine art photographs, graphite drawings, pastels and bronzes. Rose Fredrick has been the art exhibit's curator for 11 years.
For more information on the next Coors Western Art Exhibit at the National Western Stock Show, visit www.nationalwestern.com.