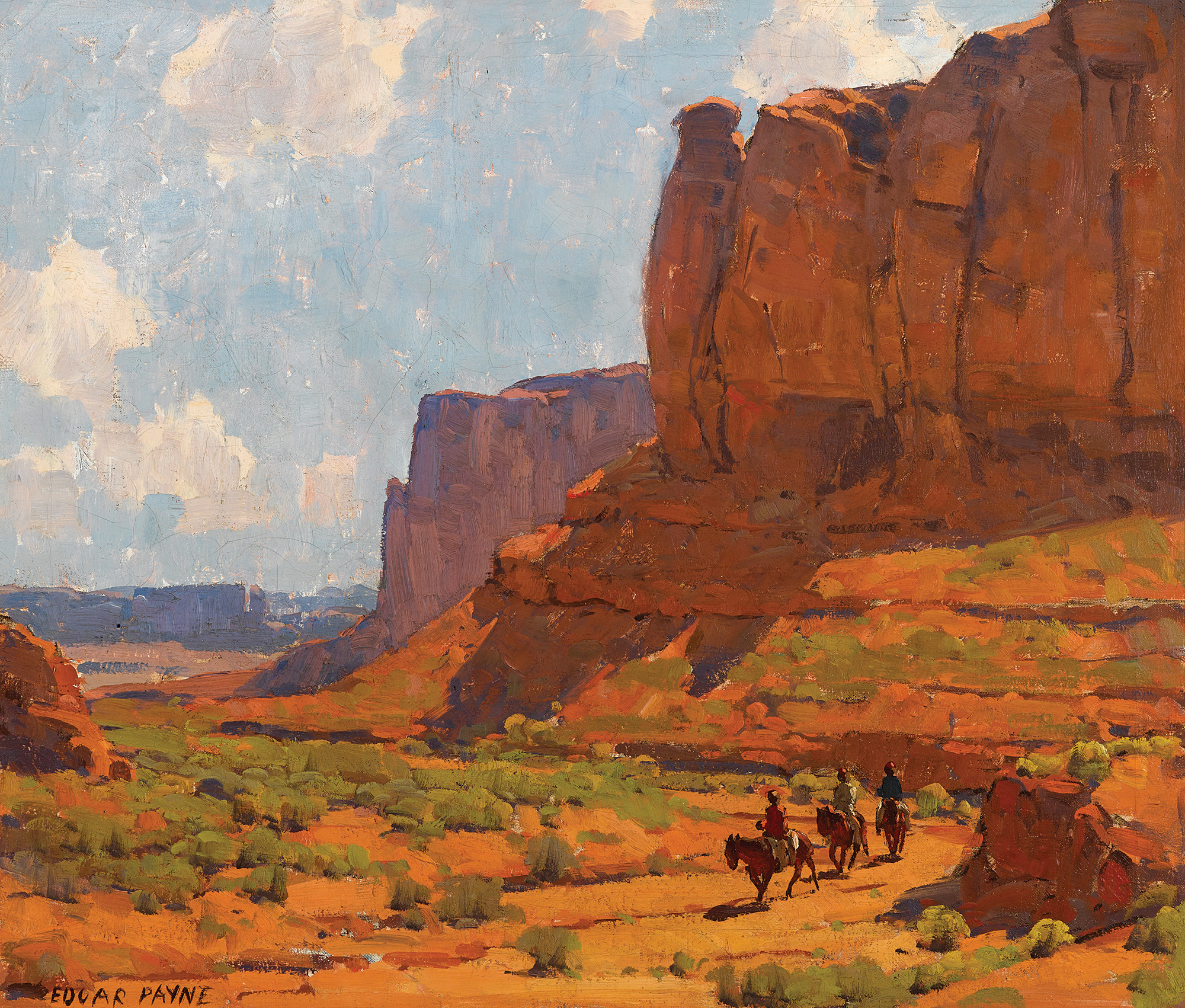 Edgar Payne, "Monument Valley, Riverbed" | Oil on Canvas | 129.5 x 34.5 inches Estimate: $140,000 – $180,000 Sold: $323,000
12 Sep

Auction Block: In the Footsteps of Giants
---
By anyone's measure, Frederic Remington and Charles Russell stand as towering figures who brought to the fore the genre that is celebrated today as Western art. Yet, many unsung masters closely followed in the footsteps of those twin talents. Sales pinned to Western paintings, sculpture and other items that took place in the early weeks of the third quarter of 2016 saw prices on the rise for the works of artists such as William R. Leigh, who painted from the turn of the 19th century through its early decades.
Both the Coeur d'Alene Art Auction in July and the Auction in Santa Fe in August saw paintings by Leigh sell well above their presale estimates. As noted by Mike Overby, partner with the Coeur d'Alene sale, artists such as Leigh, Frank Tenney Johnson and E. William Gollings did not, in their lifetimes, achieve the fame of Remington or Russell, but the stature of the next generation of artists who followed has since grown.
Sales in the waning weeks of summer showed buyers' enthusiasm remained intact for the best of the West.
Auction in Santa Fe | August 8 – 9, 2016
The sale of noteworthy paintings, sculptures, Native American items and Western collectibles during the two-day Auction in Santa Fe in that city's historic Hilton Hotel saw a beautifully rendered portrait by William R. Leigh of an American Indian child achieve a hammer price of $16,000, topping its low presale estimate by more than $6,000.
The small oil by Leigh, Navajo Boy, was one of several pieces by artists first celebrated in the early- to mid-20th century for their examination and depiction of the landscapes, cultures and peoples of the American Southwest. Gustave Baumann's 12.5-inches, square color woodcut, Redwood, realized $7,260 with buyer's premium for a richly textured piece that demanded as much imagination by the artist as skill in printmaking.
A painterly oil by the late Louisa McElwain, in which clouds meet mesas in Northern New Mexico — Pedernal Sunset — brought $6,655 with premium during the annual sale conducted by Manitou Galleries.
The event, which totaled $850,000, saw certain Native American items elicit strong responses from collectors. A painted bonnet case identified as the work of Northern Plains tribes fetched $5,630 with buyer's premium, nearly twice the high estimate, and an Apache 5-by-20-inch basketry tray sold for $5,265, compared with presale estimates ranging from $3,000 to $4,000.
Other highlights included a G. Harvey oil, Trail by Sunset, that went for $14,000 and a portrait in bold colors of a Sioux leader, Lakota Chief, by John Nieto, that sold for $3,422, nearly triple its low estimate.
Bonhams' California & Western Paintings & Sculpture Sale | August 2, 2016
A sweeping oil, featuring the towering sandstone formations where Utah borders Arizona, led Bonhams' late summer sale of California and Western Paintings and Sculpture.
Monument Valley, Riverbed, by Edgar Payne, is a stunning reminder of the heights in art and imagination forged by early 20th-century plein air painters based in California.
In this work, Payne plays with light like a master musician modulating notes. The effect of light splashing from spiraling rock features to illuminate the ochre-colored valley below is at once breathtaking and restful. The quintessential image of a rugged and rocky American West excited a flurry of bidding at the auction based in Los Angeles, California, and ultimately sold for $323,000. That compares with presale estimates ranging from $140,000 to $180,000.
The auction of works by artists and of scenes tied to Western states marked $3,350,000 in sales with 80 percent sold by lot and "fevered bidding in all categories and styles," says Scot Levitt, vice president and director of fine arts at Bonhams.
Levitt says a key indication of the continuing strong interest in California and Western works came at the start of the sale, when it took 20 minutes or more to call the scores of live and online bids for the first 10 lots. "Right away, it looked to be a long and spirited evening," he says.
More could and should be said of the poetry in paint that cemented the merit of California plein air artists. Monument Valley vied with John Marshall Gamble's Poppies and Lupine for the top slot. But the latter work cannot be too highly praised or celebrated by those who see, in the Santa Barbara scene, the mark of Impressionism and the fearless color statement of contemporary art.
The 25-by-40-inch work by Gamble garnered $269,000, a new auction record for the artist and nearly twice the work's presale low estimate.
Bonhams' August sale confirmed the star is also rising for William Wendt, whose 1921 Lupine Patch was snapped up for $233,000, as compared with estimates from $120,000 to $180,000. The depiction of rolling, serene, green California hills is framed in the foreground by stands of purple lupine, the wild mountain flower that otherwise was not known to be found in Wendt's work, according to Bonhams.
Wendt's search for the "message" conveyed by nature mostly involved an extensive use and exploration of green as documented in his oeuvre, according to auction house experts. Bonhams specialists said Wendt may have sought to receive and interpret for others the meaning of the classic California scene by use, in this rare instance, of crimson, white and pink highlights in his painting of the flowers.
Taos Society of Artists painter William Victor Higgins led Western offerings with his painting Woman Gathering Water in the Placita, a commanding composition of bleached whites whose color accents are minimal save for the Dutch blue shawl covering the head and shoulders of a woman otherwise arrayed in white. As with many of the Taos artists working in the early decades of the 20th century, Higgins embraced understatement as a form of drama, and he successfully tempered light in a technique that has the surprising effect of underscoring it.
Woman Gathering Water in the Placita fetched $209,000, well above its low estimate of $120,000.

Coeur d'Alene Art Auction | July 23, 2016
Partners behind the premier annual Western art sale in Reno, Nevada, reported an upsurge this year in the number of people attending and bidding by internet, marking $850,000 in sales tied to that platform or five times as much as last year.
The Coeur d'Alene Art Auction, in the Tuscany Ballroom at the Peppermill Hotel Resort in Reno, generated more than $18 million on July 23 and featured a soaring sell-through rate of 95 percent, says partner Mike Overby.
More than 750 people gathered in person as 313 lots flew across the auction block for a sale led by a Howard Terpning that netted nearly $1.4 million. It also saw five lots go for more than $500,000 and 40 items sail past the $100,000 mark.
Overby says the sums fetched at the auction and the strong sell-through rate underscore the resilience of the Western art market and its lasting appeal for buyers who, this year, included aficionados as well as a contingent of new and young collectors.
The mix on the floor, by telephone and online, paired with spirited bidding and the especially rigorous selection process prior to the auction, were among elements that influenced the organizers' sense that it was one of the more satisfying and enjoyable auctions in the event's 31-year history.
"The partners and I were sitting together afterwards, just smiling," Overby says. "It wasn't our biggest dollar total but it was one of the most enjoyable sales we've put on. I've never seen the crowd have such a good time from start to finish. There is a great feeling when it's just rolling along and everyone is happy."
Happy would certainly describe the feeling that stemmed from the $1,379,000 paid by the ultimate buyer of The Long Shot, a 1982 oil by Terpning that stands as a signature work almost as recognizable through reproductions as it is admired in person.
The painting, bearing a presale estimate of $300,000 to $500,000, depicts three Native Americans crouched on an incline blanketed by sagebrush as one of the figures sets up a shot with his long-barrel firearm.
Overby says four bidders surpassed the $1-million mark in seeking the oil, which Overby himself recalls seeing as a print several decades ago.
"It's a real iconic image by [Terpning]. I remember seeing posters out there with the image when I was a kid, so it was a thrill, 30 or 40 years later, to sell the original," he says.
No auction is complete without the lot that streaks past its estimate to the pleased surprise of auctioneers and the audience. The Coeur d'Alene sale saw several such lots, including a stunning work by William R. Leigh entitled An Upset, and a small but lyrical painting by Bob Kuhn called Dust Devil.
Leigh's expansive oil centers on a pack horse toppled by the weight on its back and deep mountain snow, with members of a hunting party hurrying to the horse's side to relieve its burden and set it upright.
Overby says Leigh is an example of early- to mid-20th- century Western artists coming into their own. Long overshadowed by late 19th-century giants such as Russell and Remington, painters such as Leigh, Frank Tenney Johnson and E. William Gollings have in recent years received greater attention, more accolades and more robust prices for certain works.
"Those guys could paint as well as anyone, but they came along a little bit later than Remington and Russell and, subsequently, it's taken a little bit longer for their markets to catch up," Overby says.
An Upset brought $650,000, nearly twice its high estimate, and Kuhn's depiction of a bobcat in Dust Devil went for $142,000, almost triple its high estimate.
The auction featured a silk-screen print by Andy Warhol, Bighorn Ram, representing one of the Western images the famed Pop artist produced late in his career. The playful portrait of a bighorn sold for $71,400, compared to presale estimates ranging from $20,000 to $30,000, attracting phone bidders from London to Hong Kong.